Azerbaijan appears to be a progressive Muslim country at first glance. If you looked about and saw young men dressed elegantly in tight pants and shirts with their hair nicely done, you would not know you were in an Islamic country. And Baku, the country's capital, is welcoming and boasts a booming nightlife scene.
Baku, Azerbaijan's capital and most major economic hub is a low-lying city that runs along the Caspian Sea's littoral. It is particularly famous for its medieval walled old city, which houses the magnificent stone Maiden Tower and the Palace of the Shirvanshahs, a vast royal complex.
Baku, Azerbaijan's capital city, is situated on the Caspian Sea's shore and boasts a combination of Persian, Turkic, Soviet, and European influences and a historic town with a Medieval ambiance and a cutting-edge cityscape. This one-of-a-kind city is located along a stunningly long coastline. It has much to offer tourists, from beaches and volcanoes to a metropolis that combines the traditional and the modern.
Baku is routinely listed as one of the world's cities with the fastest development pace. Alleyways that were once run-down are now home to vibrant hipster cafés and international eateries. The Flame Towers is a stunning example of cutting-edge architectural design. Millennials may be seen roaming throughout town wearing the most fashionable high-end clothing.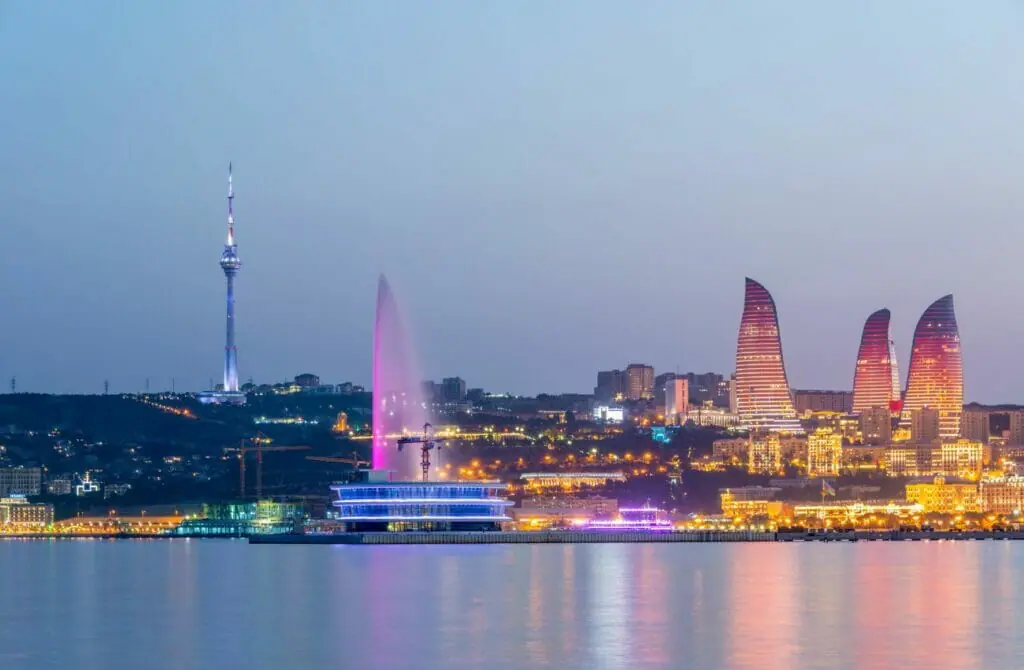 But, behind the beautiful city's exterior, homosexuals confront a different reality. Moreover, the fact that it is socially acceptable for men to have intimate physical contact in public places does not imply acceptance of homosexuality as a lifestyle choice. When two homosexuals are spotted going down the street hand in hand, it is considered that they are just friends; and nothing more.
The government of Azerbaijan made relations between persons of the same sexual orientation lawful on September 1, 2000. Nonetheless, discrimination based on sexual orientation or gender identity is not illegal in this country, and marriages between individuals of the same gender are not recognized.
There are no legally recognized or actively running LGBT groups. Moreover, the government has a lengthy history of bringing false complaints against government opponents to imprison or penalize them. In other cases, the police physically abuse these people while they are detained.
The issue of homosexuality is still taboo in Azerbaijani culture, as proven by ILGA-Europe ranking Azerbaijan as the worst state in Europe for LGBTQIA+ rights protection every year since 2015. This rating is based on Azerbaijan's "near absolute lack of legal protection" for LGBTQIA+ people.
Those who identify as LGBTQIA+ face high rates of assault, harassment, and discrimination throughout the country.
Yet, you should not let this discourage you from visiting this city as a gay tourist and experiencing its numerous beautiful attractions. You may still engage in a broad range of exciting activities in this city, making your stay here worthwhile.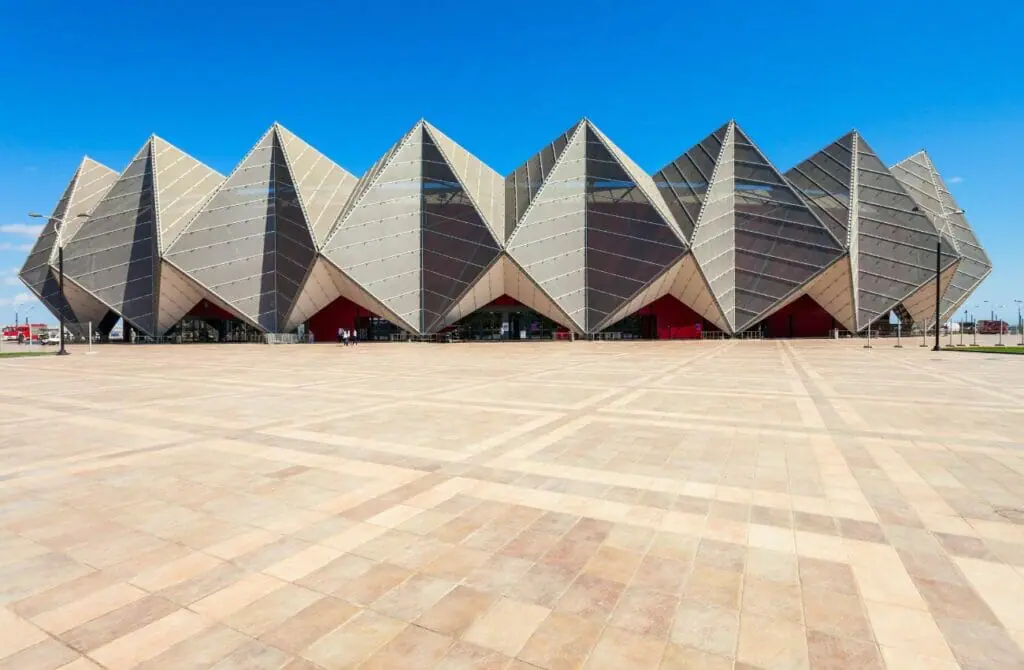 Attractions in Gay Baku, Azerbaijan
Honey, welcome to Gay Baku! Now, let's spill the tea – this city may not be the most welcoming to our rainbow community, but don't let that dim your sparkle! There are still plenty of fabulous things to see and do here, no matter who you love.
As passionate travelers and members of the LGBTQ+ community, we believe that queer travel is about having fun and exploring new places, promoting cultural understanding, and spreading pride. Through travel, we can learn about different cultures, histories, and perspectives and share our own experiences and identities with others.
We can also support LGBTQ+ businesses and organizations and work together to create a safer and more accepting world for all members of our rainbow family.
Unfortunately, homophobia and discrimination still exist in many parts of the world, and it is important to be mindful of the laws, customs, and attitudes of the places we visit. But by being visible and proud and by supporting local LGBTQ+ communities and allies, we can help to change hearts and minds and make a positive impact wherever we go.
So let's keep exploring, learning, and sharing, and let's continue to work towards a future where all travelers can feel safe and celebrated, no matter where they are in the world.
Check out the iconic landmarks and attractions, darling. Visit those historical monuments, museums, and art galleries like the true cultural connoisseur you are. And, of course, let's not forget about the architecture, parks, and gardens.
Trust us, the local cuisine will leave you gagging, and the markets are simply to die for. And, girl, let's not even start on the cultural events like festivals, concerts, and shows – they are simply sickening!
Now, while we are out and proud queens, we gotta keep it on the down-low when we hit the streets, sis. Sadly, this city may not be as welcoming to us as we'd like. But no worries, we'll just have to slay discreetly, okay? Let's show these locals how to live our best lives, honey!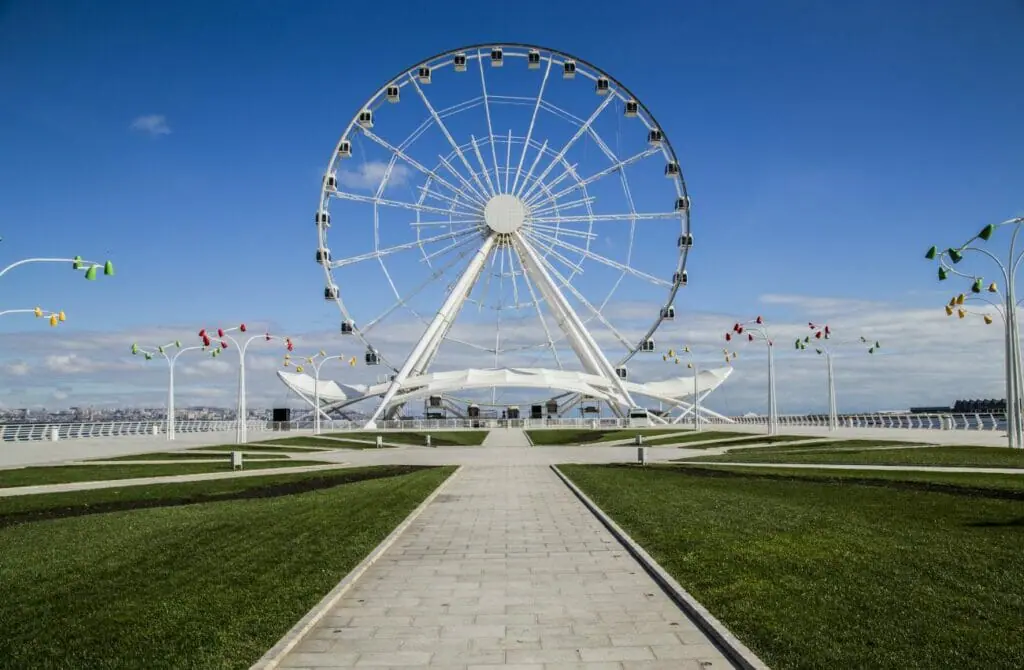 Baku Boulevard, or National Park, is a Baku promenade built in 1909 and runs perpendicular to the city's shoreline. It is Europe's second-largest park, after the park along the Seine River in Paris.
Wandering around the park and soaking in the beauties of the city and the sea is a popular pastime in Baku, both for tourists and locals. Its history dates back over a century when Baku's oil barons erected mansions along the Caspian shoreline, and the beach was artificially built up inch by inch.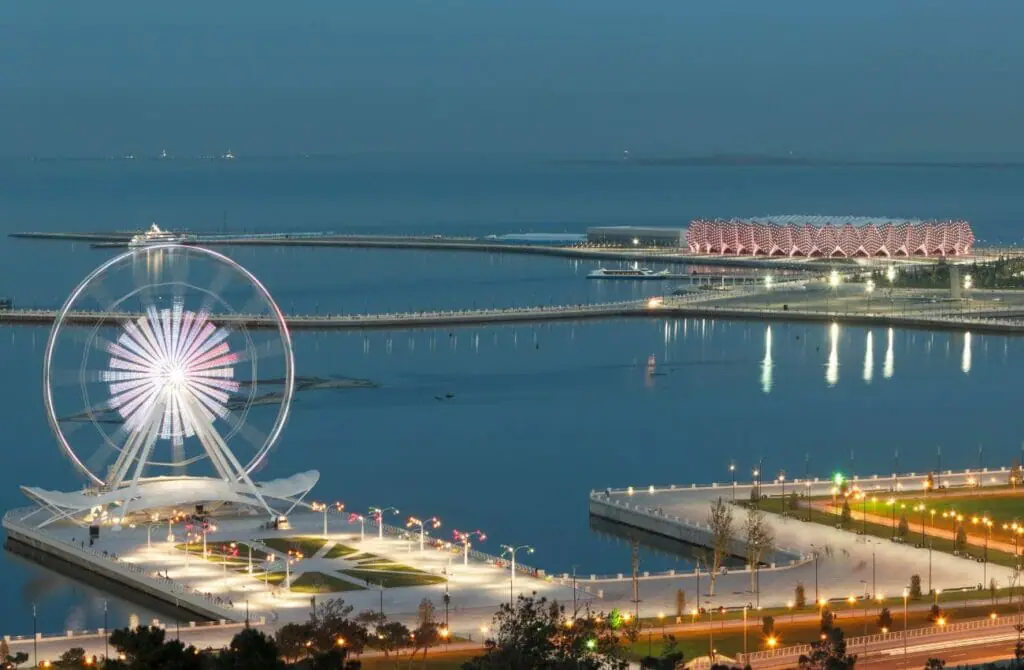 Bibi-Heybat Mosque
Baku, Azerbaijan's capital city, is home to the Bibi-Heybat, a medieval mosque. Shirvanshah Farrukhzad II Ibn Ahsitan II built the first mosque with the same name in the 13th century, which the Soviets completely demolished in 1936.
The present structure, which was built in the 1990s, is a replica of the ancient mosque. The Bibi-Heybat Mosque is one of Azerbaijan's most notable specimens of Islamic architecture. It also acts as a spiritual center for Muslims in the surrounding region.
If you're wondering about the origins of Azerbaijan's moniker "Land of Fire," go visit Yanar Dag. The fire at Yanar Dag, commonly known as Fire Mountain, is still blazing, making it one of the country's most intriguing tourist spots. This contrasts the bulk of the nation's natural gas fires, which were extinguished at the beginning of the twentieth century due to massive drilling into natural gas deposits.
This natural gas vent is claimed to have been accidentally lit by a shepherd in 1958 as he was smoking a cigarette, resulting in a 33-foot (10-meter)-a high wall of flames licking its way up a little incline. A group of industrious Azerbaijanis has built a teahouse in the region, where customers may drink a hot beverage while gazing into the fire.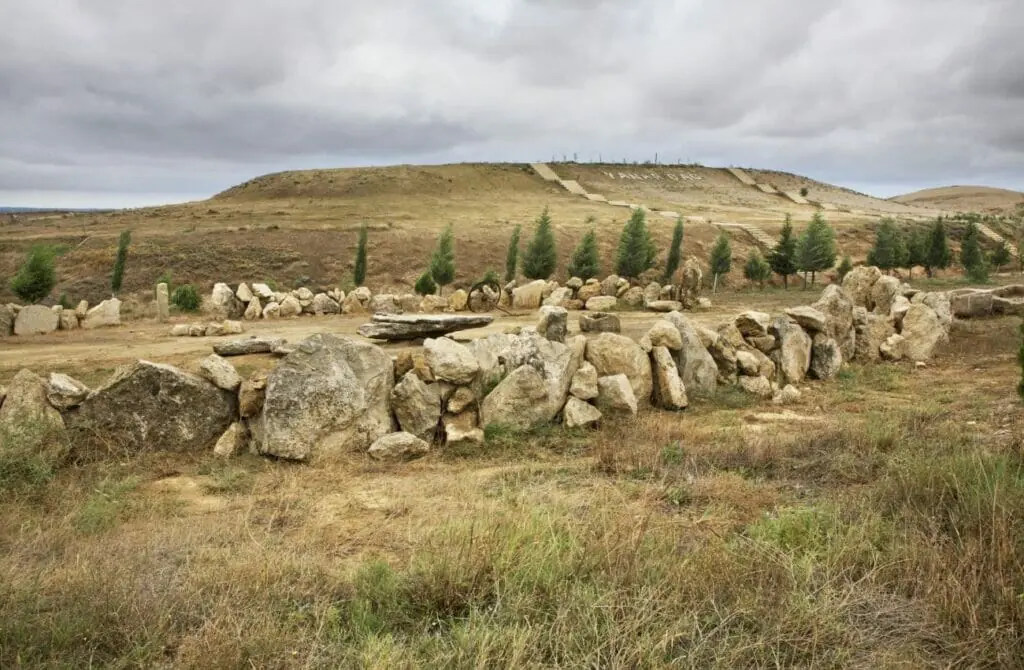 Azerbaijan's popular tourist destination was declared the country's first UNESCO World Heritage site in December 2000. The world-famous Old City is a melting pot of history, culture, and tradition that attracts visitors from all over the globe. It houses both the Palace of the Maiden Tower and the Palace of the Shirvanshahs.
Not just in terms of aesthetics but also since many of the buildings are in a condition of ruin, the surrounding architecture's antiquity is easily visible, and the charming streets of Old City are ideal for roaming about in.
There are several sites to see along these medieval corridors, including secret tunnels, souvenir shops, museums, and even the interior of a castle. Visitors have the option of hiring a guide or doing it alone. You'll only need a sense of adventure and some comfortable sneakers.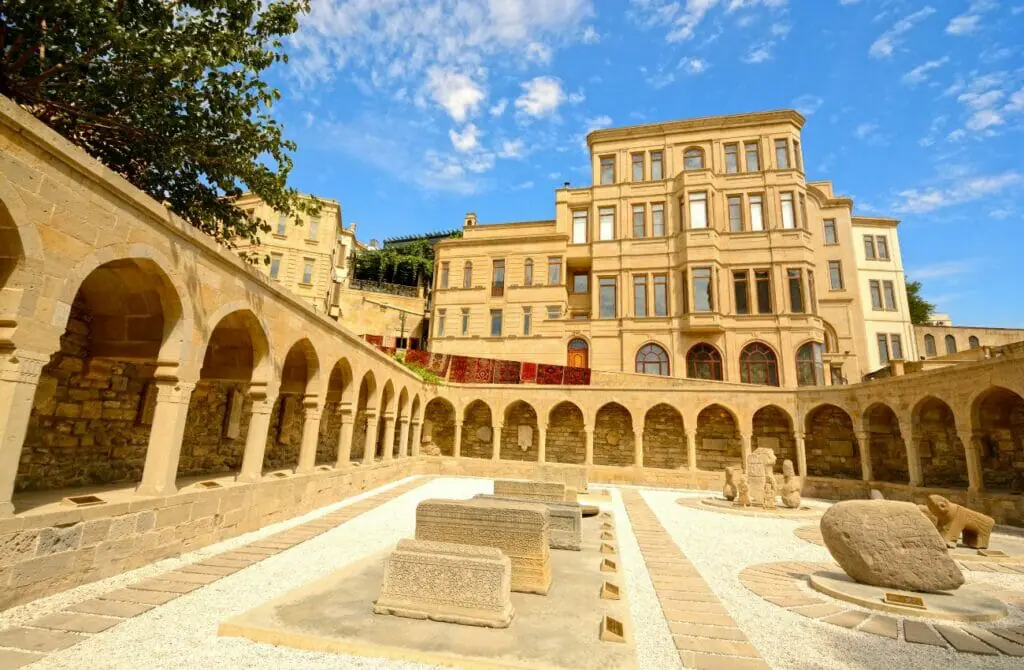 The Azerbaijan Carpet Museum displays Azerbaijani carpets and rug artifacts produced using various processes and materials dating from various historical periods. The museum has the world's most comprehensive collection of Azerbaijani carpets. This museum is largely considered one of Baku's most fascinating visiting sites.
The museum moved from its old Neftchiler Boulevard location to a new Baku seafront park facility in 2014. The museum has become a research, training, cultural, and educational resource.
It hosts many events, such as international symposiums, conferences, and exhibitions. Throughout the museum's first half-century of existence, it has organized more than 30 exhibitions in countries worldwide.
Little Venice, a suburb in Baku, is one of the most scenic portions of the Coastal National Park. With its beautiful canals and architecture, this tiny hamlet inside the metropolis, reminiscent of Venice in Italy, adds a special attraction to Azerbaijan's capital city. Venice is in the country of Italy.
Little Venice was developed in the 1960s as part of Baku Boulevard and has since become a popular holiday location for both Baku residents and tourists.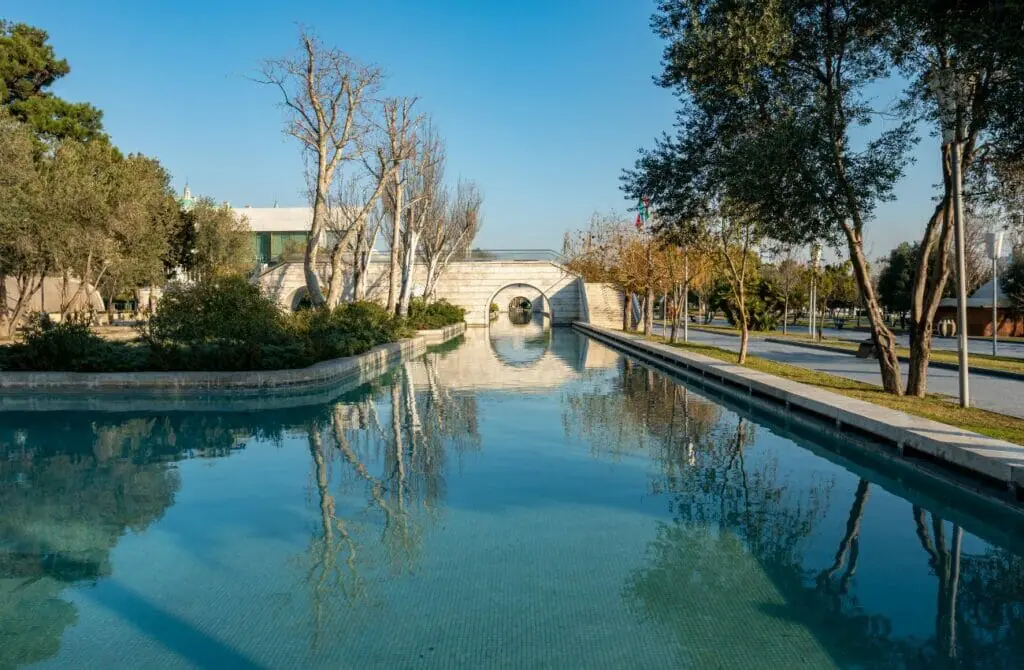 Nizami Street
Nizami Street is a major commercial and pedestrian street in Baku, Azerbaijan's core business area. Nizami Ganjavi, a well-known classical poet, inspired the route's name. The street's beginnings may be traced to a town-planning project in Baku in 1864.
The street runs through the downtown part of the city from west to east. It begins on Abdulla Shaiq Street in the city's mountainous district. It ends at a railroad bed on Sabit Orujov Street near a monument dedicated to Shah Ismail Khatai in "Black City."
Flame Towers
The Flame Towers is a collection of three skyscrapers in Baku, Azerbaijan. The tallest of these structures is 182 meters tall (597 ft). Towers in the form of flames indicate a fire. The Flame Towers are completely covered with LED displays resembling a fire's flow and can be viewed from all across the city.
During the light show, there are transitions between visuals displaying massive flames, Azerbaijani flag colors, a man waving a flag, and big tanks of water being filled. Each changeover lasts around two minutes.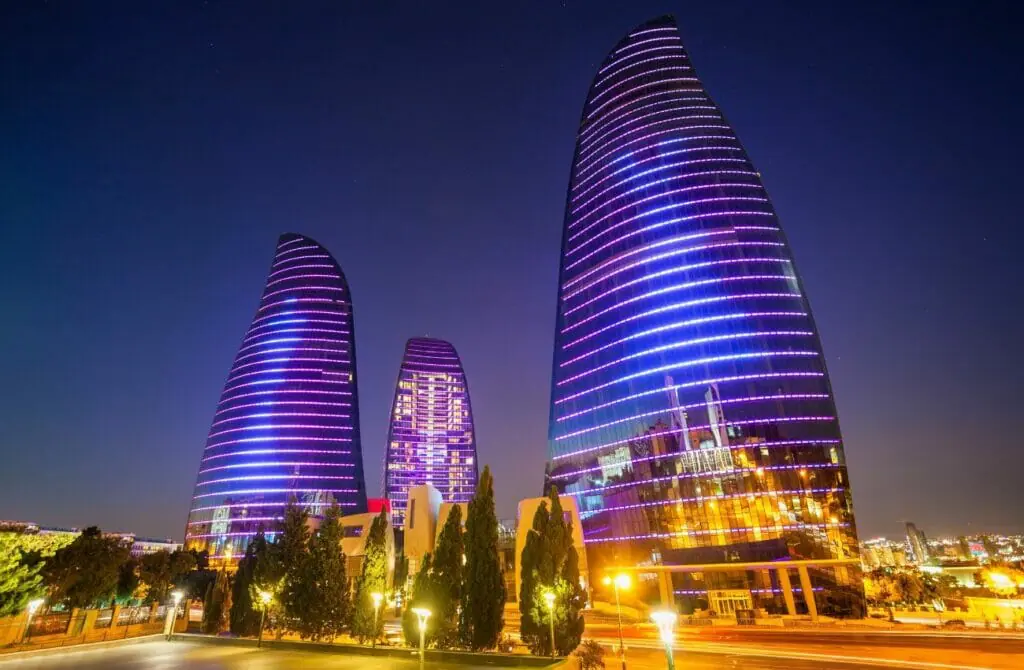 Azerbaijan is home to about one-third of the world's mud volcanoes, giving the nation a mucky, bubbling, and even explosive environment. Mud volcanoes are tightly linked to underground deposits of hydrocarbons and petrochemicals; this is most likely the source of the gas seeking to ascend to the surface. A few of these gas leaks are always on fire, blasting little everlasting flames into the air.
Highland Park (Martyrs' Lane)
Baku's Highland Park is the city's highest point, offering tourists a stunning view over the Azerbaijani capital and the bay it stands on. Baku residents and visitors often go up here for a bird's-eye view of the city and a leisurely walk. The funicular, which takes around seven to eight minutes, the never-ending stone stairs, or driving up are all ways to get to Upland Park from the boulevard.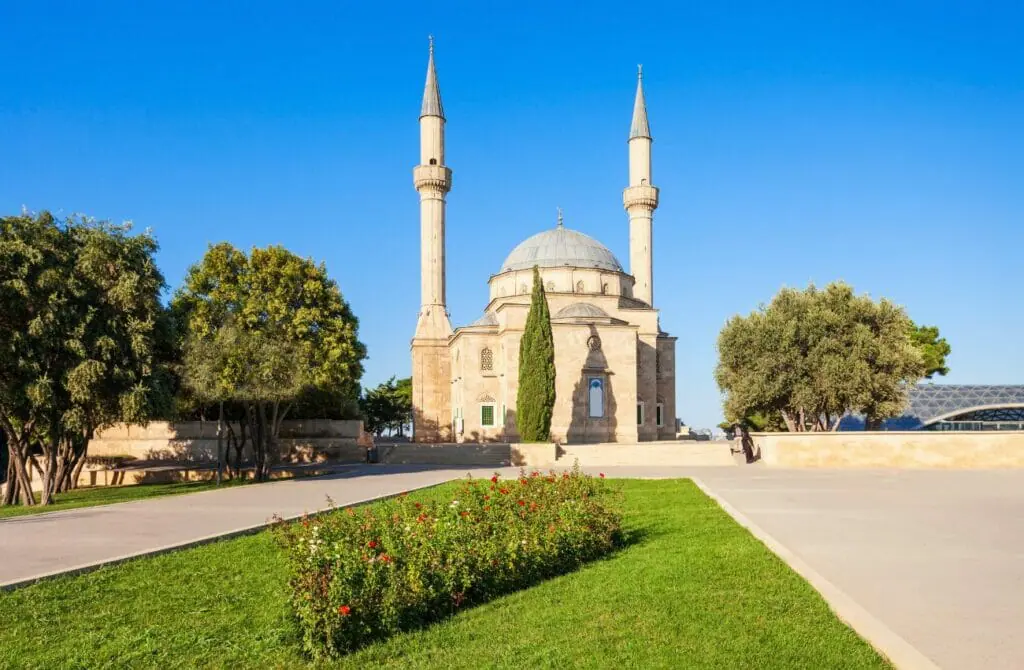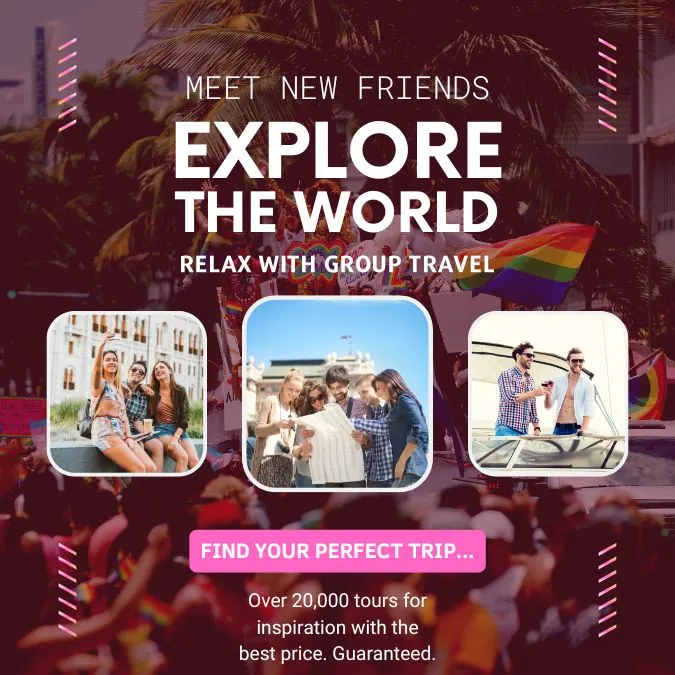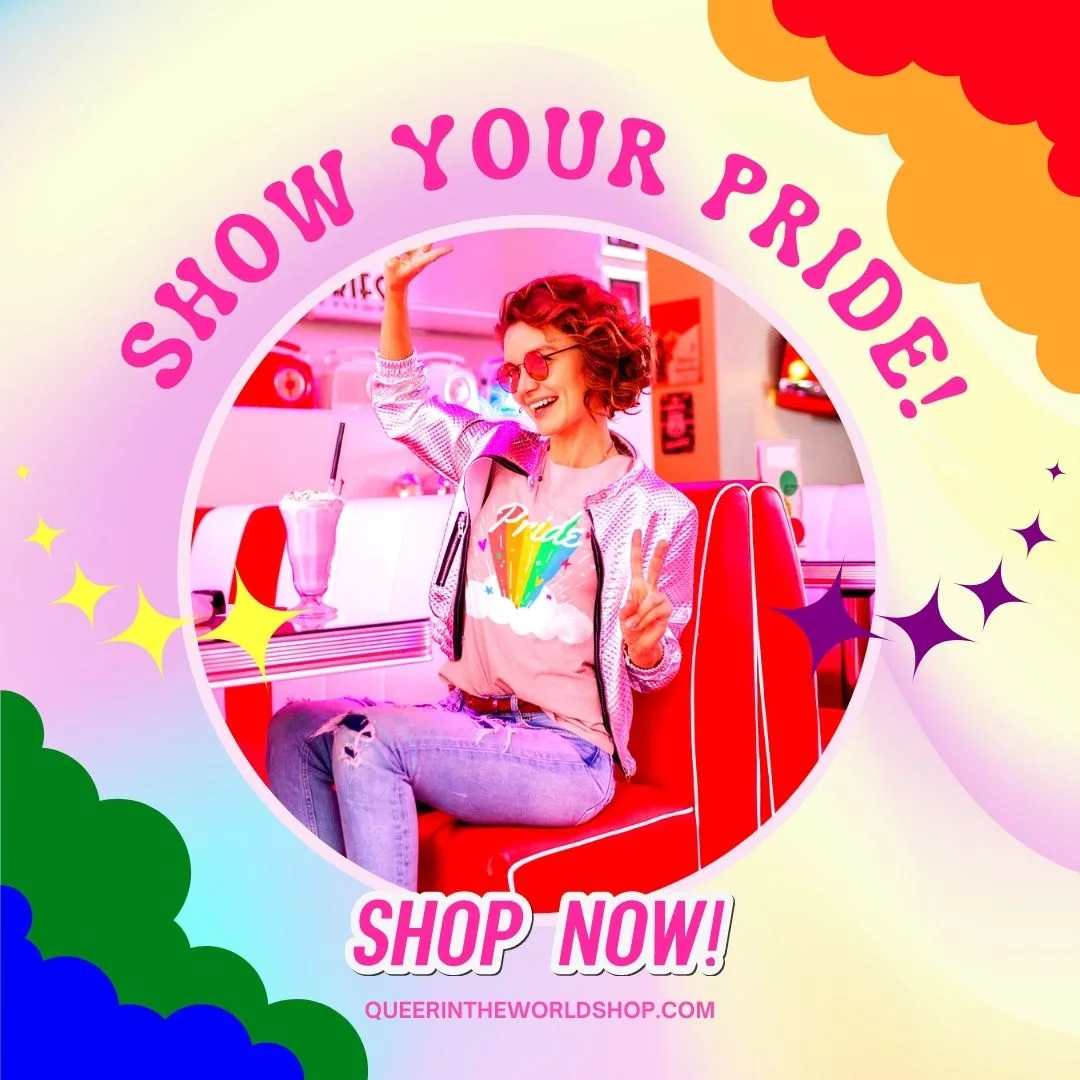 Gay-Friendly And Gay Hotels in Baku, Azerbaijan
Don't wait another minute to book your stay at one of Baku's most fabulously queer-friendly hotels! While many establishments in town might not welcome our rainbow family, these hotels have all pledged to embrace our queer spirit with open arms.
From non-discrimination policies to LGBTQ+ resources and amenities, these hotels go above and beyond to create a safe and inclusive environment for all guests who identify as LGBTQ+. And if you're looking for a place to stay in an area known for being LGBTQ+ friendly, these hotels have got you covered too.
In addition to the locally-owned gay-friendly accommodations in Baku, international hotel chains can also be great options for LGBTQ+ travelers. Many of these chains have implemented policies and training programs to ensure that their hotels are welcoming and safe for LGBTQ+ guests.
They may also have LGBTQ+ affinity groups within the company, which can help to promote a culture of inclusivity and support for queer travelers.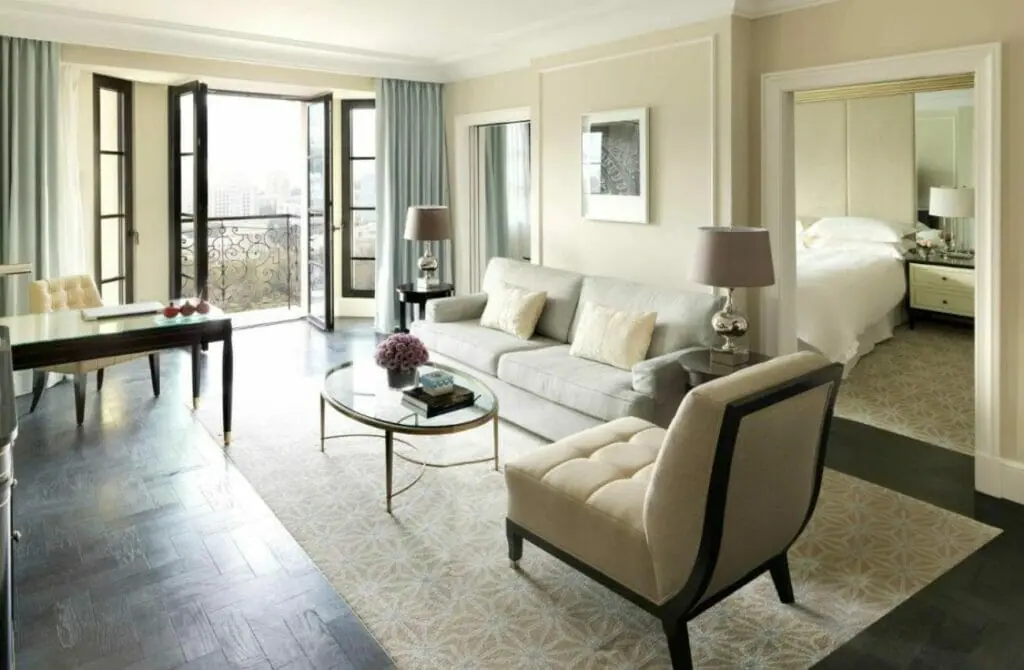 Moreover, international hotel chains are often known for their high-quality amenities and services, which can provide a more luxurious and comfortable stay for LGBTQ+ travelers. With a global presence, these chains can also provide a sense of familiarity and consistency for queer travelers who may be navigating unfamiliar destinations.
Whether you choose a locally-owned gay-friendly accommodation or an international hotel chain, it's important to do your research and choose a place that will make you feel welcome and comfortable during your stay in Baku.
So why wait? Book now to experience the comfort, luxury, and acceptance these gay-friendly hotels in Baku offer. With options to fit every budget and preference, you're sure to find the perfect home away from home.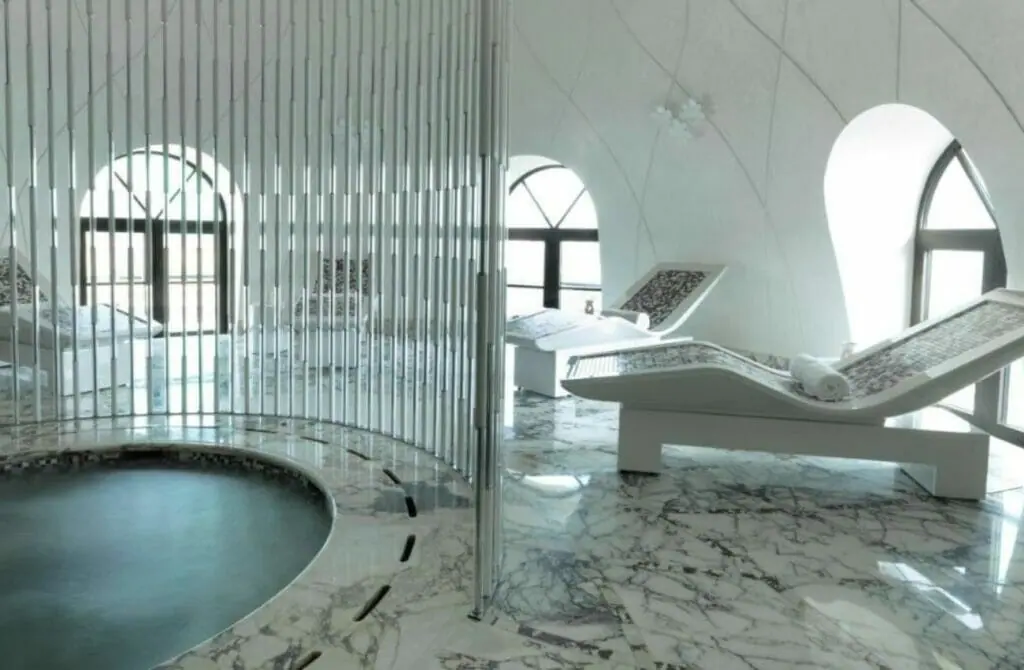 The Baku luxury hotel is one of the city's most spacious overnight options. This 5-star hotel is the ideal place to unwind after a long day of sightseeing in Baku since it overlooks both the Caspian Sea and the Baku Old Town area, which is home to the Shirvanshahs' Palace.
The hotel offers visitors access to a fitness facility that is available 24 hours a day, seven days a week, offering them the freedom to work out whenever it works best for their schedule.
The soothing waters of the indoor pool, which overlooks the natural surroundings, provide another alternative for visitors wishing to unwind during their stay. In addition, the hotel offers a range of dining options to visitors, including the Zafferano Restaurant, which serves classic Italian cuisine. You may relax with a drink and enjoy the ambiance in the Piazza Lounge or Bentley's Whiskey Bar.
The hotel's rooms are well-equipped with many important amenities to ensure visitors are comfortable. These rooms are spacious and well-designed. Every accommodation at the Four Seasons Hotel Baku is airy and spacious, with a unique and stylishly designed décor. In addition, each room offers a balcony where guests can relax and enjoy the sunset while enjoying the city's stunning views.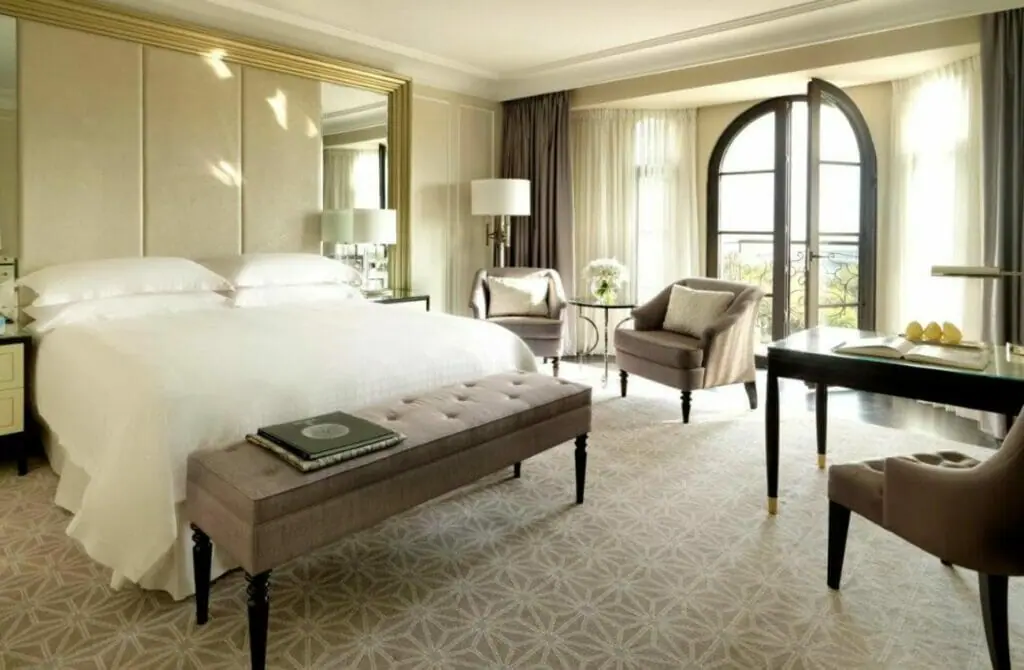 The Hilton Baku is another excellent option for a place to stay in Baku. The hotel is beautiful, on the beach, and close to the city's historic area. The hotel staff has undergone comprehensive professional training to ensure that you have a comfortable stay.
Each morning, you will be served a delicious breakfast, setting the tone for the remainder of your day. You won't be able to describe the breathtaking views from the rotating rooftop bar.
The Hilton Baku offers a range of enjoyable activities to keep visitors entertained throughout the day. Visitors are urged to enjoy the hotel's swimming pool, which is situated on the premises and may be used to relax and unwind during their visits.
Guests staying at the hotel have access to a well-equipped exercise facility that is free of charge throughout their stay. You may unwind and pamper your skin by scheduling a pleasant massage or other spa treatment at the eforea spa.
You may be certain that the rooms will give you a comfortable place to stay throughout your visit. Each of the Hilton Baku's big rooms has contemporary décor and is well equipped with modern facilities. In addition, each accommodation offers stunning views of Baku and the Caspian Sea.
Each room and suite at the Grand Hilton Baku has air conditioning, a flat-screen television measuring 32 inches, and facilities for producing hot drinks. The rooms are light and airy, including king-sized beds for a restful night's sleep.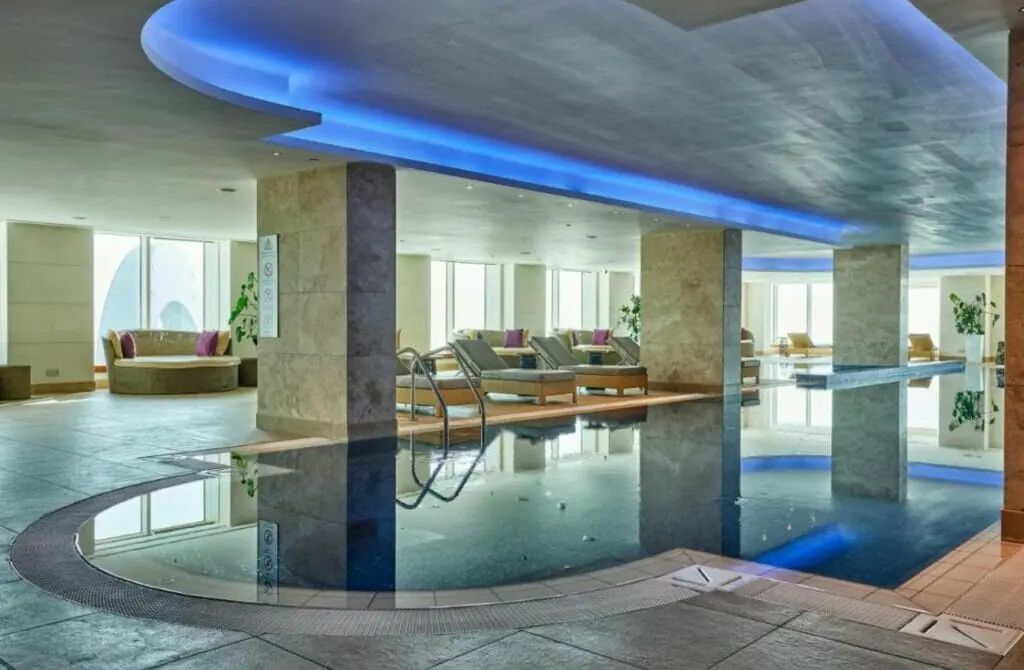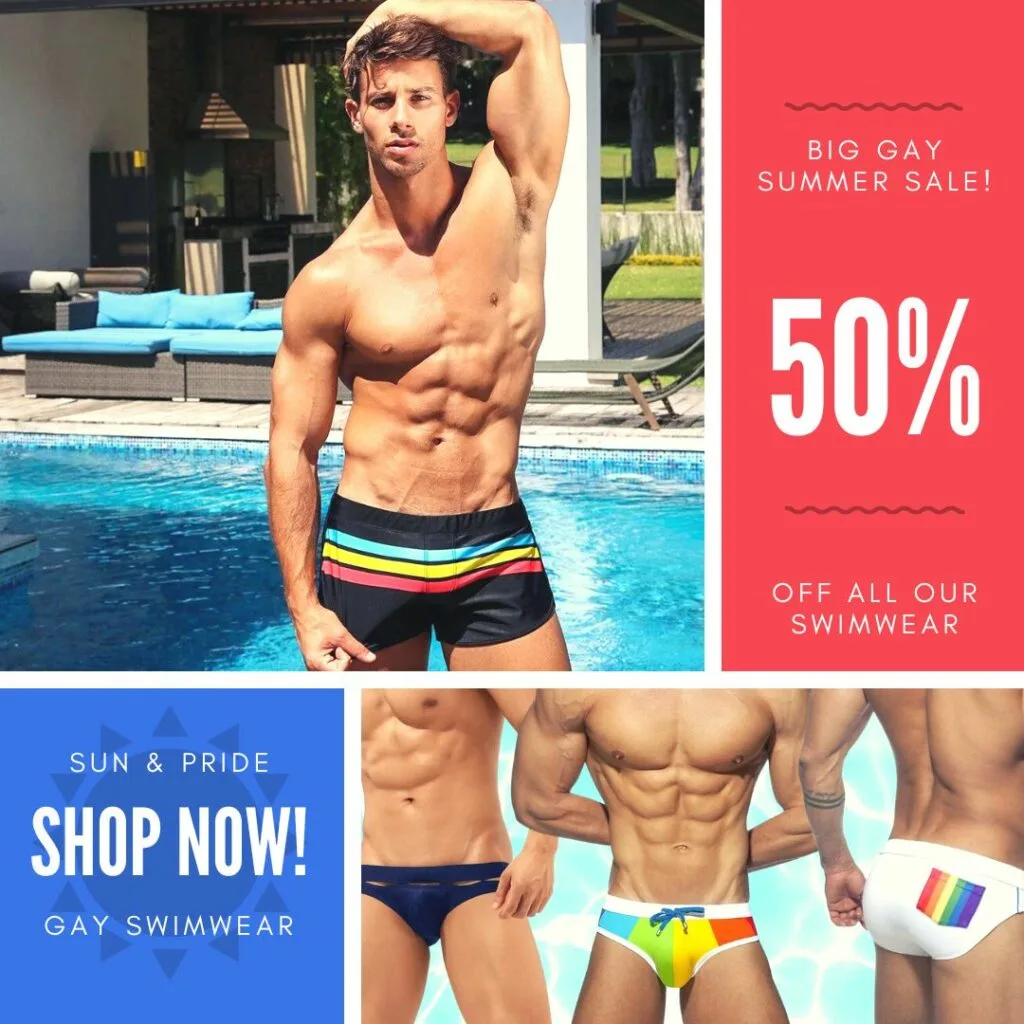 The Sahil Hostel & Hotel is Baku's most popular and largest hostel. They provide both private and dormitory accommodations of the highest quality. Visitors seeking a place to stay that is both comfortable and affordable are highly urged to explore the hostel. And their polite and professional staff is ready to make your experience in Baku one to remember.
Wooden beds with distinctive curtains, private lockers, outlets, and lights on each bed are available in the dormitory rooms. On the other hand, private rooms are elegantly decorated and outfitted with lovely furniture, private bathrooms, and fine bed linen. Including these required utilities in the rooms is intended to ensure guests have a good stay at the hostel.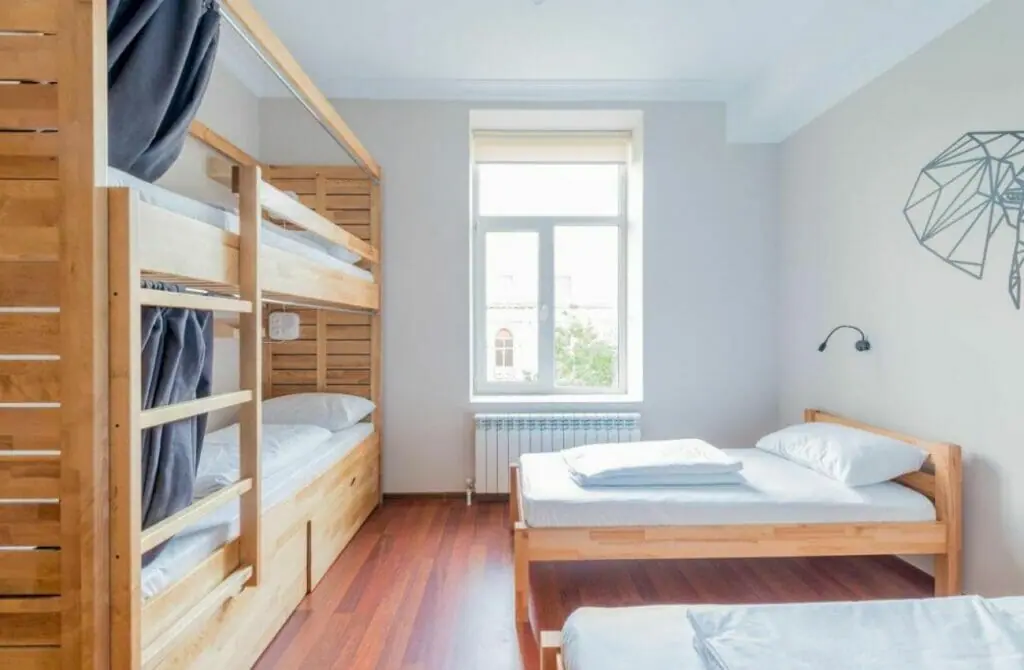 Gay Nightlife in Baku, Azerbaijan
Exploring the queer nightlife scene in a new city can be one of the most exhilarating experiences while traveling, and Gay Baku is certainly no exception. Not only do you have the chance to meet new people and make friends, but you'll also immerse yourself in the local culture and learn more about the LGBTQ+ community.
Whether you prefer to connect with other queer folks in person at a gay bar or club or through a hookup app, Gay Baku has plenty of options for you to explore. However, it's important to keep in mind that many of the public spaces in the city are not queer-friendly, and it's best to avoid displaying overt signs of queerness in certain areas due to the risk of discrimination or even violence.
So, go ahead and venture out to experience the vibrant and diverse queer nightlife in Gay Baku, but always prioritize your safety and well-being. Take precautions when meeting new people, and be mindful of your surroundings. With a bit of caution and a lot of fun, you're sure to have an unforgettable time in this amazing city.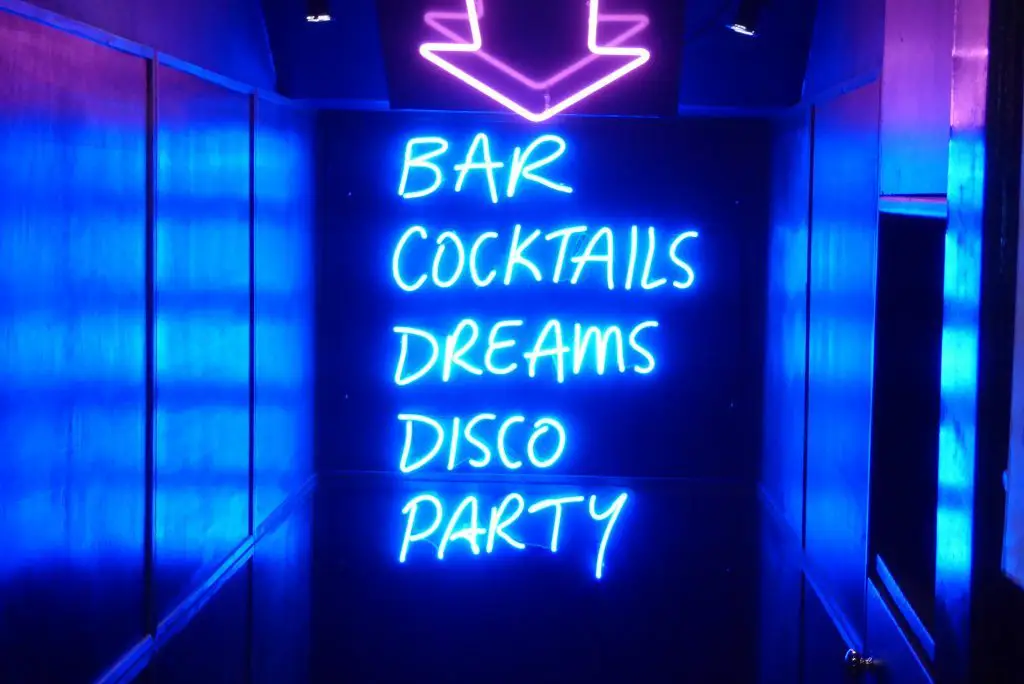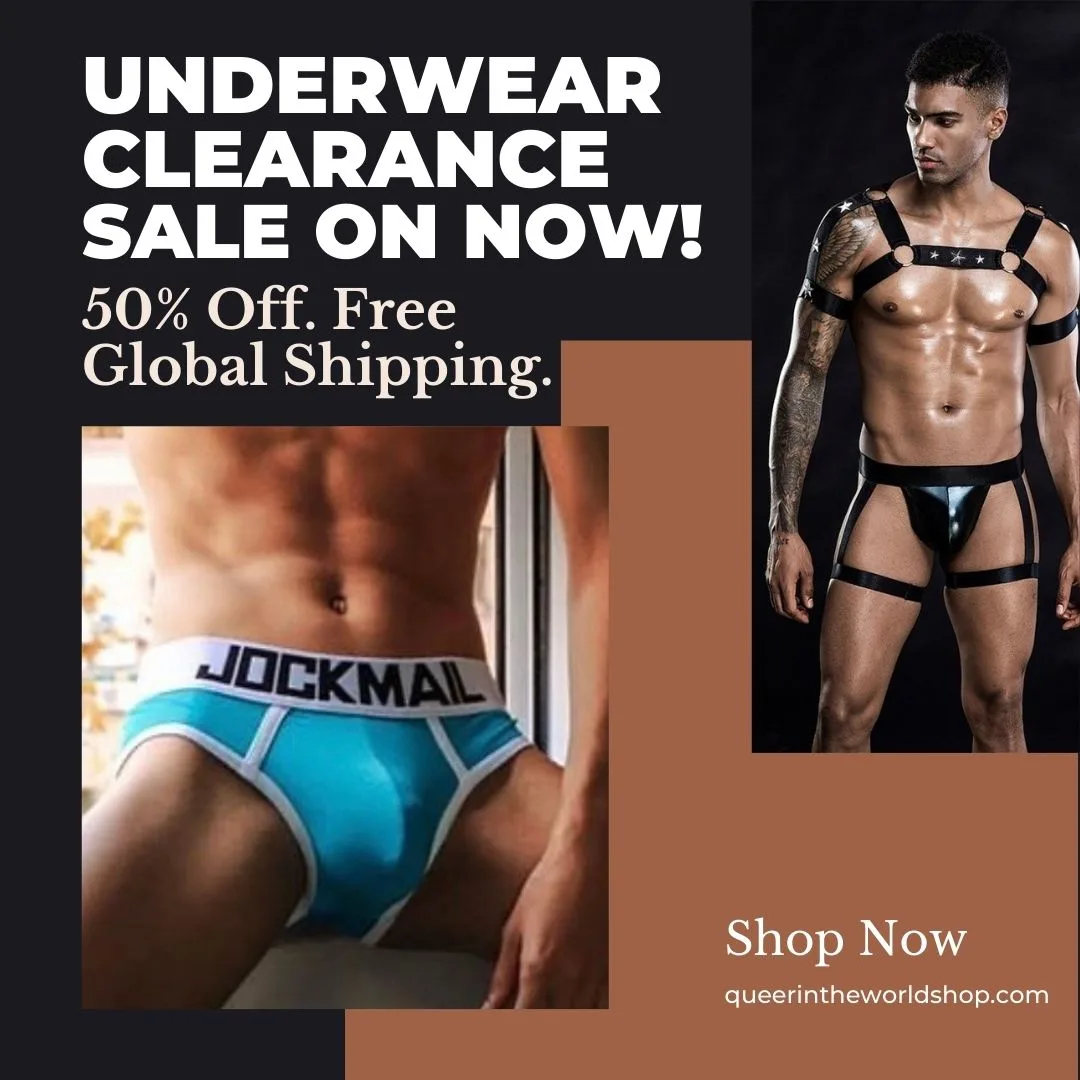 Gay-Friendly Bars in Baku
The following places are regarded to be among the best gay-friendly bars and clubs in the city:
Local youths converge at ETUD Café & Bar, which acts as a counterculture hub. This bar's nightlife is distinguished by its vibrant crowd, live jazz sessions, performances by local artists, classical music nights, and local beer and wine availability.
This is the place to go if you're looking for a spot to unwind with pals while enjoying a perfectly chilled beer. Also, you may have one of the most fun nights of your life, full of laughing and discussion, without breaking the bank.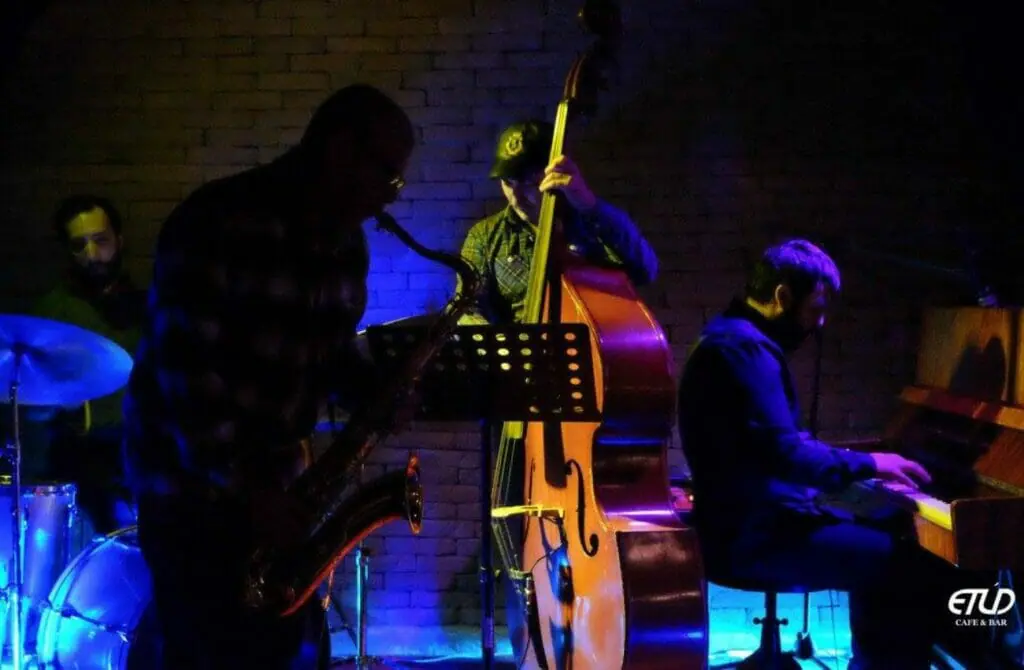 The William Shakespeare sports bar serves Mexican cuisine and has a large beer selection. This venue is excellent for a night out with the guys. It's difficult not to want to stop time when live bands are performing; other visitors are trying their luck at the pool table, the sound of beer glasses clinking, and everyone is having a wonderful time.
This club has a reputation for having exciting nightlife. IN Club is well-known for its wild and magnificent electronic music events held every weekend in Baku. The club is credited for introducing Techno to the neighborhood.
Due to the young, enthusiastic crowd on the dance floor, the wild rhythms of the music, the sparkling interiors, and the continual flow of energy, this club has made it into the list of destinations in Azerbaijan to have the best nightlife.
Pasifico is recognized as one of the most elite locations in the country, where customers may enjoy both high-end dining and comfortable lounging. The interiors of this place, which are directly in the heart of Baku, are sure to lift your spirits.
Enjoy delectable snacks from across the world while relaxing on one of the sumptuous leather sofas inside, on the outdoor terrace, or along the bar counter with stunning mosaics. Moreover, the club hosts one of the most thrilling parties in the whole city.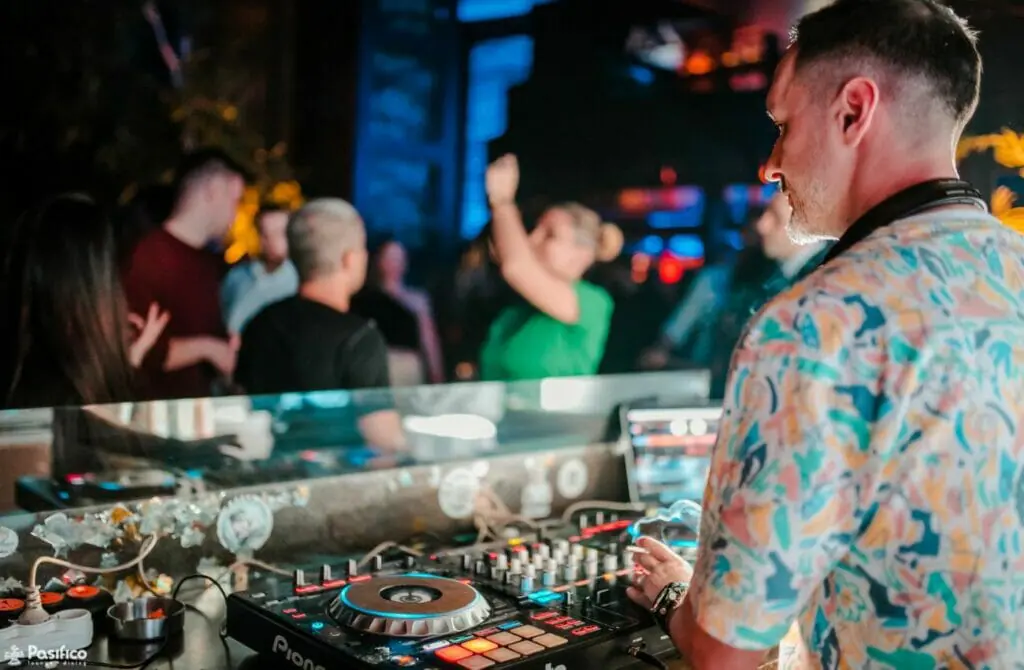 Enerji, a venue with two unique themes that prevail on two distinct floors, is distinguished by great music, a big dance hall, and beautifully maintained terraces overlooking the Caspian Sea. Enerji is renowned for holding high-end themed parties, unplanned and one-of-a-kind events, and outrageous DJ concerts, making it a favorite of locals and tourists to the region.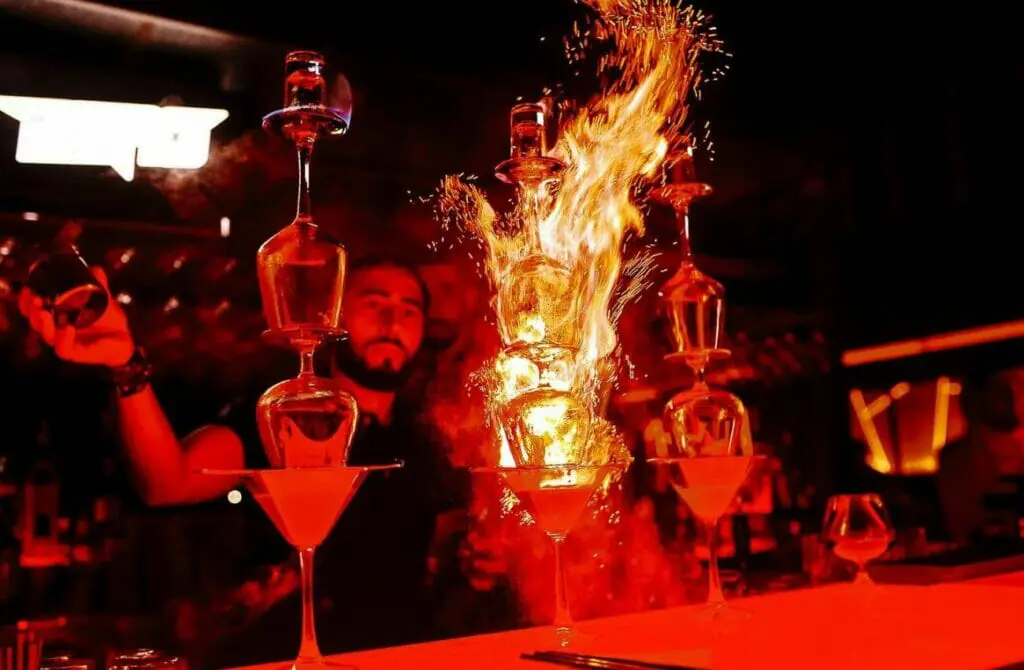 When you enter Finnegan's Irish Pub, you will feel as if you have been transported to a real Irish bar in Ireland. This well-known Irish pub network is noted for its emphasis on live music, sports events, and Irish beer. If you're looking for a night with good music, a friendly crowd, and a welcoming host, this Irish Pub in Azerbaijan should be on your list of locations to visit for nightlife.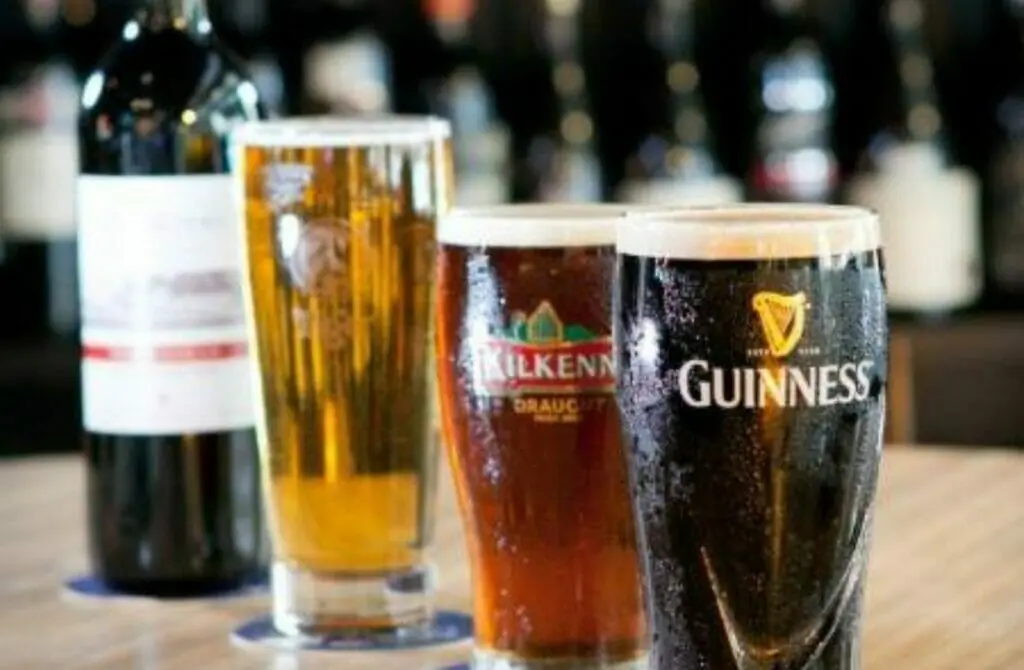 People Livebar is a welcoming and cheerful bar with a pleasant and loft-like environment thanks to its modern and stylish interior design. This bar is open all night on Fridays and Saturdays, allowing you to spend quality time with your friends while sipping a glass of local beer or wine.
This tavern adds something fresh and fascinating to the Azerbaijani evening scene with its delectable delicacies and warm, familiar environment. As a result, you should go here if you're seeking the perfect amiable setting where you may have long-lasting chats while enjoying the live music.
This famous network of taverns may be found worldwide, and each location delivers a distinctly German taste. Every Monday, Paulaner hosts an "Unlimited Beer" night to preserve the authenticity of its beers' qualities. Nonetheless, Paulaner also has its microbreweries. This is considered one of the best places to enjoy the true ambiance of Azerbaijan's nightlife scene.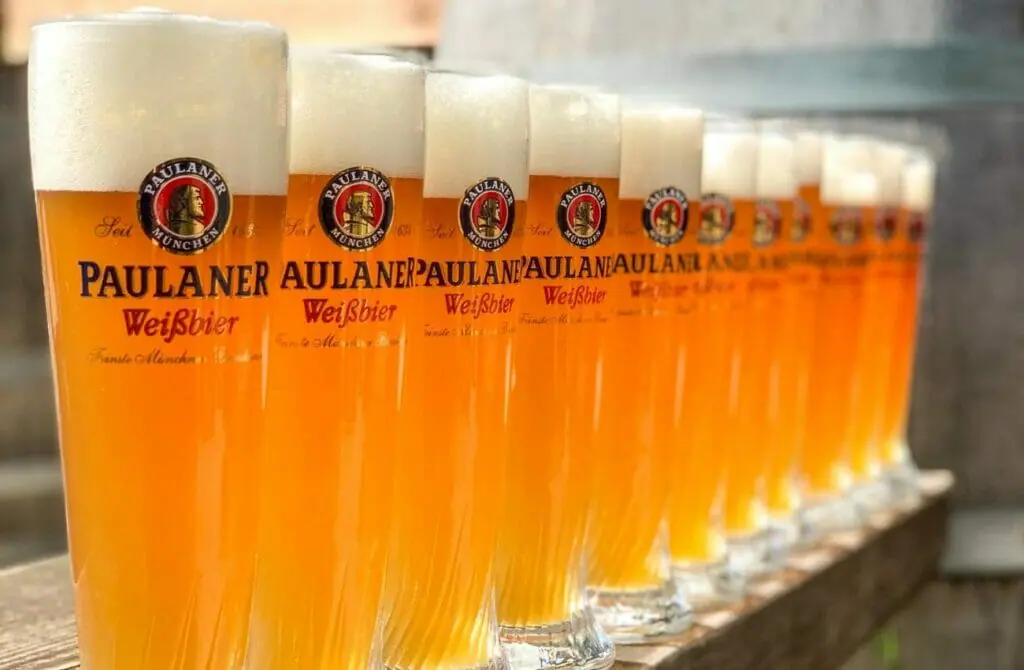 The Otto Club is located in the city's center, about 300 meters from Fountain Plaza. You must pay an entry fee of 10 manats to join the party at this exciting spot. The Otto club is believed to draw the most dynamic and interesting individuals in town. You should not take the chance of losing out on this gleaming location with the most exciting nightlife in the country.
Sektoreight, located in the heart of Baku, provides a perfect atmosphere for intriguing times with their sweetheart or friends. Sektoreight is another well-known nightlife destination in Azerbaijan. This place will certainly excite you, whether you are interested in alcoholic drinks or anxious to sample some of the excellent local cuisines.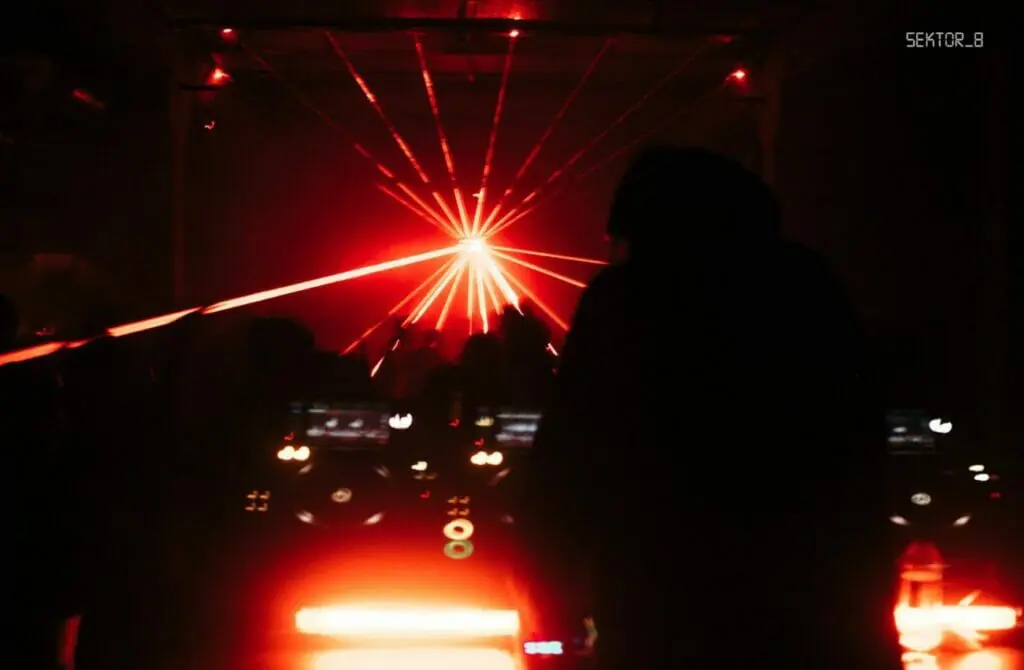 Gay-Friendly Cocktail Bars in Baku
The Jazz Club, which provides intriguing beverages and has a reputation as one of the city's finest live stages, is located on the third floor of the Fairmont Hotel, which also houses one of the hotel's distinctive Flame Towers. The Jazz Club is a one-stop shop that offers a wide range of alcoholic drinks, dining, dancing, and live jazz and blues music most nights of the week.
Sergey Sandul, a master mixologist, creates inventive drinks with only the finest booze. The Santiago de Cuba, a specialty drink at the Jazz Club, combines aged rum from the Caribbean and Guatemala, fresh lime juice, and wonderful froth. You may obtain this cocktail by going to the bar there. When you sip your drink, take in the spectacular city and harbor views, which are especially impressive at night.
The Madrid bar, located in the heart of the capital city, recreates the ambiance of classic Spanish drinking establishments. This bar provides a cozy and raucous atmosphere all at the same time. The cocktail bar is well-known for its drink mixtures with a Spanish flair that will make your evening unforgettable.
It is also noted for displaying the city's bartending talent. Whether you're visiting Azerbaijan with a group of friends or a significant partner, this bar is where you'll want to spend most of your time due to its excellent and dynamic environment.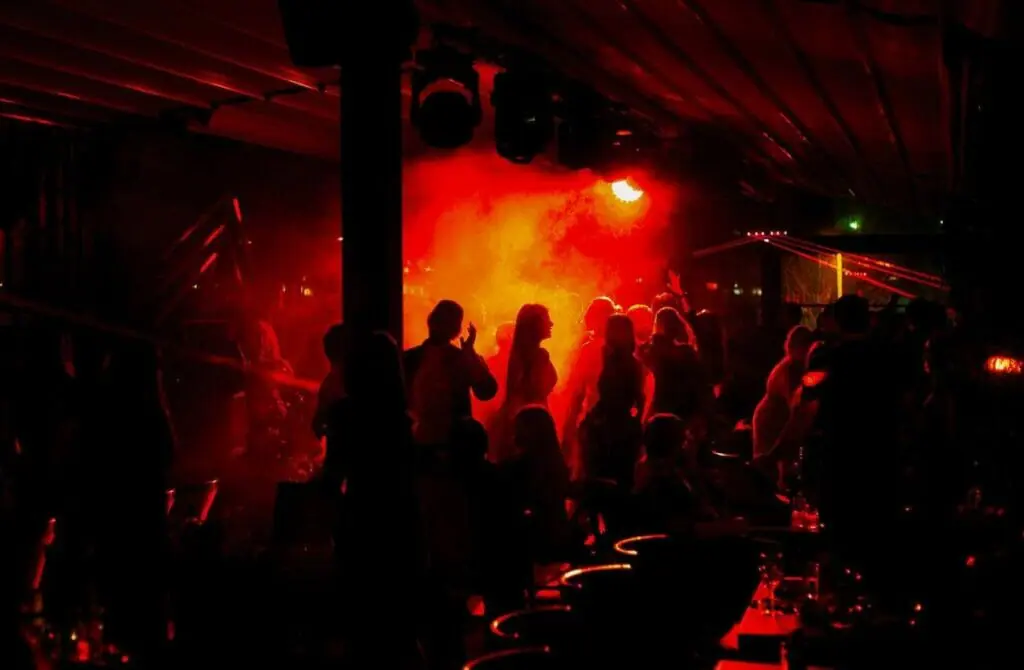 The Barfly Social Hub is an excellent place to interact and relax, and it is located inside the walls of the Old City, which date back to the 12th century. This means you may enjoy a tour of the Old City before finishing your day in Baku with some wonderful food and live music. Nizam Ismayilzade is a talented mixologist who creates one-of-a-kind cocktails from scratch using only natural ingredients.
The Crazylove, his signature cocktail, is a one-of-a-kind blend of rum, citrus tincture, yuzu, Passo, lemon, and pineapple infusion. You should call ahead to reserve a place at the venue since it is often fairly packed on weekends.
The Hard Rock Café is practically hard to miss from Fountain Square due to its eye-catching architecture and neon illumination. In addition to delivering excellent American food, the café offers a diverse assortment of alcoholic and non-alcoholic drinks. Get the renowned Hurricane cocktail to sample a dynamic combination of orange, mango, pineapple juice, and grenadine.
A float of Bacardi Black cocktail and amaretto is added on top. While the venue has higher costs, it is undeniably well worth it if you like being in a setting with a bustling party feel. If it is not too late, take Mammad Amin Rasul-Zadeh Street five minutes farther south to reach Baku Boulevard, where you may enjoy an evening promenade along the Caspian Sea.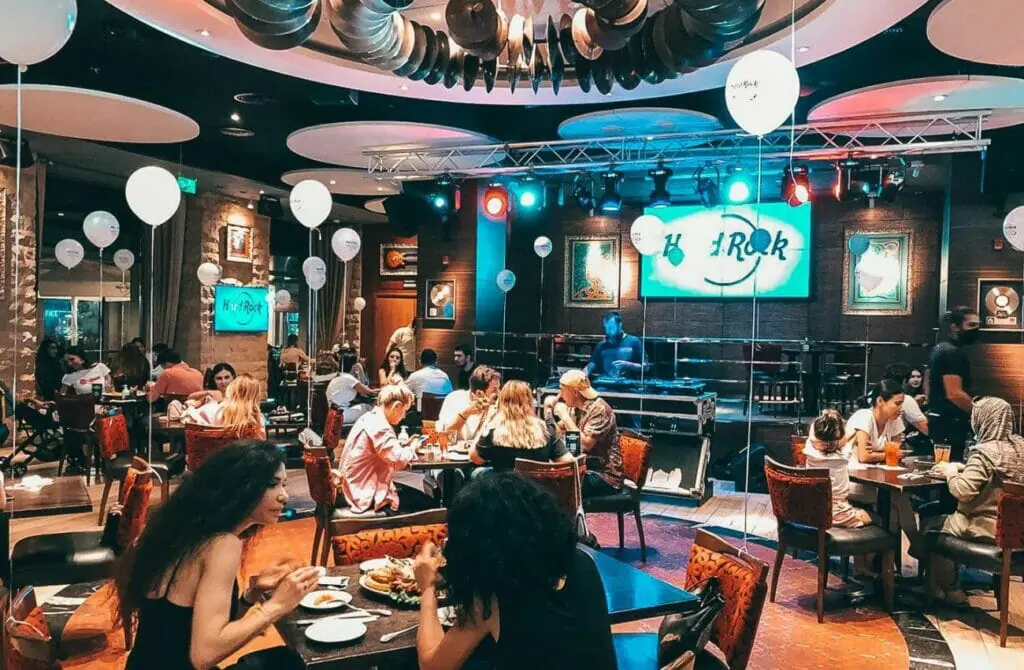 Gay-Friendly Rooftop Bars in Baku
This premium rotating bar is located on the Hilton Baku Hotel's rooftop and offers guests a panoramic view of the city, the Caspian Sea, and the setting sun. The inside is done in an amber color scheme that complements the bar's ambiance and makes it appropriate for any client. Stop by this bar for a beer or two before traveling to a local restaurant to relax and unwind before supper.
The stunning Sky Bar & Lounge is on the nineteenth level above the Landmark Hotel. It offers casual food and a wide range of inventive and classic cocktails, premium cognacs and brandies, and other premium alcoholic drinks.
The minimalist bar's decor has paintings and other artworks by Azerbaijani artists and Murano glass components that beautify the room. The tavern provides a fantastic view of Baku, especially at night when you can see the city's dazzling lights, and you can relax outside during the warmer months.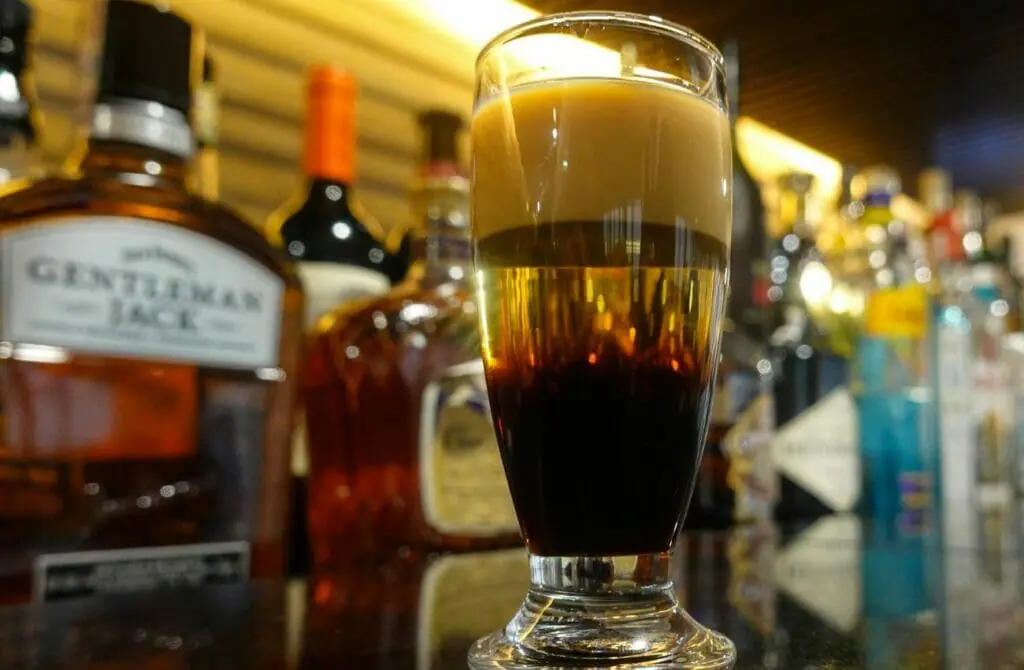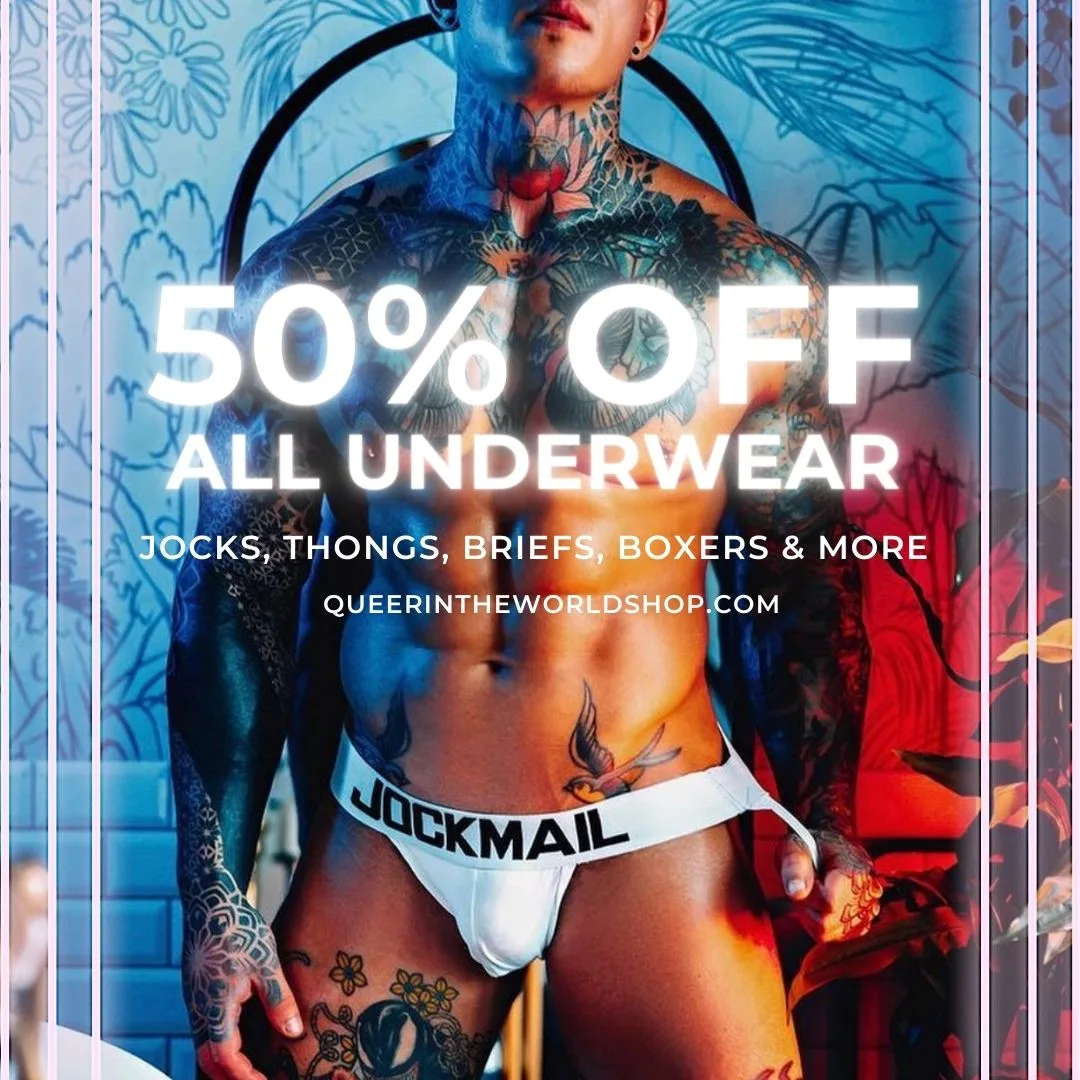 Gay Map Of Baku
Finding it hard to envisage where everything is in Baku? Hopefully, this queer-centric map helps where we have marked all the bars, clubs, parties, hotels, saunas, massages, and more will help you stay in the spot best suited to you!