India's first UNESCO Urban World Heritage Site, Ahmedabad, is an almost 600-year-old city with jaw-dropping architecture and monuments that reflect its heritage.
Formerly one of the most conservative Indian cities, Ahmedabad has slowly been shedding that image in recent years. Since the first pride parade in the city in 2013 and the decriminalization of homosexuality in India in 2018, Ahmedabad has slowly become more aware, and its queer community has gained courage and become bolder. Queer collectives like "Queerabad" provide a platform for the queer voices of the city to be heard.
This city holds a lot of significance in Indian history– from the period of the Islamic Sultans to the colonial and contemporary periods. The influence of all these different periods is evident in the architecture found in the city, such as the Indo-Islamic architectural style of most of the historic monuments and sites.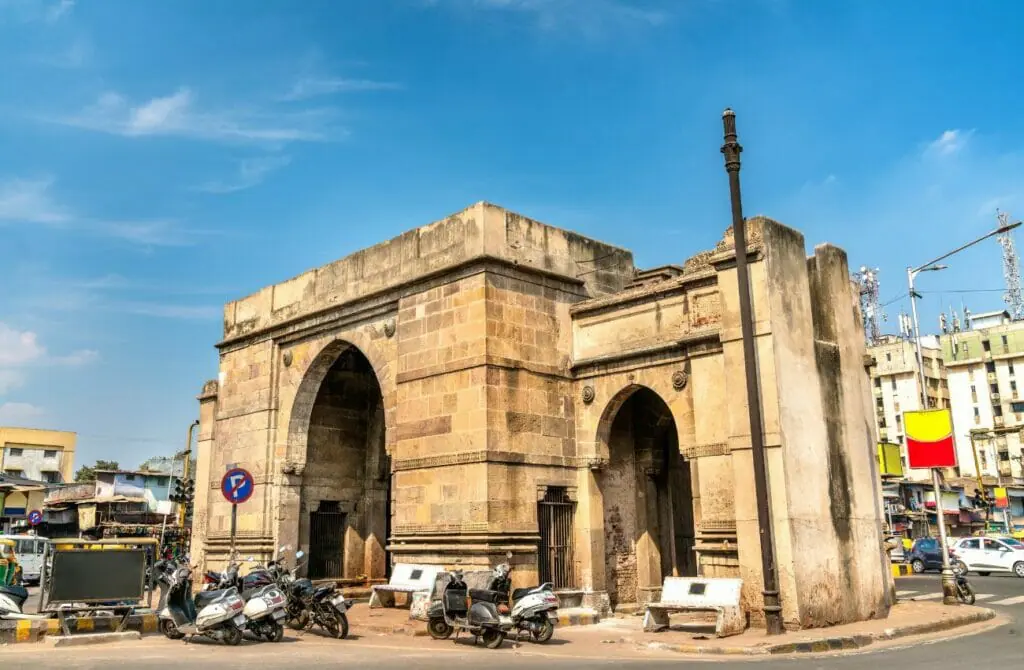 We also find old, preserved colonial buildings standing to this day in this city. In the colonial period, one of the most important figures of India's freedom movement came from Ahmedabad, Gujarat.
He was none other than Mahatma Gandhi, the father of the Indian nation. His home still stands and has been converted into a memorial. In contemporary times, Ahmedabad is known as the textile hub of India, known for its textile industry. It is also the second most popular industrial center in Western India after Mumbai.
The incredible architecture and the food– whether it be high-end restaurants or street food, will leave you awestruck. Ahmedabad has a lot to offer to travelers- no matter where they are from, what language they speak and what their sexual orientation is.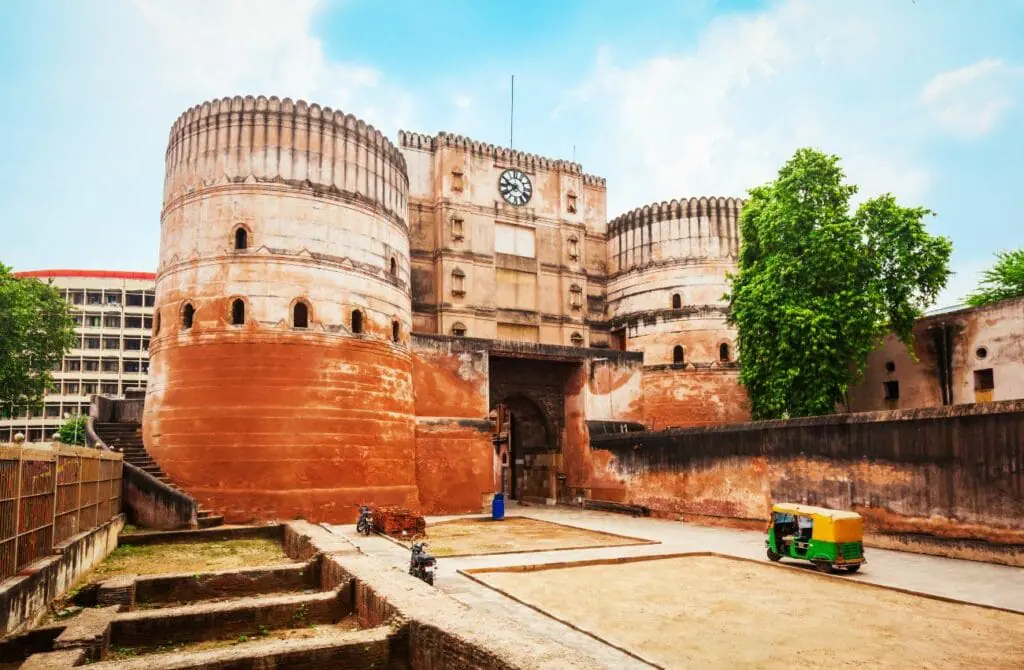 In this article we will cover...
Attractions in Gay Ahmedabad, India
Welcome to Gay Ahmedabad, darling! While the city may not be the most welcoming to the queer community, fear not! There are still plenty of fabulous things for you to do while keeping things low-key. First and foremost, you simply must visit some of the city's most iconic landmarks and attractions, dahling!
Take in history and culture by visiting museums, art galleries, and historical monuments. And don't forget to marvel at the stunning architecture, explore parks and gardens, and indulge in the local cuisine. But that's not all, darling! Gay or straight, there's always something to do in Gay Ahmedabad. Immerse yourself in the local culture by attending cultural events like festivals, concerts, and shows.
In India, LGBT rights have made some significant strides in recent years, but many issues remain. In 2018, the country's Supreme Court overturned a colonial-era law that criminalized homosexuality and in 2023, the legal battle for same-sex marriage heated up, but societal attitudes towards LGBTQ+ people remain largely conservative.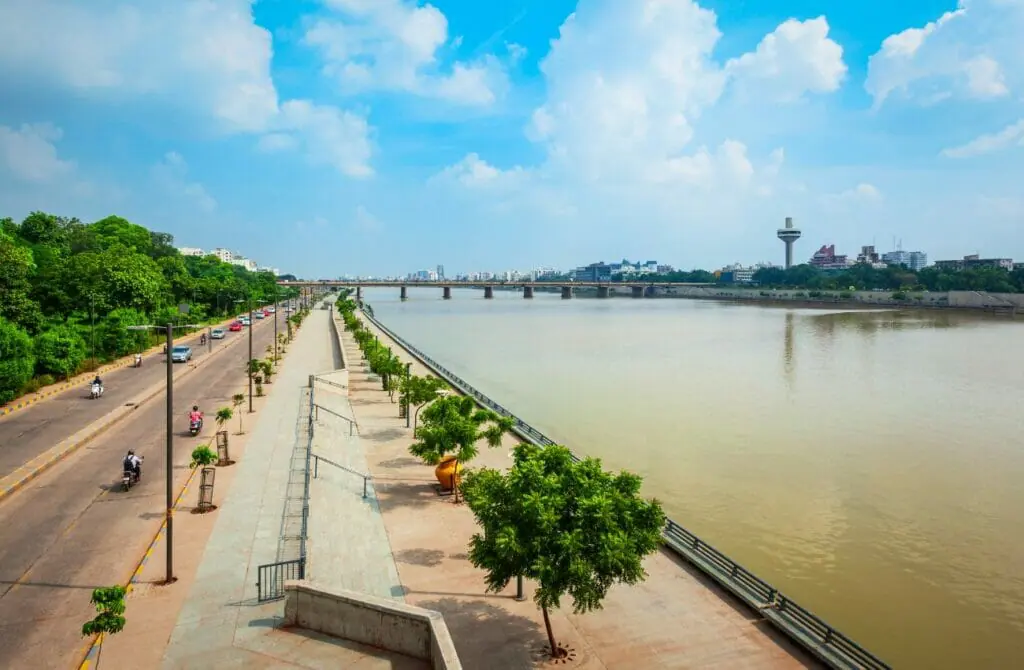 Discrimination and violence against queer individuals still occur, and there is still a long way to go regarding legal and societal acceptance.
As a queer traveler in India, exercising caution and being mindful of your surroundings is important. While larger cities like Mumbai and Delhi have more visible LGBTQ+ communities and venues, it is still important to be discreet in public spaces outside of these areas.
Holding hands or displaying affection in public may draw unwanted attention or negative reactions. It's also important to know local customs and dress codes, especially if visiting religious sites or rural areas. It's always best to err on the side of caution and respect the local culture.
Trust us; there's always something fun and exciting happening in this fabulous city. Remember, discretion is key in a city that's not always welcoming to our fabulous community. So, keep it lowkey and enjoy all the wonderful things Gay Ahmedabad has to offer!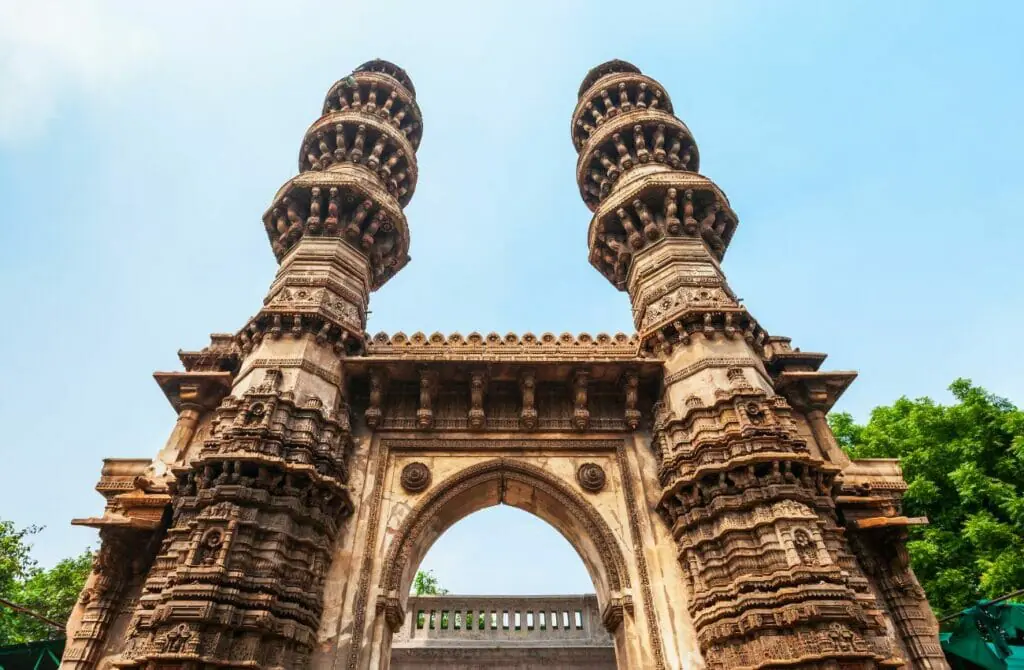 Being the former home of Mahatma Gandhi and the center of operations for the Indian freedom struggle, Sabarmati Ashram is a very important site in India's history. It has now been turned into a memorial for the father of the nation– MK Gandhi. Tourists can find many of his personal artifacts in the Ashram, including his signature glasses, slippers, and books.
The Sabarmati Ashram also has an art gallery and a library with almost 35 thousand books in English, Hindi and Gujarati. These books, paintings and artifacts tell us a lot about the life and mind of the Mahatma. Visiting this Ashram is an absolute must when you come to Ahmedabad!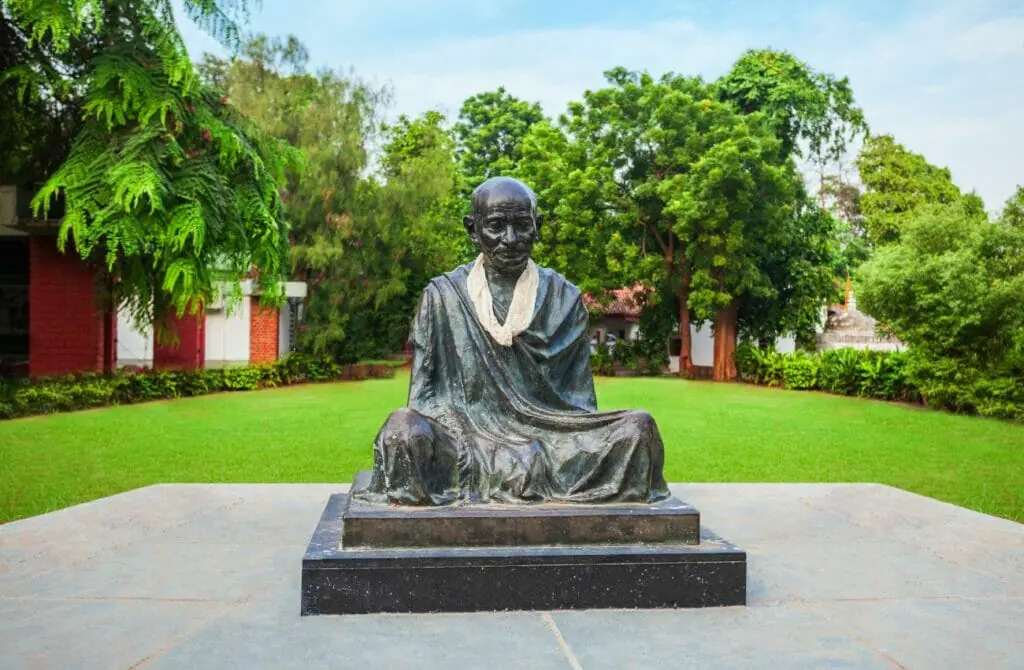 Teen Darwaza
The Teen Darwaza is one of the oldest and longest historical gateways on the east of the Bhadra Fort in Ahmedabad. Completed in 1415 AD by Sultan Ahmed Shah, this gateway is associated with important events in Indian history.
The name "Teen Darwaza" translates to three doors, which the gateway possesses. The central door is the tallest and adorned with the images of lions and Lord Ganesha, an important god in Hinduism.
Jama Masjid, which translates to Friday Mosque, is a mosque in Ahmedabad that was also built during the reign of Sultan Ahmed Shah I in 1423. This mosque is located right next to Bhadra Fort, and the Sultan supposedly constructed it so the Muslims of Ahmedabad had a place where they could gather for their Friday prayers.
Also known as Jumah Mosque or Jami' Masjid, this mosque is an architectural wonder made of yellow sandstone and 260 pillars with fine carvings. The architectural style of the mosque is Indo-Islamic, representing an amalgamation of Hindu and Islamic architectural styles.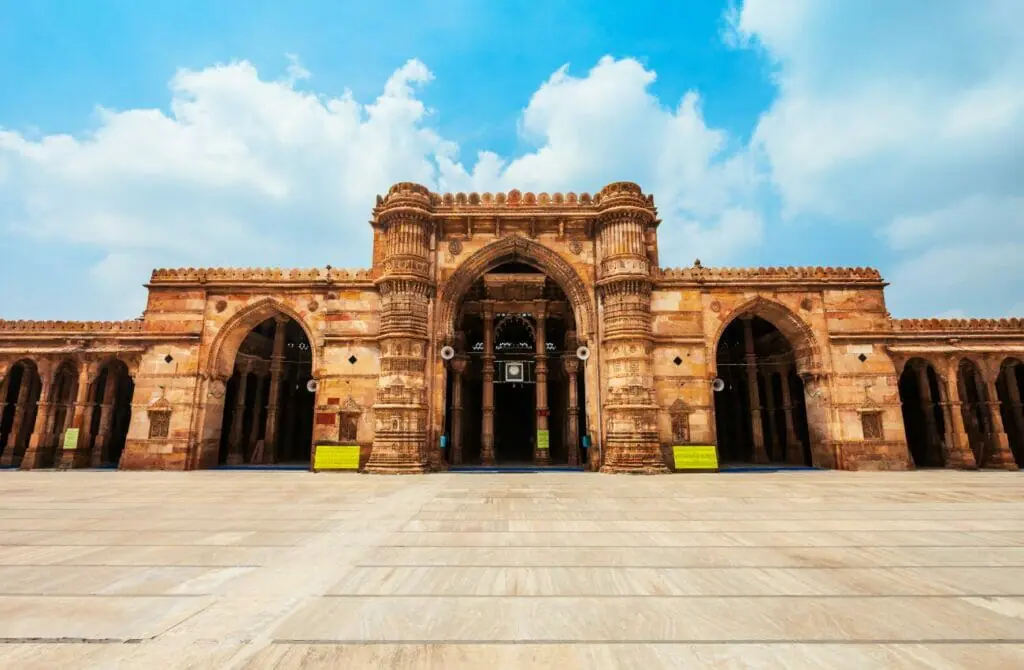 Kankaria Lake is the city's largest waterbody, attracting tourists and locals alike. Built-in the 15th century by the Sultans Muhammad Shah and Ahmed Shah II, the lake was the royal bathing place of most rulers in the era and even has an in-built water purification system.
An entertainment zone has now been developed on the lakeside, which includes a zoo, kids' city, toy train, food stalls and a famous water park. A visit to Kankaria Lake will surely be a fun-filled day you can spend with your friends and loved ones!
This Jain temple was built around the year 1850 by a Jain merchant named Hutheesing Kesarsing. Another awe-inspiring piece of architecture, this temple adds to Ahmedabad's cultural heritage and aesthetic beauty.
Made with marble and carved with extreme skill, this temple pays tribute to Dharmanath, who was the fifteenth Jain Tirthankara. This sacred shrine blends the old Maru-Gurjara temple architecture style with newer elements of the haveli design.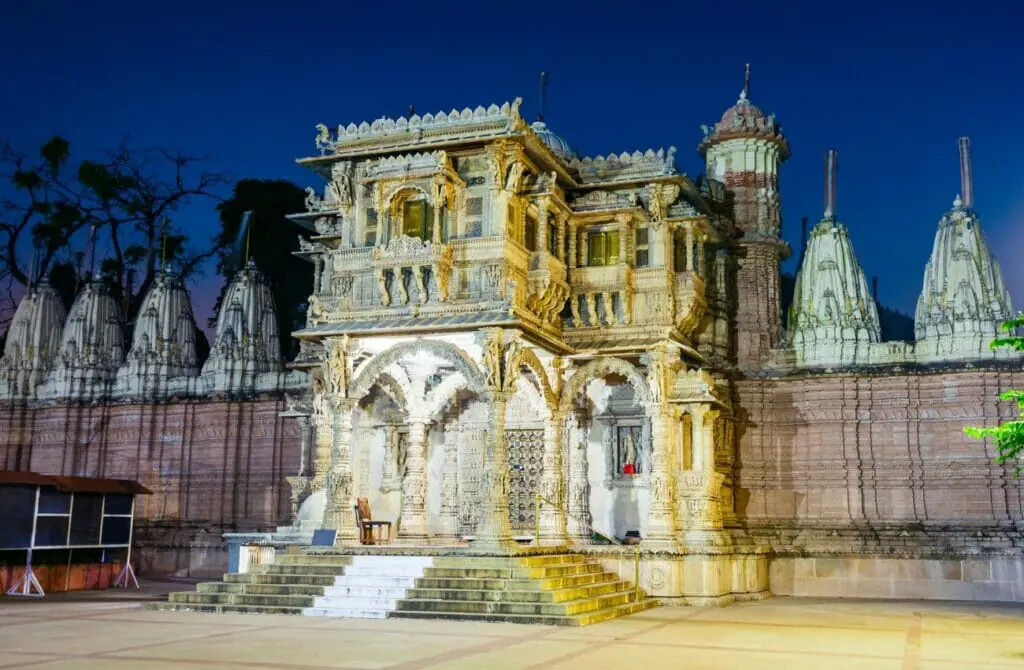 The Calico Museum of Textiles
As Ahmedabad is famous for its textile industry, its Calico Museum of Textiles is the premier textile museum in the country. The museum contains one of the world's finest collections of antique and modern Indian textiles, which are all handmade and up to 500 years old. One of the oldest museums in Ahmedabad, it attracts the attention of both Indian and international researchers as well as tourists.
Rani no Hajiro
Meaning "Queen's tomb" in Gujarati, Rani no Hajiro holds the tombs of the queen consorts of Sultan Ahmed Shah. Also known as Mughalai Bibi's Tomb, it is an open courtyard tomb complex near Manek Chowk in Ahmedabad, located on the east side of the tomb of the Sultan himself. The richly carved mausoleums of the queens display influences of Jain, Hindu and Islamic architectural styles and aesthetics.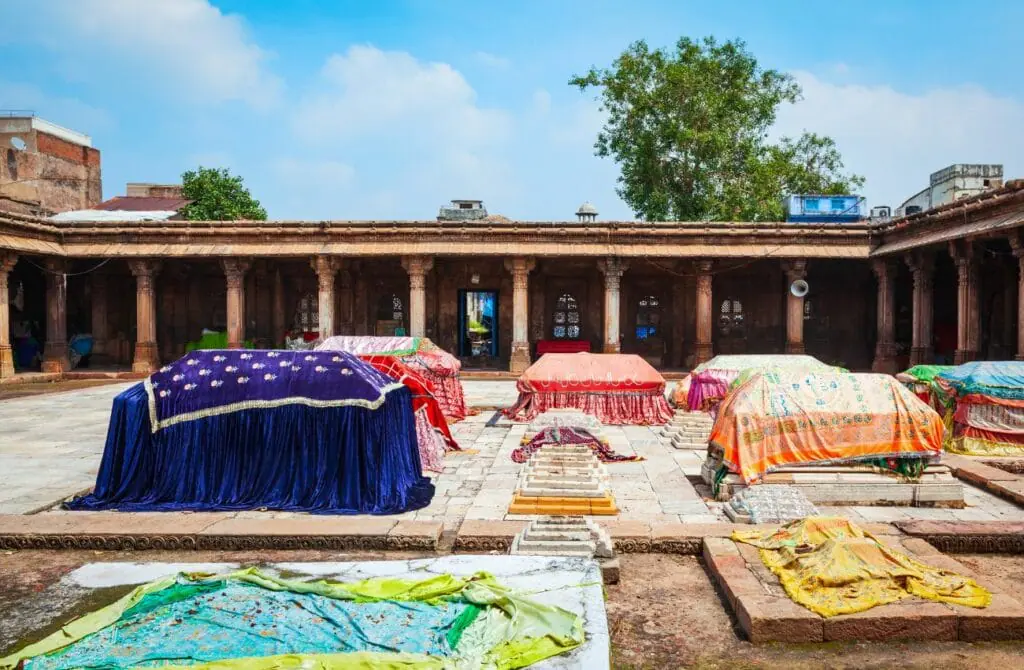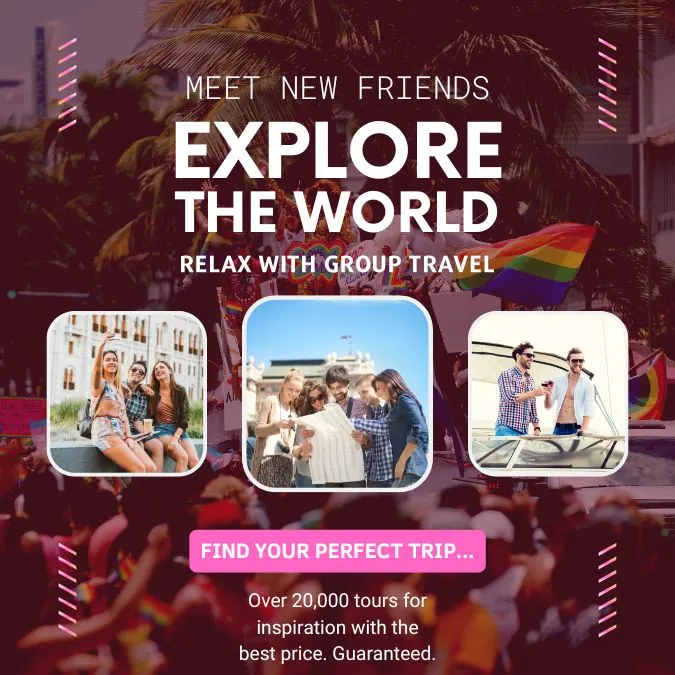 Heritage and Cultural Walk of Ahmedabad (2 hours Guided Walking Tour)
This two-hour guided tour will transport you in time and take you through the history of Ahmedabad, which will help you truly understand the heritage and culture of the city. The guides are fun storytellers who will help you experience the authentic feeling of this old town. This is a highly recommended tour if you want to understand the significance of the cultural heritage of Ahmedabad.
The Pols, Ahmedabad
Pols are tightly packed rows and blocks of houses, and while they can be found in many cities in Gujarat, the Pols in old Ahmedabad are some of the best in the state.
Their architectural style is a mix of many elements, with some having a Peshwa symbol at the entrance while others have a Persian-style grapevine carved in their doors. These Pols now house the cottage industry set-up of the city. Seeing them in person should be a stop on your tour of the city!
Ahmedabad joined the major cities of India in holding up the pride flag when it organized its first pride march in 2013. In recent years, awareness has spread faster, and the city is slowly losing its conservative identity. Queer people of Ahmedabad are finding courage by connecting with other queer people in these pride marches.
Queer individuals, activist organizations and allies of the LGBTQ community organize this pride parade in Ahmedabad every year. A major event for the queer community of Ahmedabad, participating in this pride parade will be a great experience!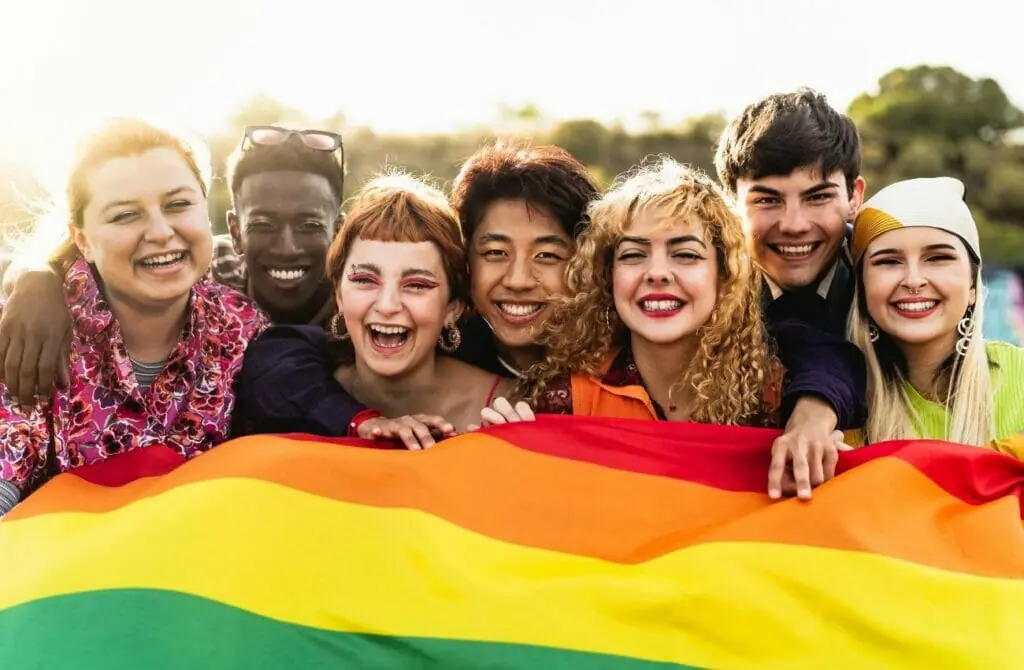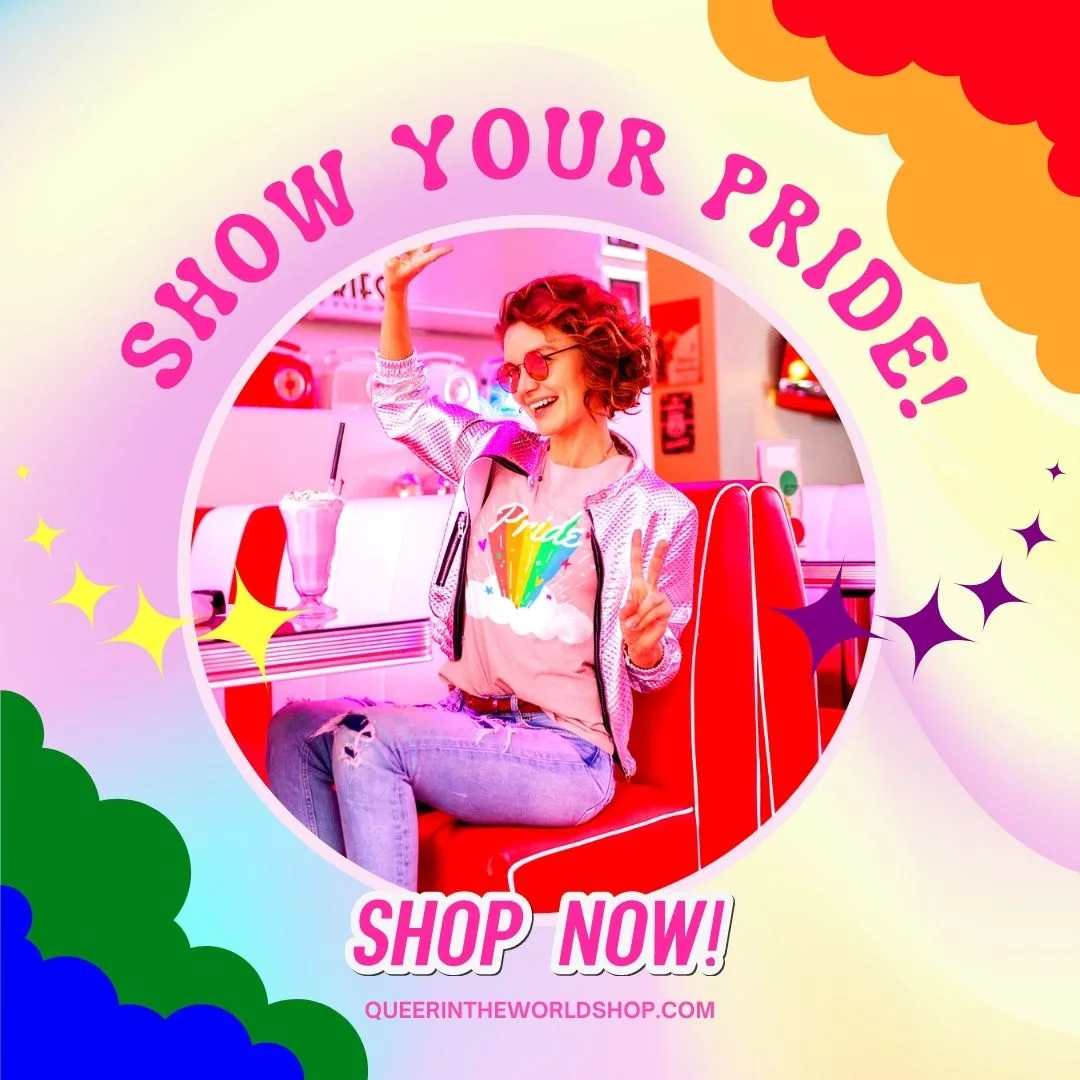 Gay-Friendly Hotels and Hostels in Ahmedabad, India
Don't wait another minute to book your stay at one of the most fabulously queer-friendly hotels in Ahmedabad! While many establishments in town might not welcome our rainbow family, these hotels have all pledged to embrace our queer spirit with open arms.
From non-discrimination policies to LGBTQ+ resources and amenities, these hotels go above and beyond to create a safe and inclusive environment for all guests who identify as LGBTQ+. And if you're looking for a place to stay in an area known for being LGBTQ+ friendly, these hotels have got you covered too.
In addition to the locally-owned gay-friendly accommodations in Ahmedabad, international hotel chains can also be great options for LGBTQ+ travelers. Many of these chains have implemented policies and training programs to ensure that their hotels are welcoming and safe for LGBTQ+ guests.
They may also have LGBTQ+ affinity groups within the company, which can help to promote a culture of inclusivity and support for queer travelers.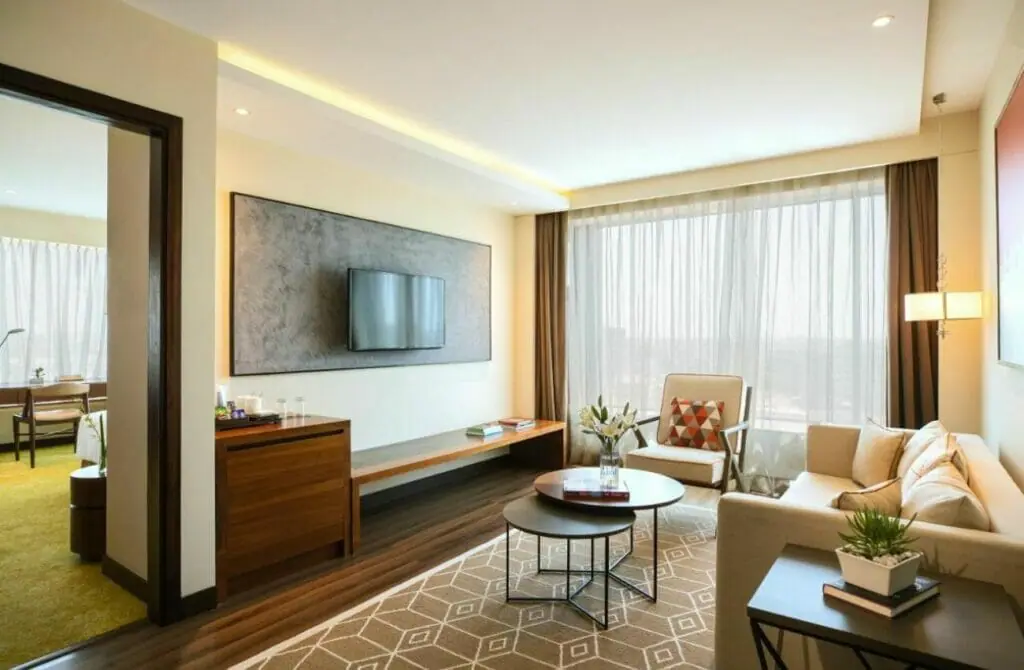 Moreover, international hotel chains are often known for their high-quality amenities and services, which can provide a more luxurious and comfortable stay for LGBTQ+ travelers. With a global presence, these chains can also provide a sense of familiarity and consistency for queer travelers who may be navigating unfamiliar destinations.
Whether you choose a locally-owned gay-friendly accommodation or an international hotel chain, it's important to do your research and choose a place that will make you feel welcome and comfortable during your stay in Ahmedabad.
So why wait? Book now to experience the comfort, luxury, and acceptance these gay-friendly hotels in Ahmedabad offer. With options to fit every budget and preference, you're sure to find the perfect home away from home.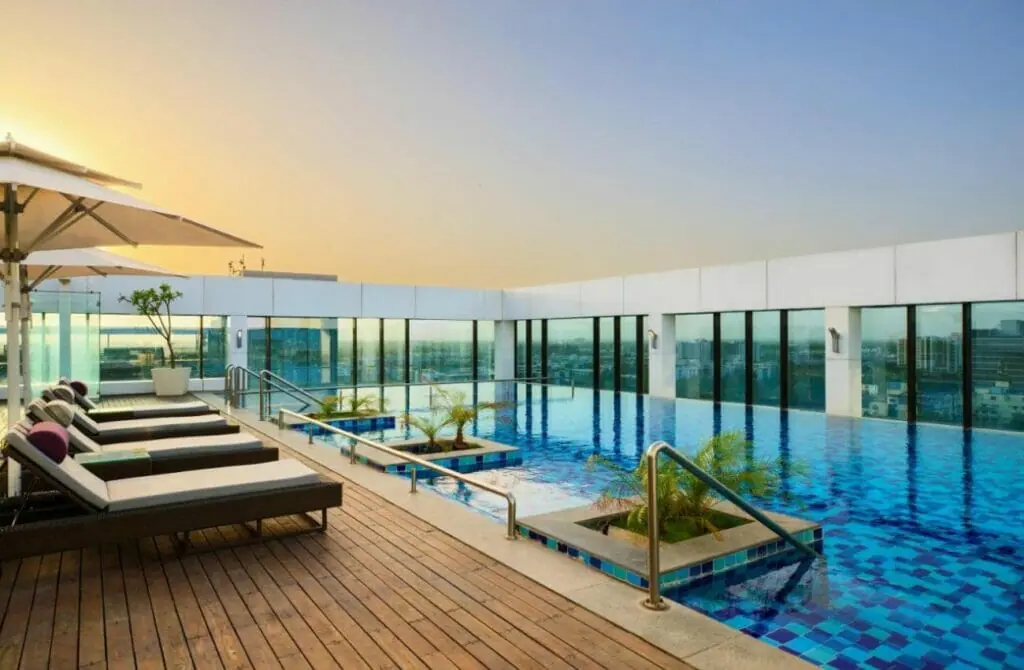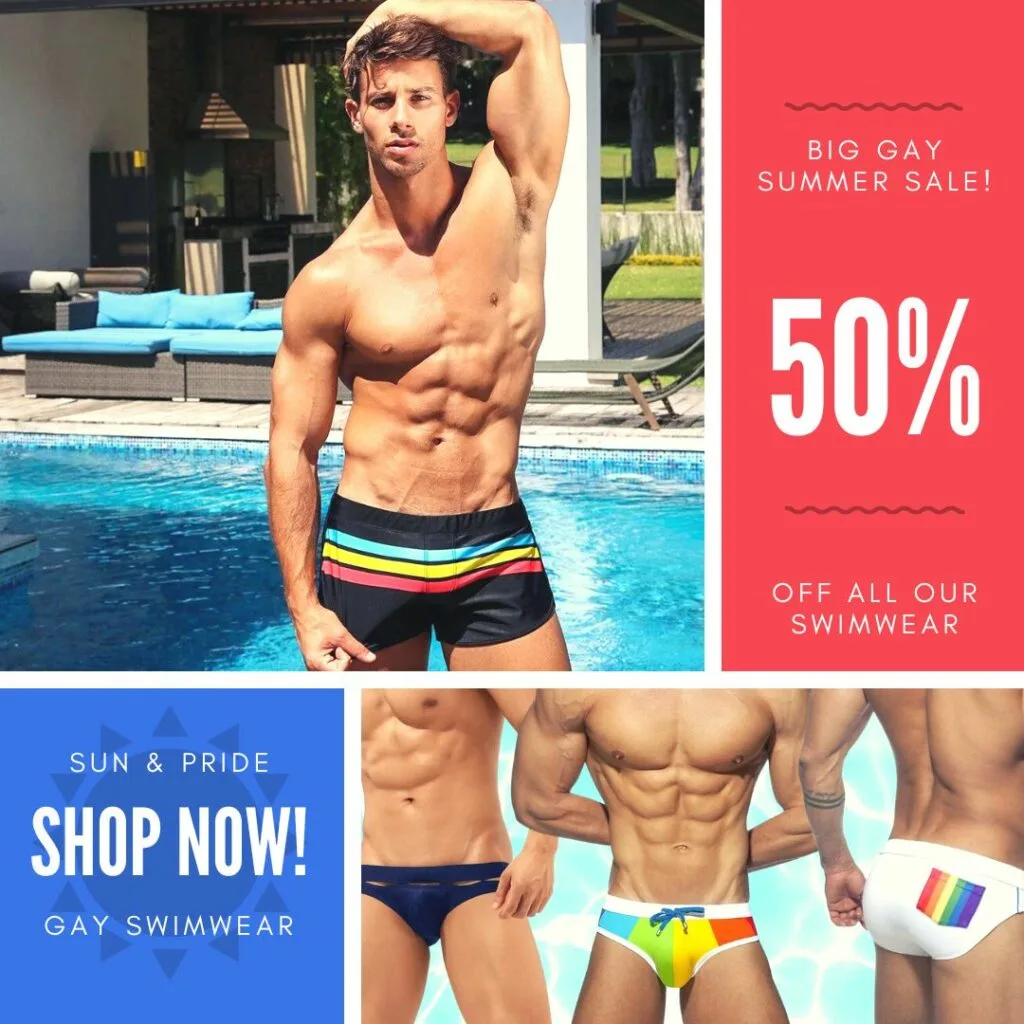 Renaissance Ahmedabad Hotel ☆☆☆☆☆
The Renaissance Ahmedabad Hotel is a 5-star hotel conveniently located in the city center, a 15-minute drive from the airport and near famous tourist spots like the Sabarmati Ashram. This luxury hotel has amenities such as a luxurious outdoor pool, a business center, a computer station, a conference center and meeting rooms, free wifi, free parking, a luxury spa and a 24-hour fitness center.
The Renaissance Hotel also boasts a variety of muti-cuisine food in its on-site restaurants: Kuro– the Asian Bistro, Mill & Co. and R Kitchen. 24-hour room service and a full paid breakfast are also included in this luxury hotel's package.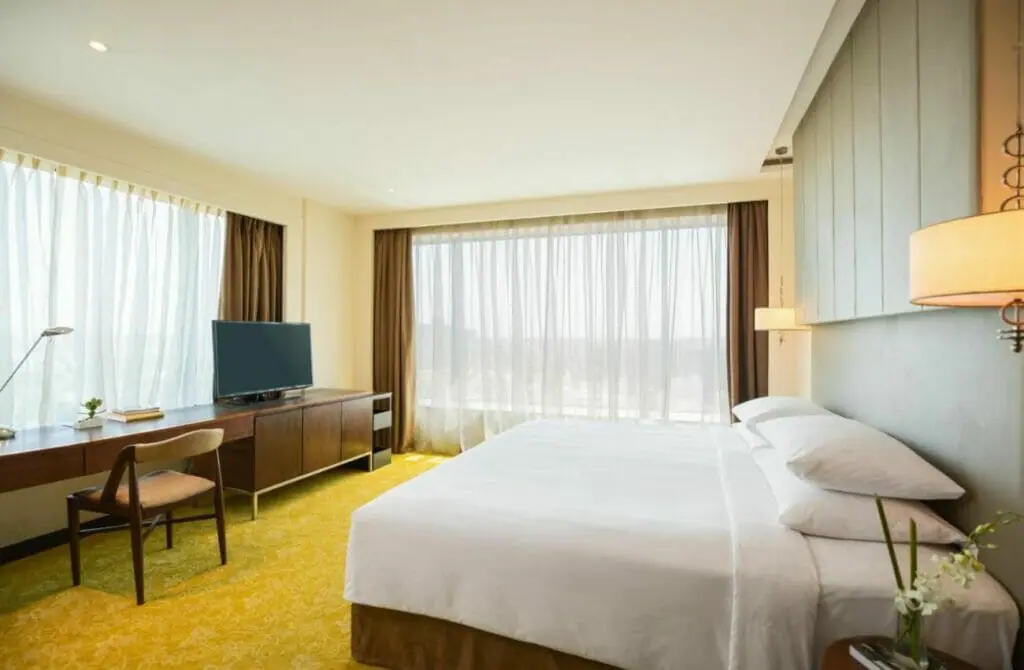 DoubleTree by Hilton, Ahmedabad ☆☆☆☆☆
Located minutes away from Gandhi's former home, the Law Garden Night Market, the ISCON Mega Mall and the famous ISKCON temple, Hilton's DoubleTree is a luxurious 5-star hotel that is guaranteed to provide you with a comfortable stay in Ahmedabad.
Equipped with facilities such as connecting rooms, digital keys, room service, meeting rooms, free wifi and parking, the hotel ensures its guests are at ease.
They also offer amenities such as a beautiful outdoor pool, an executive lounge, a spa, a fitness center and a business center. Their on-site restaurants consist of HOP, which offers coffee, lighter fare and meals on the go with live music, while Wave serves a mix of Asian, Western and Indian cuisines with interactive kitchens.
Holiday Inn Express Prahlad Nagar, an IHG hotel ☆☆☆☆
The Holiday Inn Express is a hotel located in Prahlad Nagar, Ahmedabad. This 4-star hotel is an ideal base for guests who need easy access to the key business hubs of the city. For travelers, the shopping district of Prahlad Nagar offers a lot, along with some important tourist spots such as the Vikram Sarabhai Space Exhibition Center, Sidi Saiyed's Mosque and Gandhi Ashram.
The hotel amenities include free breakfast, wifi, parking, a business center, and accessible spaces for specially-abled individuals. The hotel also partners with the National Association for the Blind-Delhi and supports the visually impaired through donations.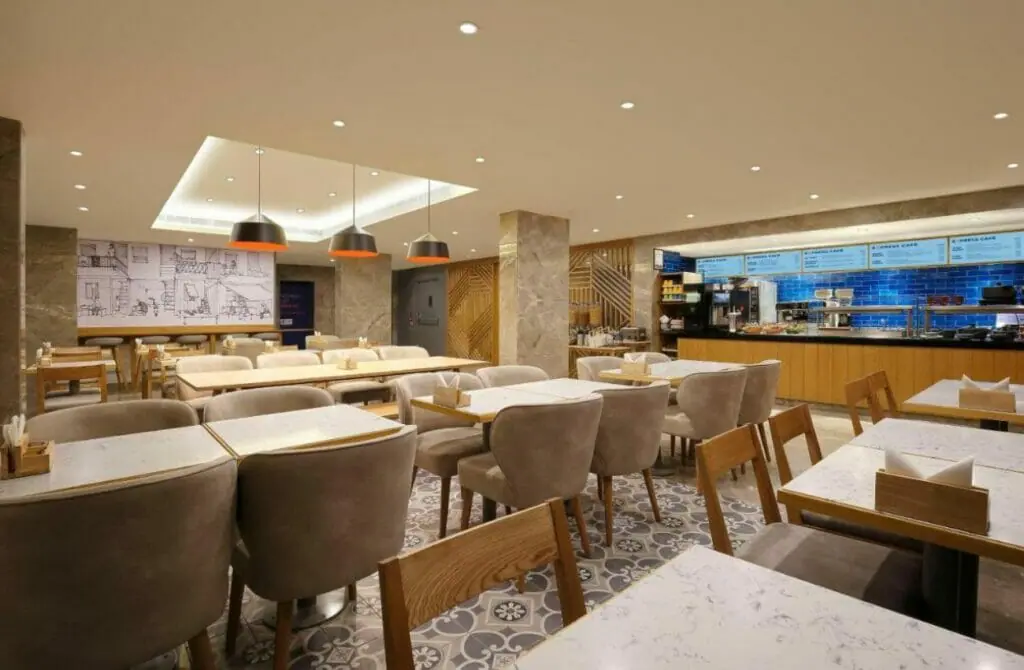 The House of MG is a majestic heritage hotel in Ahmedabad with a grand exterior that leaves visitors speechless with awe. It is one of the oldest buildings in the city and gives us a glimpse into the colonial architecture of the early 20th century. The House of MG has 38 beautifully furnished rooms with modern amenities but a vintage and homely vibe.
They proudly announce that every item of furniture and textile in the hotel is handmade, local and personalized, giving it so much more meaning. The name of this heritage hotel is very accurate as this building used to be the family home of the Mangaldas, a wealthy textile merchant family who built this home in 1924. This hotel is sure to give you a unique and comfortable stay!
Hostels or dormitories are a better option for a more affordable stay, especially for longer visits. The Charanya Hotel and AC Dormitory in Ahmedabad is a dormitory-style hostel, with rooms divided by gender and number of people.
This hostel offers many facilities and amenities like an on-site restaurant, a 24-hour front desk, an ATM, a shared lounge, and free Wi-Fi on the property. The rooms have capsule beds with centralized air conditioning and private bathrooms with a shower. The location of this hostel is quite close to the bustling city center, which has a lot of attractions to offer.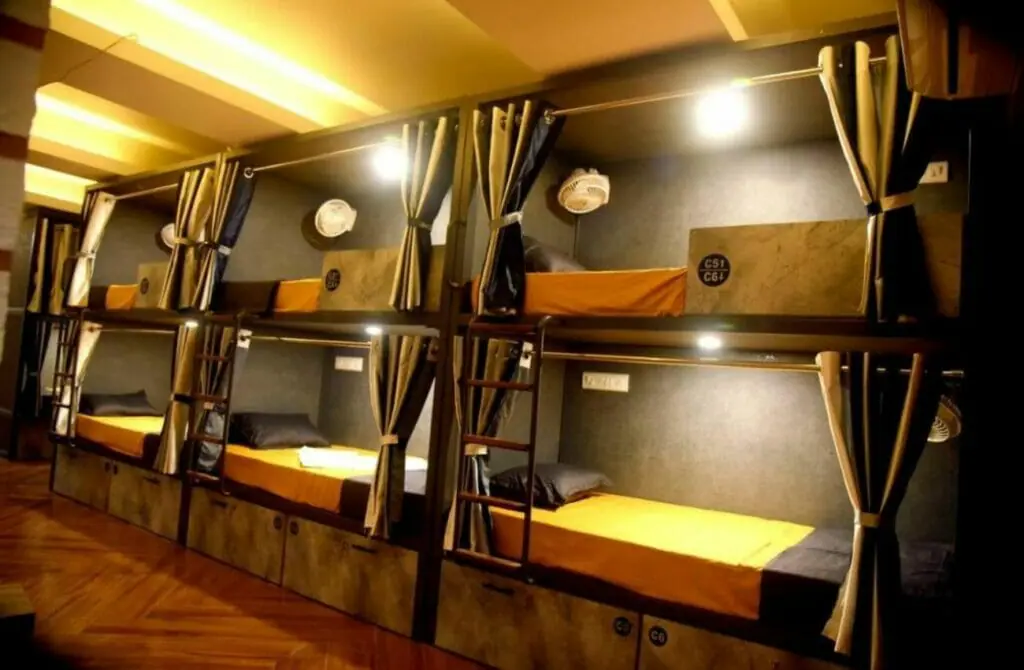 Gay Nightlife in Ahmedabad, India
Despite Gujarat being a 'dry state', which means there is a prohibition on alcohol in this state, the nightlife in Ahmedabad is still dynamic and interesting. This city is more about food and the company of loved ones than it is about hardcore parties with alcohol. Plenty of fun lounges, clubs and hangout spots keep the party scene alive for the party animals of the city as well as visitors!
Darling, let's talk about exploring the queer nightlife in Gay Ahmedabad, shall we? It's true this city might not be the most welcoming to our fabulous community but fear not! Being gay is perfectly legal here; remember to err on the side of caution when outside of queer-friendly spaces.
But let's focus on the fun, shall we? Exploring gay nightlife can be one of the most thrilling and enriching experiences while on the go. From dancing up a storm at a gay club to sipping cocktails and rubbing elbows with the locals at a gay-friendly bar, you'll have a chance to immerse yourself in the local culture and make memories that will last a lifetime.
And darling, we've got you covered with the best gay and gay-friendly spots in town. So don't be shy; step out of your comfort zone and explore the queer nightlife in Gay Ahmedabad. Trust us; it'll be worth it!
Sizzling mocktails and mouthwatering dishes keep the party going while you show off your dance moves on the dance floor. While there are no exclusively gay bars, these spots are as gay-friendly as it gets in Ahmedabad. Here are the top 10 must-visit spots in Ahmedad's nightlife!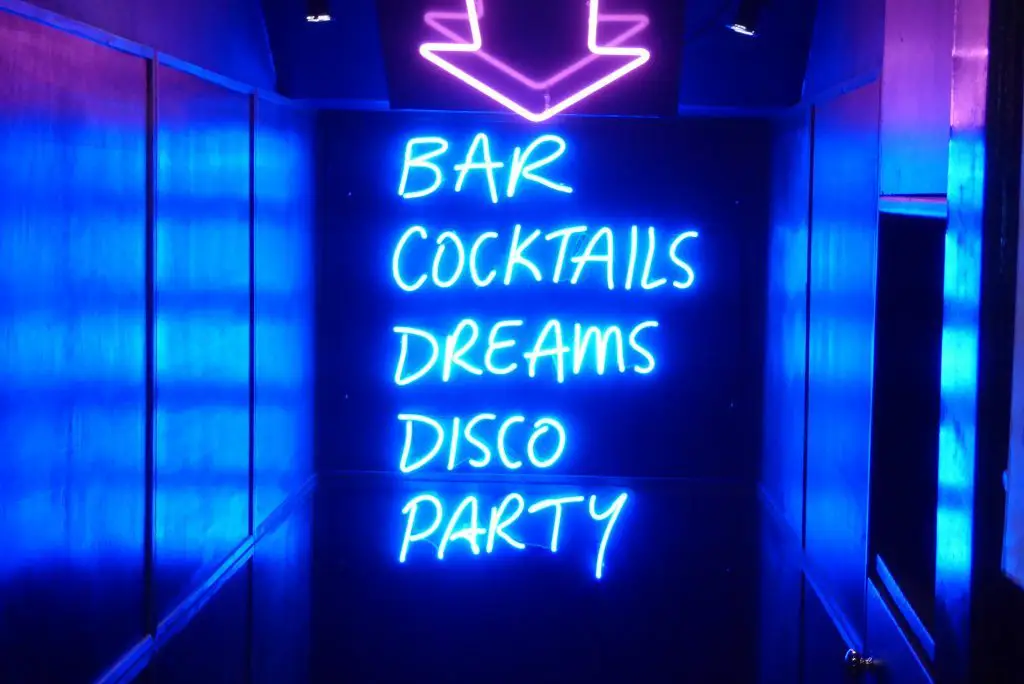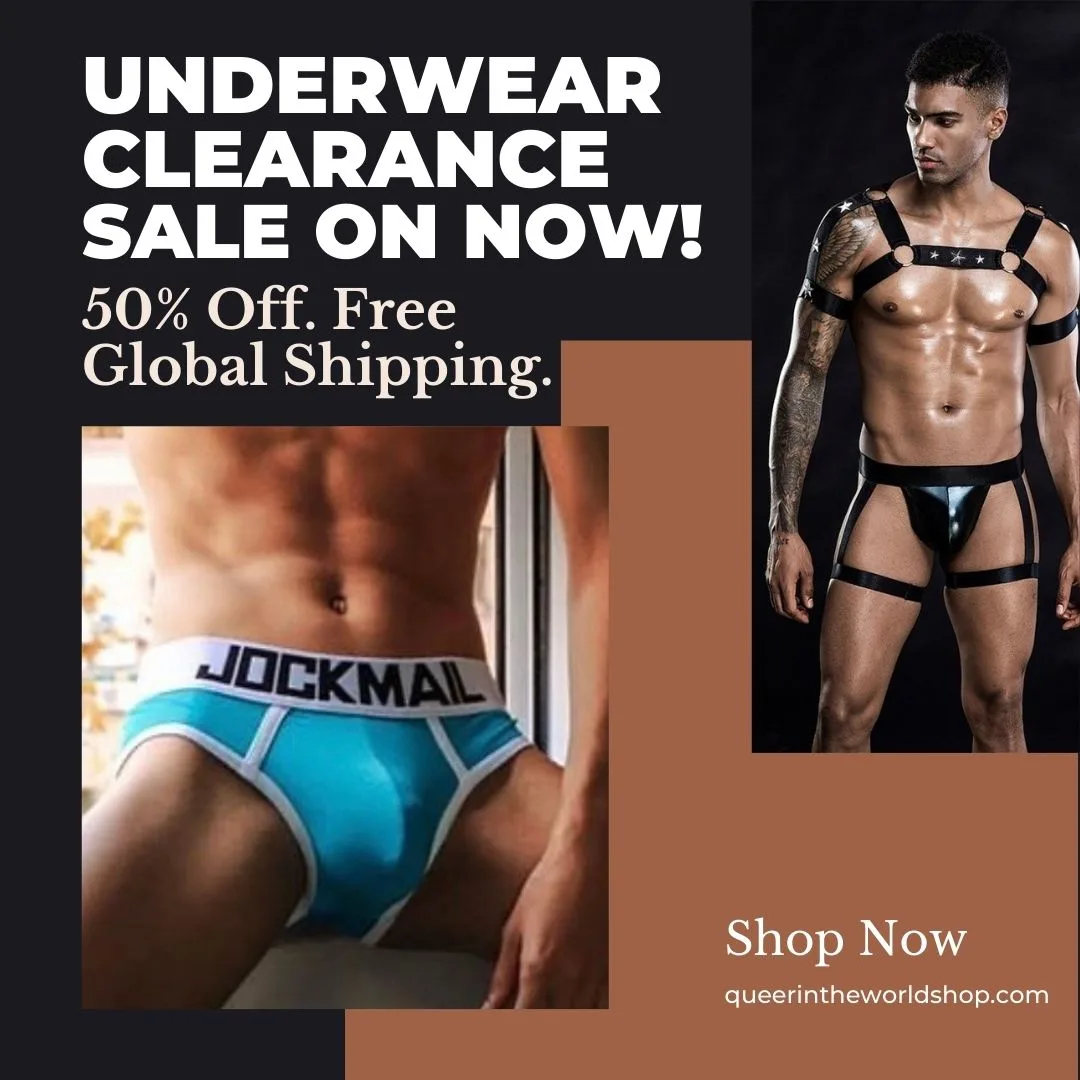 Java+ – Courtyard by Marriott, Satellite Road
Set in the luxurious premises of the JW Marriott, Java+ is a trendy cafe that entertains visitors throughout the day. Its European-style concept and decor exude a relaxed vibe and will help you unwind in a laid-back spot alone or with friends.
The cafe has outdoor terrace tables as well as a chic indoor seating arrangement. Mood lighting and live sports screenings take this place's lively vibes to the next level. It's a must-visit spot after a busy day visiting Ahmedabard's tourist spots!
A part of Hotel Ramada in Prahlad Nagar, Sphere Lounge is famous for its live sports screenings on its huge theatre system. This open rooftop cafe has an amazing ambiance with trendy decor and mood lighting.
Additionally, the candle-lit tables make it the perfect spot for couples to enjoy a date night. Sphere Lounge also offers a wide range of delicious dishes and beverages that you can enjoy alone, with your date or with your friends!
Conveniently located inside Shree Balaji Agora Mall, one of the best shopping malls in Ahmedabad, Spirit O Soul is one of the best nightlife destinations in the city. The ambiance is made electric even without any spirits by the happening dance floor and the DJ who keeps the party going.
The mouthwatering food makes up for the lack of alcohol and offers different cuisines, specializing in Italian and Mexican dishes. Spirit O Soul is also a popular spot for romantic dates, especially on Valentine's Day, as couples fill up their seats in this famous club.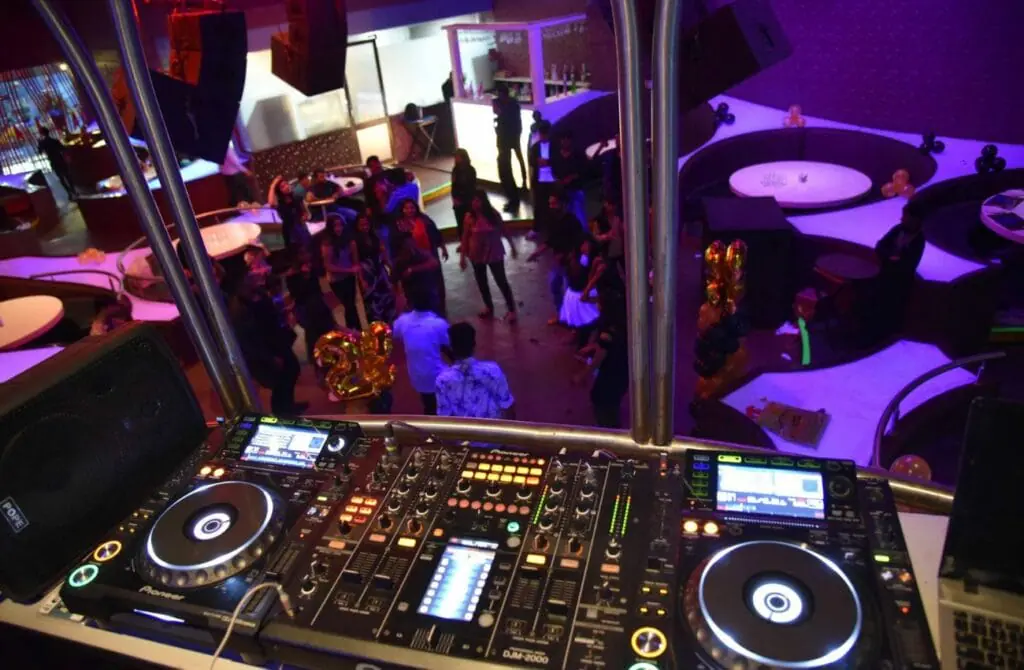 A retro terrace cafe, Makeba is famous for its classy ambiance, stylish design, comfortable seating and exceptional food. With different kinds of refreshing mocktails, mouthwatering dishes from international cuisines and live sports screenings, it is one of the most popular spots in Ahmedabad's nightlife.
Especially famous for its live mocktail bars, this place has the most flexible of bartenders who make your customized mocktails in an acrobatic way. Perfect for a fun night out with your friends, Makeba is definitely worth a visit!
Especially famous for its food menu, Amnesia Lounge is the perfect hangout spot for all food lovers! The lounge specializes in multi-cuisine dishes, from mouth-watering kebabs to delicious firewood pizzas.
Amnesia Lounge offers two spaces for seating: an indoor seating arrangement with ambient lighting and an outdoor seating arrangement that overlooks the sparkling pool and radiates a luxurious feeling. The staff is courteous, and the food prices are known to be extremely affordable. As its name suggests, an experience at this lounge will make you forget all your worries!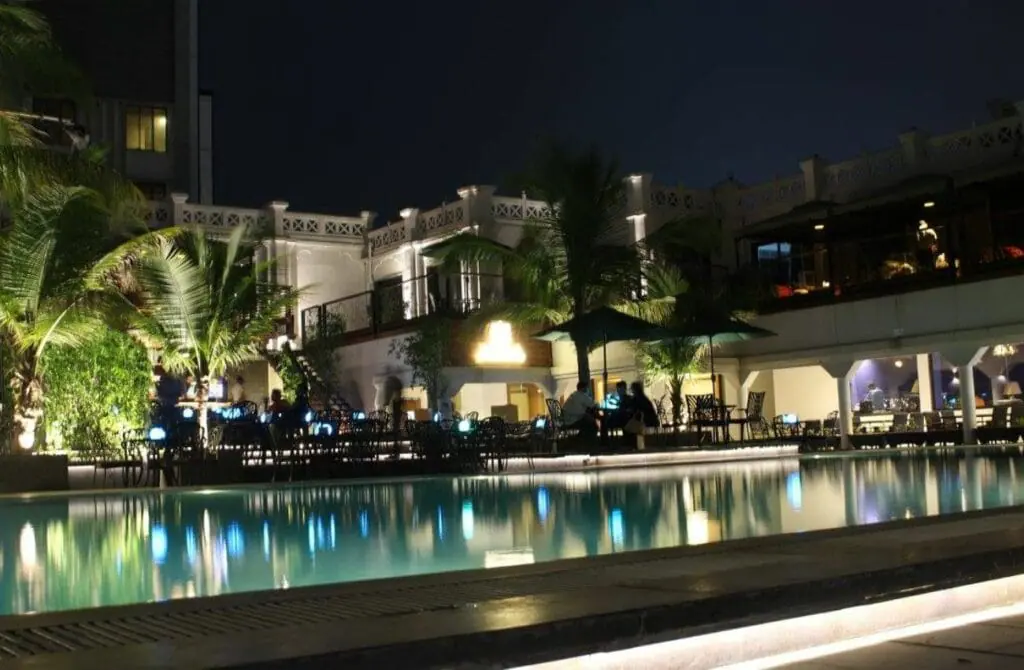 Escape Discotheque
(Temporarily or permanently closed. If you know something, please suggest an edit.)
This club lounge is one of the best places to visit in Ahmedabad's nightlife scene if you want to chill out and jam to good music with your friends or partner. As its name tell us, Escape Discotheque is a discotheque with a live DJ that will make you escape all your worries and anxieties for a while as you party and chill out here.
This discotheque also offers delicious food like momos and kebabs, along with a range of different mocktails. All of this, combined with their great music, makes Escapt Discotheque one of the most popular discotheques in Ahmedabad.
Rewind the Disc is a disco club located in Himalaya Mall in Ahmedabad. Its live music sessions, fun DJ nights and multi-cuisine dishes make it a popular venue for parties, engagements and weddings in the city. As a disco, Rewind the Disc definitely does not disappoint.
Equipped with a high-octane sound system and a resident DJ popular for his fun remixes, the dance floor is almost always full. As the name suggests, the place specializes in retro remixes with jaw-dropping beats, guaranteeing a fun night out!
Mocha Cafe and Bar has multiple established outlets in the city of Ahmedabad, a testimony to its popularity. A favorite of the sundown crowd in the city, Mocha Cafe is known for its warm ambiance, mind-blowing coffee and mouth-watering range of desserts.
Not only known for the impressive coffee, as the name of the cafe emphasizes, this place also offers a vast menu of different dishes from Italian, Continental and North Indian cuisines, such as pizzas, noodles, momos, sizzlers and much more. Mocha Cafe also has outdoor seating and a well-maintained garden for cool nights and pleasant evenings.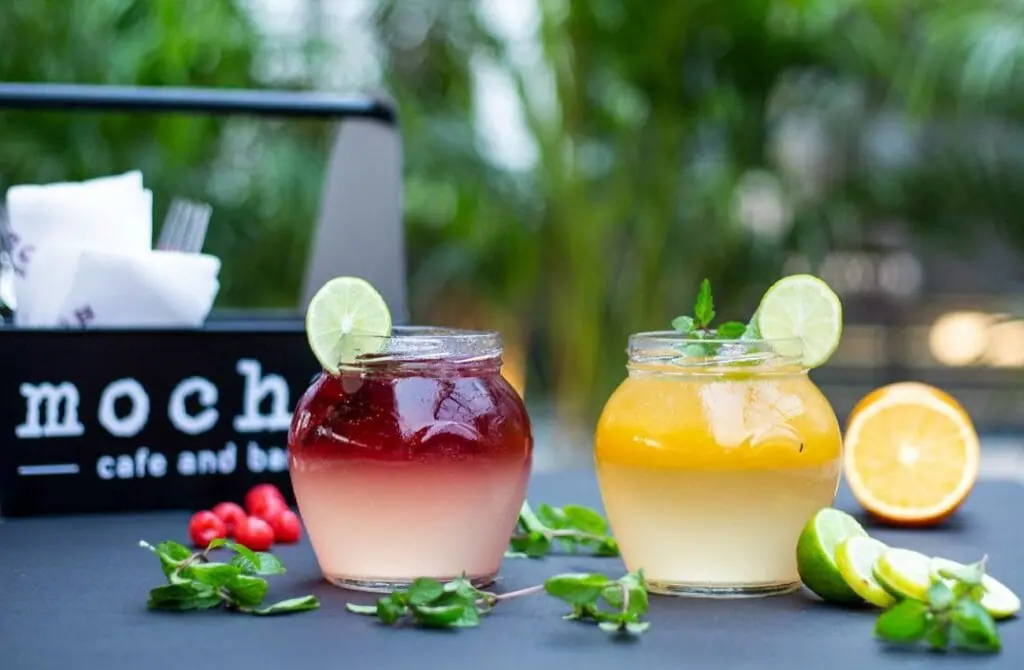 A cafe with a unique and refreshing concept, Caffix describes itself as a tech cafe that fixes both your hunger and your iPhone! Fusing their passion for food and experience in technology has rapidly made Caffix a popular hangout spot, especially among the younger generation.
This place serves beverages customized with your picture on it, especially famous for its amazing selfie coffee and shakes. The cafe boasts a high-class yet rustic ambiance and offers high-speed wifi and tables equipped with a charging port, making it perfect for working. To add to this already amazing experience, one can borrow books from their small library and read while enjoying the amazing food.
Ristretto is an always-happening cafe cum casual dining spot and holds an important place in Ahmedabad's nightlife. It boasts exquisite coffee, magical mocktails, superb shakes, supreme sizzlers and much more.
Every Friday night, live music gigs are held here, contributing to this cafe's magical ambiance. Ristretto also offers a wide range of delicious food options from Italian and Mexican cuisines. It's the perfect spot to hang out with your friends and loved ones, with good music and even better food!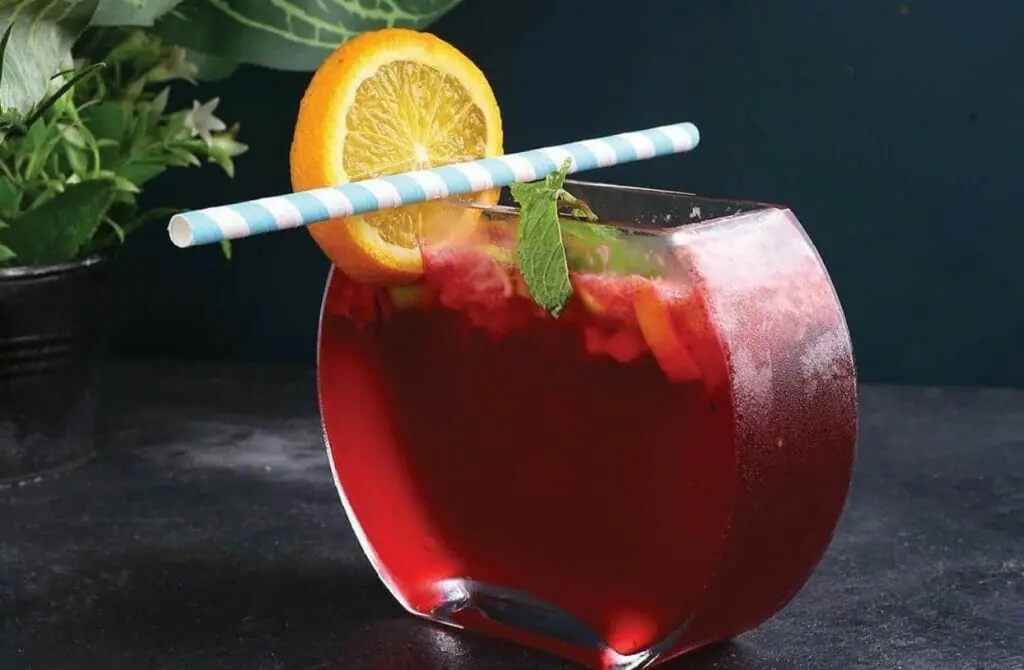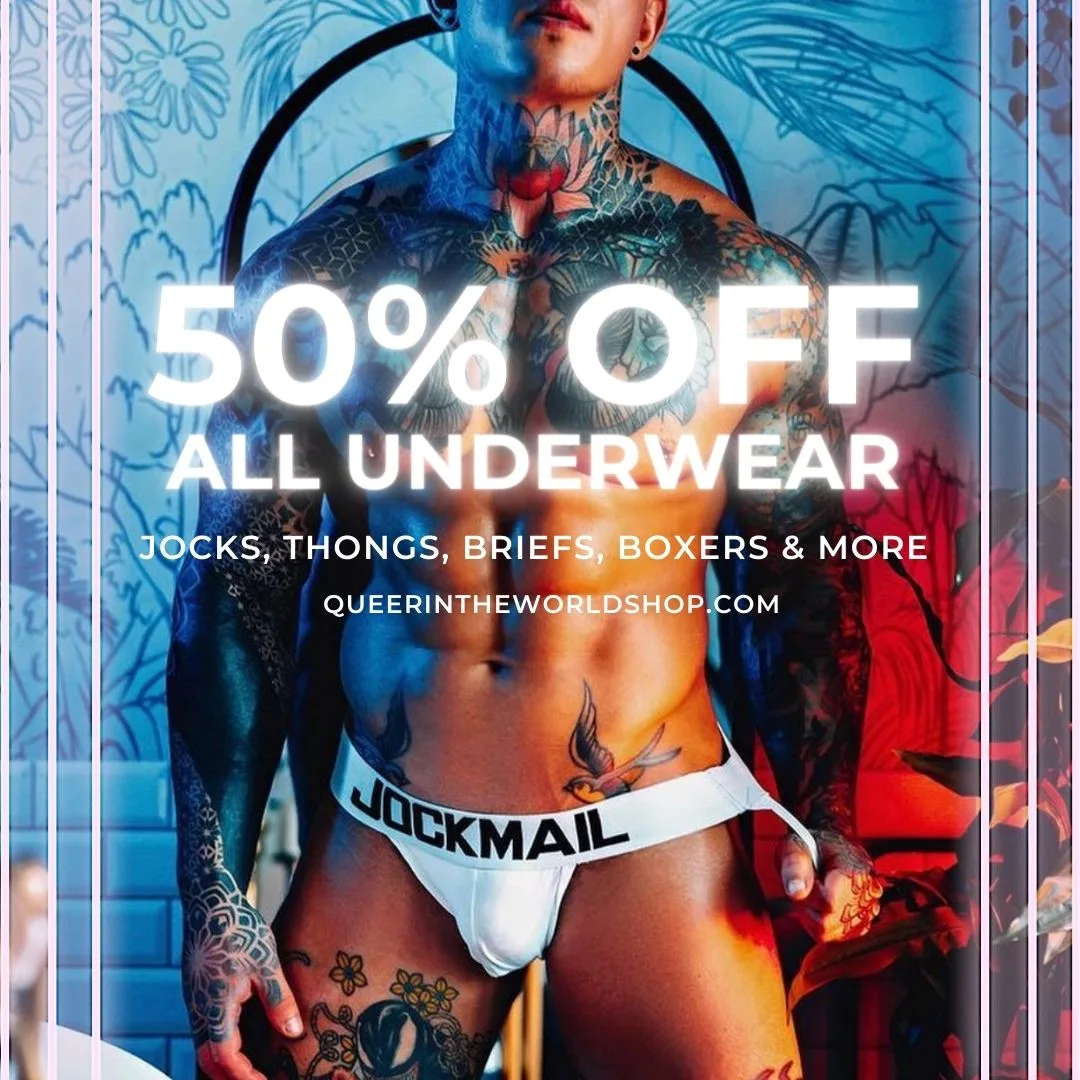 Gay Map Of Ahmedabad
Finding it hard to envisage where everything is in Ahmedabad? Hopefully, this queer-centric map helps where we have marked all the bars, clubs, parties, hotels, saunas, massages, and more will help you stay in the spot best suited to you!