Regensburg in Germany is an exceptionally gay-friendly city for gay tourists, evident by its gay-friendly clubbing scene and yearly pride festival. You will find how the German people celebrate what it means to be queer in Regensburg and so much more in this historic city.
Apart from being a gay hotspot in Germany, Regensburg is known for its world-renowned Medieval central part of town, which has earned it the title of the region's biggest city. So you can experience what it might have been like to be German six-hundred years ago with their cobbled streets and regal buildings.
However, despite its fame for Medieval roads, its roots go back much further to Roman times, evident in the occasional splash of ruins amongst modern buildings and castles.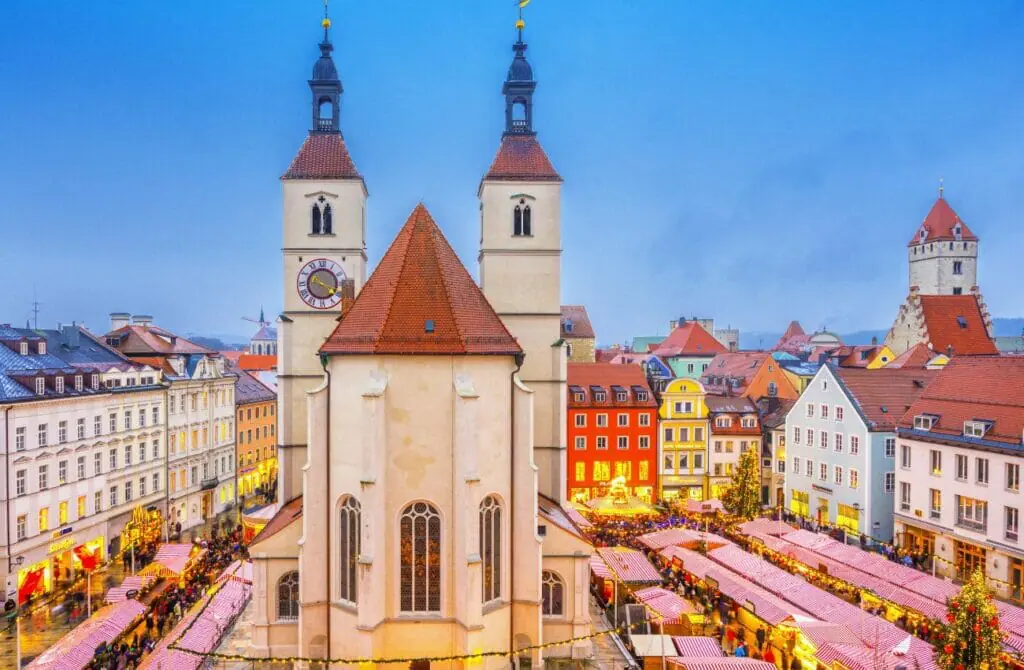 Those who aren't into history need to fear Regensburg is a modern city as it has expanded from its humble beginnings as a Celtic settlement into a city famous for its tourism.
However, you can rest assured that they cater well to visitors with a great range of attractions, hotel options, and places that locals adore. One of ti most outstanding features that all swear by is the patrician towers which give Regensburg its distinct city skyline. That you can get great photos of this from the old city bridge.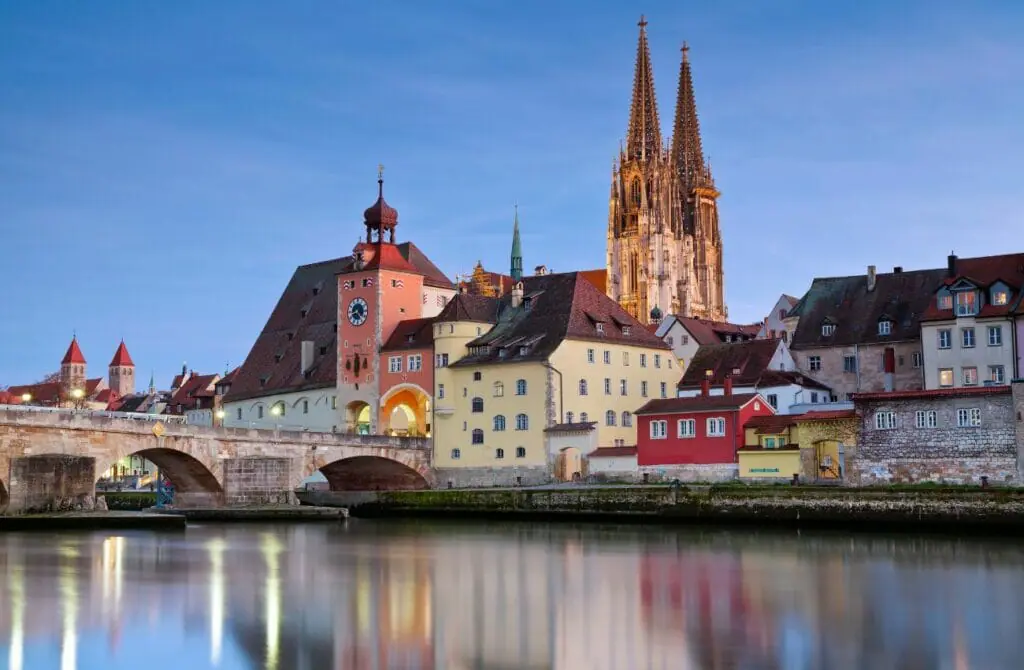 Attractions in Gay Regensburg, Germany
As a new visitor to Gay Regensburg, there are many things to see and do, regardless of your sexual orientation. One of the best ways to experience any new city is to visit some of its most iconic landmarks and attractions, including historical monuments, museums, and art galleries.
We also love gazing at architecture up close, exploring parks and gardens, sampling the local cuisine, visiting local markets, and attending cultural events such as festivals, concerts and shows.
Even as the out-and-proud queer we are, we still love to explore the city and its culture in the same way as everyone else. Doing so allows us to learn more about the city and its people and better understand the local culture. As such, these are our favorite must-see attractions in Regensburg.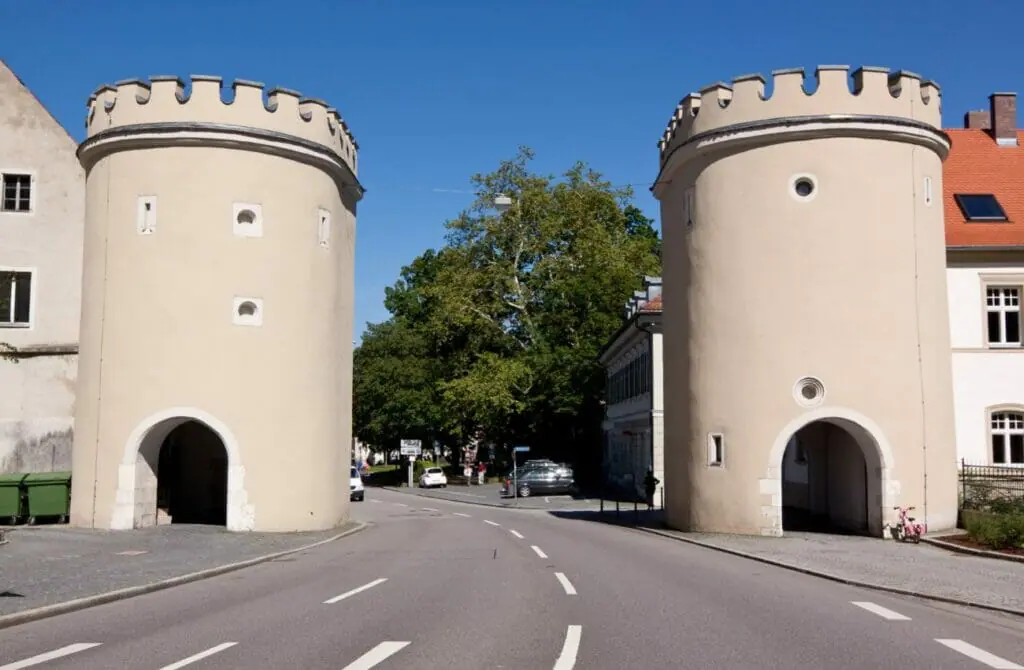 Regensburg Private Walking Tour With A Professional Guide
The best way to get well-acquainted with any city for the first time is to take a private walking tour with a local professional guide. In Regensburg, you can do just that and explore the essential sights while being told about the history and stories of various vital attractions.
This tour focuses on the old part of town, allowing you to get up close and personal with the famous Medveal cityscape of the central city, take in incredible river views, and stroll along the bridge. By the end, you will know a general layout of the city's heart is like a local, with many attractions you'll want to visit again at your own pace.
Regensburg Christmas Market Tour With A Professional Guide
For an exceptional seasonal experience that can only be enjoyed in December, you can take a private tour of the Christmas Markets with a guide.
This will allow you to go through the Medieval Streets of Regensburg when it is lit up and decorated in the merry of the season and where the squares are covered in markets and unique shopping experiences. With a guide, you will be shown the best places to find the right gifts, have the best culinary experiences, and the less traveled parts of the city.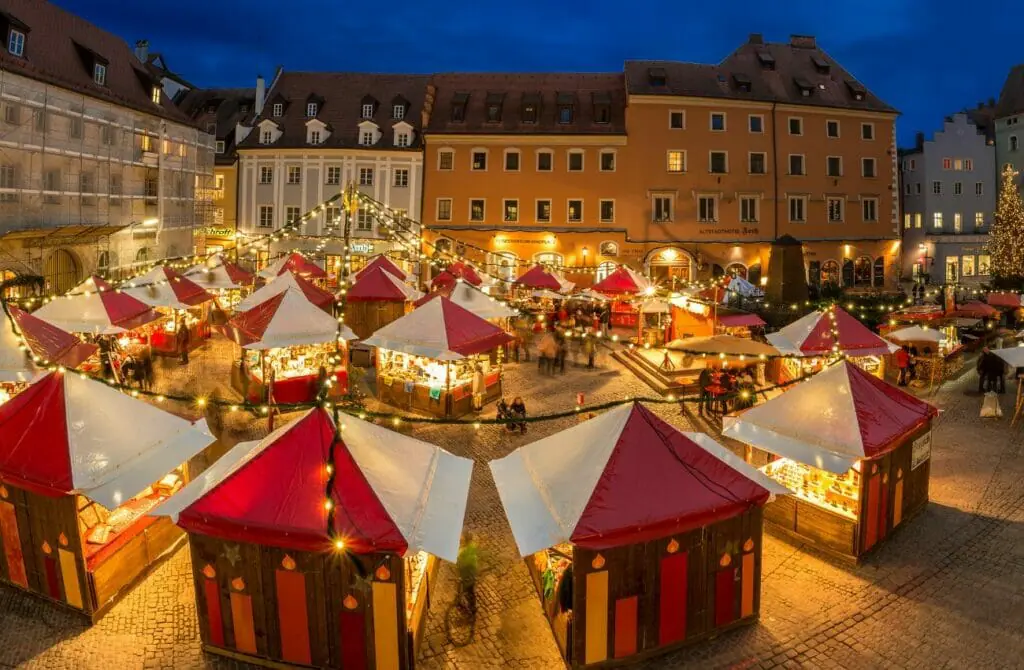 Hike on the Banks of the Danube with Bavarian Cuisine
Regensburg is a river city, making one of its key assets the Danube River, with a great selection of amazing things to do and see during a hike along it. You can tour this part of the city with a guide to ensure you get all the best features and then end your adventures with a Bavarian culinary experience like none other in town.
Patrician Tower
The famous tower that pokes out of the cityscape of Regensburg is a renowned structure part of the Medieval part of the city, better known as The Golden Tower, built in 1260, which was likely constructed as a friendly competition between local merchants.
These wealthy families wanted to see who could make higher and have a lasting impact, and we now know who the winner is today! You can visit this tower today, now used for student dorms; however, the name of the family that made it has been lost to time.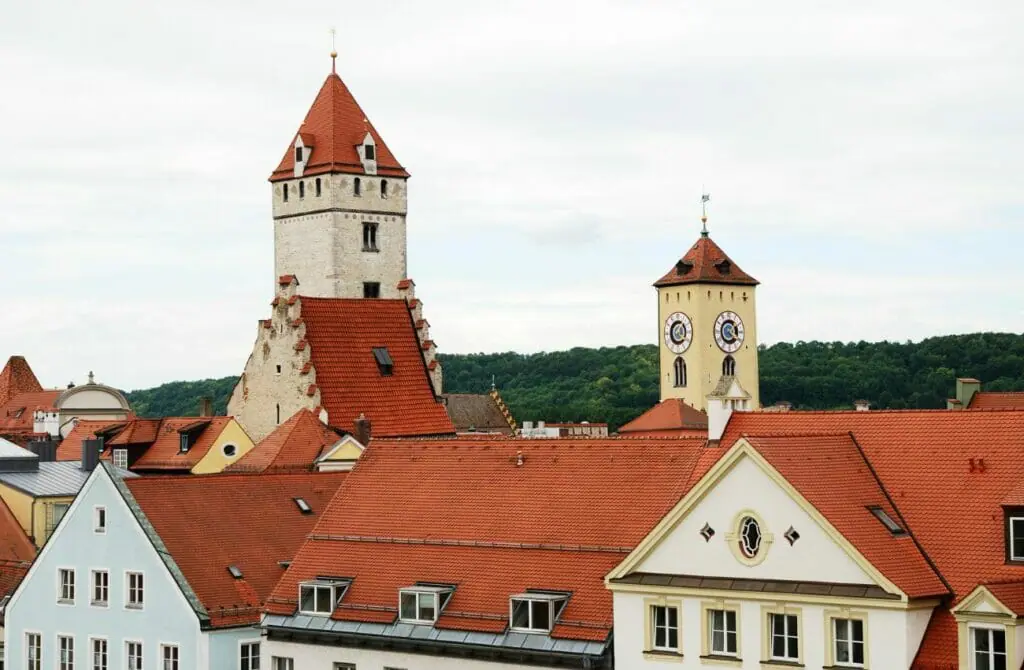 Regensburg Museum of Danube Shipping
Along the Danube River, you can find a unique maritime museum in Regensburg, allowing visitors to board a former river cruisier and experience the life and work of a crew. It also sits as a museum to showcase rich snapshots of its collection that educates visitors about all manner of shipping and sea voyages.
The Regensburg Cathedral
Built between 1275 and 1635, the most famous Cathedral in Regensburg is this massive beast that took over four hundred years to finish. Here you can admire the towering spires that poke above the Patrician Tower and its momentous Gothic Barivian architecture. You will also be glad to know that even if your visit doesn't coincide with a Sunday, you can still stop by to enjoy its interior.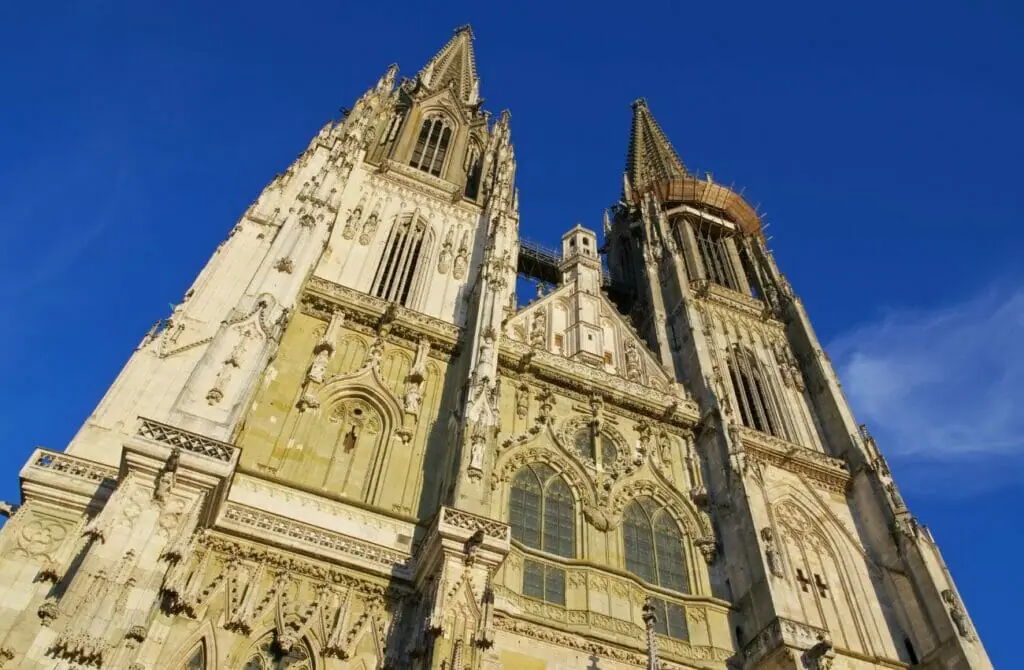 The Old Town Hall of Regensburg
Inside the old district of Regensburg, you will find the Old Town Hall with European Parliament and Toursture Chamer. So if you want to get your fair share of Mediveal laws complete with trials and punishment, this is a great attraction to fill in a couple of hours. You will see where important events in the city's history occurred and get a close-up view of torture equipment no longer used today.
The Stone Bridge
The most iconic river-side attraction in Regensburg is, without a doubt, The Stone Bridge, built around 1135. This rare example of a surviving Medieval bridge still in operation today was the only bridge across the river until as late as 1930 and is a particular part of the city's old history.
You can get incredible photos of the bridge and the city from the river bank or along the pedestrian walkway, making it a favorite tourist hotspot.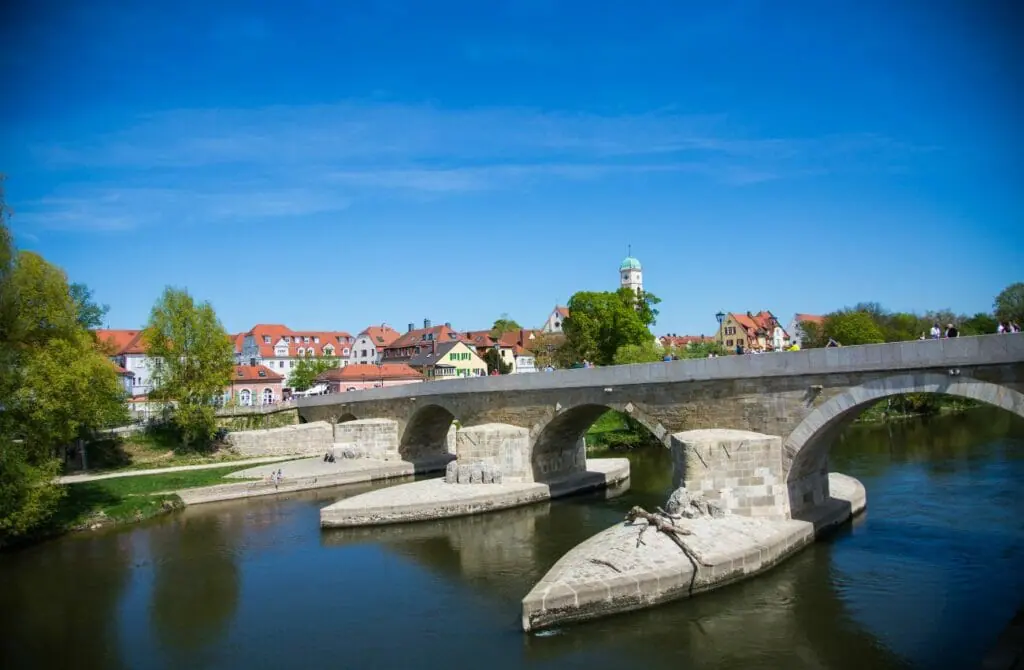 Porta Praetoria
In the city's heart, you can find the Roman ruins of a former Roman military camp dated 179 AD. This gateway has been integrated into a modern building, helping preserve its once-grand splendor and allowing everyday people to use the space. Once a military fortress, now it's an artistic and cultural wonder that draws people from all over to appreciate the long history of this region.
Walhalla
Located a short journey down the river outside Regensburg, you can experience a monument dedicated to the German people in a towering neoclassical style. It looked like a slice of the Greek Pantheon taken from Athens and placed along the bank, framed by a forest and an expansive park.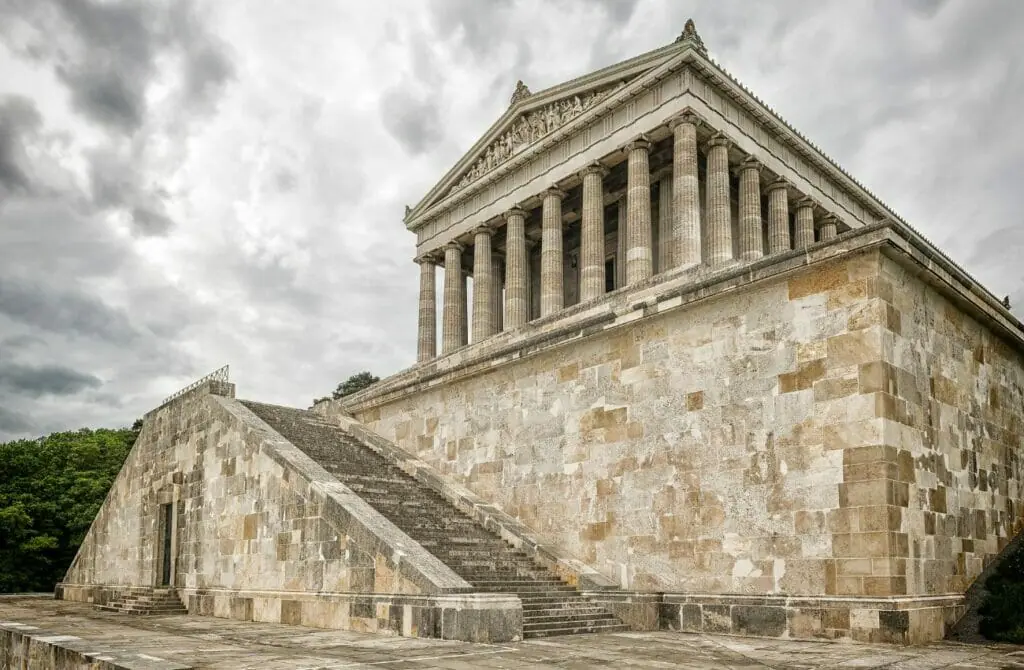 Ostdeutsche Galerie
One of the top art galleries in Regensburg is Ostdeutsche Galerie, located in the modern part of the city alongside the equally agreeable Stadtpark. Here you can walk through the galleries of prominent German artists, local favorites and some international names, with a particular interest in the contemporary works of the last two hundred years.
Scots Monastery
Being the site of a former Benedictine Abbey of St James dating back to the 11th century, initially owned by Irish Monks, today Scots Monastery is better known by its later Scottish monk's occupants. You can explore this expansive sacred complex of several buildings built up slowly over the thousand years of its conception.
You can visit and sit in a service at their church and walk the grounds between the abbey and the other important buildings in the lives of missionaries and their work. And you can learn how Regensburg was once a significant capital for religious teachings around Europe.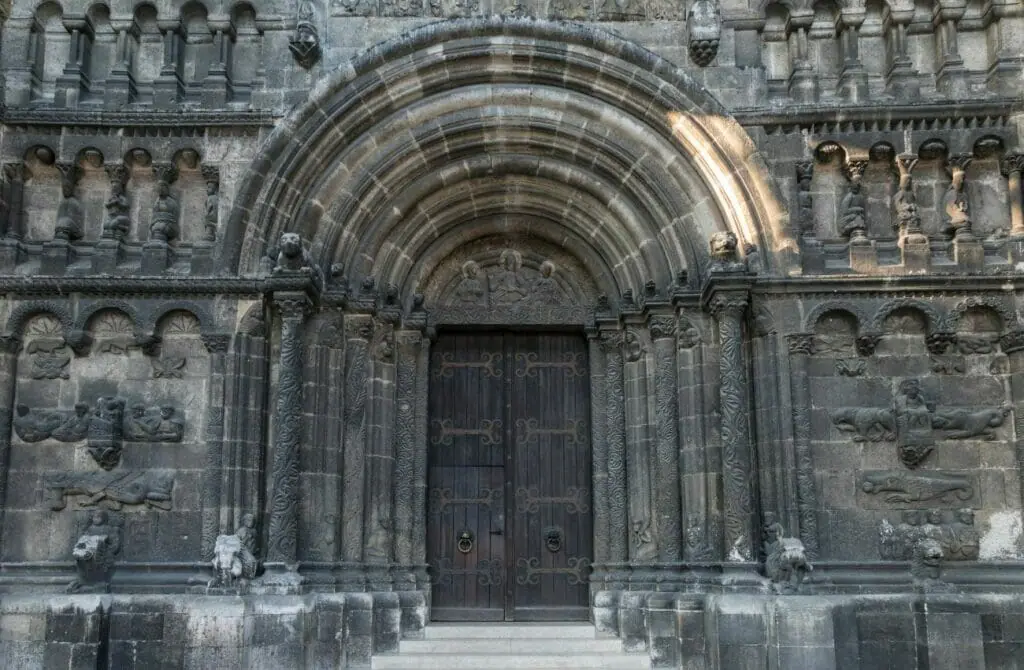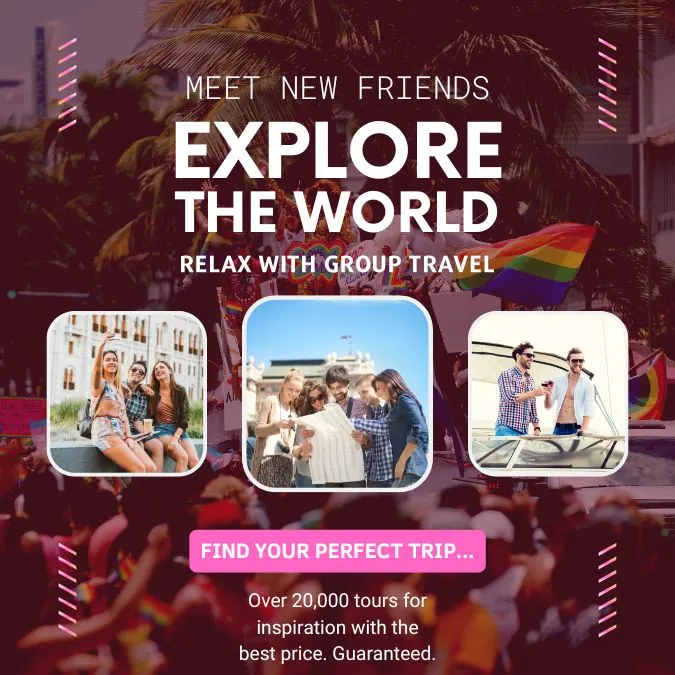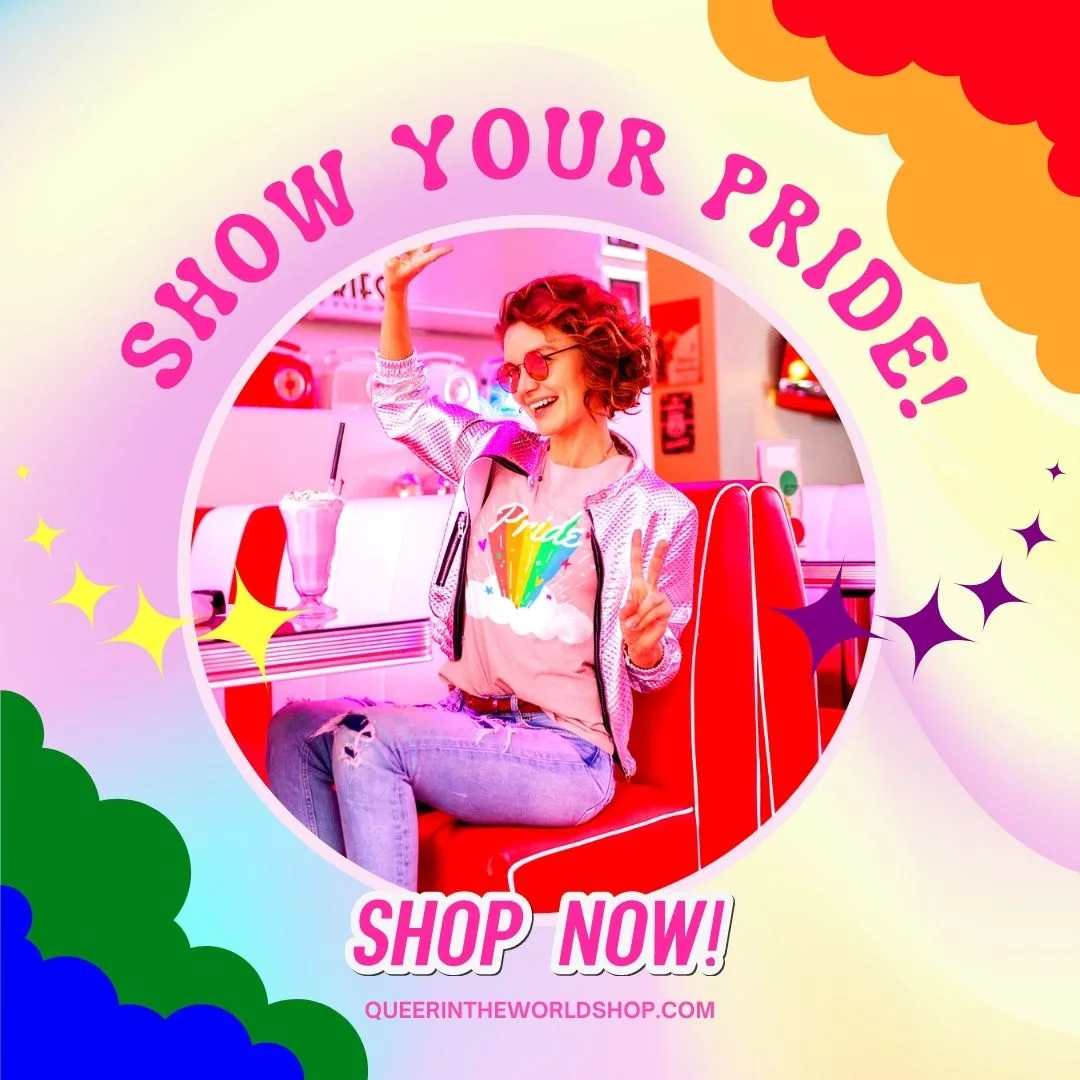 Gay-Friendly & Gay Hotels in Regensburg, Germany
Being gay-friendly accommodation means that the establishment is welcoming and inclusive to guests who identify as LGBTQ+. This can include, but is not limited to, having policies and practices that demonstrate a commitment to creating a safe and inclusive environment for LGBTQ+ guests, such as non-discrimination policies and providing support and resources for LGBTQ+ travelers.
Some gay-friendly accommodations may also provide amenities specifically catering to the LGBTQ+ community, such as rainbow flags or literature about local LGBTQ+ events or resources. Furthermore, gay-friendly accommodations may be located in an area known for being LGBTQ+ friendly.
While Regensburg does not have any specifically gay hotels or resorts, these are Regensburg's most fabulous and pro-actively gay-friendly hotels. There are also hundreds more hotel and hostel options in Regensburg if none suit your desired budget, facilities or area – but these are the best hotels according to other gay travelers and us.
Whatever your needs are, Regensburg has you covered.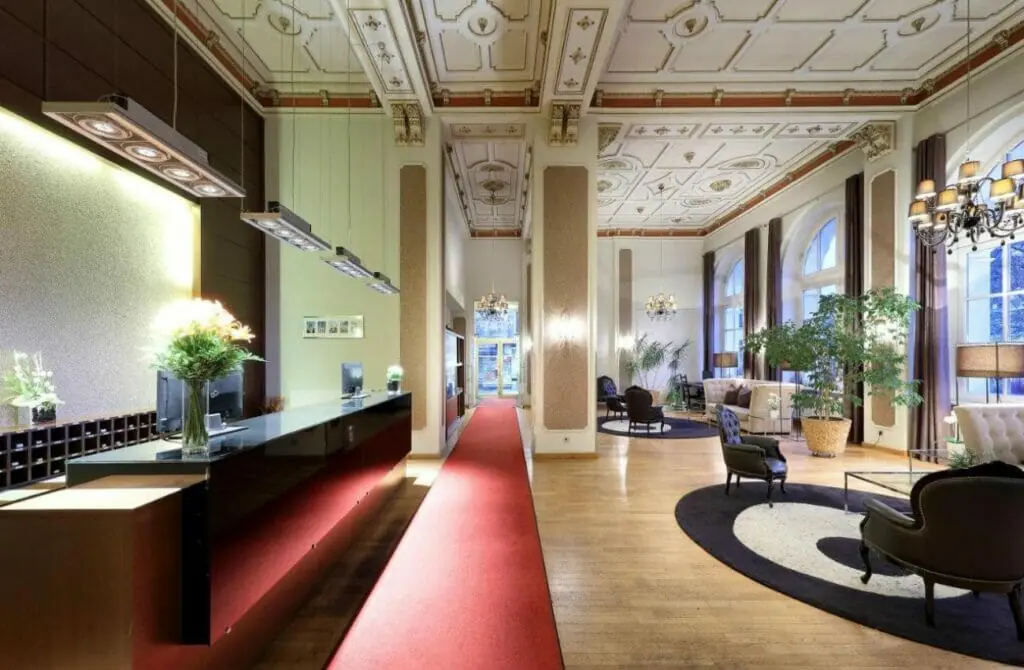 Eurostars Park Hotel Maximilian ☆☆☆☆
At first glance, you will feel like you are about to stay at an impressive German palace of a similar degree to Versailles. However, Eurostars Park Hotel is unique as it resides in a historic building with luxurious internal decoration. It is also incredibly close to the town center, within easy walking distance of Stone Bridge and Regensburg Cathedral.
When you stay here, you will feel like a king, with services of equal value to her looks, with a range of facilities to ensure you make the most of your stay in Regensburg.
You can take advantage of the business spaces on your holiday, or suppose you don't want to work. In that case, you can admire the decor as you dine in luxury at their bar and restaurant, savoring the incredible cuisine, generous breakfast, and refreshing drinks.
Turning into your room, you will see what makes this extra special outside of to-die-for decor. Every room is unique in its little way, with a lofty upmarket feel as if you have your apartment in the heart of Regensburg.
You will expect a mini-bar, a cozy queen-sized bed, a desk, chairs, a TV, Wi-Fi, and plenty of storage. However, you will be blown away by the tall windows and natural light, as much as the heart views of the grounds and cityscape at the higher stories.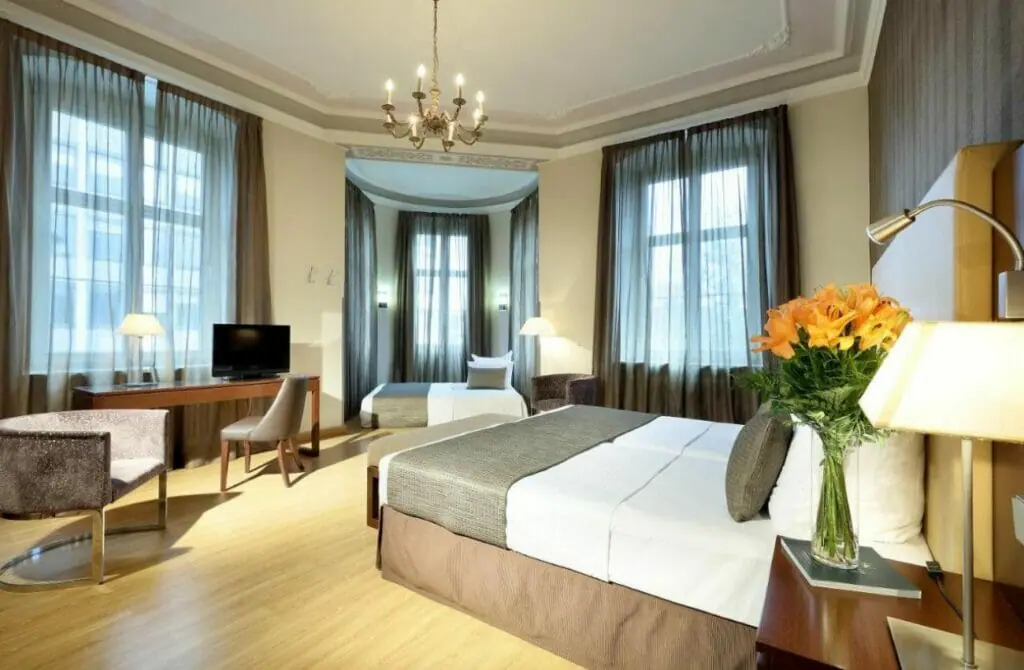 Hotel Gasthaus Alter Schlachthof ☆☆☆☆
Another top four-star hotel in the heart of cozy Regensburg is the aqua-painted Hotel Gasthaus Alter Schlachthof. You can easily access the Regensburg Museum of History and Domschatz Museum on foot.
However, if you want a day to unwind from a busy couple of days in town, you will be glad to know the hotel boasts its attractions. You can dine in style at their restaurant, which offers a complimentary breakfast and an old-school dining hall.
However, you can also take a walk in the hotel's gardens and afterward, with a drink in hand, enjoy the outside terrace sheltered by trees. Then heading to your private room, you will find a cozy single-roomed event with a soft bed, ensuite, and several extras, depending on the room you book.
This could include a kitchenette, a desk, a lounge, and extra spaces for large traveling groups. It may be simple, but it's a cozy place with a lovely garden amongst the city's hustle and bustle.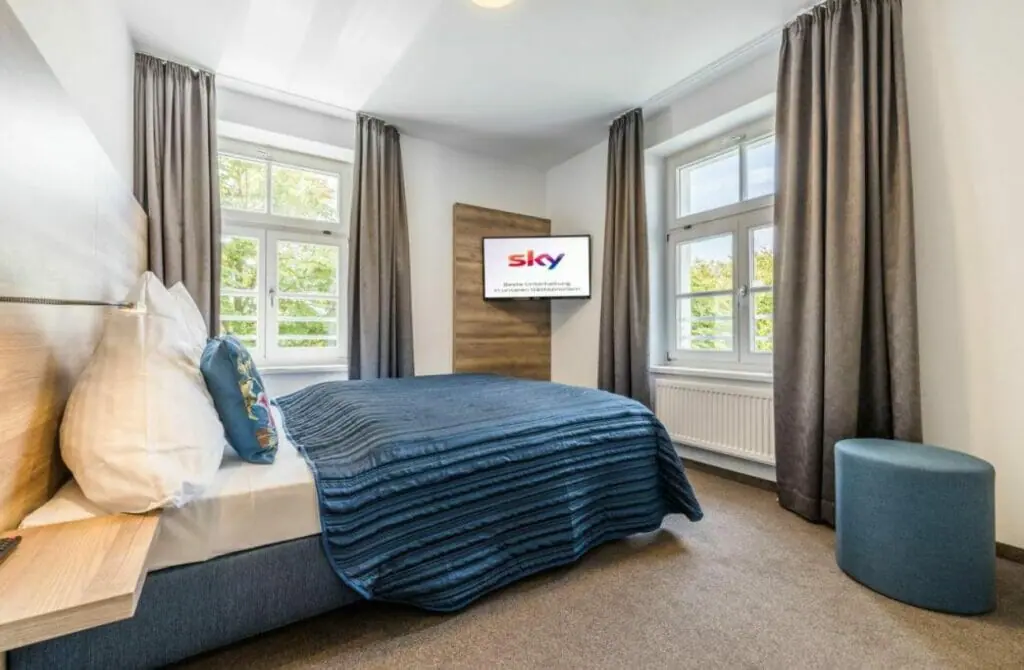 Dropping down into the three-star range of hotels in Regensburg, the options you have to want need to improve in quality with the Hotel Weidenhof, the first of these examples. A key benefit to this place is you are within minutes of Regensburg Cathedral and St. Emmerams Abbey.
The other is that Weidenhof has a rooftop terrace atop their mid-century hotel, with loungers and great citywide views. However, most people pick this place because of the little extras of a gym, restaurant and front patio garden. Moreover, without a doubt, they are impressed by the rooms, which come with hypo-allergenic bedding, soundproofing, TV and free Wi-Fi.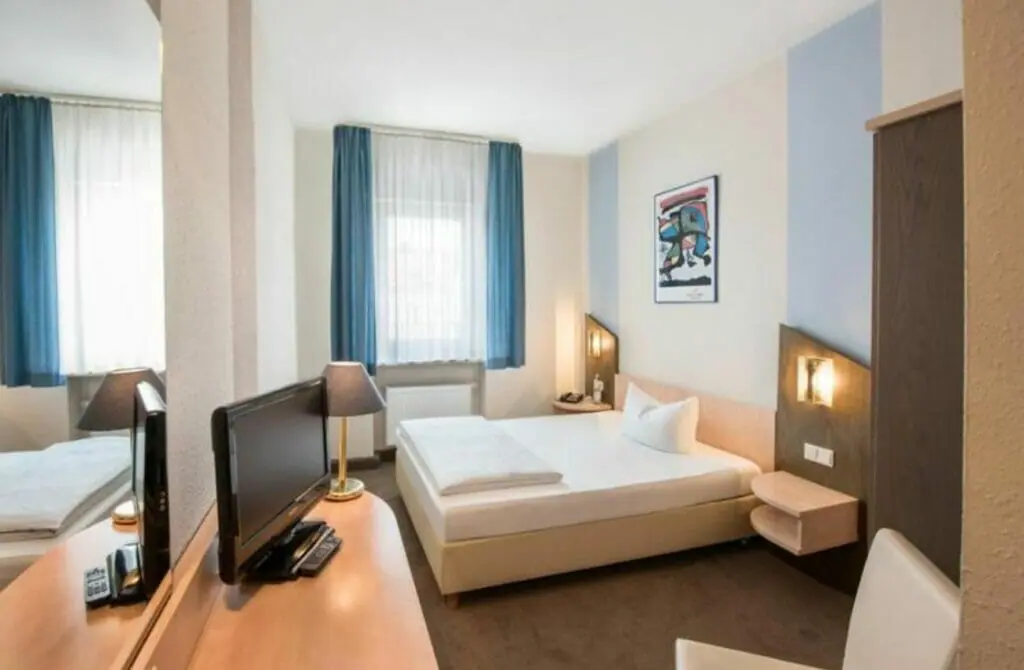 Those looking for a little apartment in Regensburg for their stay without the extra services will find a happy place at Stadtturm Regensburg, which serves as a visitor's home away from home. A highlight of this hotel is the city views as you can admire the red rooves and the towering cathedral spires in the distance from your apartment.
Moreover, the central location is excellent for seeing key sights around the city, and the apartment's design provides you with all the basic amenities you need to live and thrive. For example, you can get groceries from a local market and prepare your food in your kitchen, with a fridge to store for later meals.
The lounging area is also stellar, as you can sit and watch TV with your food or put your feet up after a busy day walking around Regensburg. You can't ask for more than that!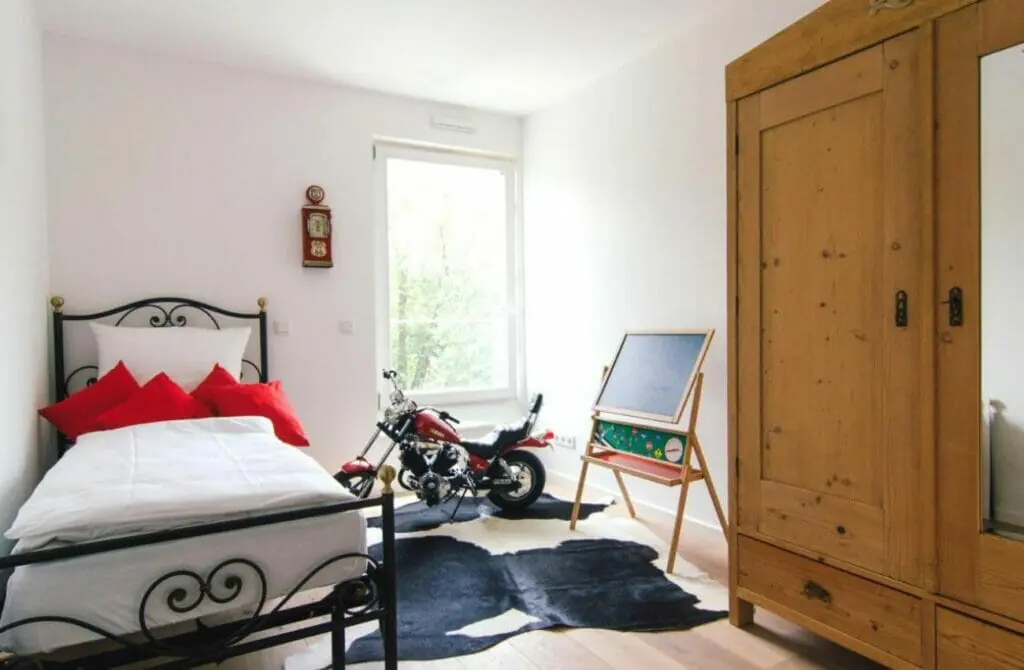 Gay Map Of Regensburg
Finding it hard to envisage where everything is in Regensburg? Hopefully, this queer-centric map helps where we have marked all the bars, clubs, parties, hotels, saunas, massages, and more will help you stay in the spot best suited to you!
Gay Nightlife In Regensburg, Germany
Exploring the gay and gay-friendly nightlife in a new city can be one of the most exciting and rewarding experiences while traveling – and Gay Regensburg is no exception. Not only will you have the opportunity to meet new people and make friends, but you'll also get a taste of the local culture and learn more about the city's LGBTQ+ community.
Going out and experiencing the queer and queer-friendly nightlife in a new city can also be a great way to break out of your comfort zone and try new things. Whether dancing the night away at a gay club or mingling with locals at a gay-friendly bar, you'll have the chance to make memories and create lasting connections.
So, don't be afraid to step out of your comfort zone and explore the gay and gay-friendly nightlife in Regensburg. You'll be glad you did!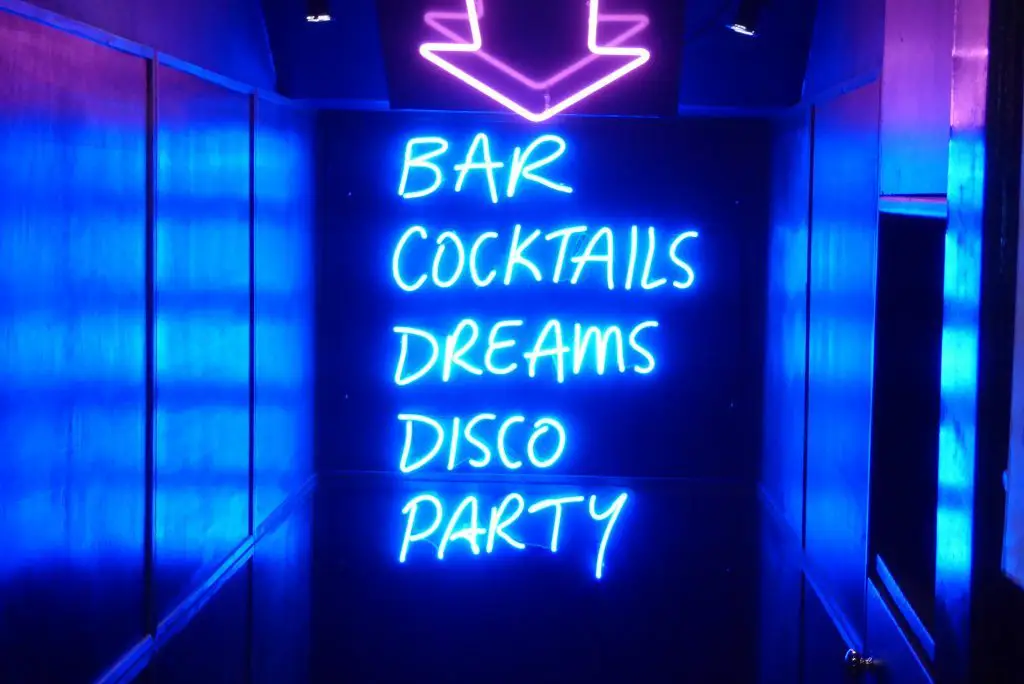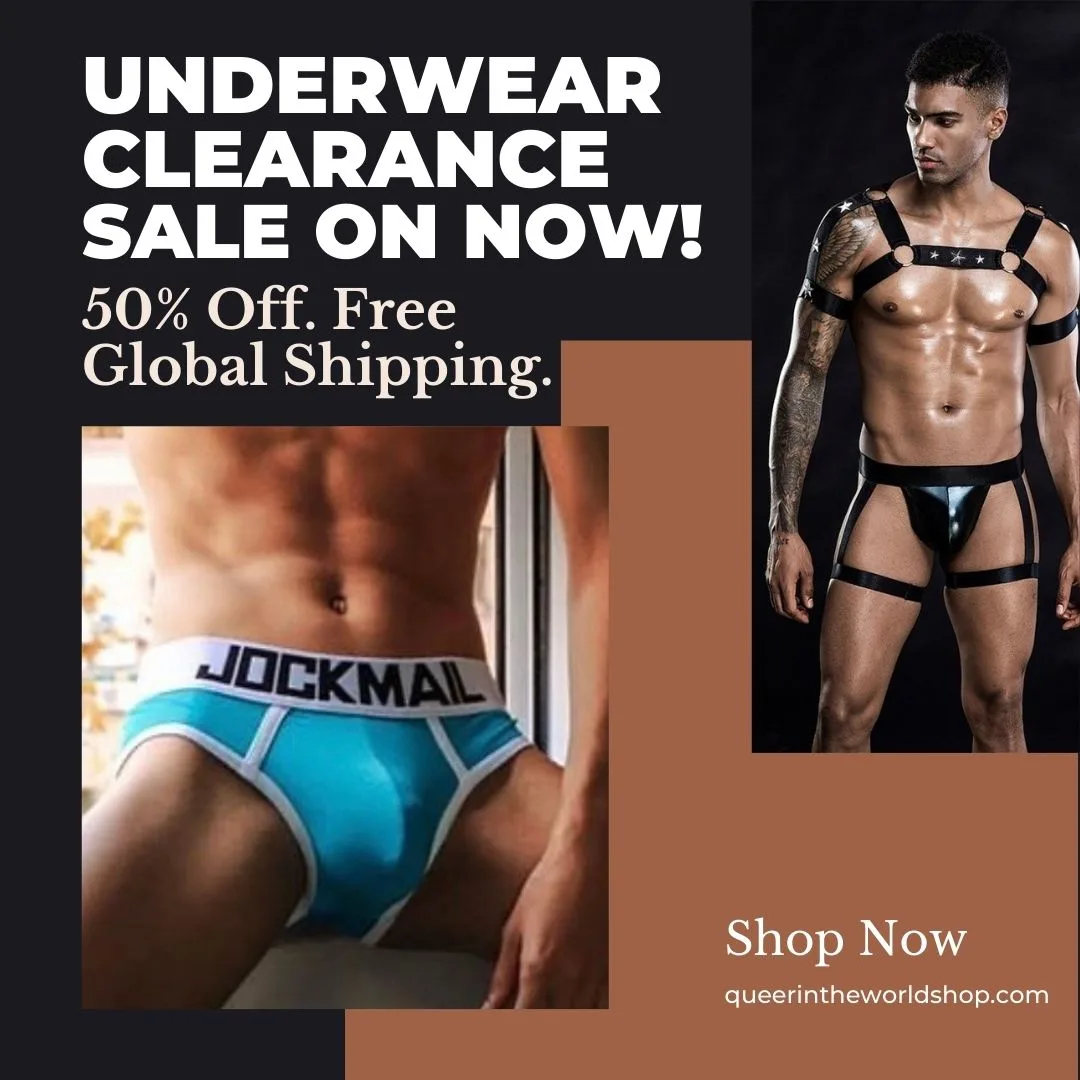 Gay-Friendly Nightlife In Regensburg, Germany
Beginning the night in Regensburg, you will enjoy your experience at SCALA nightclub, which has a music-themed party most nights. If you adore 90s music, their SaturGAY evening is perfect for you, and if you find yourself at the club on Friday, 80s and early 2000s music will be there to make your night one for the memory books.
Apart from their music, the atmosphere and drinks make it easy for the solo traveler to meet new people looking to find some friends.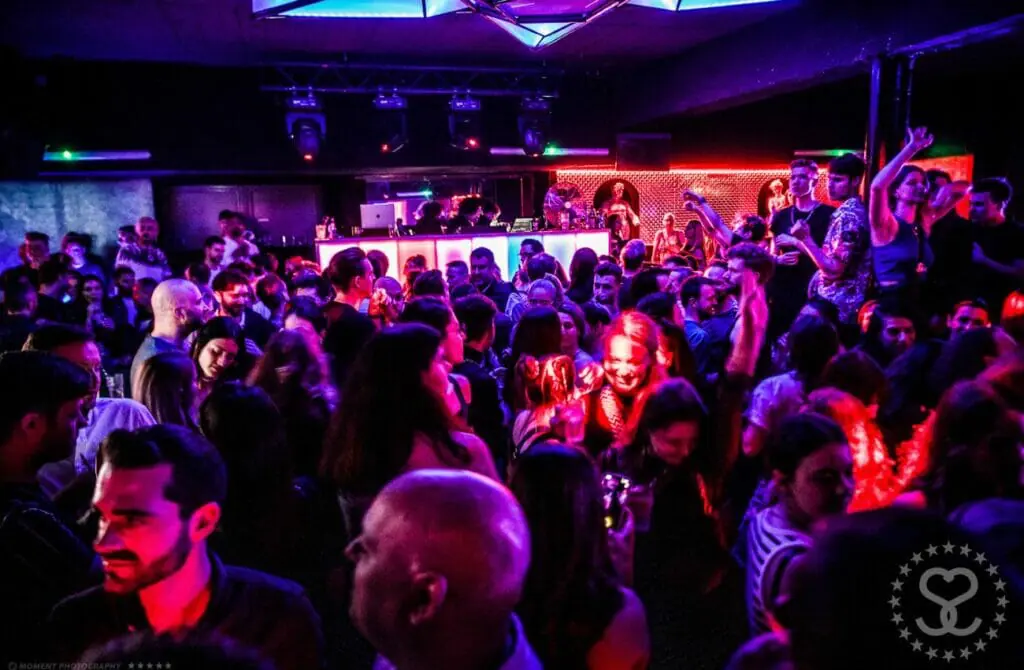 Arr! If it isn't a pirate-themed pub in Regensburg! Get your parrots and eye patches and head on deck for some fine ale and whiskey at this pub. Here you will find a great classic pub experience like none other in Regensburg, with the rustic decor of rough walls with a range of pirate-related trinkets adding to the feel of being in a secret underground smuggler's cavern.
Not only are drinks and sea sailors on the menu, but you may stop by when they have their weekly live entertainment nights, with heavy metal and rock being a favorite for the patronage at Piratenhöhle. However, even if you miss them, the background music in the Medieval cellar converted into a pub is one you won't forget in a hurry as a unique aspect of the city's nightlife!
Another party experience like none other in Regensburg is U-Bar hosting drinks and playing music out of a uniquely shaped rustic bar. You can find affluent seating to enjoy a pint and watch your fellow patrons get merry to the excellent music, and once you're ready, you too and join in!
This bar is small, so you may want to visit it early in the evening before it gets busier because it stands out most as a quaint place to enjoy a drink and little song-and-dance over a late-night dance hall. You can understand why it's popular with queer folks!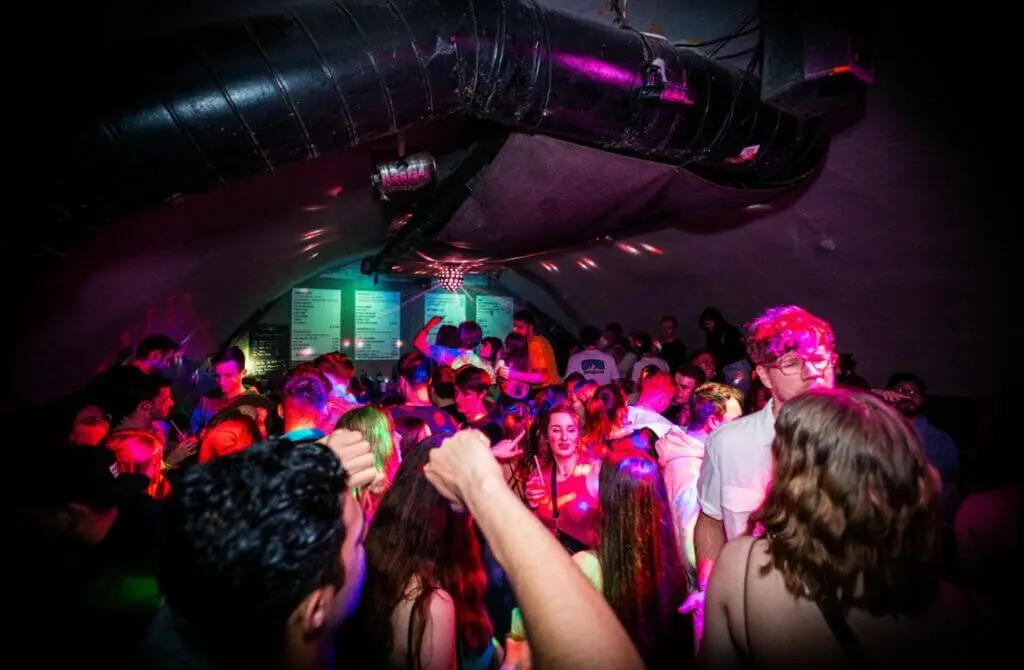 Checkpoint is a grand dining and drinking experience in the heart of Regensburg. You can dine in style on two fronts: their inside lounging hall or their outside front terrace with umbrellas and great people-watching views.
Patrons gush about their cocktails and a vast array of other drinks out of their full-stocked bar, and the lounge music is on point. It is an excellent option for a party but without the loudness of some more prominent nightclubs, where you can enjoy other company as much as the venue's ambiance.
Peter & Paul is a pub and dancing experience from a renovated church. Enjoy the live music venue offering Regensburg's best seats for live bands. You can come and support local or touring artists as you take in the fabulous decor and impressive architecture.
You won't feel sacrilegious even if you drink and get drunk in the once-holy place! With all these things online, even if you don't come for the entertainment, the drinks and ambiance will highlight your visit to Regensburg.
Jala is your hot Latin nightclub inside an exceptionally traditional European city, where every night is a fiesta. It is your little slice of Latin culture as you are invited to celebrate their incredible music and everything else that comes with this music scene like none other. You can also enjoy a great dining experience with a drink with cozy couches to pave the relaxation for the evening.
BEATS Club brings the best of Regensburg clubbing and takes it to the next level with a massive party every night. Located in the center of town, you will never be here when it is crowded with fellow partygoers looking to make the most of a great night out with excellent drinks and music.
Because of its massive venue and reputation, it is one of Regensburg's most popular nightclubs. So don't expect a quiet night when you stop by BEATS for a drink or social.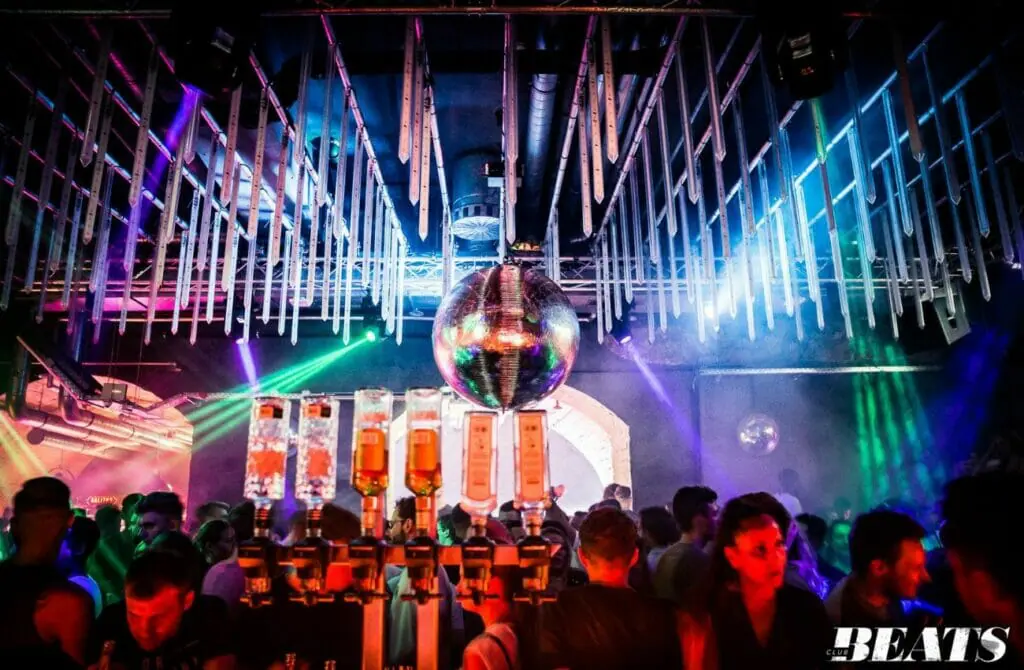 Musikbar Sax is a more laid-back music bar that plays ambient music from an old-school pub and dining venue. You can choose from a well-stocked drink and food menu while enjoying the jazz music and sax decor. The best time to stop by is early evening, as it is a great way to ease into the night with the first drink and meal before considering the plans for the night ahead.
With more than eight years of service to the locals and visitors of Regensburg, KA5PER is a top cocktail bar with humble roots as a cocktail truck, later becoming a permanent fixture in the city's nightlife.
Here you can experience brilliantly cooked drinks that are equally pleasing to the eye and taste even better, all out of a dimly lit cocktail bar. This is one for the books as a great dating destination or early evening drink.
Another top cocktail lounge in Regensburg is the Tiki Beat bar running by the Pacific island theme at full force, as it's a refreshing break from others on this list. Not only are the cocktails to die for and the decor a welcoming change, the live music for the dining patrons with local bands and visiting singers adds to the ambiance of a relaxing night out.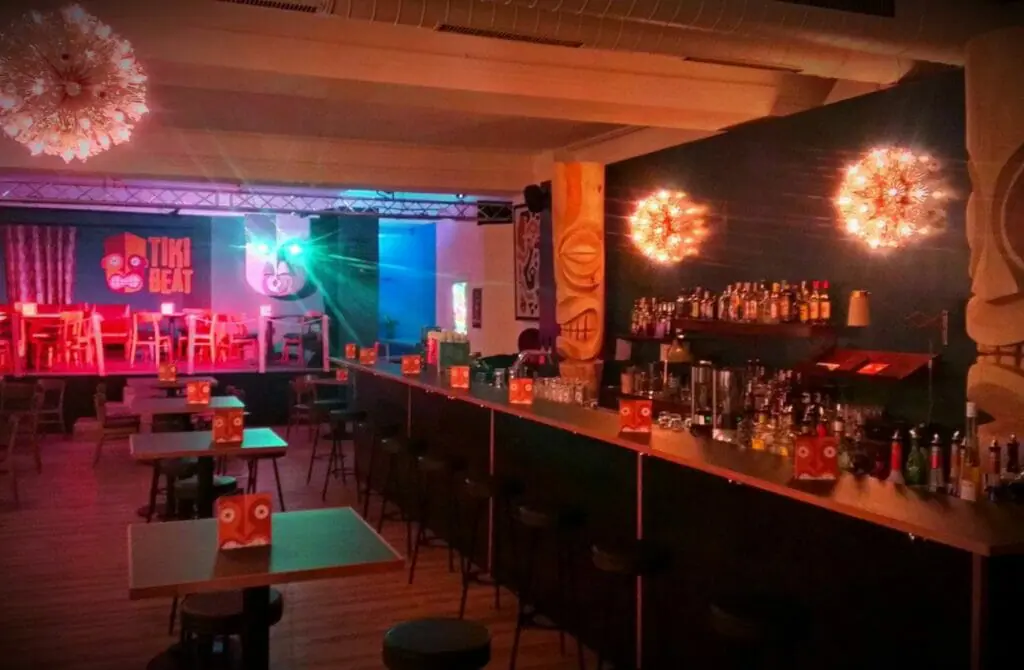 Cruising & Gay Saunas In Regensburg, Germany
When traveling to a new city, heading out for more than just a stiff drink can be exciting. One aspect of the Gay Regensburg scene that many queer men enjoy is visiting gay saunas and cruising clubs.
Sure, the sauna culture in Regensburg is not as hedonistic as in Amsterdam, Barcelona or Berlin, but these venues still offer a chance to meet new people, socialize, and engage in sexual activity – without resorting to gay hookup apps.
However, it's important to remember that these venues can vary greatly in terms of atmosphere, clientele, and rules, so it's a good idea to prepare yourself before visiting. If you are apprehensive, we advise studying our guide to visiting a gay bathhouse for the first time, which should help set your mind at ease and always practice safe sex.
Additionally, it's important to be aware of and respect local laws and customs regarding gay venues and sexual activity. With a little planning and an open mind, visiting gay saunas and cruising clubs can be a fun and exciting part of your gay Regensburg travel itinerary.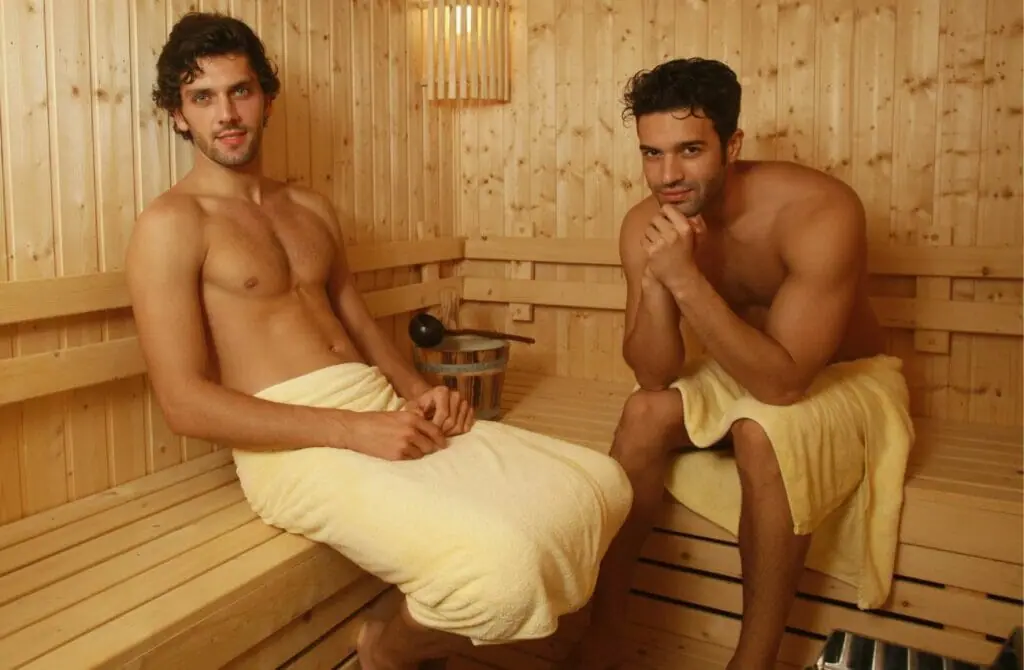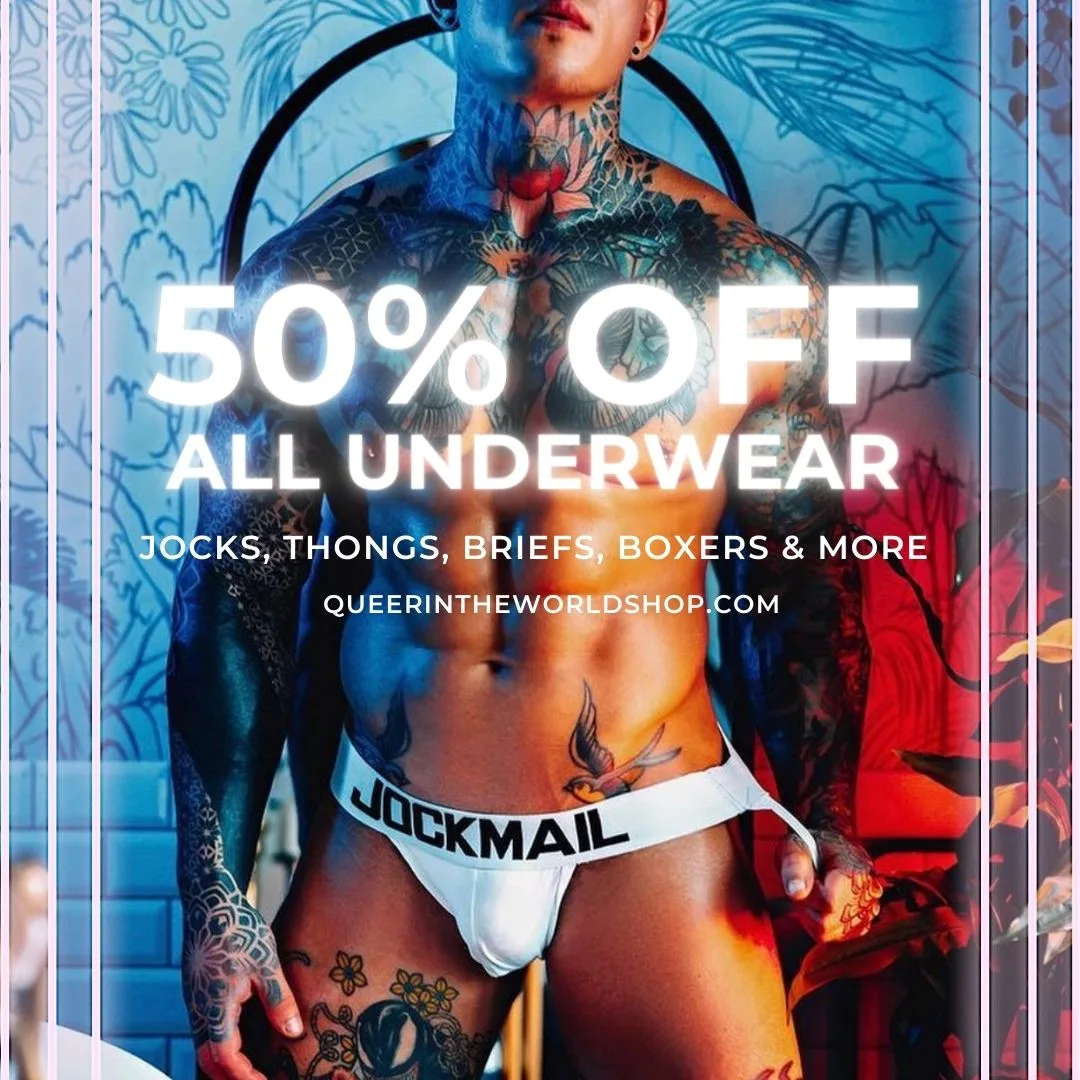 Gay Map Of Regensburg
Finding it hard to envisage where everything is in Regensburg? Hopefully, this queer-centric map helps where we have marked all the bars, clubs, parties, hotels, saunas, massages, and more will help you stay in the spot best suited to you!