The breathtaking monuments, traditionally architectured mosques, and temples housing historical remains — all bathed in the authentically beautiful Malay culture make Pekanbaru look like it's straight out of a fantasy.
Established in the late 18th century by the sultanate of Siak, Pekanbaru, a Muslim city, is the capital of the Indonesian province of Riau. The city has the reputation of being one of the cleanest big cities in Indonesia and is a center of oil production.
The variety of sightseeing, energizing and buzzing nightlife, culinary richness, and a few of the coziest beds in the world make this city a blissful romantic getaway for couples.
Lamentably, being a Muslim-majority town, the culture of Pekanbaru is socially conservative, and the government, in holy months, may embark on moral crusades and strongly victimize the LGBT communities. However, gay travelers could be surprised by the welcome they might receive from society, as not every Muslim is conservative.
Also, it is crucial to maintain the 'don't ask, doesn't tell' attitude that already prevails there. Gay couples visiting Pekanbaru for vacations can freely travel without hassle, provided they are not explicit about their sexuality.
A pro tip is to find out the local gay bars and find information about upcoming events or gay-friendly places that don't make it to the official channels. We strongly recommend protecting your privacy and remaining anonymous by setting up a VPN when staying in Indonesia.
Scroll down to read our complete travel guide for more tips and tricks, attractive tourist spots, certified hotels, and vibrant nightlife opportunities in Pekanbaru.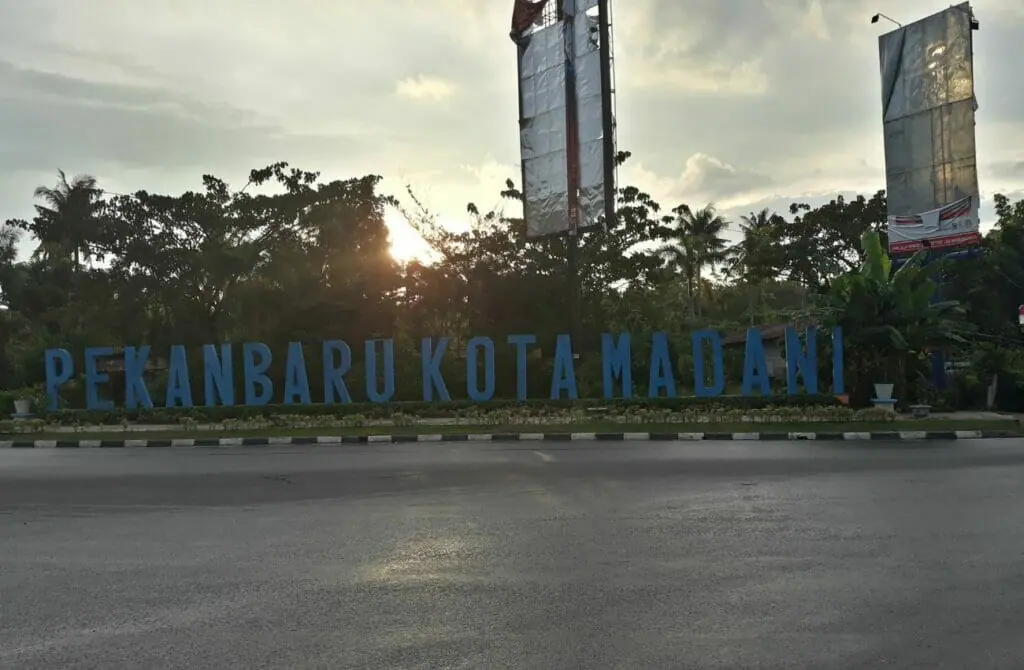 In this article we will cover...
Attractions in Gay Pekanbaru, Indonesia
Honey, welcome to Gay Pekanbaru! Now, let's spill the tea – this city may not be the most welcoming to our rainbow community, but don't let that dim your sparkle! There are still plenty of fabulous things to see and do here, no matter who you love.
As passionate travelers and members of the LGBTQ+ community, we believe that queer travel is about having fun and exploring new places, promoting cultural understanding, and spreading pride. Through travel, we can learn about different cultures, histories, and perspectives and share our own experiences and identities with others.
We can also support LGBTQ+ businesses and organizations and work together to create a safer and more accepting world for all members of our rainbow family.
Unfortunately, homophobia and discrimination still exist in many parts of the world, and it is important to be mindful of the laws, customs, and attitudes of the places we visit. But by being visible and proud and by supporting local LGBTQ+ communities and allies, we can help to change hearts and minds and make a positive impact wherever we go.
So let's keep exploring, learning, and sharing, and continue to work towards a future where all travelers can feel safe and celebrated, no matter where they are.
Check out the iconic landmarks and attractions, darling. Visit those historical monuments, museums, and art galleries like the true cultural connoisseur you are. And, of course, let's not forget about the architecture, parks, and gardens. Trust us, the local cuisine will leave you gagging, and the markets are to die for. And, girl, let's not even start on the cultural events like festivals, concerts, and shows – they are simply sickening!
Now, while we are out and proud queens, we must keep it down low when we hit the streets, sis. Sadly, this city may not be as welcoming to us as we'd like. But no worries, we'll just have to slay discreetly, okay? Let's show these locals how to live our best lives, honey!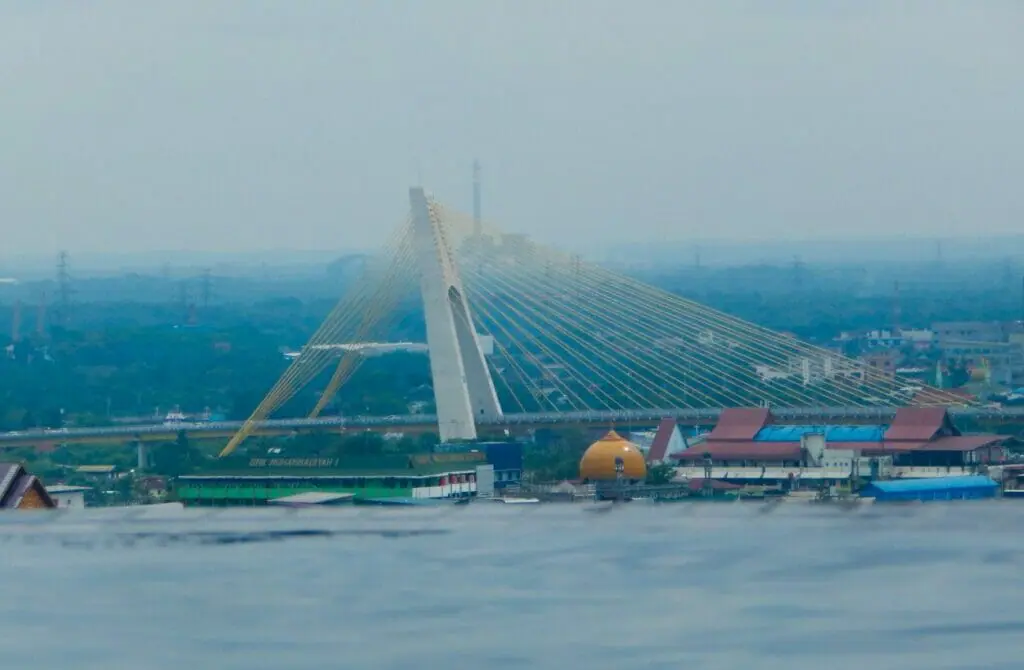 Rainbow Hills Mumbai
Ready to take some gorgeous photos for your Instagram? Here's a game changer: a vast valley with rainbow-colored earth exists on the other side of Pekanbaru.
Although it's difficult to find, the spectacular beauty of those hills is surely worth it. If you can see green trees, bushes, and outstretched land on your way to the hills, you are definitely on the right route. As tourists rarely visit it, it's unlikely to meet any crowd when visiting.
SKA Mall is your one-stop shop for all your necessities and entertainment needs. The largest shopping center in Pekanbaru pledges to bestow the finest places to eat and hang out, a cinema, jewelry shops, electronics stores, clothing, and toy stores. Among the international brands, find J.CO, Pizza Hut, Bata, Nike, Starbucks, etc.
To make your experience more pleasurable, the Mall also has XXI Cinema, an ATM center, a large parking lot, and a spectacular ice rink for showing off your skating skills. Stop by the mall and buy some stellar souvenirs to take back home.
An-Nur Grand Mosque
Often called "The Taj Mahal of Pekanbaru," the Agug An-Nur Mosque reunites Ottoman style with modern construction technology by connecting their elegant tradition. Established in the early 1960s, the masjid combines Malay, Arabic, Turkish, and Indian architectural styles for a peculiar style.
Their 5 tomes and 4 towers add to the photogenic structure, and many tourists from around the world visit to see this masterpiece of architecture.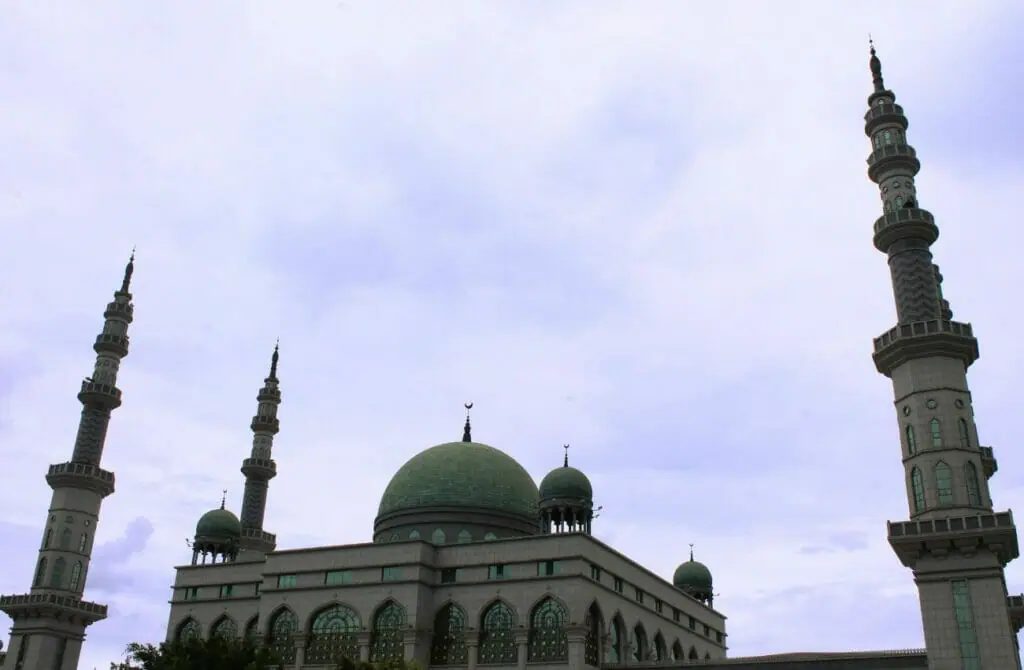 Up for apple picking or duck feeding? This theme farm offers numerous recreational activities in its 26 buildings, allocated for different ventures. Apart from farm animals, look out for their remarkable windmills, German clock houses, hobbit houses, Venetian-style food street, and swimming pools.
Alam Mayang Park
A lush green tree and a delicious food basket in a recreational park can be fantastically romantic dates for couples. Alam Mayang is a heavenly place for reconnecting with nature and spending time with your partner.
As it is not just an ordinary park, it also features a boating lake, bike trails, horse riding, fishing ponds, and much more. Here's an additional benefit: use the golden hour of sunlight in the early evening, and take pictures of yourself surrounded by natural beauty.
Whether you are a history geek or looking for an adventure, the oldest Buddhist Temple, Muara Takus is the perfect spot. The surviving temple and other archaeological remains are thought to date to the 11th and 12th centuries AD, a few tangible proofs of the existence of the Sriwijaya Buddhist kingdom, which ruled over most of South-East Asia around the 8th to 12th centuries.
Though the place is not filled with many tourists, there are plenty of food stalls sprawled outside the temple.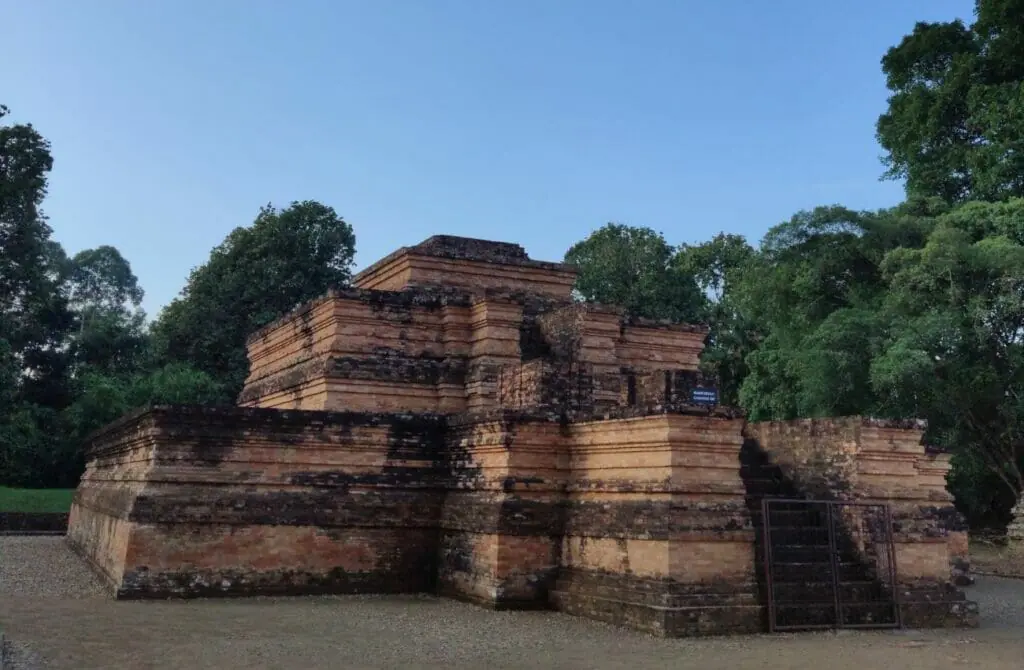 Well, they say that sometimes all you need is a little pampering to feel better and blow off steam. Although they only provide their services to men, Delta Spa is known as the best spa in the town. Their soothing environment and variety of skilled therapists supply elevated experiences, custom facials, wellness treatments, and much more to their customers.
The range of wellness services includes Ear Candle Therapy, Puri Combo Massage, Wet Massage Hydrotherapy, Mud Therapy, and Hot Stone massage. So what are you waiting for? Make a reservation and treat yourself like you deserve!
Ciputra Seraya XXI
Whether you want to try class Indonesian movies or international films, this intimate and cozy cinema is the place to go. The regular cinemas are comfy, but nothing beats their premier ones. Other highlights include promos and a mouthwatering range of snacks and drinks. As weekends are packed, go for weekday bookings for a hassle-free evening.
Now, this place is every bibliophile's dream. Crowned as the largest library in Indonesia, Soeman HS stores a fairly complete collection of books from various genres. One of the finest landmarks in Pekanbaru, the library pampers not only book nerds but also architectural observers.
Their outlook and design appear to be in the form of an open book. And that's not all; the place is fully furnished with cozy spots for reading books all day and has a cafeteria and an internet room.
Danau Bandar Khayangan Lembah Sari
Here's an idea for your next date: how does boat trips in sparkling turquoise water surrounded by serene greenery sound? This man-made lake in Pekanbaru is a beautiful alternative for those seeking natural getaways.
Furthermore, behold this gorgeous sight from a small cottage nearby or climb up the hill to take sun-captured pictures of this beauty. Cycle around the lake, enjoy open-air events, or camp nearby, and soak in this natural beauty with your lover.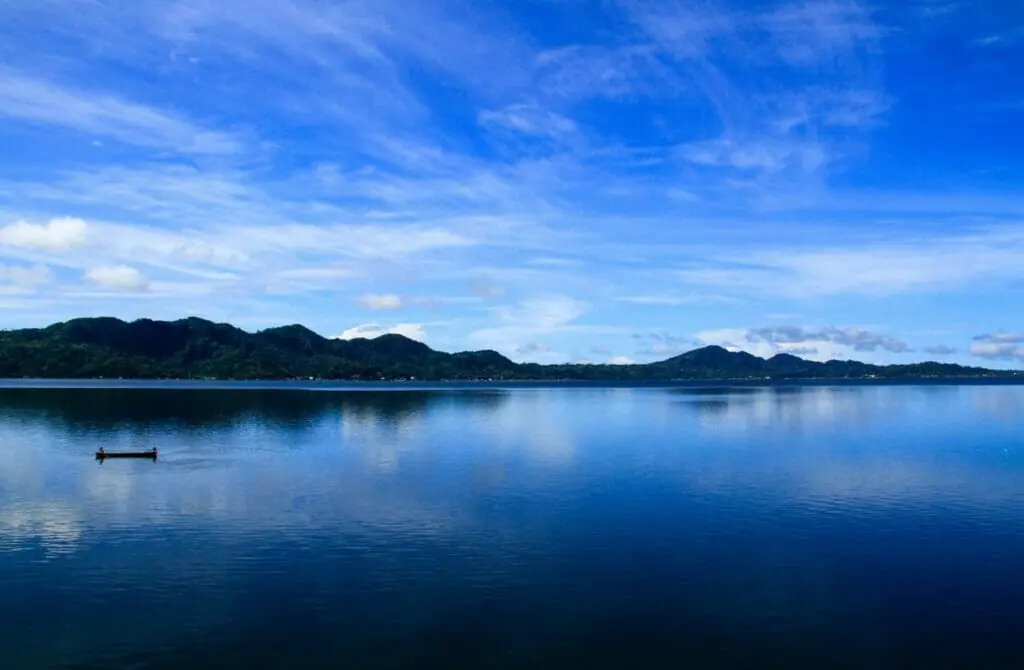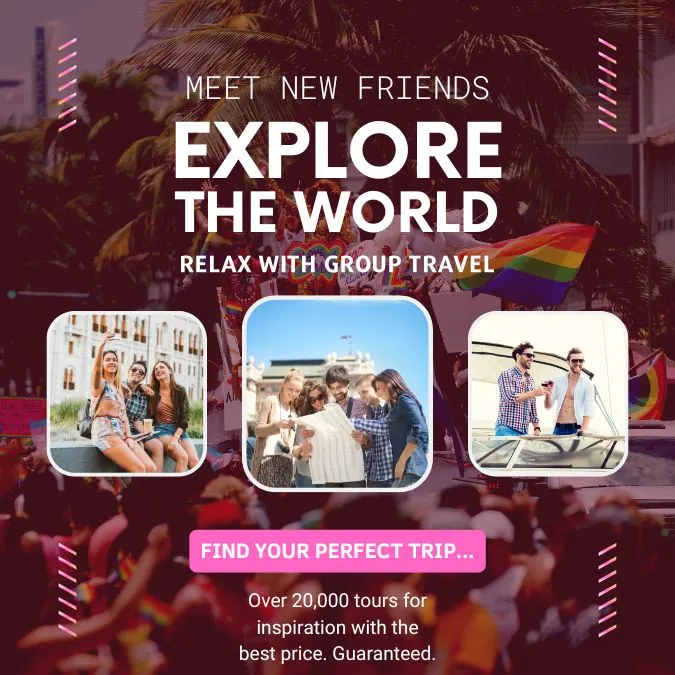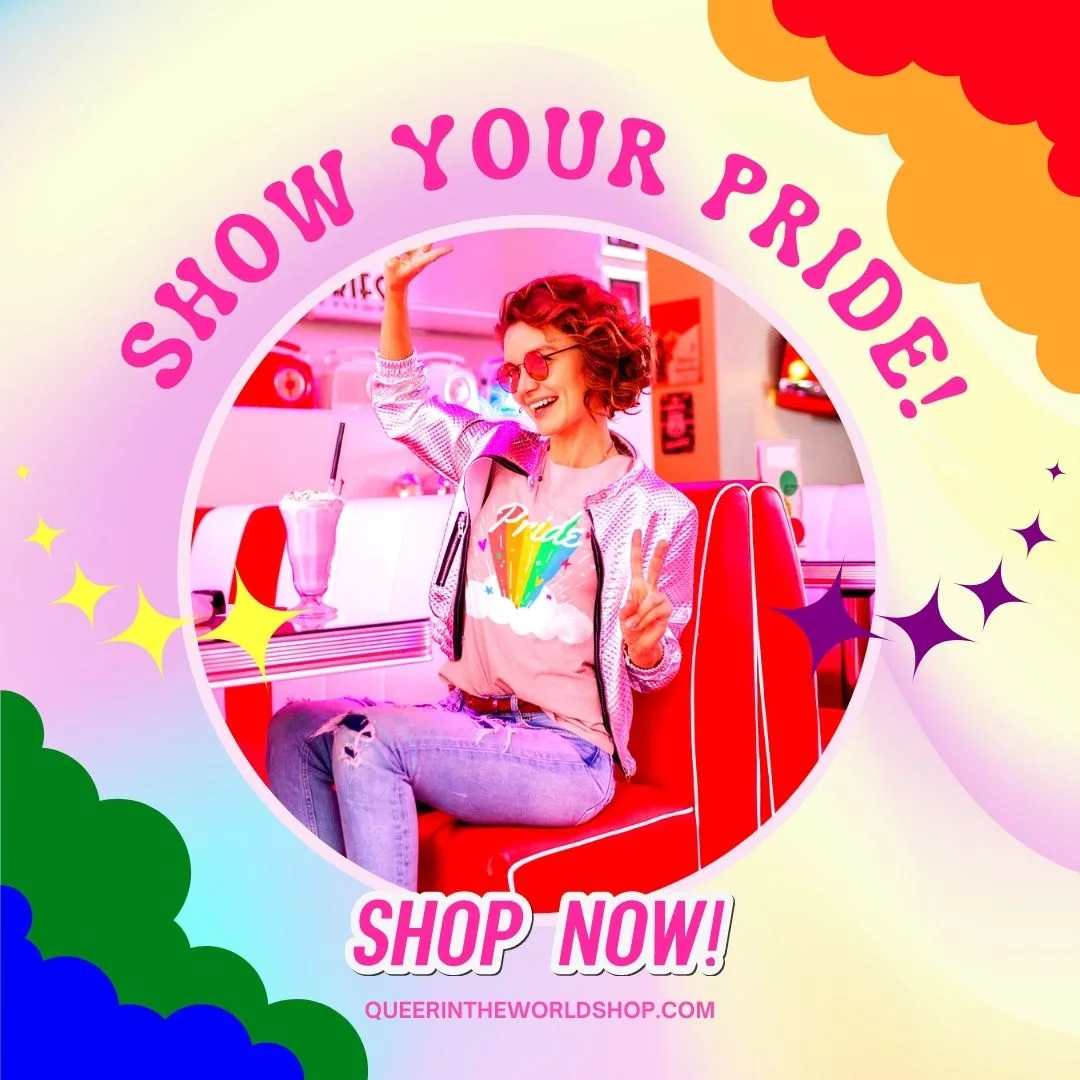 Gay-Friendly and Gay Hotels in Pekanbaru, Indonesia
As a traveler in a homophobic country where being queer is illegal in some places, it's important to be aware of the risks and take necessary precautions to ensure your safety. This includes choosing accommodations less likely to have issues with same-sex travelers.
We recommend booking two twin beds and traveling as friends only, avoiding any same-sex activities that could attract unwanted attention. While it's unfortunate that there are no gay-friendly accommodations in Pekanbaru, we suggest staying at international or high-end properties that are less likely to have issues with LGBTQ+ guests.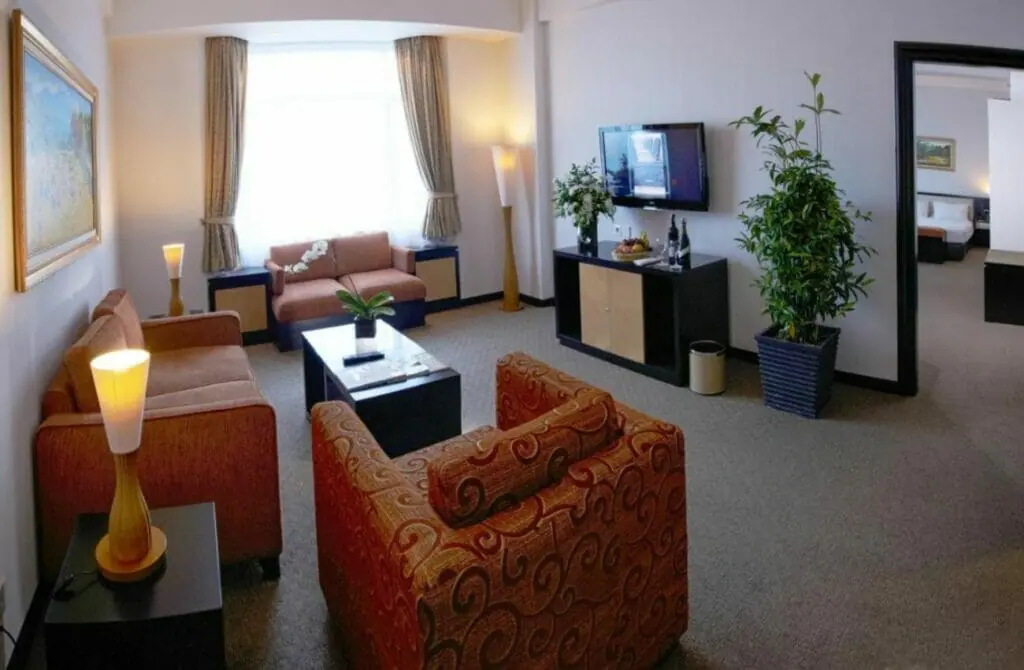 It's important to note that these accommodations are not gay-friendly and may not have policies or practices to create a safe and inclusive environment for LGBTQ+ guests. However, they are the most fabulous hotels in Pekanbaru, according to other gay travelers and us, and where we recommend staying.
Remember, Indonesia is among the least gay-friendly places in the world, and should the ban on extramarital sex go forward, and it can be applied to all same-sex couples.
Whatever your needs are, Pekanbaru has a wide range of accommodations. While it may be challenging to find gay-friendly options, taking these precautions can help ensure a safe and enjoyable stay in the city.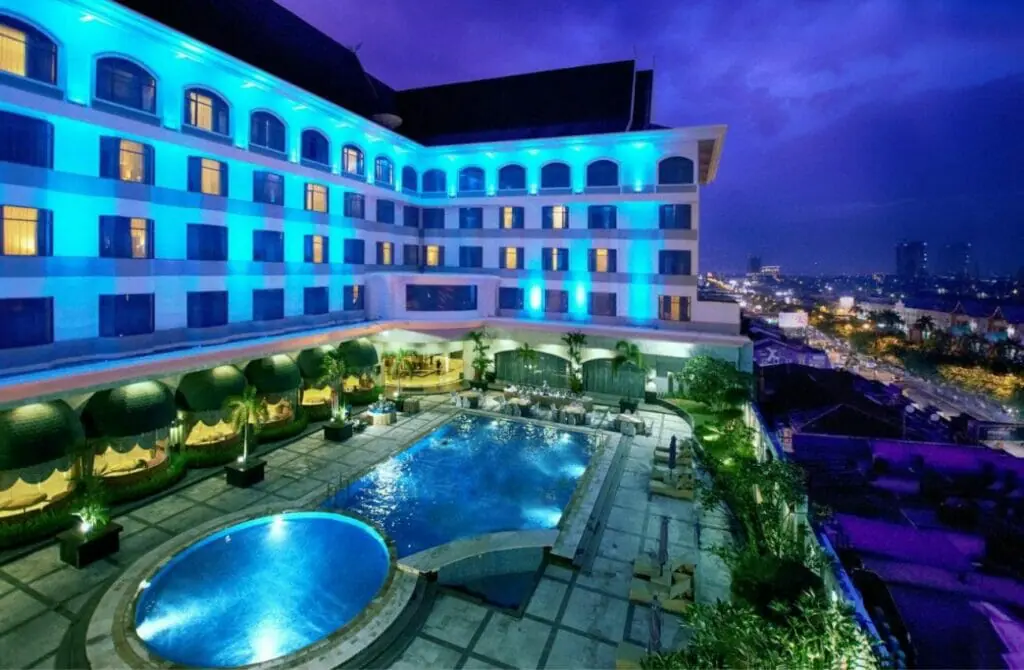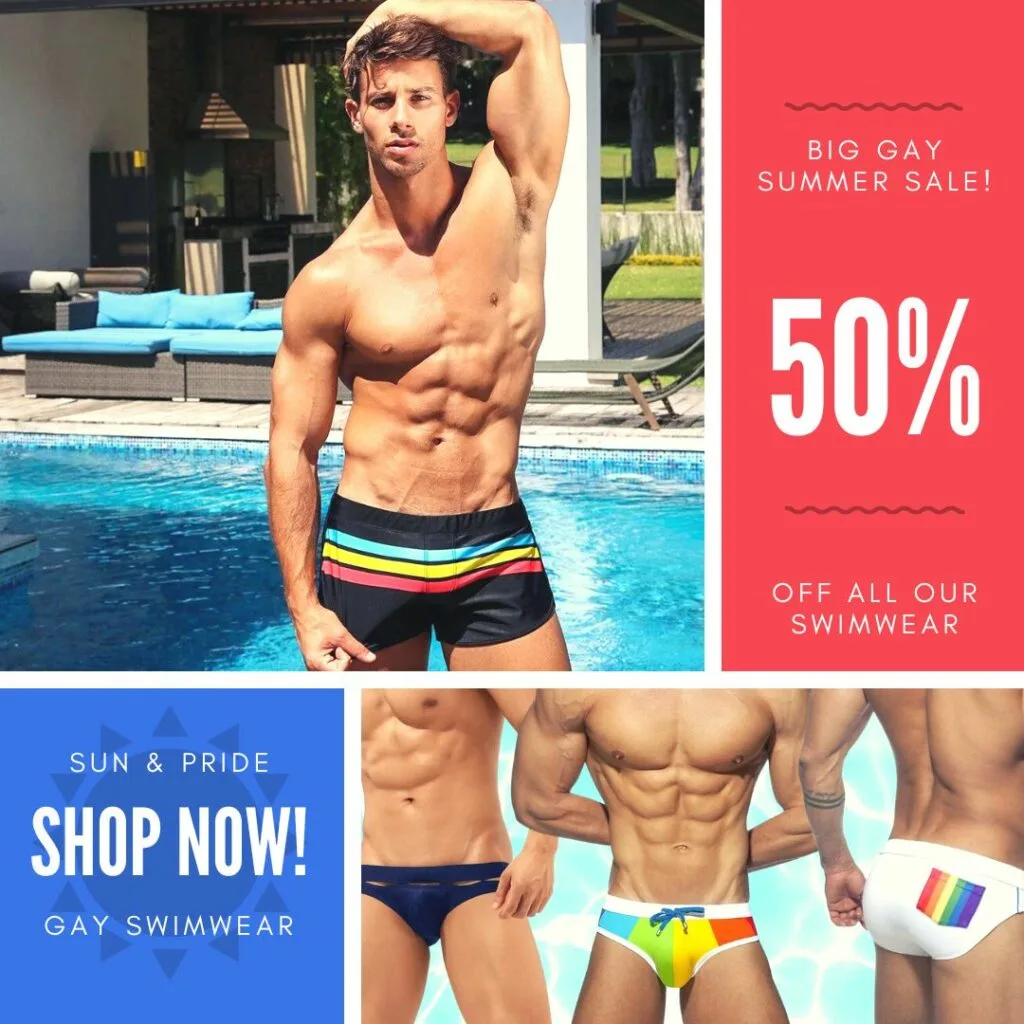 Located in central Pekanbaru, our next certified choice, the Grand Jatra Hotel, is directly connected to Mall Pekanbaru. It's a modern lodging offering guests an extravagant interior and a comfy stay. Aside from many other services, they also have an airport shuttle service available 24 hours a day.
Other luxurious highlights include 3 restaurants with a selection of Asian and international cuisine, 2 outdoor pools, a fitness center, in-room massage services, and a sauna. Don't forget to visit their Embassy Pekanbaru Club for lively night entertainment.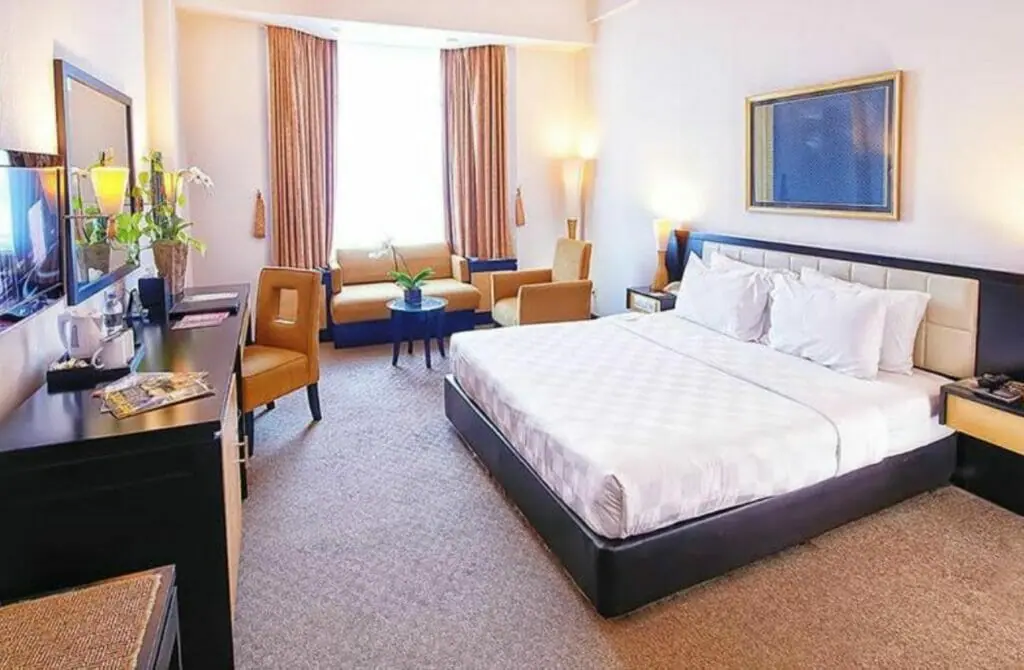 Not only does Zuri brings you a chance to capture the beauty of Pekanbaru through its spacious rooftops, but also the hotel itself is stunning. Our eyes (and hearts) are set on this trendy, vibrant environment and elegantly decorated place. Furthermore, their strategic location benefits those planning to explore the city.
Want to throw your special someone a surprise date? Zuri has got your back. The rooftop cafe with a swimming pool and an outstanding food menu will set the romantic vibes effortlessly.
Other amenities include a gym, a hip bar, flat-screen TVs, minifridges, tea, coffee-making facilities, safes, and free Wi-Fi.
The next highly suggested hotel for your stay is the Premiere Hotel, CHSE Certified. Situated in the city's heart, it allows you more time to glimpse all that Pekanbaru offers by offering car hire and shuttle services. Not only do they make your exploration more comfortable, but they also set new standards for hospitality.
A few other opportunities from the hotel are hot tubs, high-quality massages, restaurants, outdoor pools, airy rooms and polished suites, a spa, and a lively karaoke bar.
With astounding amenities, a superb location, and extremely courteous staff, Novotel is known to have everything. Their spick-and-span rooms and various food choices have earned the hotel a whopping rating. It is a convenient and casual accommodation with sleek rooms, laid-back dining, two bars, a pool, and a free airport shuttle.
Reserve your room now and avail the additional benefits of an all-day dining restaurant, bar lounge, swimming pool, fitness center, spa, function rooms, and even a ballroom.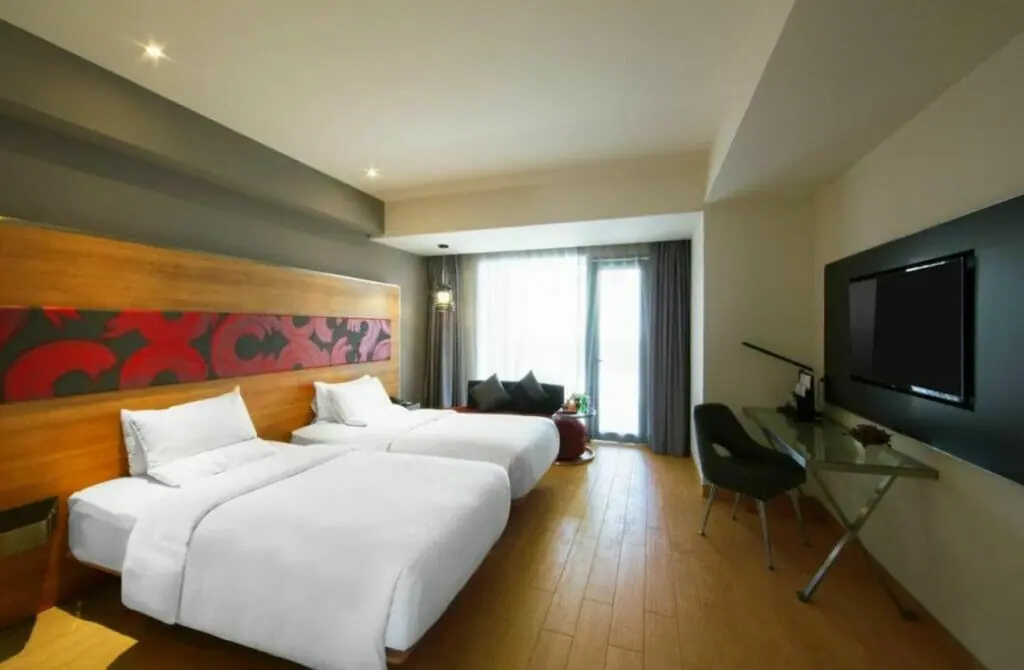 Looking for a reasonable hotel with all the essential facilities? Look no further because Winstar is committed to its customers every step of the way. This budget hotel is rated 3-star by a few travelers in voguish tower.
Designed with a combination of modern minimalist touches, the hotel offers casual dining and parking, plus 24-hour room service. Look up one of the biggest casinos the city has to offer.
Moreover, they deliver distinct service through neat, clean guest rooms with associated niceties and entertainment facilities.
Our next pick with a 3-star rating is a decent international hotel in the SKA Mall shopping complex, Pekanbaru's largest lifestyle shopping center. Another benefit of the venue is easy access to the business and government districts.
It is a stylish pick with sophisticated rooms, dining, a lounge, a spa, and a small roof pool with a captivating view. As it is pretty busy at the weekend, we suggest booking early for the weekends or else restricting your stay to weekdays only.
Guests can also indulge in massages and enjoy international cuisine. An outdoor pool, a bar/lounge, and a fitness hub are also available. Head's up for the tasty fried dory with sauce.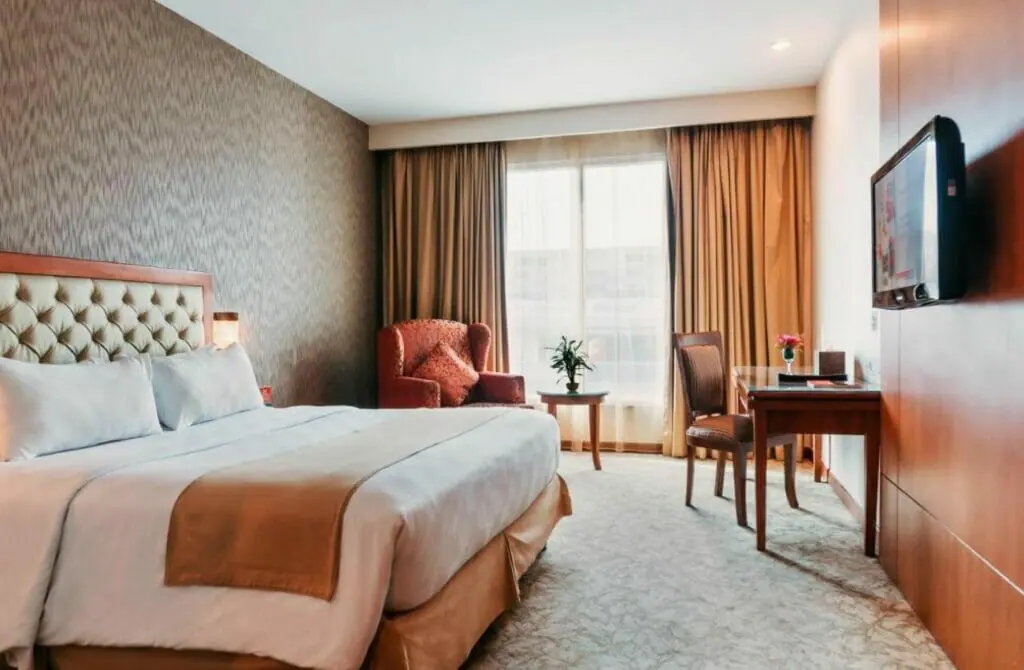 RedDoorz, situated near Mall SKA, is optimal for those looking for a hotel with economical prices without losing facilities.
The hotel provides free WiFi and private parking. Their units are equipped with a flat-screen TV and free toiletries. Although this property puts you close to attractions and intriguing dining options, only make the reservations if you are not looking for top-notch services.
Graha Badnur Hotel Syari'ah ☆☆
In complement to the standard Indonesian Care, Graha Badnur delivers a 24-hour front desk, airport transfers, luggage storage space, and free WiFi. All the hotel rooms include necessities such as a desk, a flat-screen TV, a private bathroom, linen, and towels. Certain rooms also have a kitchenette along with a fridge.
Searching for a room to stay in with a low budget? The parent company OYO is a multinational hospitality chain with economical hostels, homes, and more living accommodations.
OYO 91187 Palanta Homestay, located a little far from the city's major attractions, provides essential amenities only with the best value. Expect free WiFi throughout the property, private parking, a lovely garden, and shared housing equipped with a closet, desk, and television screen.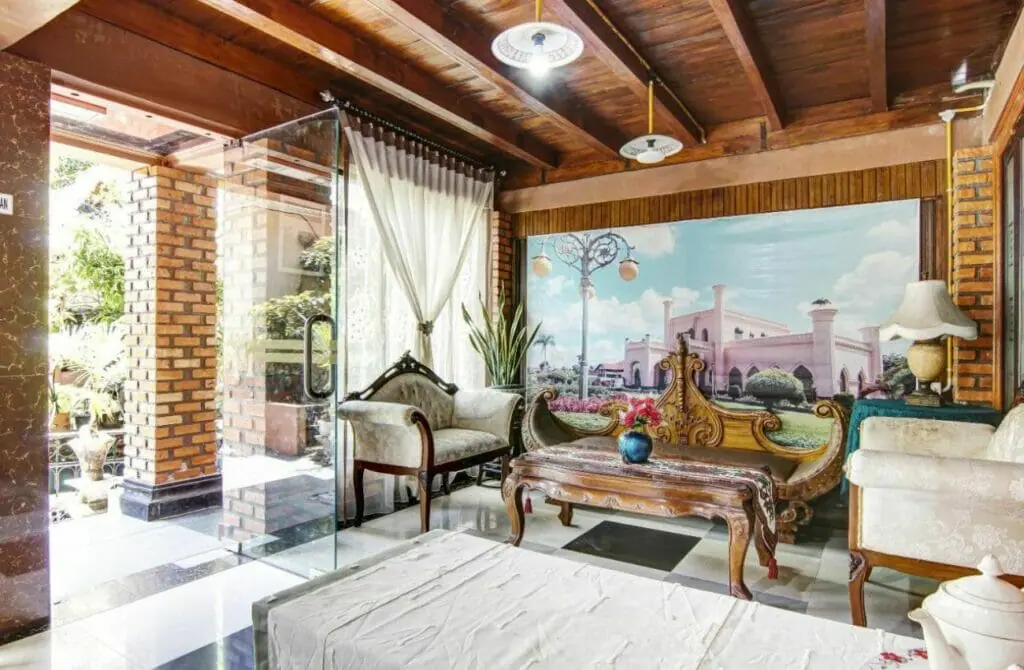 Gay Nightlife in Pekanbaru, Indonesia
Bougie clubs with electric music, creative concoctions at upscale bars, all-night spirited dance parties, a collection of board games, and sing-alongs — Pekaubaru's nightlife has something to cater to every taste.
However, unfortunately, there aren't any bars or pubs we can guarantee are gay-friendly. Nevertheless, this city grants night owls plenty of boozing options and many karaoke bars, which let wanna-be rockers sing their hearts out till early morning.
For our gay friends, we suggest contacting local gays through dating websites or mobile apps to get their insights into the best gay bars and unofficial gay events that may not appear on official sites. Also, be aware of hustlers and keep your drinks and valuable items under a watchful eye.
We have compiled a list of all the fun Pekanbaru has to offer after the sun sets. Many of these have a menu of delicate pub food to get your grub on while dancing and even try your hands at the pool or other board games.
These spots will be open all evening long, awaiting your energetic presence. So get out there, bust a move, and keep the party going.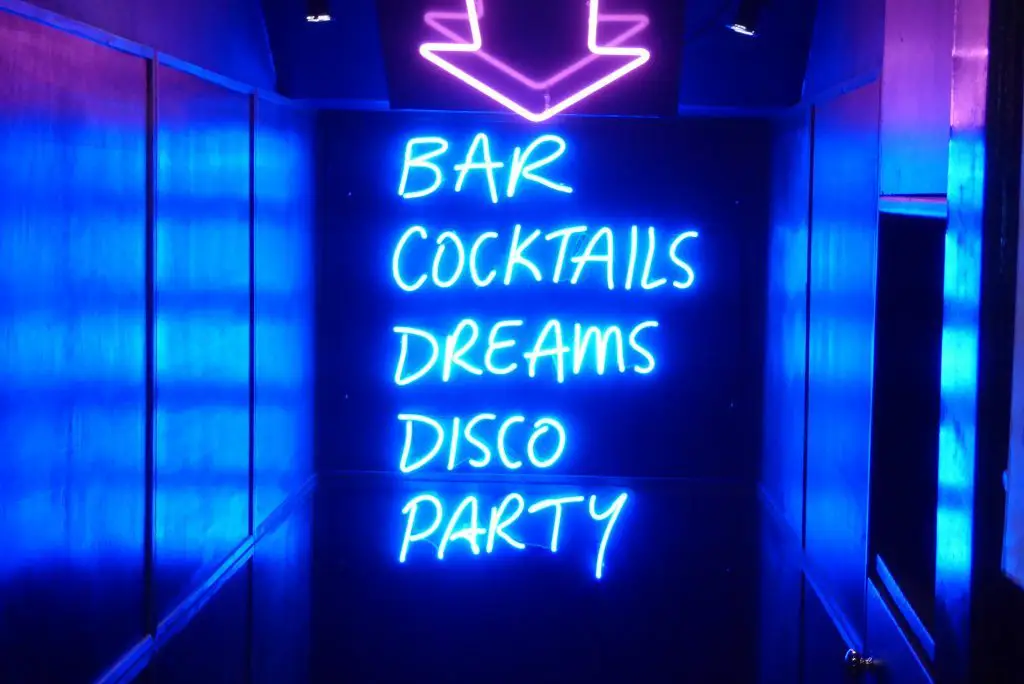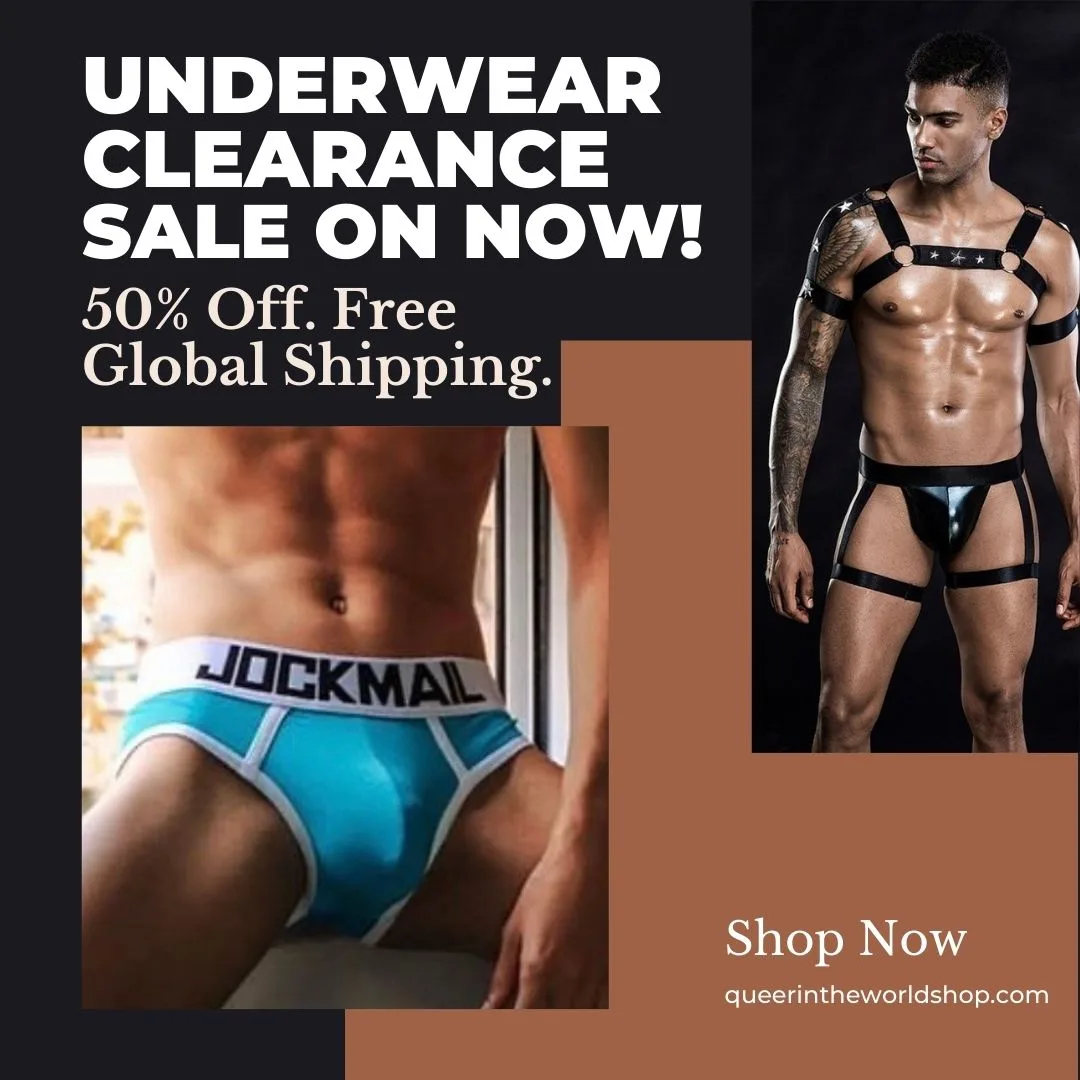 Too lazy to leave the comfort of your hotel? But at the same time, you might want to enjoy a cultured menu of food and drinks along with a dance floor for dancing the night away. The Hotel New Hollywood is here to make all your comfort dreams come true. Hollywood's Grand Dragon Pub has everything in the hotel, from outdoor seating to living performances. The cherry on top is their famously generous Happy Hours.
MP Club presents sensational concerts by Pekanbaru's most renowned artists, making the place perfect for spending a night grooving. While their live events are the finest in town, townies die for their exquisite cocktail menus. On top of that, you can also relish the music in their grand private rooms all evening long. Head down for a sumptuous night of drinking and dancing in the city.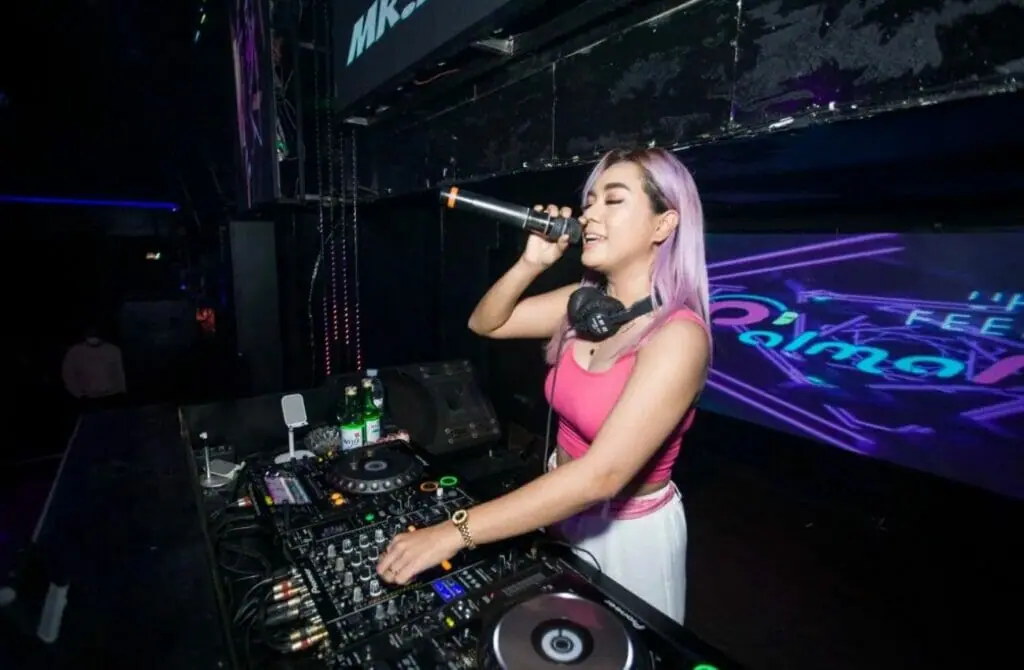 At New Paragon KTV Pool and Cafe, every day is a weekend, as the drinks are free-flow and the party never stops. Open till 6 am every morning; this Karaoke bar is a home for many clubbers and thrill-seekers.
Described by most as "one-stop entertainment," New Paragon delivers electric musical bands, DJs with acoustic music skills, billiards to play with friends, dancers, and a lavish acrylic room interior for singing your heart out at Karaoke. However, a tiny catch: their bars have "only cash" policies for drinks.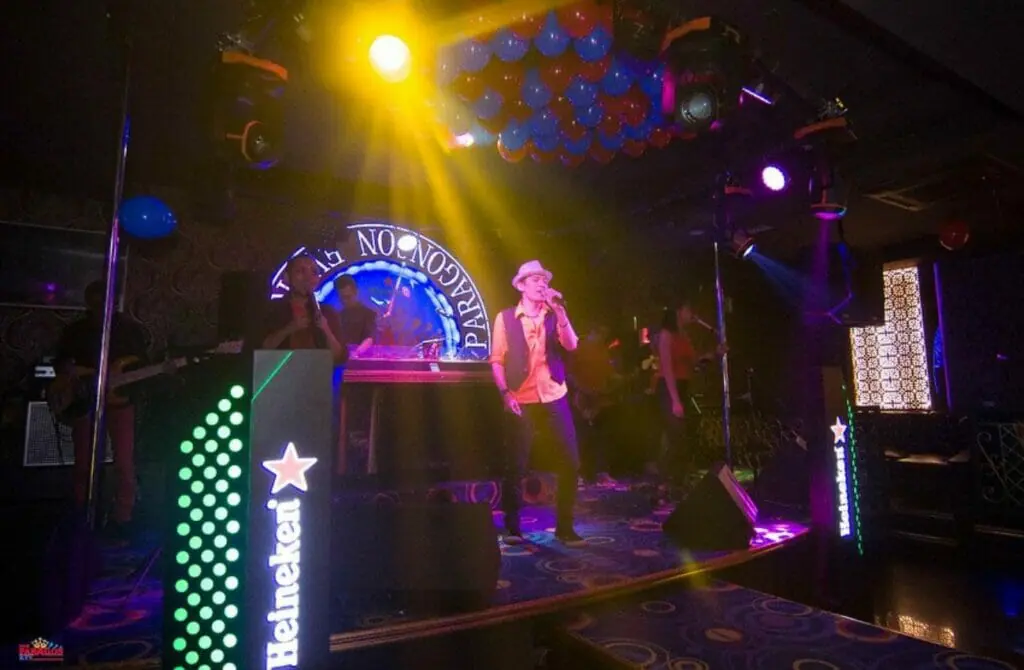 Arena Entertainment
(Temporarily or permanently closed. If you know something, please suggest an edit.)
Looking for something different? Perhaps some competitive socializing with your friend or partner? Arena Entertainment has invented new ways to make a night out more than just drinks at the bar with a cozy VIP billiards room, pool tables, board games, and karaoke nights.
Their game rooms are always vibrant and full of guests, so even if you visit alone, a game partner will always be easy to find and mingle with. Additionally, you can locate a bar for fine food, a glass of wine or a cheeky cocktail, and live music. They have a little bit of everything packed in one place for their consumers.
With various outlets all over Indonesia, Inul Vista's trendy ambiance and incredibly cool vibes have made all the youngsters rush to this place. Their excellent sound systems and frequently contemporized music is an added plus.
Grab a coffee or a menu of delicious food at an astonishingly affordable price. Pro tip: Don't forget to get a voucher on your exit to get bonus discounts upon your next visit. But as a heads-up, avoid going before midnight as families frequently visit the karaoke rooms.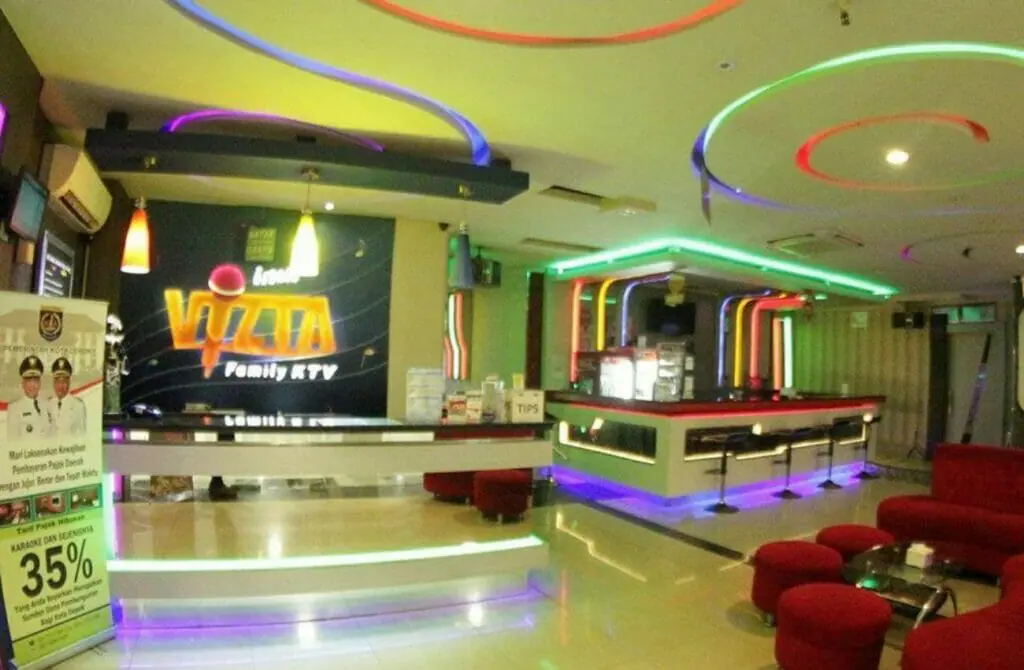 Head here for non-stop party vibes till late, and challenge your mates to fun karaoke in private rooms, fuelled by an extensive range of drinks and food served aesthetically.
Whether you are in the mood for classical music from the 70s or a lover of modern electric music, Happy Puppy Sudirman has got it all. Due to free WiFi and coffee refills, hefty happy hours, and various promos, customers have crowned the place the "best karaoke place in Pekanbaru."
If your idea of a perfect night out consists of decent beer and sensational food, Bier Haus Cafe is the place to go (open till 2 a.m. every day). Delectable steak served on hot stones and hamburgers with a side of onion rings are every foodie's dream.
Available only on certain days, catch their live music on the second floor or cheer on a sports game playing on their gigantic screens. Here's a tip from our reviewers: When you get there, ask them what they have available on a busy night. It's much quicker than looking at the menu.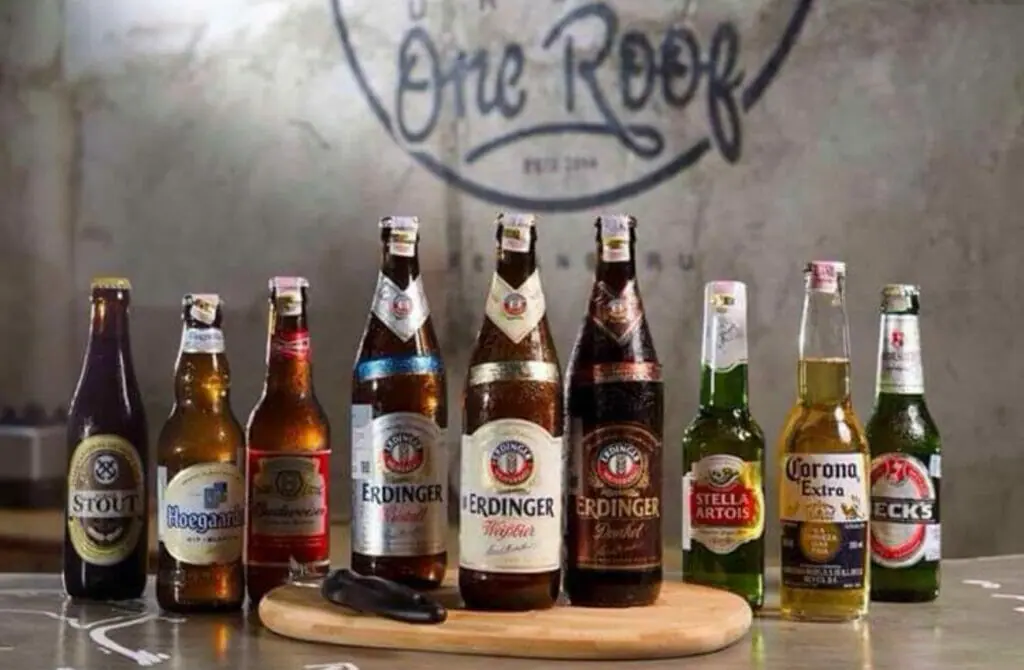 Last but not least on our list is Terminal 8. Although it's only open till 2.30 am, customers describe it as an "outstanding place for hangout." Their reasonable pools, chill drinks, cozy lounges to chill with your friends, and spacious parking is favorite of many locals and outsiders.
With live music, grooving DJs, and juggling bartenders, Terminal 8 promises a great time any night of the week. Grab a good meal before dancing your heart out and blowing off the stream.
Club Executive CE7
(Temporarily or permanently closed. If you know something, please suggest an edit.)
In the middle of the town, CE7 is famous for its delicious Nasi Goreng, an Indonesian specialty. This mouthwatering dish consists of spicy stir-fried rice with a side of shrimp, fish, meat, and vegetables of your choice and an assortment of seasonings. Swing by any day to take full advantage of their live music, bar games, and an equally spectacular cocktail menu.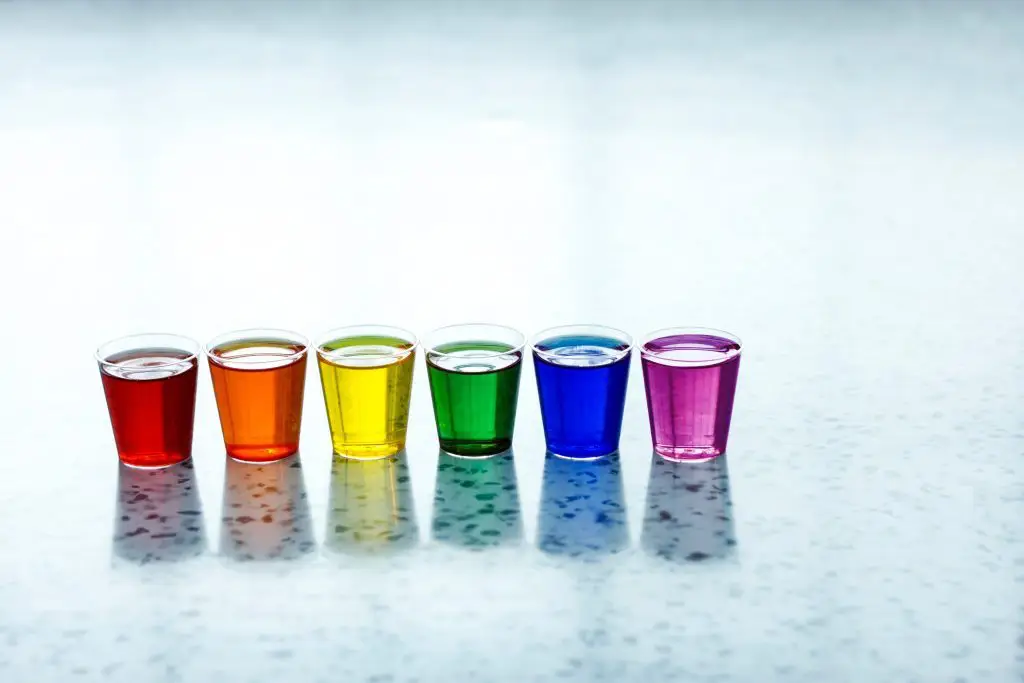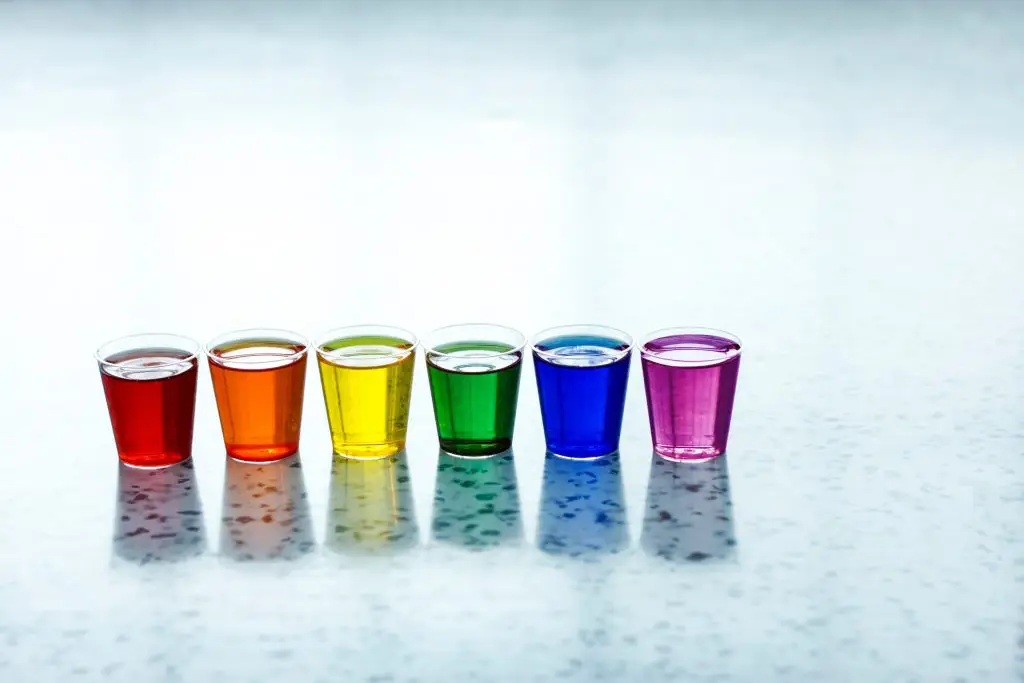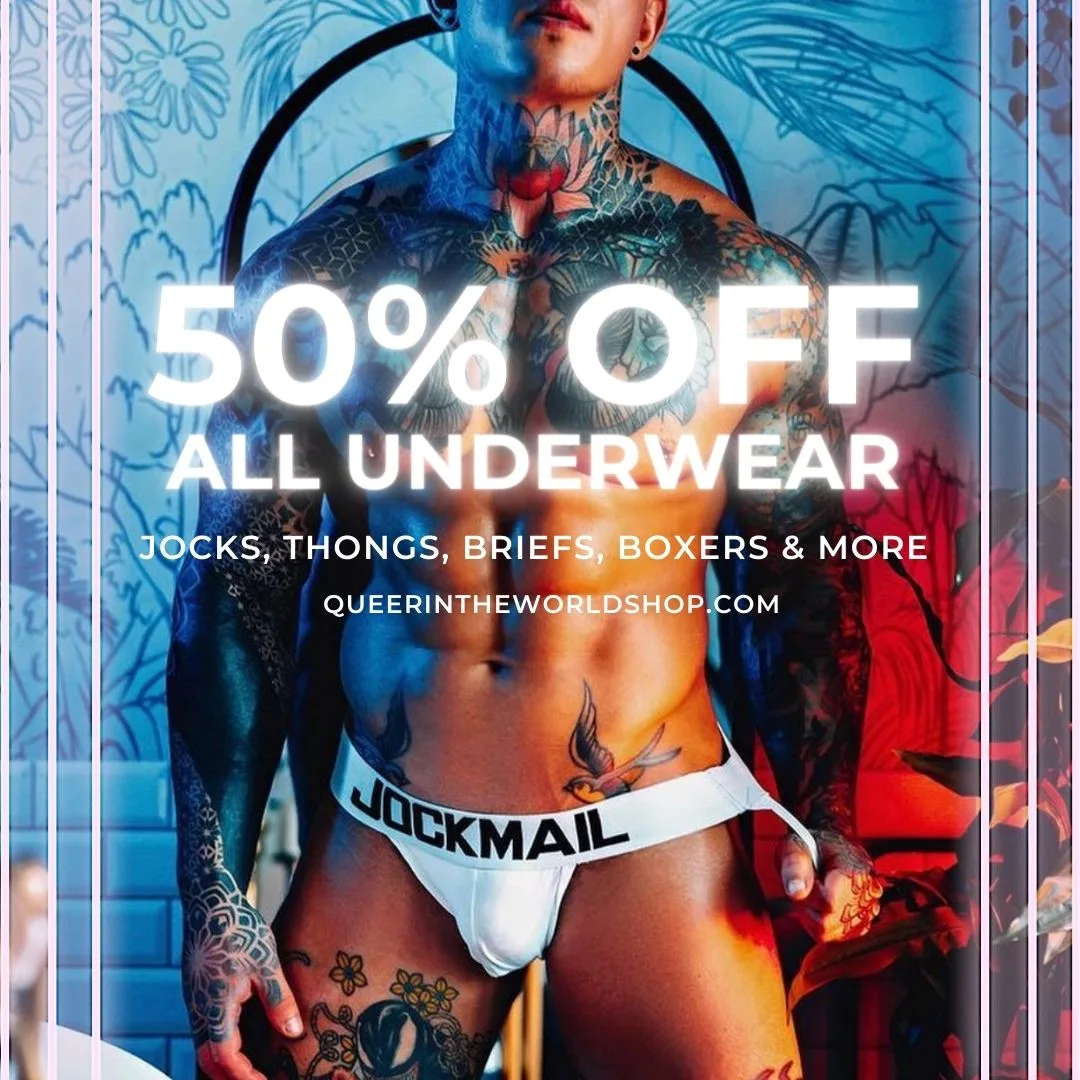 Gay Map Of Pekanbaru
Finding it hard to envisage where everything is in Pekanbaru? Hopefully, this queer-centric map helps where we have marked all the bars, clubs, parties, hotels, saunas, massages, and more will help you stay in the spot best suited to you!