Denver, Colorado isn't what you may picture as the bustling gay metropolis of the central US, but there is quite a bit more to this calm inland city than one might think, and gay media has been buzzing about the untapped potential and energy that it possesses for years now.
Not only does the city sit exactly one mile above sea level and at the very doorstep of the beautiful Colorado Rocky Mountains, but it also packs an amazing punch when it comes to the passion, energy, and persistence of its gay community.
Ever since the city's first pride celebration in 1974, Denver has flourished as a queer hotspot and a tempting destination for gay holidayers everywhere, thanks to its lively nightlife quarters and open approach to progressive viewpoints. As you might expect with this fabulous history, today, there are also many welcoming gay hotels in Denver for travelers to enjoy during their stay.
This city is unique, and its architecture speaks to all kinds of travelers in a way you may not expect until you've picked out a gay hotel for yourself and found out what Denver is like.
When it comes to important sites and things to see for general travelers, Denver is best represented by its amazing range of cultural locations and museums, including the Denver Art Museum, the Denver Museum of Nature and Science, and – perhaps most out-there and interesting of all – the Denver Wings Over the Rockies Air and Space Museum. That last one is sure to put a bit of a surprise in your travel itinerary!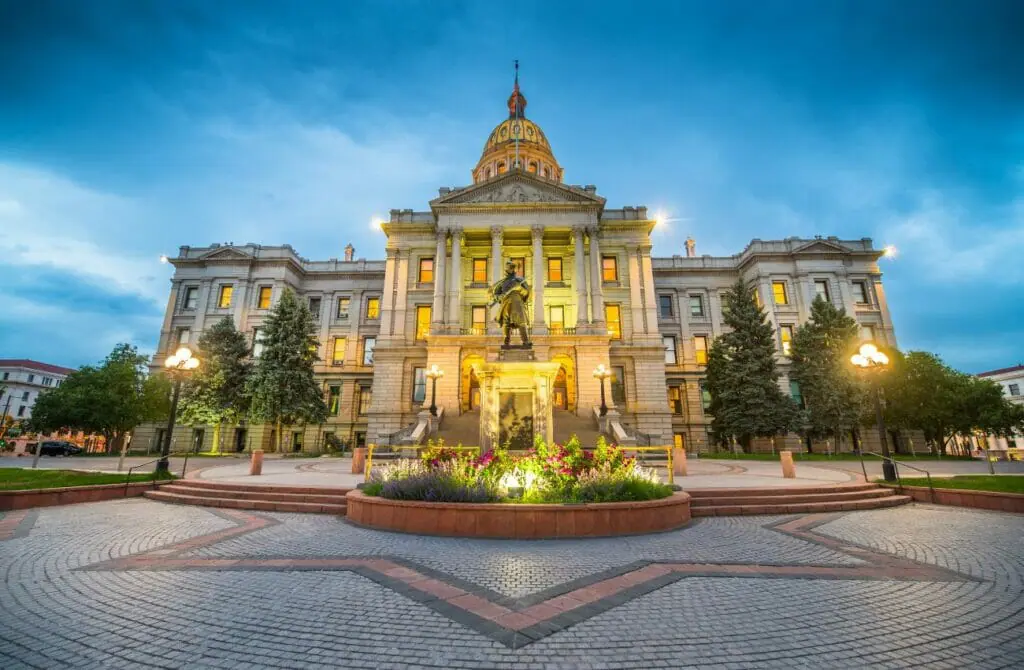 Suppose you're looking for a travel experience that's a little more queer-centric. In that case, however, you'll be glad to hear about Denver's famous Cheesman Park area, which is the location of the city's yearly pride march and a hub for queer people looking to socialize and get to know one another year-round.
There are also an impressive number of queer-specific bars, clubs, and even restaurants spread out across the city in areas such as Capitol Hill, the Five Points district, and – of course – the general Downtown neighborhood.
Even though locations appealing to queer people are more than easy to find in the city, it remains to be said that in most cases, hotels in Denver won't be specifically targeted towards gay people or queer travelers in general. We know that, and therefore we'd like to note that the hotels on this list follow the same logic.
Most of them have been listed as accommodating, friendly, and unjudgmental to, for, and by queer people in general, as well as being highly rated in general.

So, if you're as ready as we are to jet off for Denver and to discover exactly what accommodation pleasures the city has on offer, get your luggage packed, start browsing lists of attractions in the city that speak to you, and get ready to take a specially curated and careful dive through the top eight hotels in Denver that suit to and are friendly towards gay travelers and queer people making their way about the country or the world!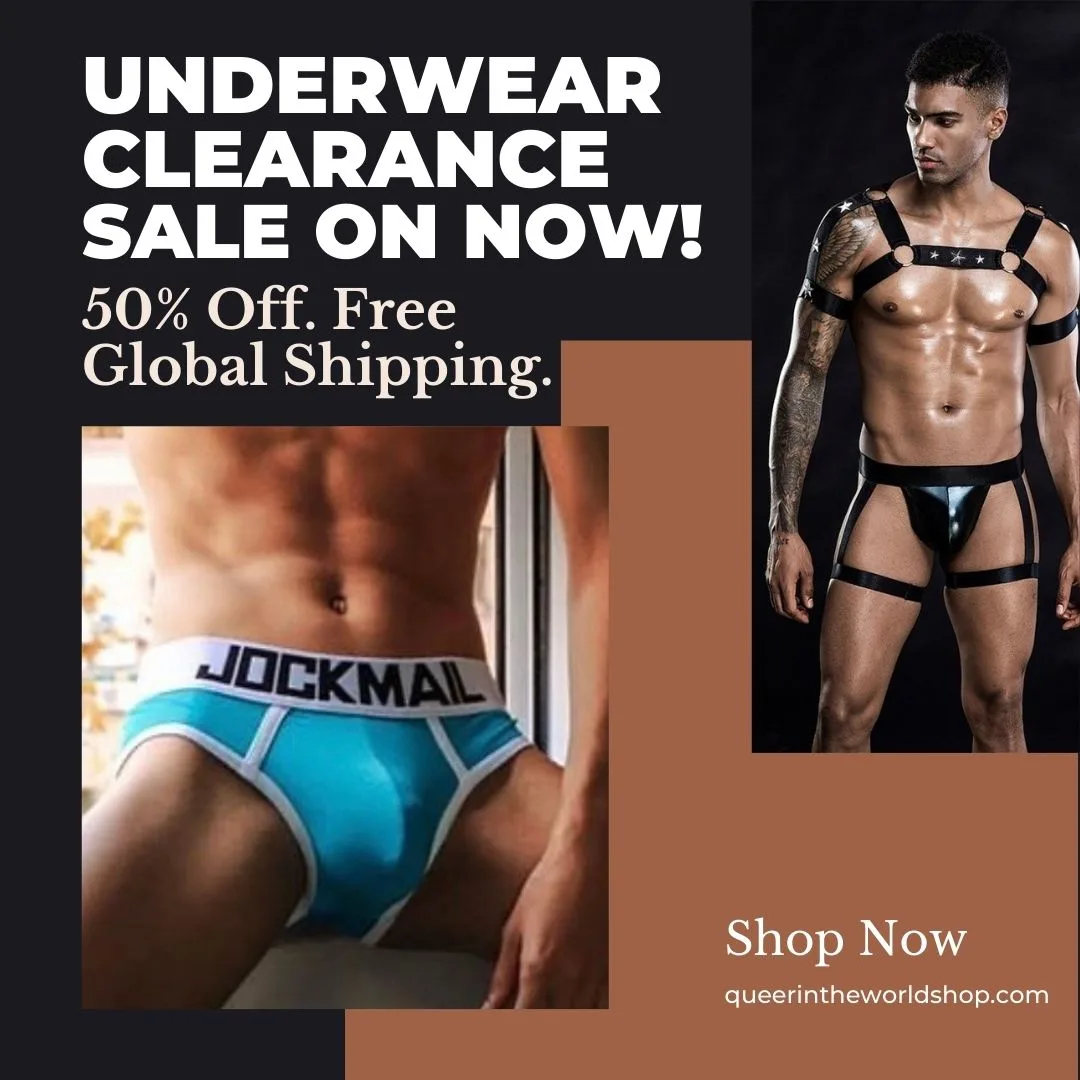 Starting this list with a bang that has just as much bite as it does bark, the Curtis Hotel's competence comes as somewhat less than a surprise thanks to its official status as a member of the Hilton franchise and its long history of perfect service and customer satisfaction.
Although the Curtis may not have an official badge of LGBTQ+ friendliness like some of the other hotels on this list, it certainly makes up for what it lacks in this department thanks to its acclaimed service reputation and high rate of customer satisfaction, both of which being factors that are the most important when it comes to a hotel's treatment of queer travelers anyway.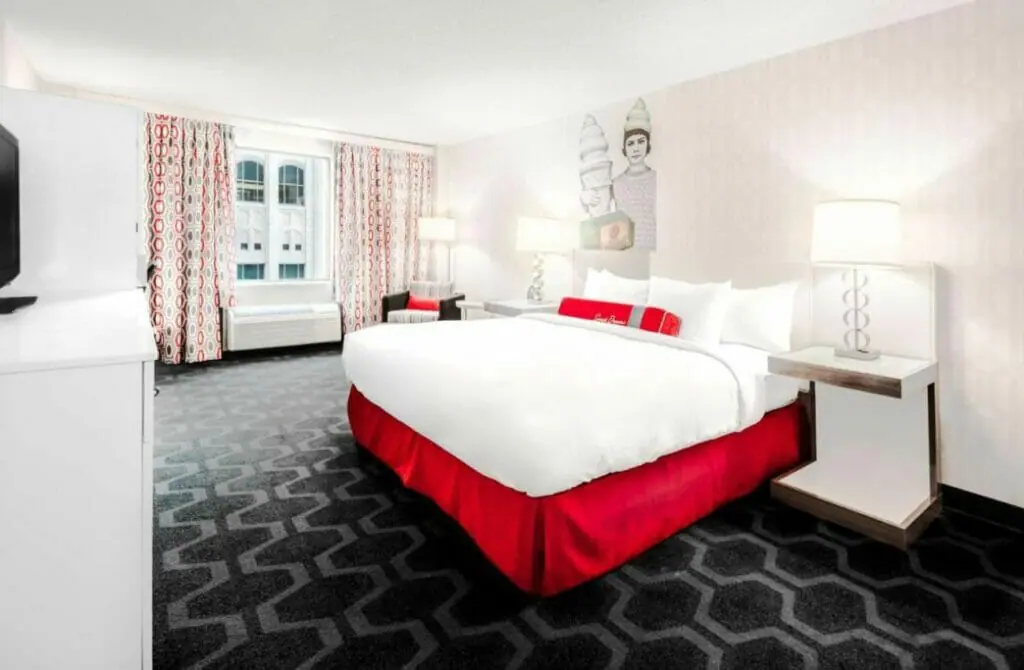 Prices and rates for staying at the Curtis sit at a happy middle amongst the hotels on this list, keeping it just serviceable enough for those conscious of their wallets to truly shine through the sheer amount of services that it provides without the extra charge and the convenience it offers thanks to its central location and rock-solid accommodation quality. Denver's downtown is your oyster while staying at the Curtis, and it's up to you to embrace it and dive in!
The Curtis Hotel is located directly above a Starbucks location and a wonderful culinary hotspot known as The Corner Office Restaurant + Martini Bar, so if you value being able to get a quick bite to eat or something to drink when you plan your holidays, then this is the perfect place for you to do so without compromising the overall appeal and convenience of your holiday.
The Corner Office also offers takeaway and room service that hooks into the hotel's very own services, so you can even have food from the restaurant taken directly up to your room! Doesn't get more convenient than that.
This may sound somewhat of an overstatement, but when we say that this hotel is one of the most regal and impressive locations in the entire city of Denver, we say that only because we mean it. The common spaces and the individual rooms of the Kimpton are nothing short of aristocratic and stand to deserve much higher than the four-star rating that the hotel has.
Even with all of that said, however, it may come as somewhat of a surprise that this location isn't at all that expensive with everything considered, and as such, the Kimpton Hotel Monaco Denver stands as both one of the hardest recommendations on this entire list and one of the best hotels in the entire city.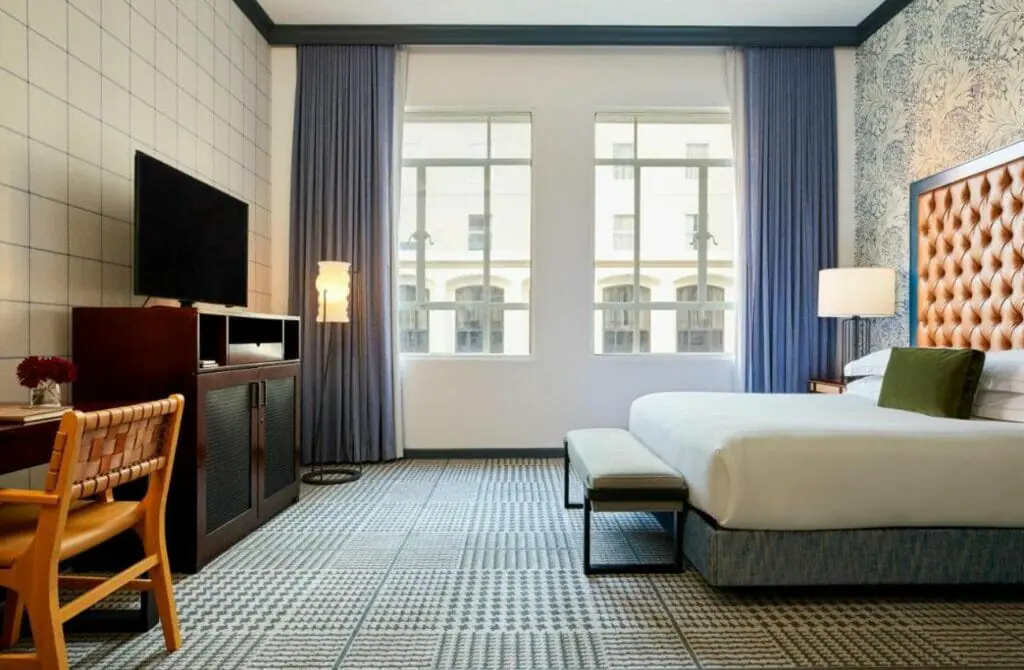 If food is important to you when planning a holiday, allow us to introduce the Panzano restaurant to you – the five-star palace of culinary delights housed within the same building as the rest of the Kimpton Hotel.
Suppose you're looking for an exquisite, authentic dining experience abroad. In that case, you need to look no further than this positively lovely side spot with an intuitive menu, great food, and a penchant for top-shelf service, just like the hotel's own.
As if all of the positive factors that we've already listed weren't enough, the Kimpton Hotel Monaco Denver is also officially marked and marketed as queer-friendly, and as such, gay travelers looking to base their holiday out of this location can feel more than sure that they are going to be treated with the utmost respect and be afforded all the privacy and services that they could require.
After all, what's better than being able to relax and do your own thing without worrying about being judged or possibly even discriminated against?
This four-star location is well-maintained, capably managed, and officially marked as queer-friendly on all major platforms, but the best is yet to come. One of the Brown Palace's strongest selling points is the fact that it hooks almost directly into Denver's nightlife, and as such, if that's what you're coming to the city to dive into and immerse yourself in, then this is the perfect location for you to hole up between evenings out on the town and late morning returns to your bed.
The Brown Palace is also the perfect hotel for those looking to recover from the repercussions of indulging in said nightlife, and that's where the hotel's full title and alternate life as the Brown Palace Hotel and Spa comes into place. What could be better after a long night spent drinking and dancing than a spa experience to take away that aching head and those sore muscles?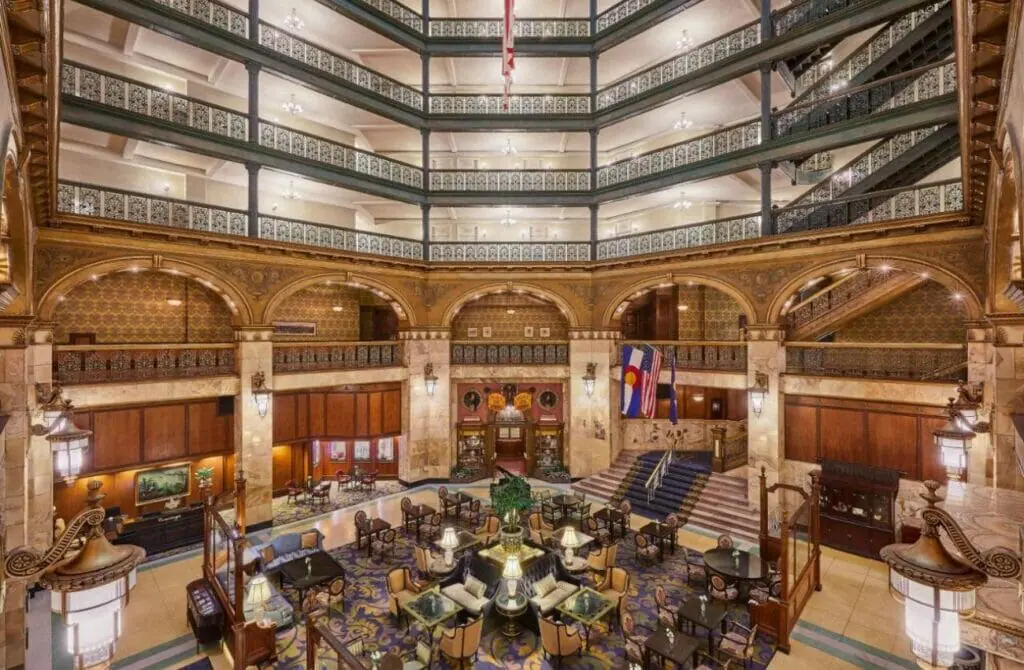 Any other worries and aches that you could have should be easily done away with thanks to the fact that the Brown Palace is officially registered as LGBTQ+ on most major platforms and also due to the hotel's impressive register of positive reviews from queer travelers who have chosen the hotel as their stay of choice in the past. It can't get much better than that – all boxes checked!
Speaking of hangovers and nightlife, the truth is that you don't even have to venture away from the hotel's footprint to have a great time! The Brown Palace is home to the Ship Tavern bar on its first floor, the Churchill Bar directly next to it, the Afternoon Tea at The Brown Palace completing the row, and – if all of that wasn't already enough – the Ellyngton's American restaurant if you're looking to dig into a real meal!
Warwick Hotels are one of our absolute favorites when it comes to lists of gay hotels in Denver (and around the USA), and that sentiment most absolutely extends to this location sheltered in the center of Denver's central business area.
The Warwick hotel franchise is well known for officially listing their hotels as queer-friendly regardless of location or the trends of the area, and this status makes Warwick locations excellent gay hotels regularly, with the Denver establishment being far from an exception.
If anything, the Denver Warwick Hotel is one of the best and most gay-leaning locations we've ever seen from the name, thanks to the sheer amount of queer guest reviews that it has earned in the past and the sheer satisfaction of those reviews.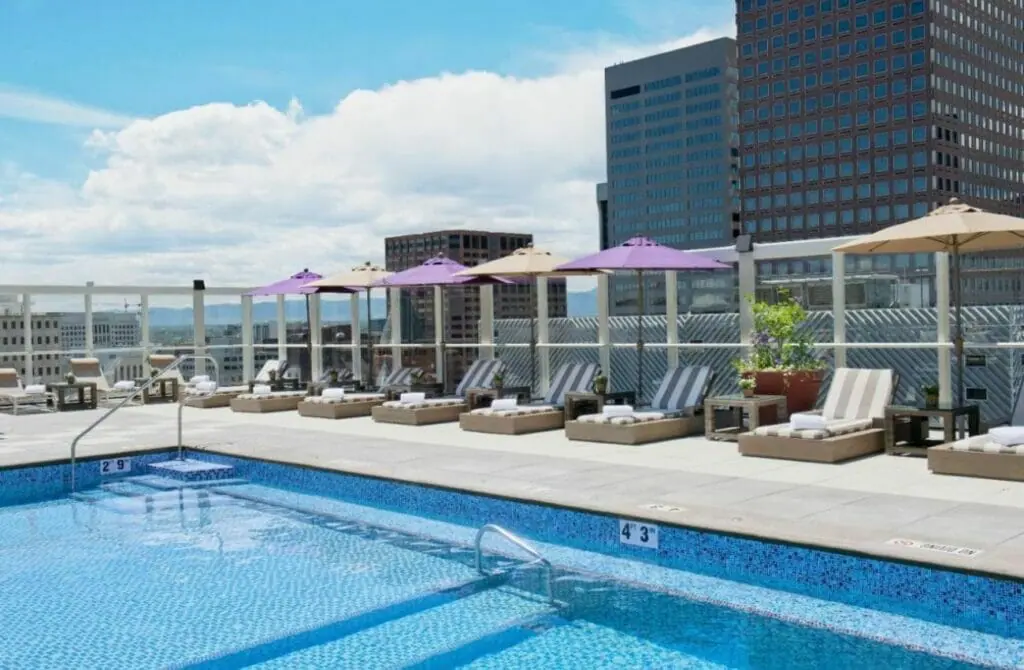 Enough about the specific appeal of the Warwick Denver to queer travelers, however – it's time to move on to a more general image of what it offers and the benefits of its location. Not only does the Warwick sit above and incorporate the Gattara pizza restaurant, but it also has its pool so that guests can relax and enjoy themselves by the waterside, even given the city's isolation from all things wet.
The hotel also has its own in-house fine dining restaurant if pizza isn't your thing and you'd like something more refined, as well as a bar for lounging and catching up with fellow travelers.
The Warwick Denver also follows up on the trend its fellow franchise members began by including a fully rentable event center for people looking to host their events and get-togethers, such as birthday parties and weddings. Further benefits include a bar, a fitness center, and a wide range of sitting areas for casual relaxation or hanging out.
The Renaissance Denver Central Park Hotel delivers on all of the offers that it makes, and that sense of reliability is precisely what makes it such a high-tier addition to this list and the accommodation scene of Denver as a whole.
This hotel is a perfect middle ground between the pricey five-star hotels that come later on this list and the more budget options peppered throughout, so if you're a queer traveler that is equally as focused on finding a quality location to satisfy all of your holidaying needs as you are on watching your wallet and keeping a little spending money by your side, then this is the place for you.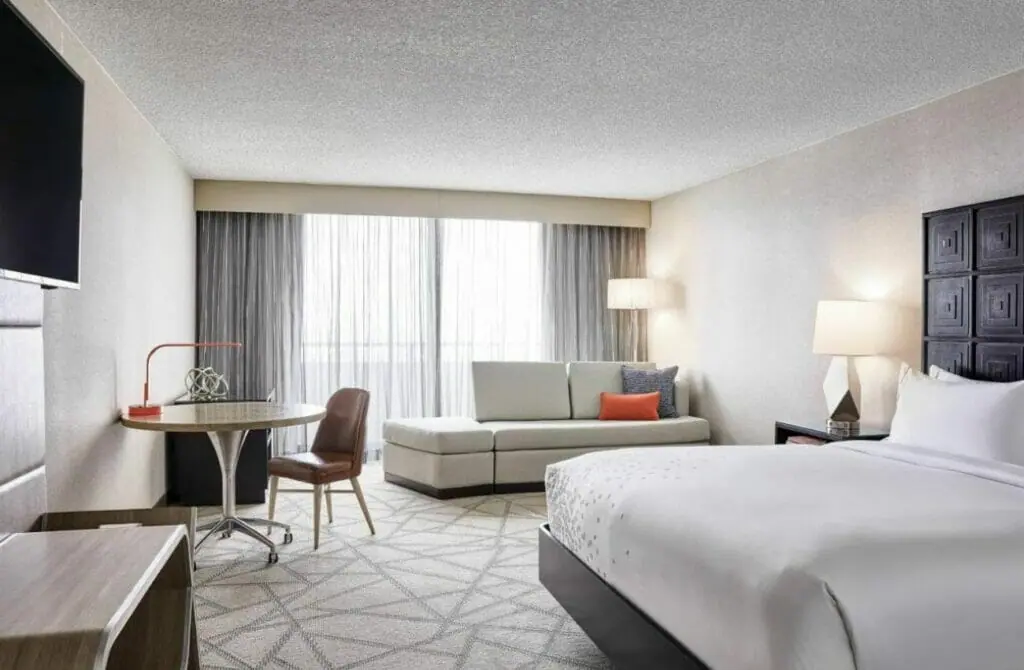 Showing that money has nothing to do with courtesy after all, this location is just as soundly marked as LGBTQ+ friendly as the more expensive hotels on this list, such as the Hilton and the Hyatt, and this respectful and kindly service reputation extends from the staff's treatment of guests in general to the quality of their included services, such as laundry, room service, and cleaning. Rooms can also be upgraded with living rooms and dining areas!
The dining experience of the Renaissance Denver Central Park Hotel is also a factor worth noting, thanks to the included FIFTY300 restaurant, which serves classic American cuisine with that perfect edge of fast food convenience to get you fed and where you need to be without having to wait around for checks and inconvenient stiffness.
This factor of modernity extends to just about everything the hotel has on show, both when it comes to aesthetics and practicality, and one needs to get a good glance at Renaissance Denver's unique, triangular shape to get a good feel for just how cutting-edge the location is.
There are quite a few Hyatt Place locations in Denver, but the one that we'll be focusing on today is none other than the Hyatt Place Denver Downtown – a high-rise location that spans up directly above one of the most important fractions of the city and as such affords its guests direct access to Denver's heart and soul.
The Hyatt Place Downtown has a free breakfast for its guests every morning, stands out amongst its competition thanks to the fact that it has an entirely cost-free pool indoors, and has cultivated a truly wonderful service setting and menu with its in-house restaurant.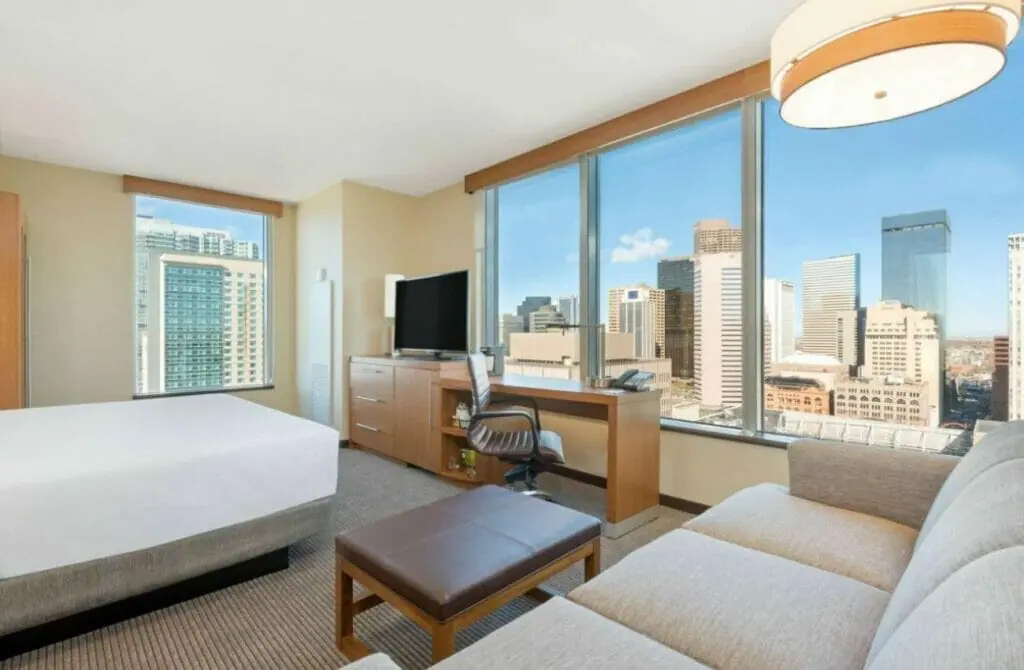 While this particular hotel may not be explicitly marked as queer-friendly – unlike the vast majority of the hotels in the Hyatt and Hyatt Place adjacent franchises – as we've been saying all along through this list, it's the reviews and the attitude that the hotel has to all of its guests in general that counts the most, and the Hyatt Place Denver Downtown certainly doesn't disappoint in this department.
Further indicators of the Hyatt Place Denver Downtown's great hospitality and service mentality include the hotel's offered free breakfast that we mentioned not long ago, and – as the cherry on top of the cake – its gym, bar, and connected lounge area, which makes for a wonderful exercise and relaxation experience all in one.
The one complimentary thing lacking from this location is parking, but that factor is easily remedied by the nearby parking garage, which has daily prices that hardly raise an eyebrow.
The Hyatt Place Denver is also pet-friendly, which is quite rare for any hotel within the city's borders, let alone one that is relatively fancy and has relatively luxurious conditions for its guests. This is a perfect opportunity for those traveling with furry companions!
Now this is a special one – a hotel that boasts an almost impossibly high service reputation on all platforms. The Capitol Hill Mansion Bed & Breakfast Inn used to be a 19th-century mansion and was only recently converted into a charming hotel that is well-fitted and set to satisfy just about every accommodation itch you could have.
One only needs to take a glance at the façade of the Capitol Hill Mansion to fall in love with it, and that nostalgic, historically detailed feeling is exactly what makes this location both so desirable as an accommodation location and also as a hotspot for artistic and queer individuals who are looking for something a little different to help them feel in touch with the lighter side of the city.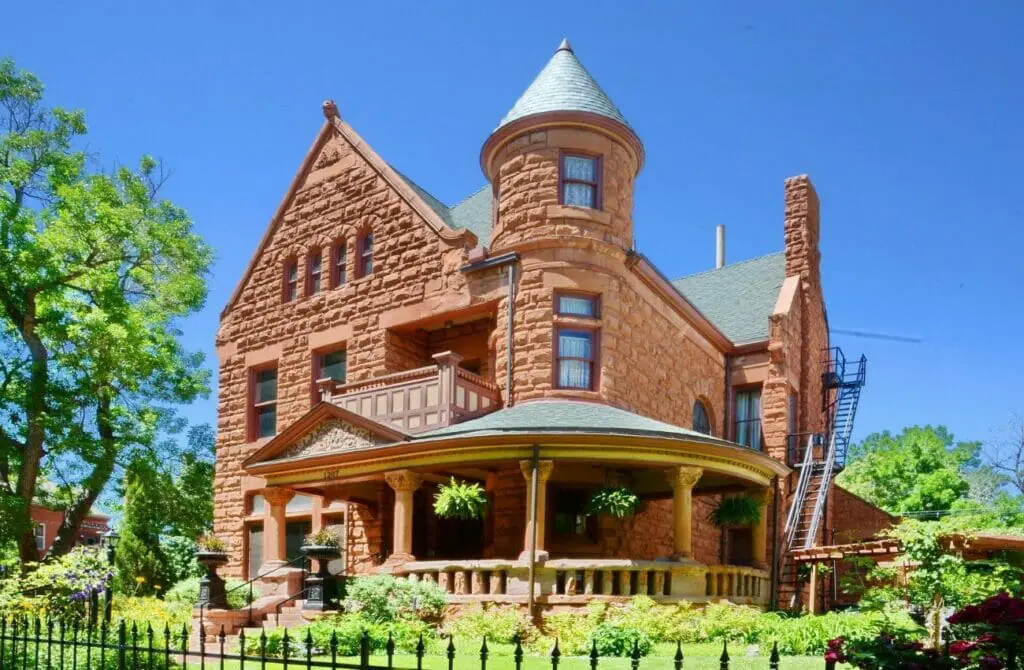 Some of the on-paper benefits of staying at this particular location include the hotel's free parking for those who come with cars in tow, a morning breakfast spread that is sure to quench your new day hunger to a tee, hot tubs in some individual rooms, an amazing maintenance and service quality.
Most importantly of all – a slight degree of separation from the hustle and bustle of the city's core and the movements of other travelers are sure to make a massive difference when it comes to the quality of your relaxation and your recovery between days out on the town or nights spent club and bar hopping.
The Capitol Hill Mansion Bed and Breakfast Inn is also officially marked as LGBTQ+ friendly, which means that you won't have to be self-conscious about your identity for a single second while you're staying here, putting your feet up, and taking your sweet time to enjoy the very best of what Denver has to offer queer tourists.
The Hilton name and the hotels that belong to it are quite simply one of the most reliable things on this planet – immediately creating images of a well-maintained, highly-ranking location that hits about every important aspect of accommodation out of the park with an approach that leaves a taste of refined luxury firmly stuck in the back of your mind and before your eyes.
Built up in the same building as a Starbucks – now that's convenient – this hotel is classy in every what that counts, starting with and especially including the state and design of its lobbies, common areas, and individual rooms.
It doesn't take much longer than walking through the Hilton Denver City Center's front doors to get a taste of that famous Hilton luxury, and that impression continues through the hotel's included more than a competent bar, restaurant, fitness center, and event space hire amenities.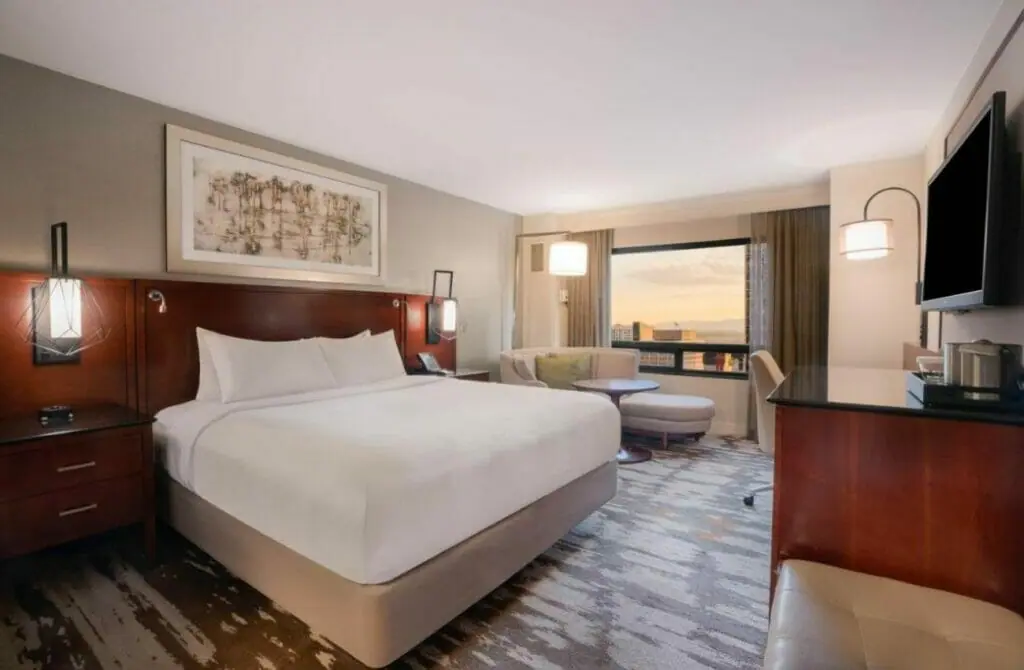 The downtown area that surrounds the Hilton Denver City Center is an absolute gold mine for gay holidayers looking to immerse themselves in the very best nightlife offerings that the city has to give, as well as a truly amazing street food scene that runs along and surrounds the 16th Street Mall.
If that isn't enough to earn your interest, you'll be ecstatic to learn that this district of the city is also home to Denver's theatre and cultural center, and as such, there is no shortage of museums, plays, and other artistic events and locations to spend your time wandered between and appreciating.
Much like the Capitol Hill Mansion Bed and Breakfast Inn before it, the Hilton Denver City Center is also marked as LGBTQ+ friendly, bringing its status as a queer and gay hotel up to scratch with the very best locations on this list.
Gay Hotel Map Of Denver
Feeling a bit lost while planning your journey to Denver? No worries, darling! Our detailed LGBTQ+ tailored map is here to guide you. We've pinpointed all the vibrant gay-friendly bars, exhilarating clubs, extravagant parties, cozy hotels, relaxing saunas, and soothing massage parlors to ensure you find the perfect spot.
And these aren't just any spots; we're talking about the creme de la creme of locations in the heart of the city's vibrant gay scene. Think panoramic views, easy access to nightlife, and all the amenities to make your stay as comfortable and enjoyable as possible.
But hold on to your feather boas! These hot spots are fabulous; they vanish quicker than a drag queen's five o'clock shadow. Don't delay; book now to secure the best deals and locations. Remember, the early bird catches the best deals in Denver! So, pack your rainbow flag, and get ready to experience the ultimate gay-friendly holiday in Denver.