Also called "City Beautiful", Chandigarh is a fascinating city that combines modern design with traditional culture and history, welcoming all kinds of visitors. Located in the northern region of India, Chandigarh is a union territory and capital of Punjab and Haryana. Established in the 1950s as India's first planned city, Chandigarh has since become a hub for education, commerce, and tourism.
One of the unique features of Chandigarh is its well-planned infrastructure, which is divided into 47 sectors, each with its own market, residential area, and green space. In addition to its impressive architecture and green spaces, Chandigarh is famous for its vibrant culture and rich history. The city has a diverse population, with Punjabi, Hindi, and English being the primary languages spoken.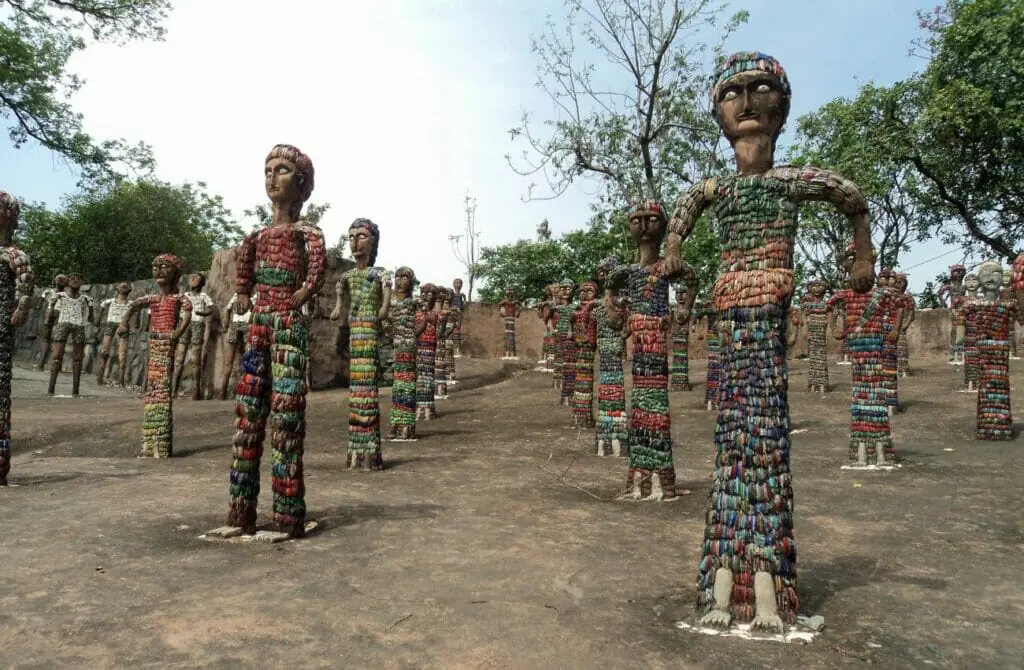 It is home to many historic landmarks and museums, including the Government Museum and Art Gallery, which showcases ancient Indian sculptures, coins, and paintings.
Chandigarh is also a popular destination for food enthusiasts, offering a wide range of traditional Punjabi and North Indian cuisine, including butter chicken, tandoori chicken, and chole bhature. The city has many bustling markets and street food vendors serving delicious snacks like samosas, chaat, and lassi.
After the decriminalization of homosexuality in 2018, Chandigarh's queer community has become more and more visible, organizing events and creating safe spaces for themselves. The city's Pride Parade, which started in 2013, has gained momentum over the years and is now an annual event that draws a diverse crowd of LGBTQ+ individuals and allies.
The queer community in Chandigarh also has online platforms and support groups where they can connect and share resources. While it still has a long way to go, the people of Chandigarh have become more open-minded and accepting of all kinds of identities.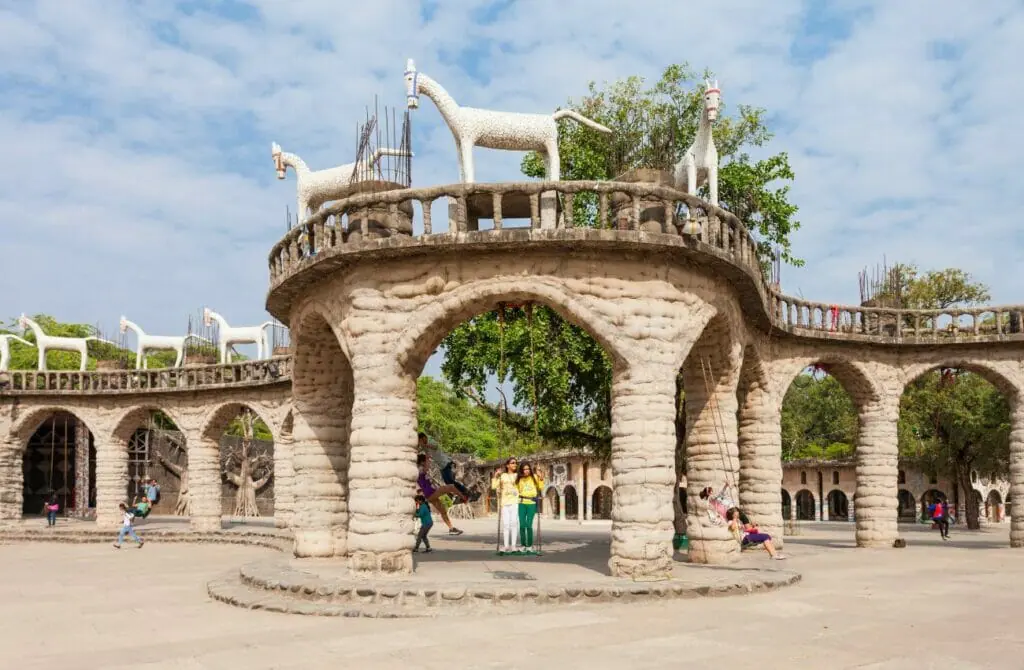 In this article we will cover...
Attractions in Gay Chandigarh, India
Welcome to Gay Chandigarh, darling! While the city may not be the most welcoming to the queer community, fear not! There are still plenty of fabulous things for you to do while keeping things low-key. First and foremost, you simply must visit some of the city's most iconic landmarks and attractions, dahling!
Take in history and culture by visiting museums, art galleries, and historical monuments. And don't forget to marvel at the stunning architecture, explore parks and gardens, and indulge in the local cuisine. But that's not all, darling! Gay or straight, there's always something to do in Gay Chandigarh. Immerse yourself in the local culture by attending cultural events like festivals, concerts, and shows.
In India, LGBT rights have made some significant strides in recent years, but many issues remain. In 2018, the country's Supreme Court overturned a colonial-era law that criminalized homosexuality and in 2023, the legal battle for same-sex marriage heated up, but societal attitudes towards LGBTQ+ people remain largely conservative.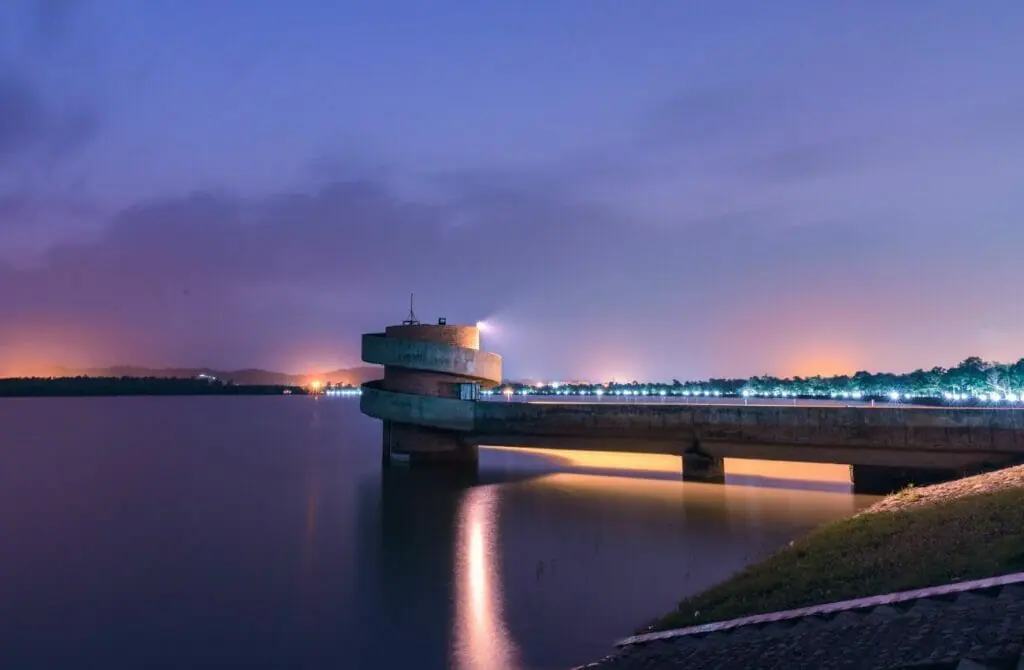 Discrimination and violence against queer individuals still occur, and there is still a long way to go regarding legal and societal acceptance.
As a queer traveler in India, exercising caution and being mindful of your surroundings is important. While larger cities like Mumbai and Delhi have more visible LGBTQ+ communities and venues, it is still important to be discreet in public spaces outside of these areas.
Holding hands or displaying affection in public may draw unwanted attention or negative reactions. Knowing local customs and dress codes is important, especially if visiting religious sites or rural areas. It's always best to err on the side of caution and respect the local culture.
Trust us; there's always something fun and exciting happening in this fabulous city. Remember, discretion is key in a city that's not always welcoming to our fabulous community. So, keep it lowkey and enjoy all the wonderful things Gay Chandigarh has to offer!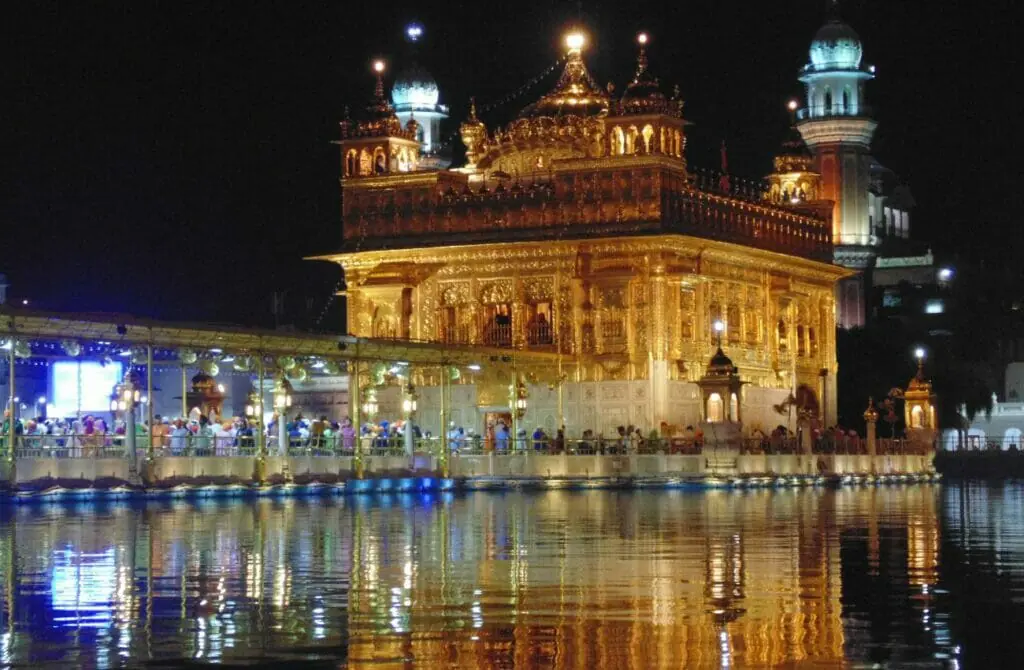 Government Museum and Art Gallery
The Government Museum and Art Gallery is a renowned museum located in Sector 10, Chandigarh, India. The museum was established in 1947, when Indian gained independence, and houses a diverse collection of artifacts, including archaeological finds, manuscripts, paintings, sculptures, and coins. The museum's art gallery features works of Indian and international artists, including Amrita Sher-Gil, Nandalal Bose, and Rabindranath Tagore.
The museum's collection also includes a section dedicated to the Partition of India, showcasing the events and aftermath of the traumatic event. The museum is a must-visit destination for history buffs and art enthusiasts, providing a glimpse into India's rich cultural heritage.
No trip to Chandigarh is complete without a visit to this renowned, unique garden. A unique sculpture garden, this rock garden was created by Nek Chand, who is a self-taught artist. He started building the garden in secret in 1957 using recycled materials such as broken bangles, tiles, and stones. Today, the garden spans over 40 acres and features over 5,000 sculptures and installations made of recycled materials.
The sculptures depict various subjects, including animals, humans, and abstract forms. The garden is a popular tourist attraction and has been recognized as a symbol of the city's cultural heritage. It serves as a testament to the power of creativity and resourcefulness. If you are in the city, this is a must-visit destination that should be on your itinerary!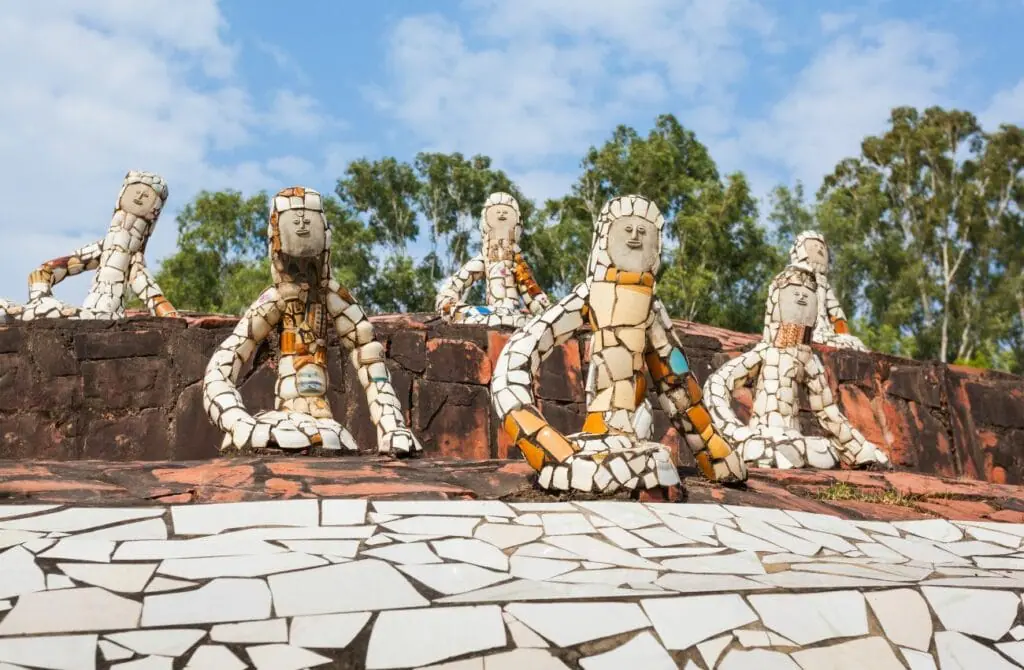 International Dolls Museum
The International Dolls Museum is a unique museum located in Chandigarh, India. The museum was established in 1985 and housed a collection of over 25,000 dolls from around the world. The dolls are made of various materials such as wood, porcelain, cloth, and plastic and are dressed in traditional costumes.
The museum is a popular attraction for children and adults alike, providing a glimpse into different cultures and customs. The museum also features exhibits on the history of dolls and the art of doll-making. It is a must-visit destination for anyone interested in toys, crafts, and world cultures.
Sukhna Lake
An artificial lake created in 1958, Sukhna Lake in Chandigarh has been described as one of the most beautiful manmade lakes in India. The lake is a popular destination for locals and tourists alike and offers a serene environment for relaxation and recreation. Visitors can enjoy activities such as boating, birdwatching, and fishing.
The lake is surrounded by a walking path, gardens, and a promenade, making it a perfect spot for a leisurely stroll with your loved ones. It also hosts various events throughout the year, including a marathon and a cultural festival. The perfect spot to have a picnic and day out with your family and loved ones, Sukhna Lake is worth a visit.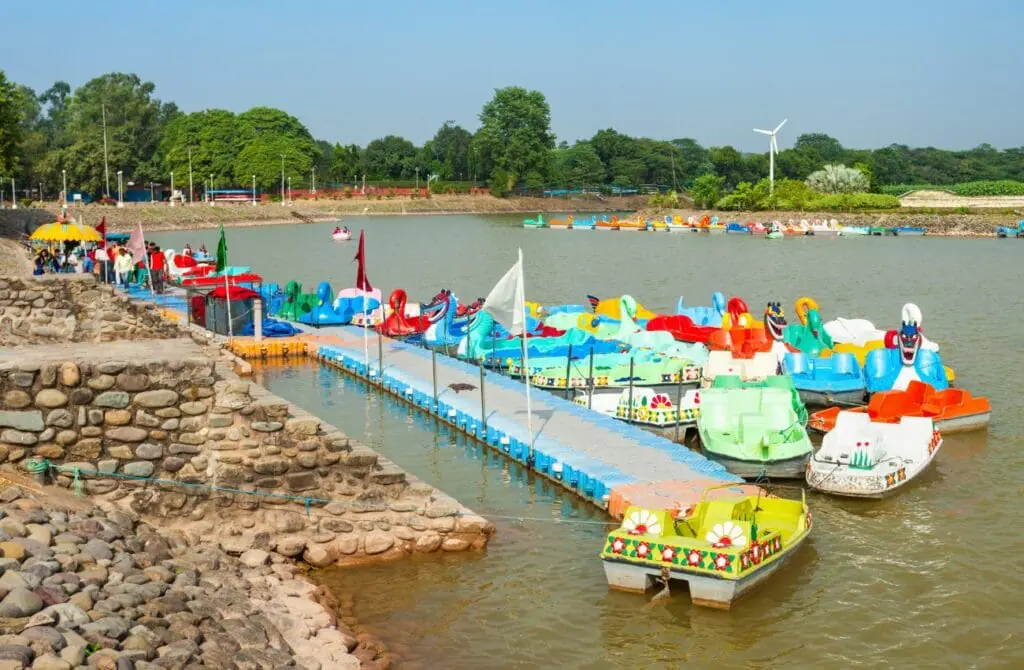 The Chandigarh Rose Garden, also known as Zakir Hussain Rose Garden, is a popular tourist attraction in Chandigarh, India. The garden was established in 1967 and spanned over 30 acres, making it one of the largest rose gardens in Asia. It is home to over 1,500 species of roses, including hybrid tea, floribunda, and miniature roses.
The garden is a delight for nature lovers and photography enthusiasts, especially during the annual Rose Festival when the garden is in full bloom. The festival features a variety of cultural programs, competitions, and exhibitions, making it a vibrant celebration of nature and art. This is another tourist attraction that should be added to your Chandigarh itinerary!
Nada Sahib Gurudwara
A short drive from the heart of the city, Nada Sahib Gurudwara is a historical Sikh shrine located on the banks of the Ghaggar-Hakra river in Panchkula district, Haryana, India. The gurudwara holds great significance for the Sikh community and is visited by thousands of devotees annually.
According to legend, Guru Gobind Singh, the tenth Sikh guru, halted at this spot during his journey from Paonta Sahib to Anandpur Sahib. The gurudwara was built to commemorate his visit and features beautiful architecture, including a large dome and intricate carvings.
The Gurudwara also houses a sacred well where devotees take a dip to purify themselves. This holy site is also extremely aesthetically pleasing, with the architecture made of gold and white.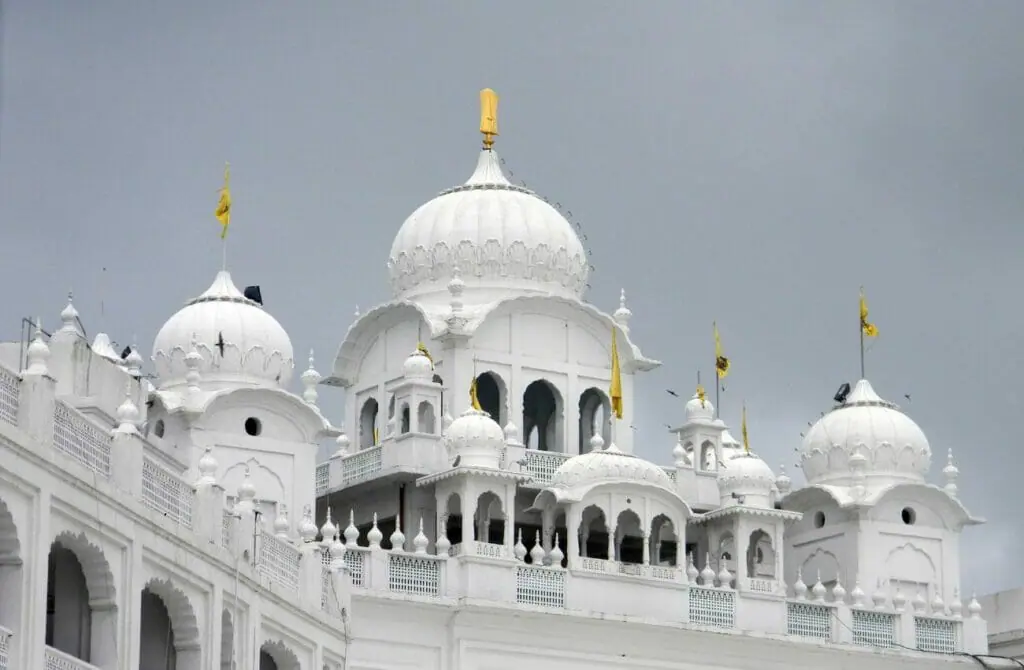 Chhatbir Zoo
Chhatbir Zoo, also known as Mahendra Chaudhary Zoological Park, is a popular zoo located in Chhatbir, Punjab, India. The zoo was established in 1977 and spanned an area of 505 acres. It is home to over 1,000 animals from around the world, including lions, tigers, leopards, bears, deer, and primates.
The zoo also features a breeding program for endangered species, such as the Asiatic lion and Bengal tiger. Visitors can explore the zoo on foot or by battery-operated vehicles and enjoy animal feeding and camel riding activities. The zoo is a must-visit destination for animal lovers and families, offering a fun and educational experience.
Open Hand Monument
The Open Hand Monument is an iconic landmark of Chandigarh, India. Designed by Le Corbusier, a renowned Swiss-French architect, the monument was built in 1958 and stood at the height of 26 meters. The monument consists of a metal structure in the shape of an open hand, which symbolizes peace and reconciliation.
The hand rotates around a central pivot and is supported by a concrete structure. The monument is located in the Capitol Complex, which houses Punjab, Haryana High Court, and Legislative Assembly. The Open Hand Monument is a must-visit destination for architecture and art enthusiasts, showcasing Le Corbusier's innovative and visionary design.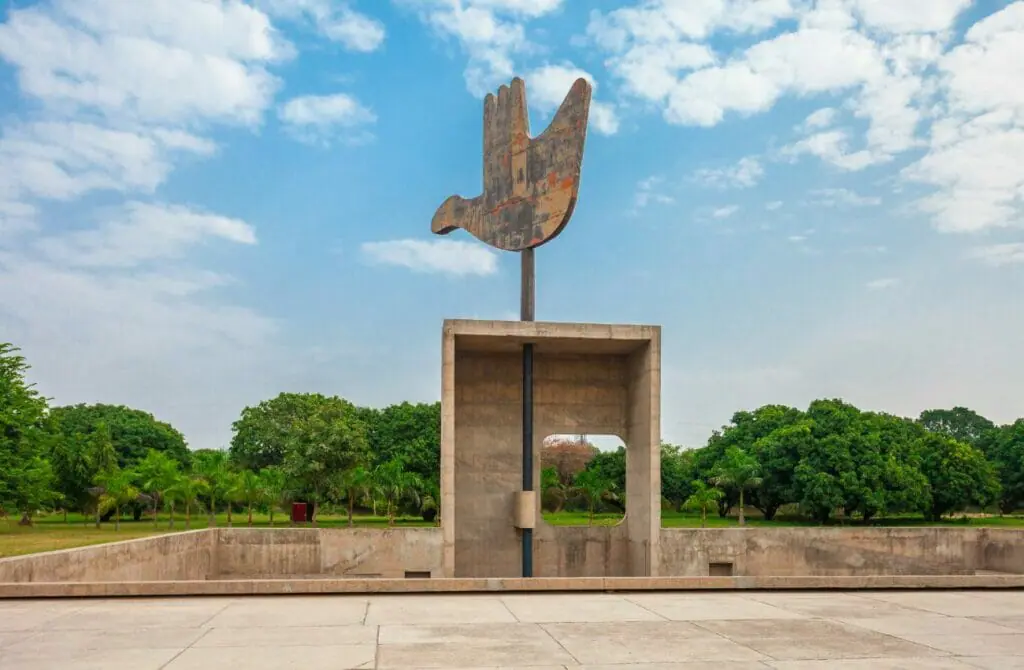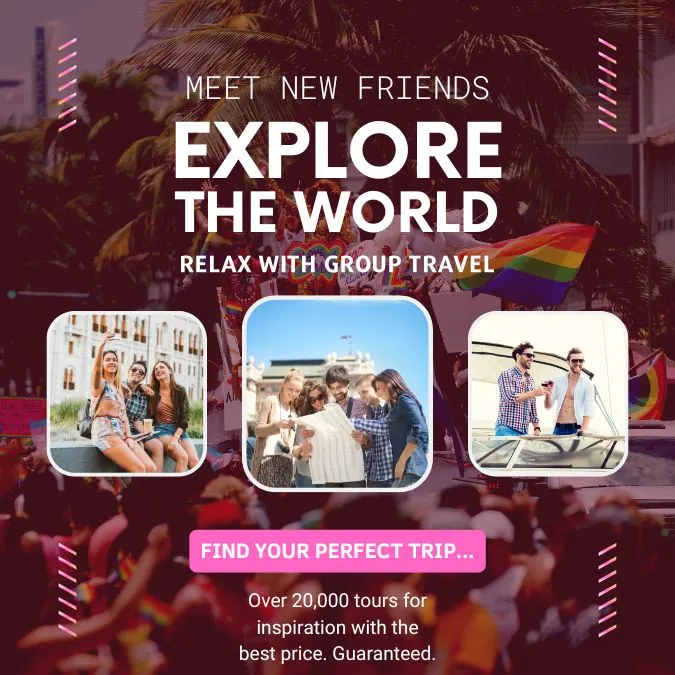 Chandigarh Nightlife Tour with Shopping and Food Tasting
Discover Chandigarh's magic after the sun goes down with this guided Chandigarh Nightlife Tour! The tour will include an evening walk that showcases the city's sights, lanes, malls and hidden nooks. You can truly experience the city as you stroll the popular Sector 17 Market, see the Musical Fountain show, admire wall art and gain insight into the local culture.
Shopping and delicious food tasting will enhance the experience even further. This tour is highly recommended if you want to experience the authentic vibe of Chandigarh!
Chandigarh Pride Parade
The Chandigarh Pride Parade, also known as the "Chandigarh LGBT Pride Walk," is an annual event that celebrates the LGBTQ+ community in the city. The parade was first organized in 2013 and has since grown in size and visibility.
The parade features colorful floats, music, performances, and speeches by activists and community leaders. The event serves as a platform to demand equal rights and protections for the LGBTQ+ community and to promote visibility and acceptance. Its latest edition in 2023, called "Garotsava 2023", was a week-long celebration of different identities and the rights of sexual and gender minorities.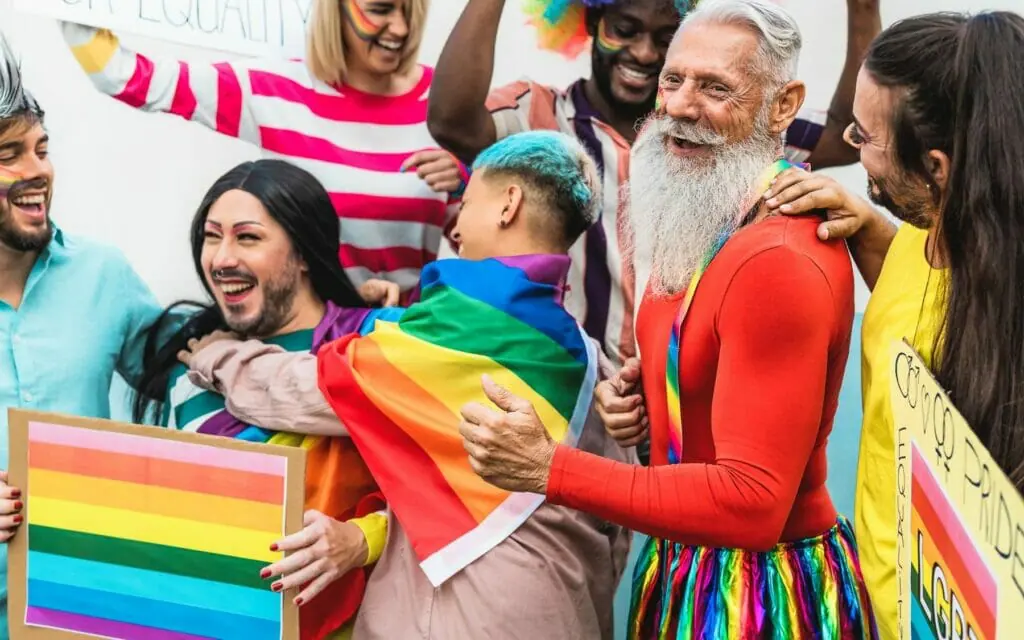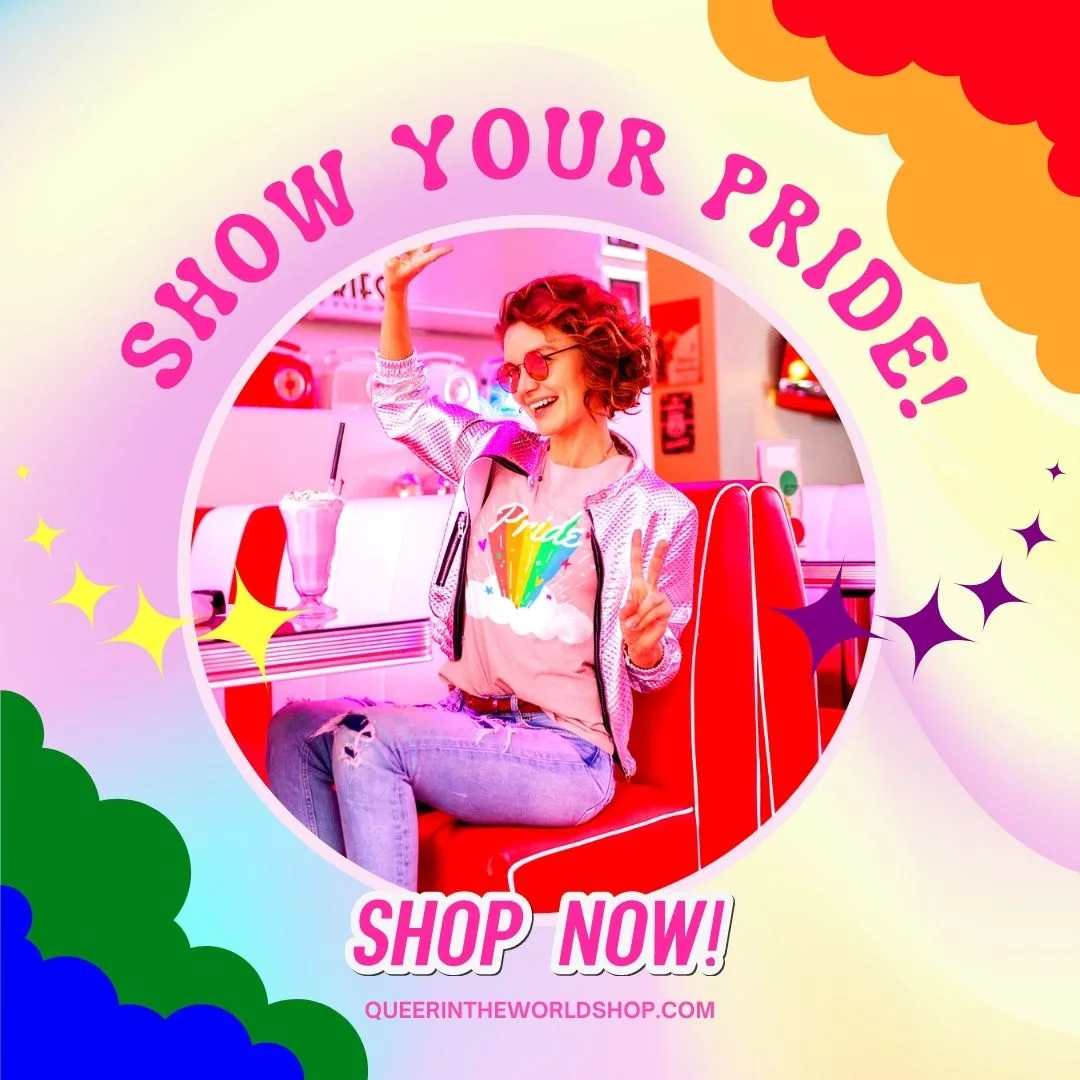 Gay-Friendly and Gay Hotels in Chandigarh, India
Don't wait another minute to book your stay at one of Chandigarh's most fabulously queer-friendly hotels! While many establishments in town might not welcome our rainbow family, these hotels have all pledged to embrace our queer spirit with open arms.
From non-discrimination policies to LGBTQ+ resources and amenities, these hotels go above and beyond to create a safe and inclusive environment for all guests who identify as LGBTQ+. And if you're looking for a place to stay in an area known for being LGBTQ+ friendly, these hotels have got you covered too.
In addition to the locally-owned gay-friendly accommodations in Chandigarh, international hotel chains can also be great options for LGBTQ+ travelers. Many of these chains have implemented policies and training programs to ensure their hotels are welcoming and safe for LGBTQ+ guests.
They may also have LGBTQ+ affinity groups within the company, which can help to promote a culture of inclusivity and support for queer travelers.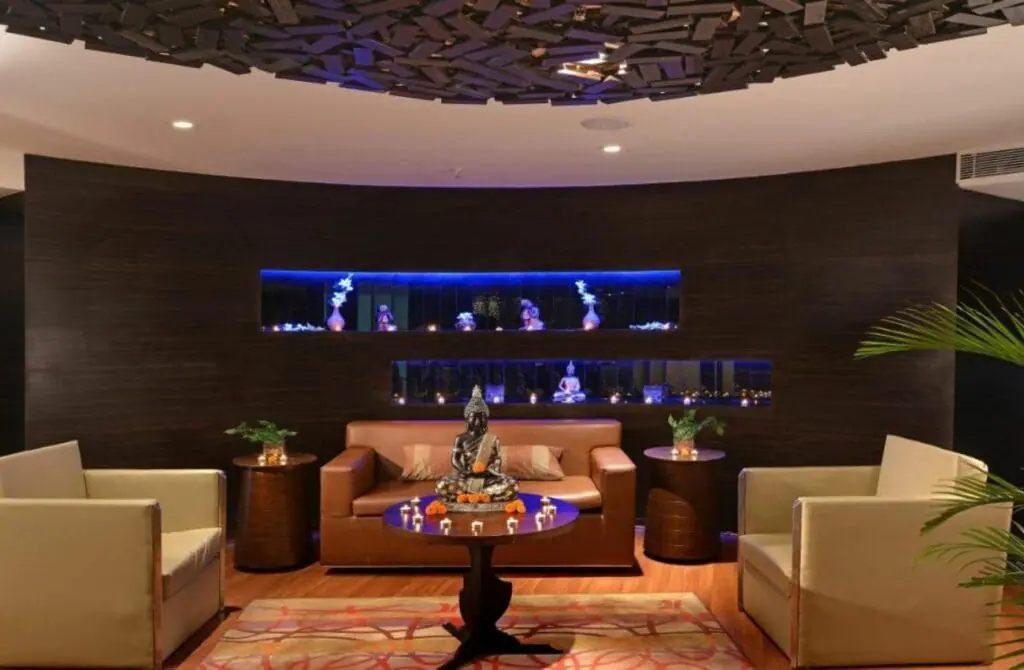 Moreover, international hotel chains are often known for their high-quality amenities and services, which can provide a more luxurious and comfortable stay for LGBTQ+ travelers. With a global presence, these chains can also provide a sense of familiarity and consistency for queer travelers who may be navigating unfamiliar destinations.
Whether you choose a locally-owned gay-friendly accommodation or an international hotel chain, it's important to do your research and choose a place that will make you feel welcome and comfortable during your stay in Chandigarh.
So why wait? Book now to experience the comfort, luxury, and acceptance these gay-friendly hotels in Chandigarh offer. With options to fit every budget and preference, you're sure to find the perfect home away from home.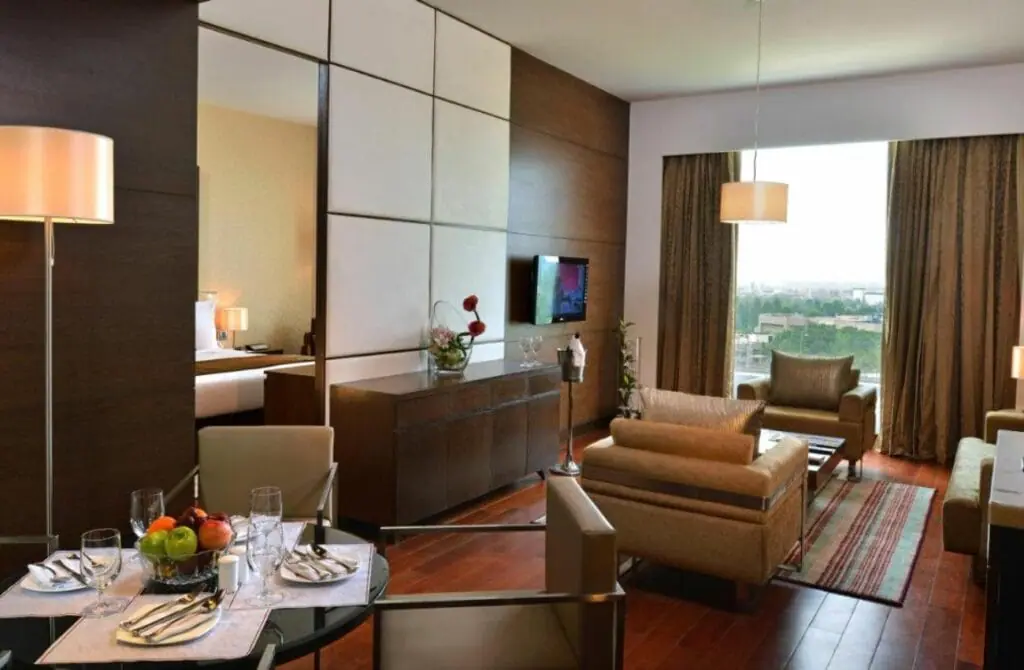 Holiday Inn Chandigarh Panchkula, an IHG Hotel ☆☆☆☆☆
Holiday Inn Chandigarh Panchkula is a modern hotel situated in the heart of Panchkula, a satellite town of Chandigarh. The 5-star hotel has a beautifully decorated exterior, with its interior offering luxurious and comfortable rooms. Guests can dine at the hotel's on-site restaurants, which offer a range of local and international cuisine, or enjoy a drink at the bar.
The hotel also features a fitness center and an outdoor pool for guests to relax and unwind. The hotel is located near major tourist attractions such as Sukhna Lake and Chhatbir Zoo. All of these factors add up to make the Holiday Inn Chandigarh Panchkula an excellent choice for those looking for luxury and comfort.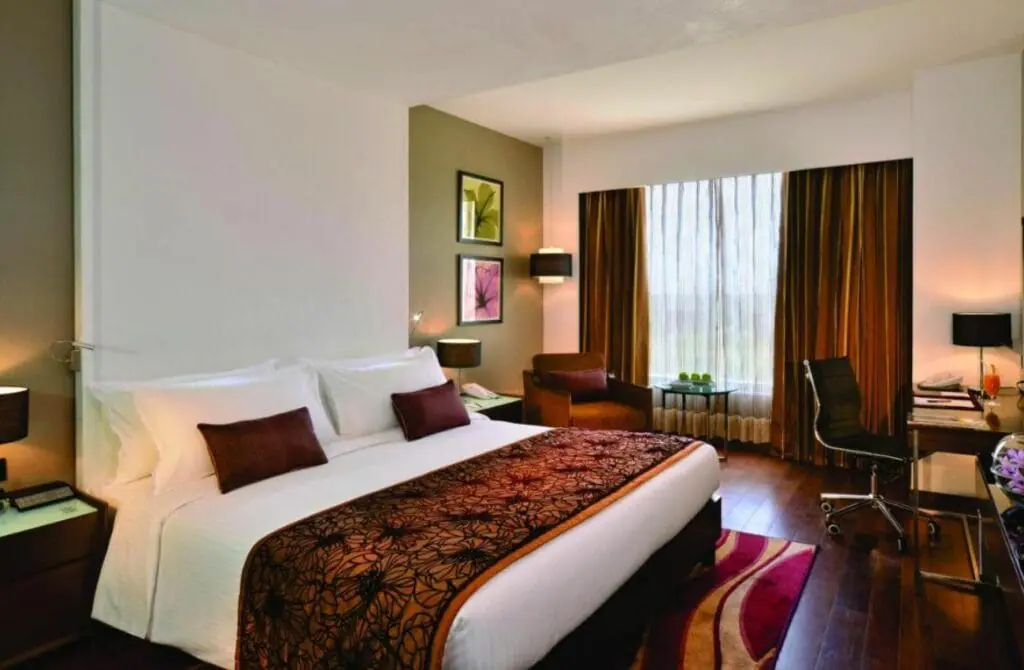 Hyatt Centric Sector 17 Chandigarh ☆☆☆☆☆
Hyatt Centric Sector 17 Chandigarh is a luxurious 5-star hotel located in the heart of the bustling city of Chandigarh. The hotel features modern and elegant rooms and suites with premium amenities designed to provide guests with a comfortable stay. Each room has amenities such as high-speed internet access, flat-screen TVs, and luxurious bedding.
The hotel offers several dining options, including a fine-dining restaurant and a rooftop lounge. Guests can relax and rejuvenate at the hotel's fitness center and spa or take a dip in the outdoor pool. With its prime location, luxurious amenities, and exceptional service, Hyatt Centric Sector 17 Chandigarh is the perfect choice for business and leisure travelers.
Radisson Chandigarh Zirakpur ☆☆☆☆
Radisson Chandigarh Zirakpur is a contemporary hotel located in the bustling city of Zirakpur, just a short drive from Chandigarh. This 4.5-star hotel's elegant design will make you awestruck, with everything from its exterior to its interior beautifully put together.
The hotel's huge outdoor pool is also a major attraction for guests who can take a refreshing dip or lounge at the poolside in the sun. The property has one bar and two restaurants, one of which is on the rooftop with an incredible view. With these excellent facilities, Radisson Chandigarh Zirakpur is a great choice for a comfortable stay in Chandigarh.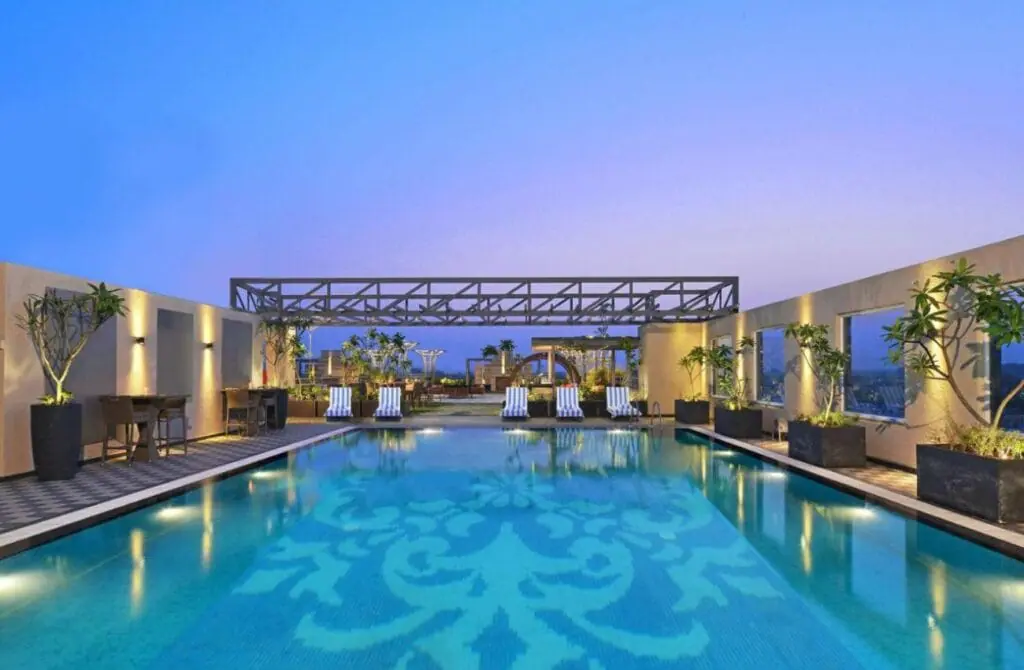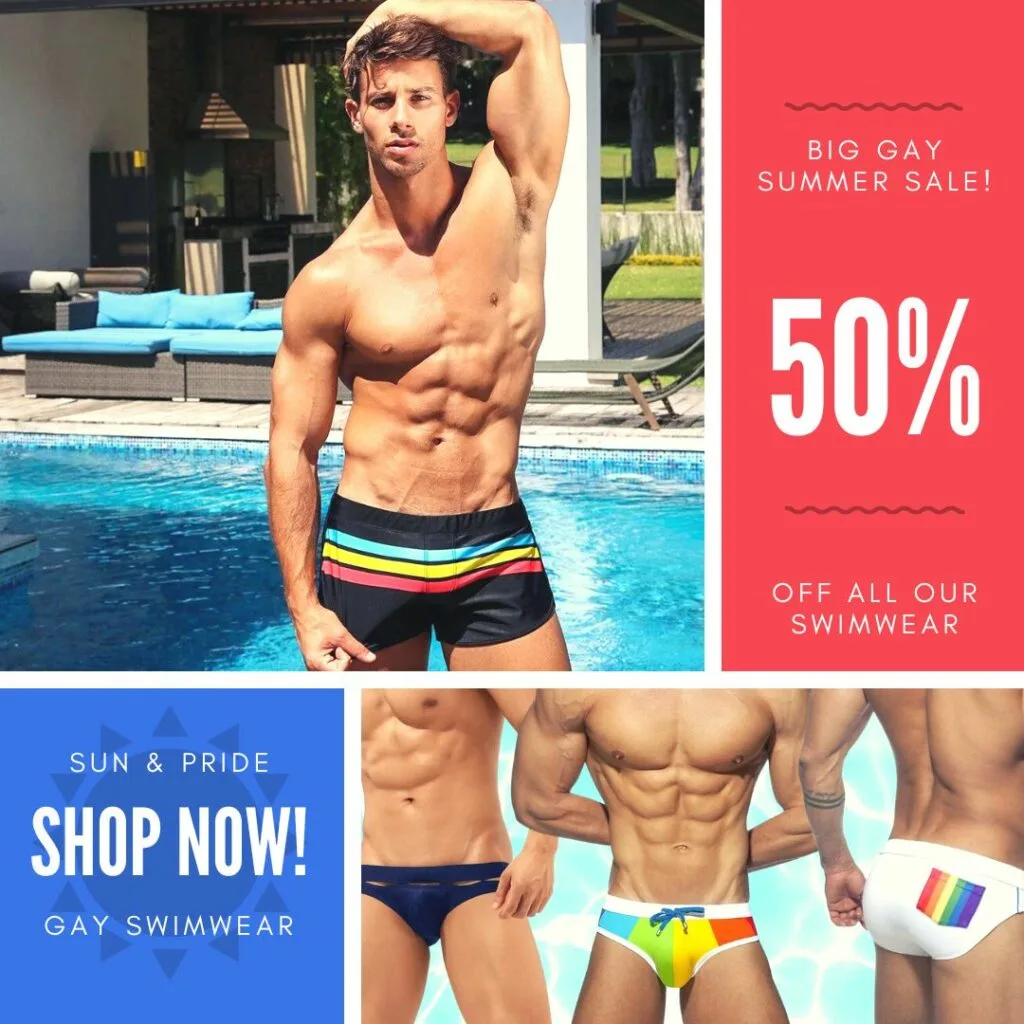 Hotel Cama is a luxury 3.5-star property conveniently located in Phase III A of Mohali. Its location in the city center gives guests easy access to famous tourist destinations and delicious eateries in the vicinity. Gurudwara Sri Amb Sahib, Hibiscus Garden, Topiary Park and the ISKCON Chandigarh Temple are just a few minutes from the hotel.
The hotel boasts a multi-cuisine restaurant serving delicious dishes from around the world and a bar offering a range of spirits and cocktails. Other facilities include a fitness center, a swimming pool, and a spa. Hotel Cama is a great affordable option for those looking for a hotel to stay in Chandigarh.
Abuzz Oxforcaps CCC is a hostel located in Chandigarh that offers budget-friendly accommodations to travelers. The hostel features basic amenities such as shared dormitories and private rooms, communal bathrooms, and a common lounge area.
It is located in a convenient location close to various local attractions and transportation links, making it an ideal choice for backpackers and budget-conscious travelers.
The hostel also organizes various social events and activities, allowing guests to interact with other travelers and make new friends. Abuzz Oxforcaps CCC is a great option for travelers seeking affordable accommodation in Chandigarh.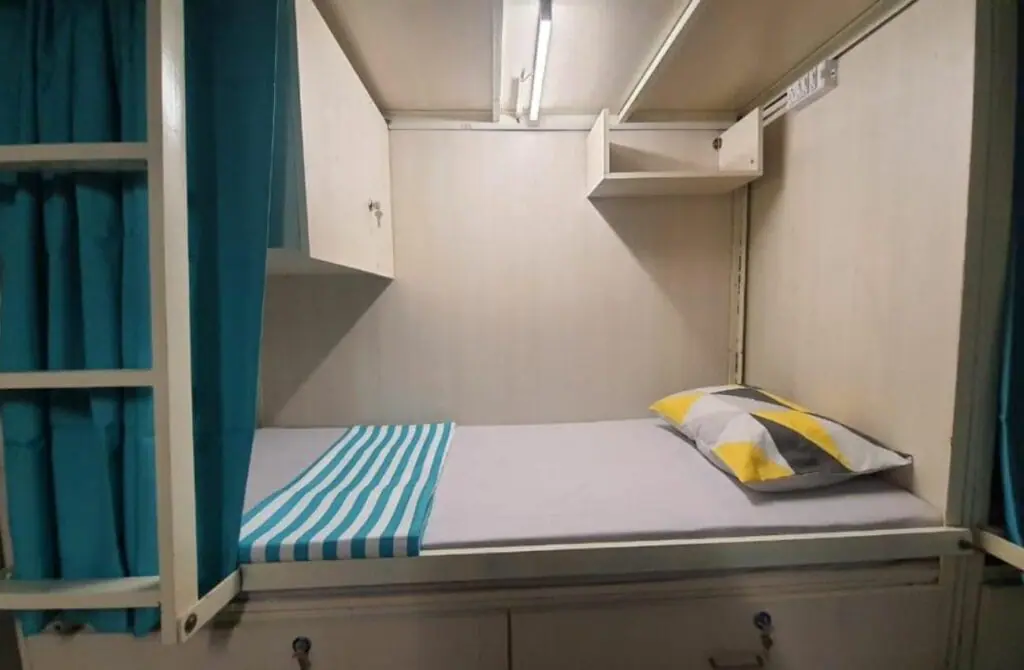 Gay Nightlife in Chandigarh, India
Chandigarh's nightlife scene is vibrant and varied, offering something for everyone. From trendy nightclubs and lively pubs to cozy bars and lounges, the city has a wide range of options to choose from. Many of these venues host live music performances and other events, making them a perfect spot for a night out with friends or family.
In recent years, the LGBTQ party scene has emerged and is slowly evolving. From drag shows to queer parties, Chandigarh is starting to have a more inclusive and diverse nightlife. This comprehensive list of clubs and restaurants will give you an idea of Chandigarh's nightlife and how you can experience it fully!
Darling, let's talk about exploring the queer nightlife in Gay Chandigarh, shall we? It's true this city might not be the most welcoming to our fabulous community but fear not! Being gay is perfectly legal here; remember to err on the side of caution when outside of queer-friendly spaces.
But let's focus on the fun, shall we? Exploring gay nightlife can be one of the most thrilling and enriching experiences while on the go. From dancing up a storm at a gay club to sipping cocktails and rubbing elbows with the locals at a gay-friendly bar, you'll have a chance to immerse yourself in the local culture and make memories that will last a lifetime.
And darling, we've got you covered with the best gay and gay-friendly spots in town. So don't be shy; step out of your comfort zone and explore the queer nightlife in Gay Chandigarh. Trust us; it'll be worth it!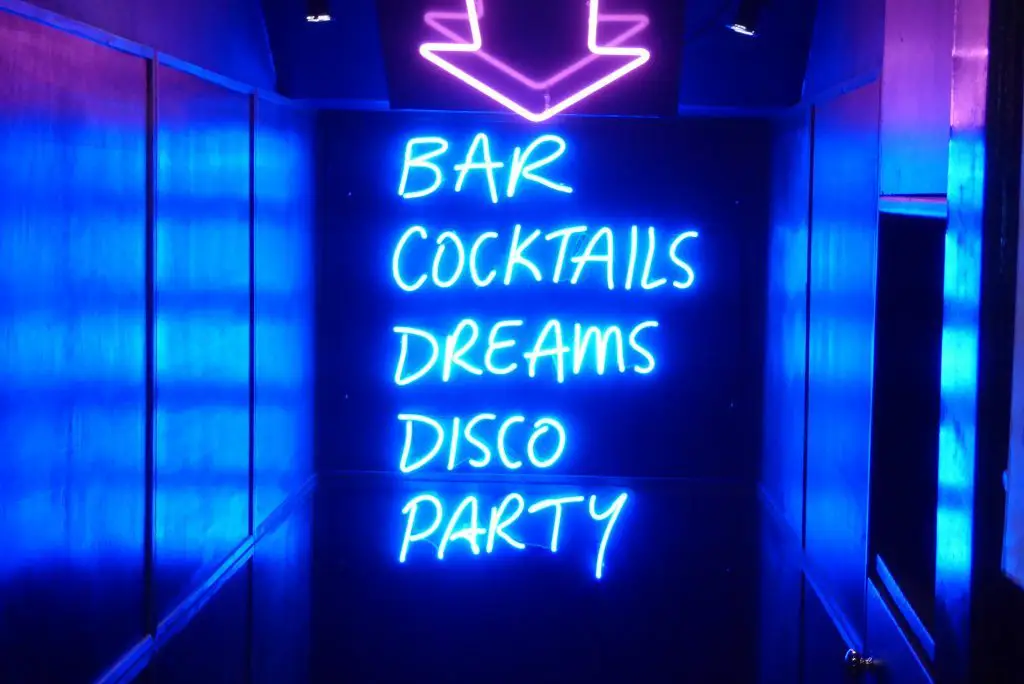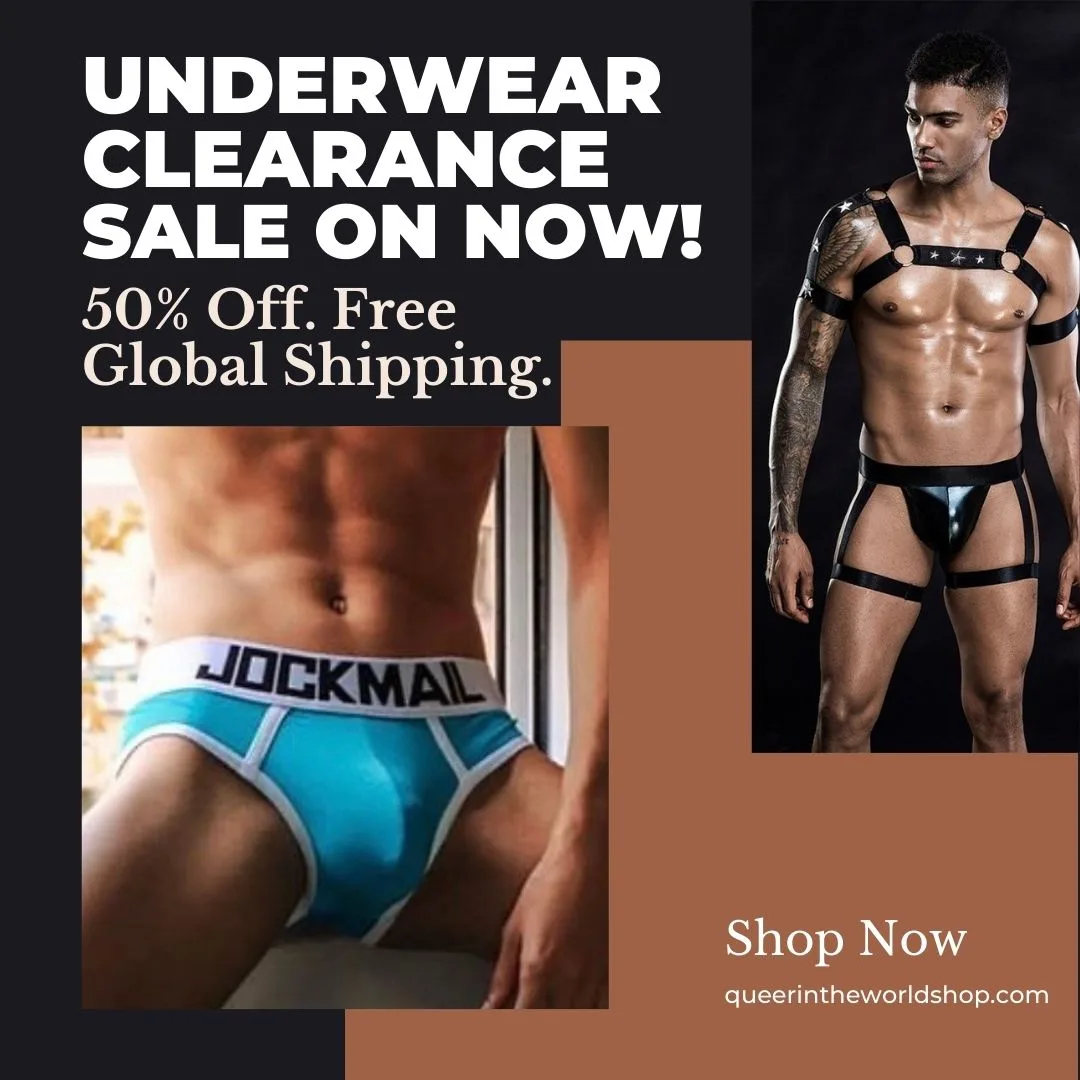 Hops N Grains in Chandigarh is a popular brewery and restaurant with a cozy and welcoming atmosphere. The venue's interior is decorated with wooden accents and greenery, creating a rustic and comfortable ambiance.
The brewery is known for its wide range of handcrafted beers, including stouts, IPAs, and lagers, which are brewed on-site. The restaurant offers a variety of dishes, ranging from traditional Indian cuisine to international favorites. Hops N Grains hosts live music performances and other events, making it a great spot for a fun night out with friends or family.
Kitty Su Chandigarh is a popular nightclub and lounge located in the city's IT Park area. The club is known for its vibrant atmosphere, world-class music, and innovative events. One of the unique features of Kitty Su Chandigarh is its commitment to promoting and supporting the LGBTQ community.
The club hosts various LGBTQ events throughout the year, including drag shows, pride parties, and other inclusive events celebrating diversity and inclusivity. These events have made Kitty Su Chandigarh a safe and welcoming space for members of the LGBTQ community in the city.
Overall, Kitty Su Chandigarh is a must-visit destination for anyone looking for a fun and inclusive nightlife experience in the city.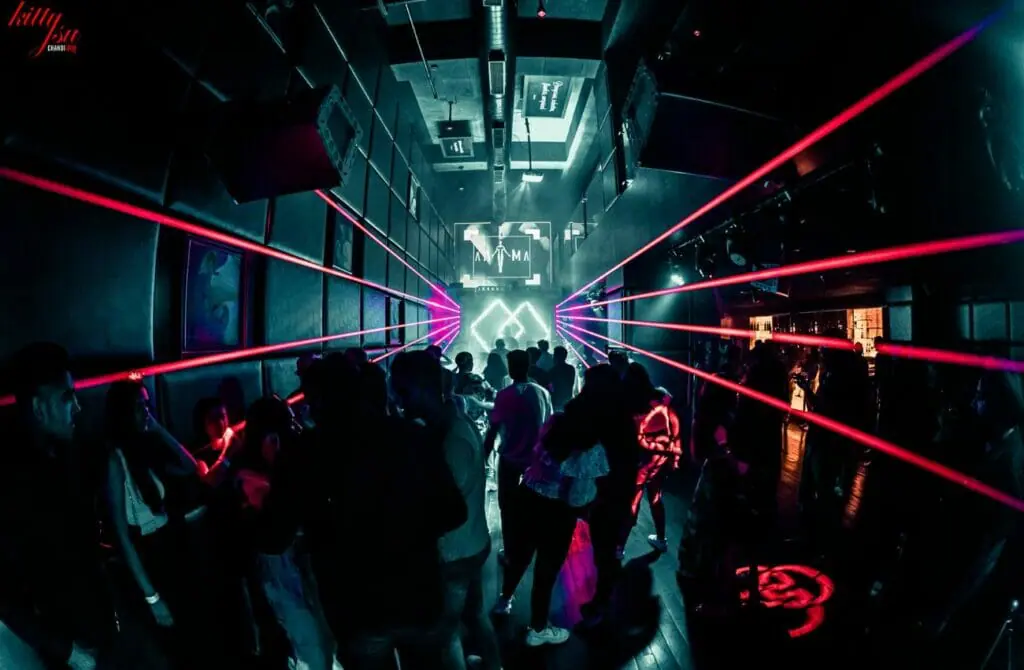 10 Downing Street in Chandigarh is a popular British-themed pub with a unique and lively atmosphere. The venue's interiors are designed to resemble a traditional British pub, complete with wooden accents, vintage furniture, and classic pub memorabilia.
The pub offers a wide range of drinks, including various beers, cocktails, and spirits. The menu features British and Indian cuisine, including classic pub dishes like fish and chips and shepherd's pie. 10 Downing Street also hosts live music performances and other events, making it a great spot for a night out with friends or colleagues.
The Great Bear is a popular microbrewery and restaurant in Chandigarh, known for its range of craft beers and delicious food. The brewery produces a variety of beers, including lagers, ales, and stouts, all of which are brewed on-site and served fresh to customers.
The restaurant offers a range of Indian and international dishes, focusing on locally sourced ingredients and traditional flavors. The Great Bear has a lively and energetic atmosphere, with indoor and outdoor seating options, making it an ideal destination for casual gatherings and celebrations.
Overall, The Great Bear is a great place to experience Chandigarh's emerging craft beer scene and sample some delicious food in fun and inviting atmosphere.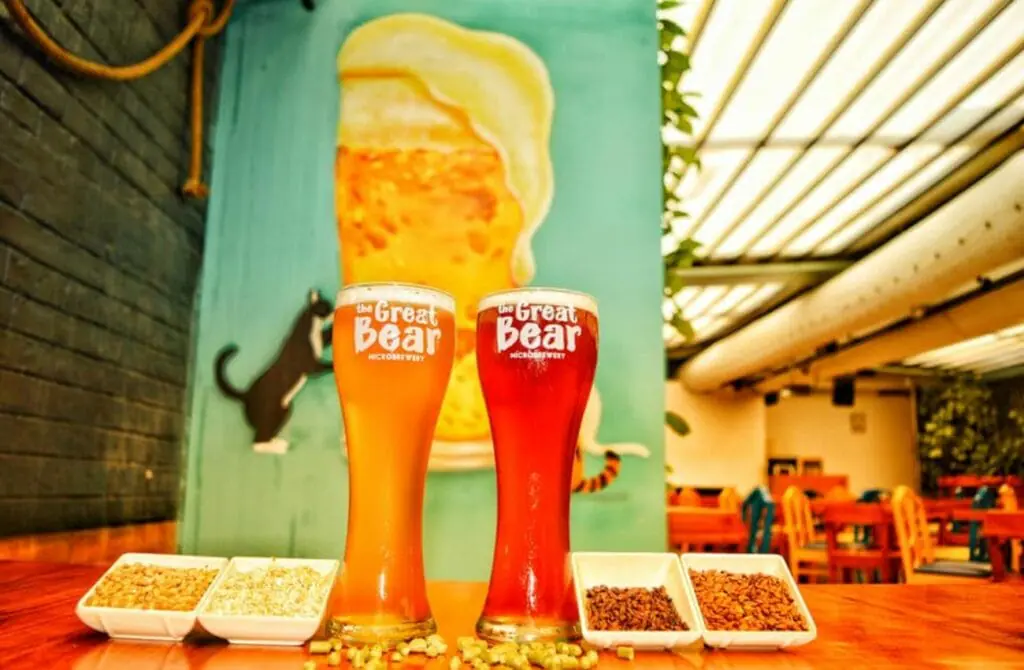 The Wild West Pub in Chandigarh is a lively and popular spot for locals and tourists alike. The pub offers a unique Western-themed atmosphere with its rustic decor, wooden interiors, and cowboy-inspired accessories.
The venue also features a spacious dance floor and a variety of live music performances, making it a perfect spot for partygoers and music lovers. The menu offers a range of delicious food and drinks, including classic cocktails, beer, and finger foods. If you are looking for a uniquely themed, lively night out with your friends, Wild West Pub is the place for you.
A popular dining and drinking destination in the city, Hoppin Restro and Bar is known for its innovative cocktails, global cuisine, and lively atmosphere. The restaurant and bar offer a range of dishes from around the world, focusing on fresh ingredients and bold flavors.
The bar serves a variety of signature cocktails, craft beers, and spirits, which can be enjoyed in the cozy indoor seating area or the spacious outdoor terrace. The ambiance at this retro bar is vibrant and energetic, making it a great destination for a night out with friends or a casual dinner with family.
Overall, Hoppin Restro and Bar is a must-visit for anyone looking for a fun and delicious dining and drinking experience in Chandigarh.
The Back Room is a trendy cocktail bar located in the heart of Chandigarh's Sector 26. The bar has a sleek and modern decor, with a dimly lit interior that creates a sophisticated and intimate atmosphere. It serves a variety of innovative and delicious cocktails made using high-quality spirits and fresh ingredients.
The Back Room also offers a small selection of bar bites and light snacks to complement the drinks. The bar has a cozy and inviting vibe, making it a great destination for a date night or a night out with friends. A must-visit for anyone looking for a chic and stylish cocktail bar in Chandigarh, the Back Room will make for a fun night out.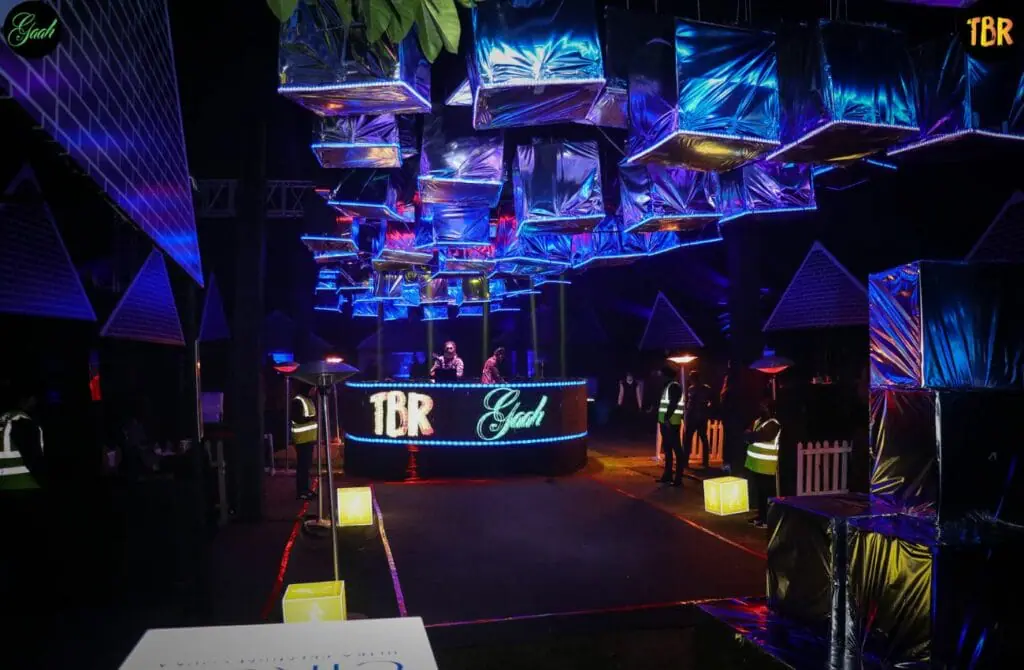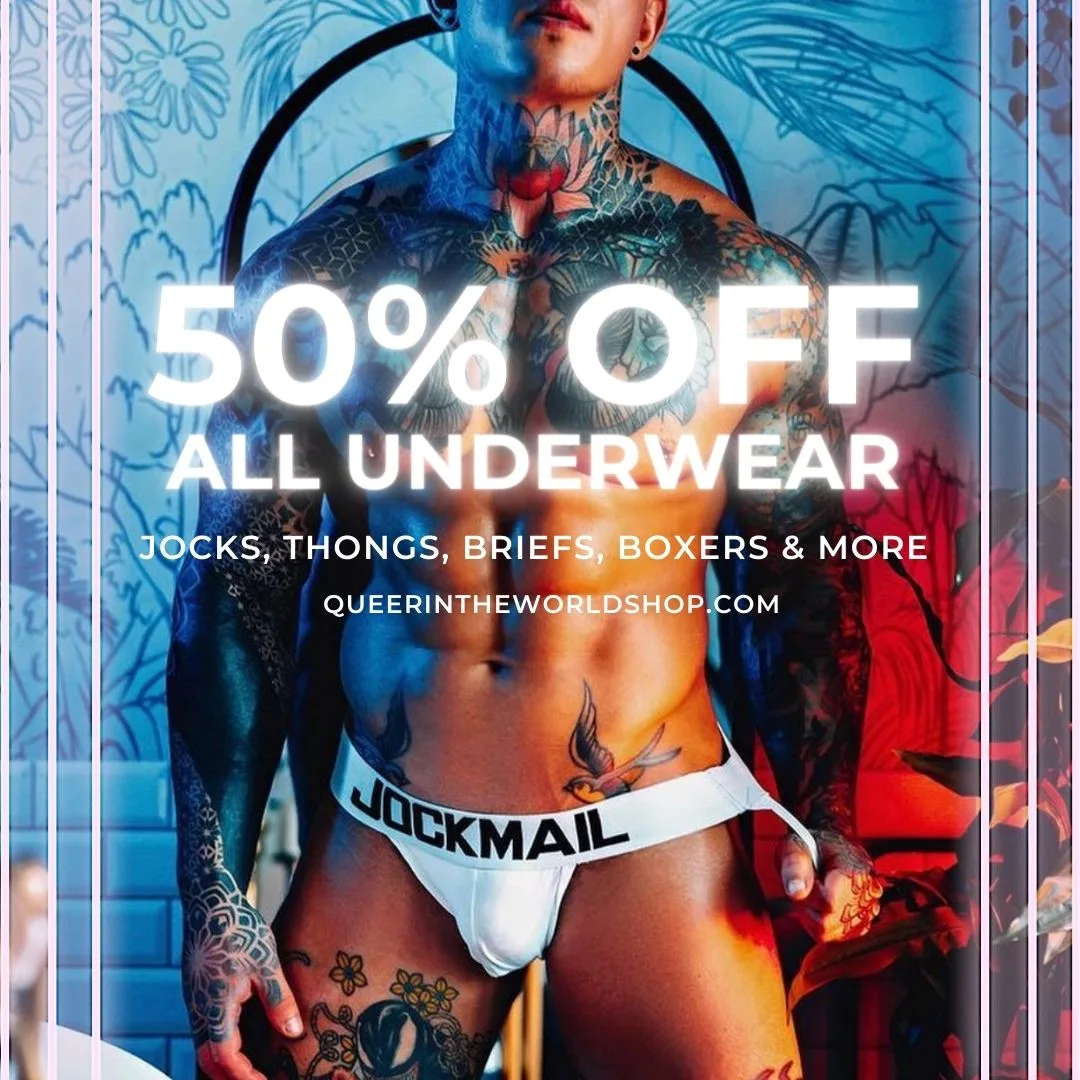 Gay Map Of Chandigarh
Finding it hard to envisage where everything is in Chandigarh? Hopefully, this queer-centric map helps where we have marked all the bars, clubs, parties, hotels, saunas, massages, and more will help you stay in the spot best suited to you!