Bordeaux is one of France's most famous tourist traps, full of iconic attractions from countless wine and castles tours to a wide range of queer bars and venues that make any gay holiday a rainbow of time. So whether you even want to stay in the confines of your city hotel or venture into lush French farmlands, Bordeaux will not disappoint.
Although Bordeaux does not have a gay district, it doesn't mean that tourists cannot find a friendly gay community to become well acquainted with. Not only do you have over five different gay bars or nightclubs, but you also have an endless selection of hotels and entertainment that will happily cater to the needs of their clients regardless of who they are.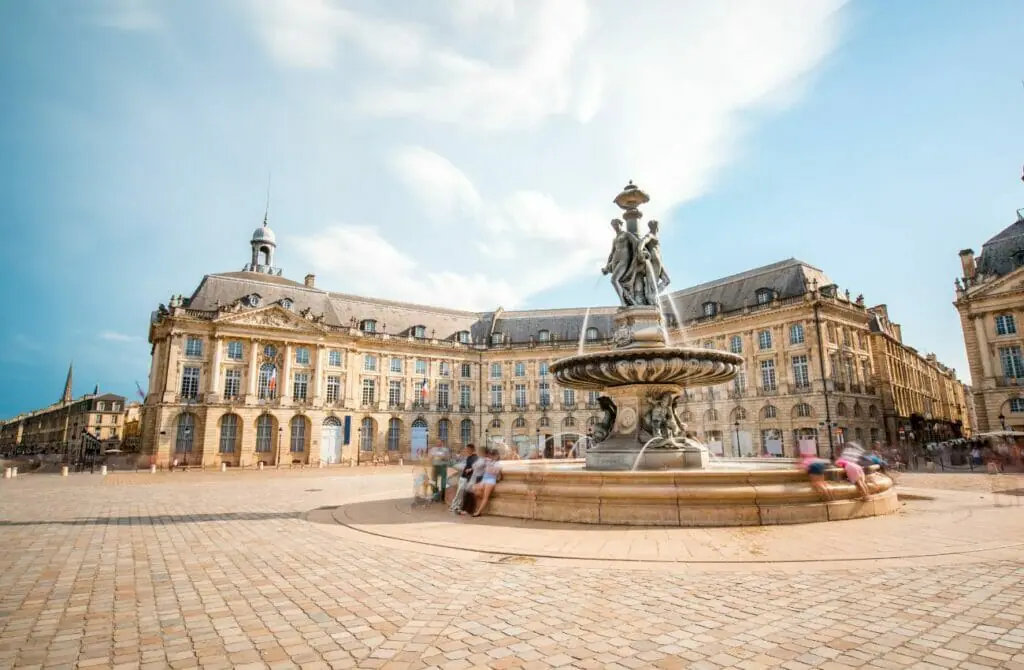 This city is exceptionally gay-friendly, and the French will be happy to help you if you find yourself lost or want to tap into the local knowledge of the area.
Bordeaux is a great place to visit if you want to try some of the best fine French wine with an endless range of tours, but if cheese and other French delicacies take your fancy, they don't disappoint.
Even walking about the town without a goal, you will be astounded by the rich buildings and history with countless museums, art galleries, and heritage tours to learn more. She is one gay French attraction you cannot miss when you next plan to visit the land of baguettes, mimes, and Europe's sexiest language.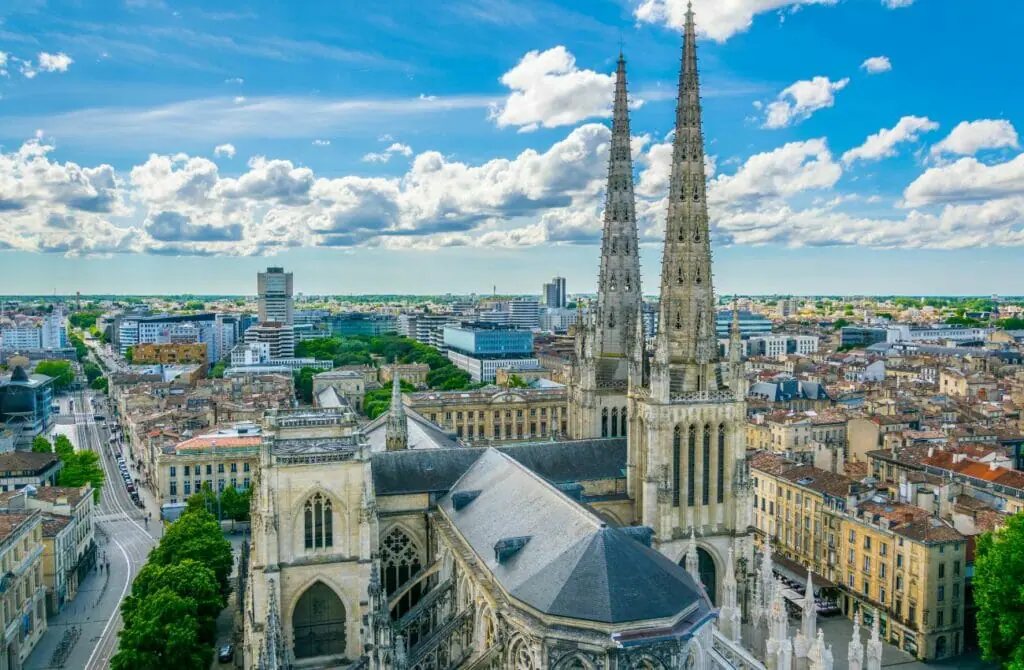 Attractions in Gay Bordeaux, France
Within this attractive piece of French heritage is a wide range of attractions to make any visit to France a gay fantasy. So whether you want to take a food tour with a cruise or put on your walking shoes and take a hiking tour of the city's back streets, you will be satisfied with what is on offer.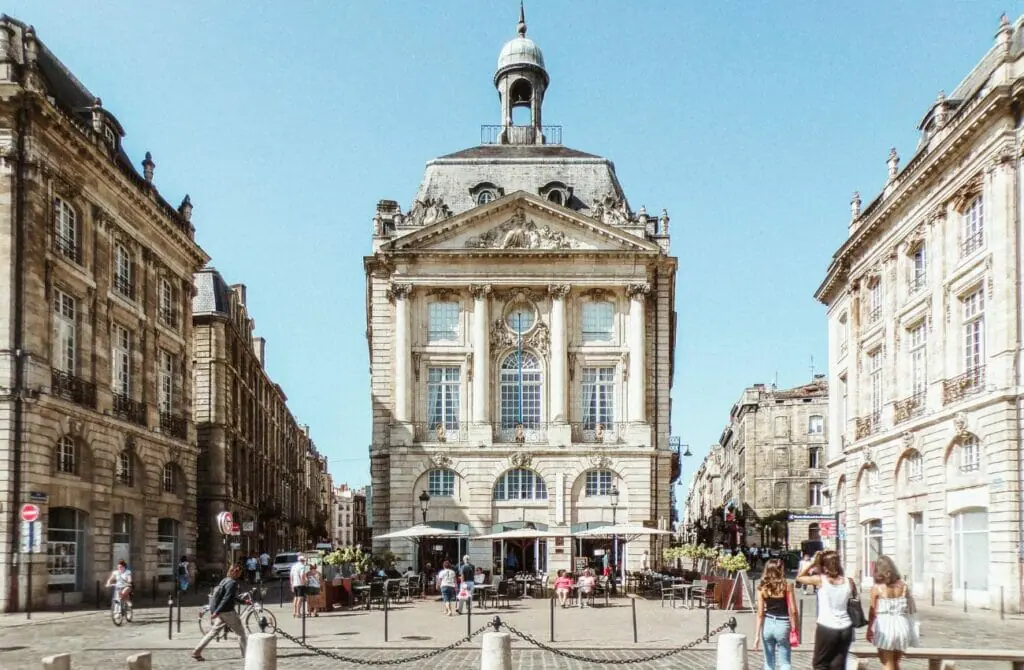 Medoc or St-Emilion Small-Group French Wine Tour
This wine tour is popular amongst those that love real French castles. So, if the prospect of sitting under the shade of a picturesque castle, looking out on endless fields of vineyards, this wine tour may be the right choice for your wine-tasting dip into Bordeaux. In addition to trying fantastic wine and food, you will learn about the area's heritage and how they make their wine stand out from the crowd.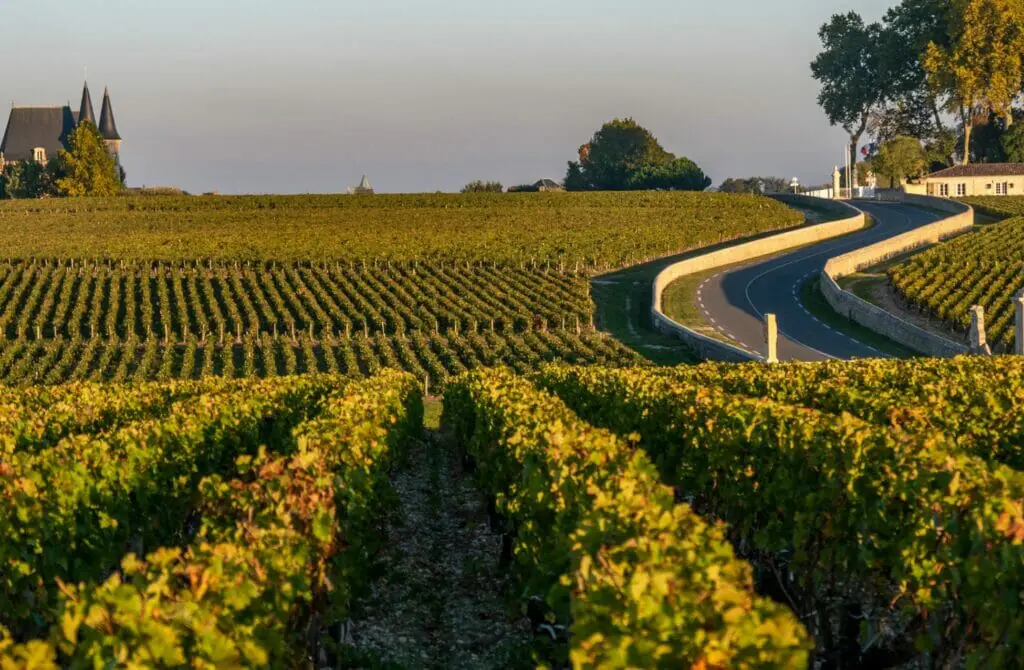 Chateau du Taillan and Park, including Wine Tasting Tour
Visit the Chateau du Taillan and its surrounding gardens and vineyards. Whether you are most interested in the rich wine tasting or exploring the regal grounds of a former lord's estate, this tour of the eyes and pallet delights will not disappoint.
You will explore the grounds of an 18th-century villa with a private tour, including the interior before you are enriched with various choices of local wine. In addition, you will get insight into how wine is made and the skills to become a wine connoisseur.
Bordeaux Small-Group Wine Tour: Saint-Emilion and Margaux
If you want to add a third wine-tasting tour, look no further than exploring wines at Saint-Emilion and Margaux. Saint-Emilion is a world heritage site not far from central Bordeaux city. Explore ancient streets like you're stepping back into Medieval times and taste some of their age-old wines.
Private Dordogne and Périgord Day Trip from Bordeaux
With a full stomach from all that wine, you might want to take a break to head outside the city to visit the Medieval cities of Dordogne and Périgord. This private tour allows you to relax and not think about the sometimes tricky terrain of finding transport to these spots. With the guide's local knowledge, you will surely see these attractions' best sights, from breathtaking architecture to rich stories of the past.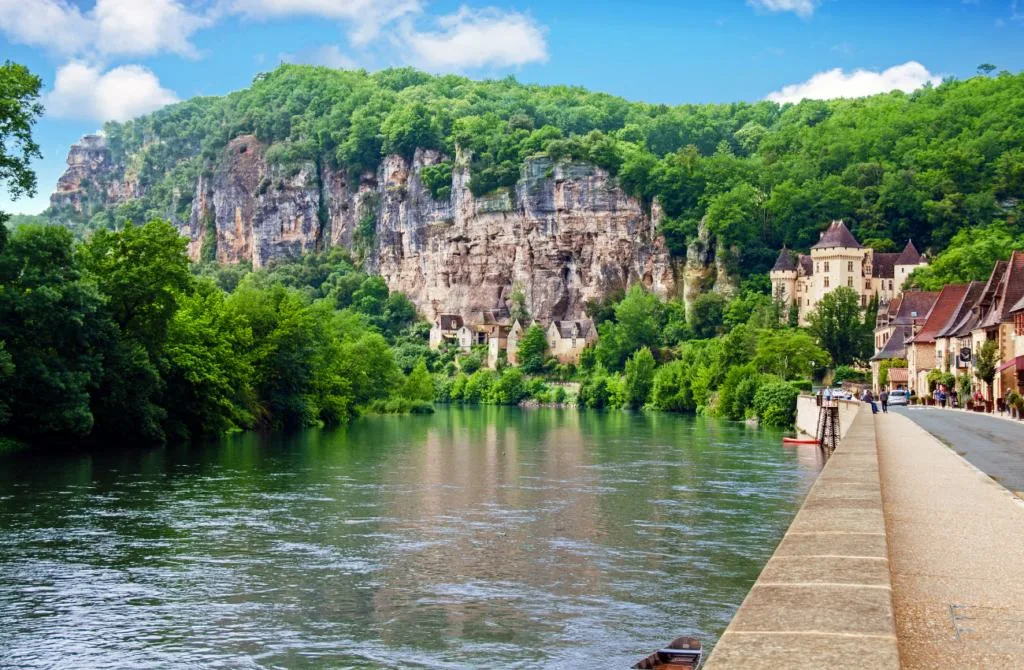 Bordeaux Small-Group Traditional Food Tour with Bistro Lunch
One thing about the French is that they love to eat and drink wine, so when you visit Bordeaux, you will find that many of the tours on offer have both. For example, in the heart of Bordeaux's Saint-Pierre District, you will be catered to local wine, french chocolate treats, a local family hazelnut delight, and a traditional french lunch.
Prestige Commented Cruise with Glass of Wine and Canelé in Bordeaux
One thing you must do when you visit Bordeaux is to visit the River Garonne to check out what makes this river port city so unique.
One way you can do this is by going on a cruise via the Yacht de Bordeaux, which takes you through the city's waters past iconic sights from Place de la Bourse to the many overreaching bridges. Then, enjoy wine and a guided tour as you relax into the iconic post-war Riviera yacht, La Luna.
Bordeaux Cite du Vin Skip-the-Line Admission Ticket
Bordeaux is so proud of their local wine heritage that they have one of the world's most famous wine history museums. So even if you don't like wine, you can still appreciate learning about the history of this age-old drink and how it is made today.
Although this museum celebrates French wines, it showcases a wide range of wines from around the world, with the opportunity to try some in over 20-themed wine exhibits.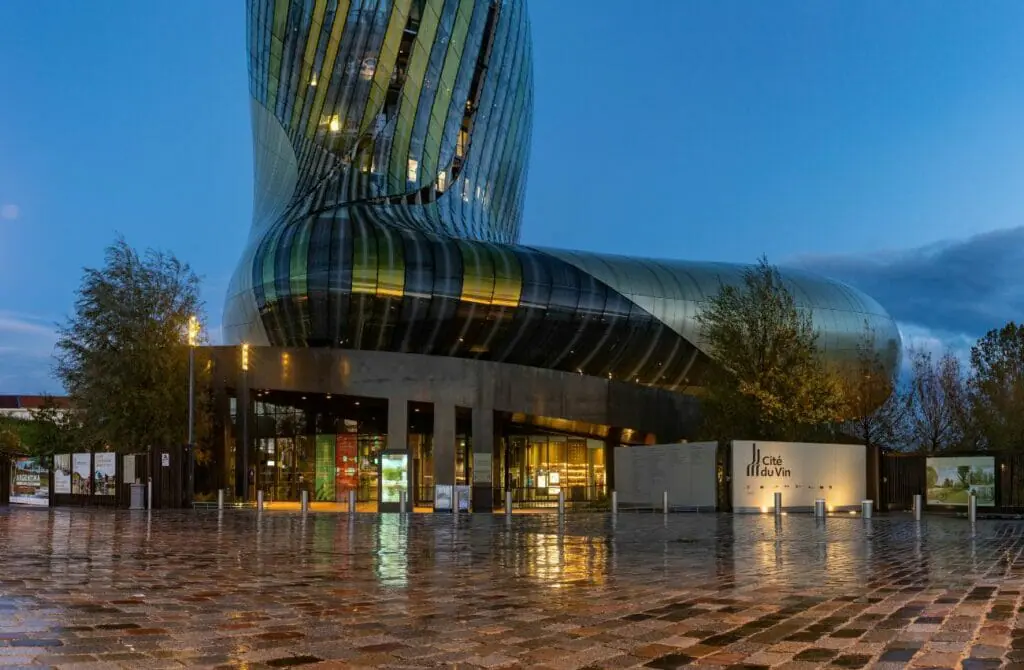 A great way to get around town is easily by wheels, except you might often miss the minor details when in a hurry, so sometimes exploring a new city by foot can be even more rewarding. Of course, you can forget the stress of being stuck in traffic and walk the back streets of Bordeaux on your own, but if you desire, you can hire a guide to take you through, so you don't forget anything.
In addition, with their local knowledge and experience, you can learn surprising things about the attractions you visit that you might've not known otherwise. Plus, it's always good to stretch your legs.
Dune du Pilat and Oysters Tasting
Located just an hour away from Bordeaux is a unique food-tasing tour no one should miss. If you are a massive seafood lover, you should journey to Dune du Pilat to try their oyster tasting, a French delicacy.
This tour gives you a personal guide to look at the beauty of this area, from the endless dunes, pristine waters, and local legends, before they take you to meet local oyster farmers. Your tour will conclude with a glass of wine, oysters and knowledge of the oyster industry.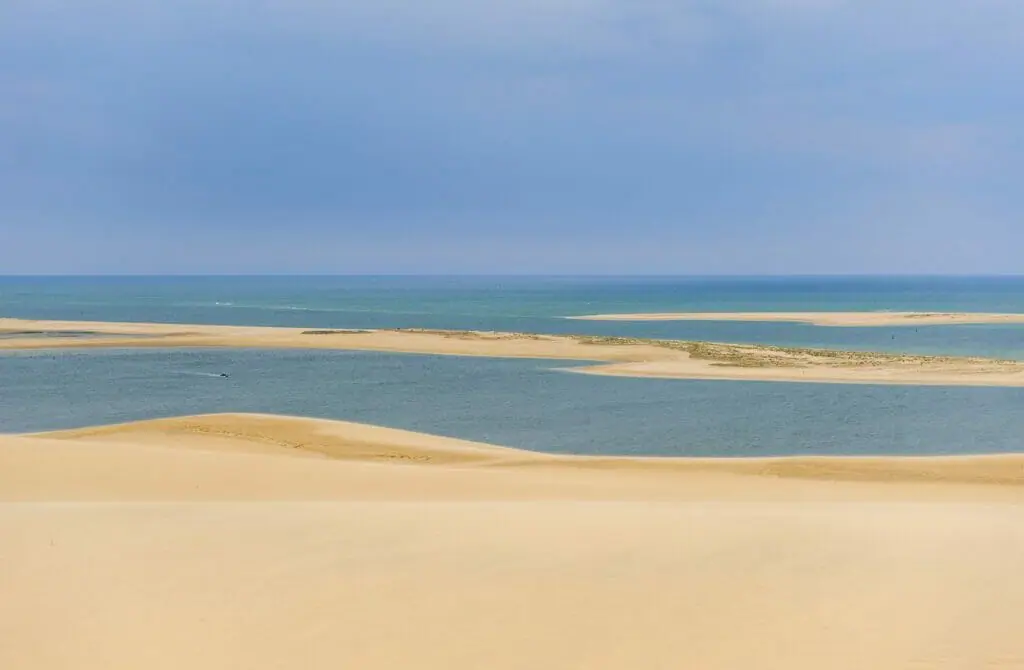 Outdoor escape game | The Bordeaux robbery
If you want something different from the usual tourist experience of Bordeaux, then look no further than the outdoor escape game, The Bordeaux Robbery. Throw yourself in a tightly constructed story and mystery as you must try and hunt down clues, answer puzzles and visit key locations via your smartphone and in person to experience and be actively involved in the story. This is a tour you shouldn't miss.
Private Lascaux Caves and Dordogne Valley Day Trip
Did you know that Bordeaux might be famous for its wine and Medieval sites, but the region was home to some of the oldest European cave art recorded well before even these were invented?
Located in the Dordogne region, you can get a tour that takes you directly to the town of Saint Leon-sur-Vezere, where you can visit the replica of the Lascaux Caves. You will learn about cave painting that is over 20,000 years old and experience a rich region of the French countryside.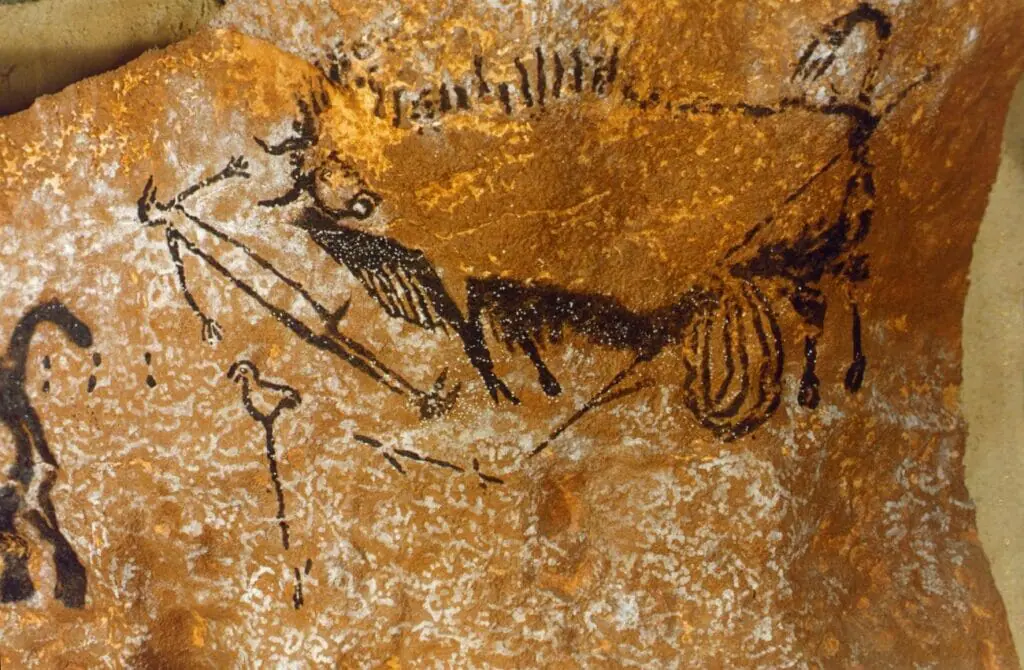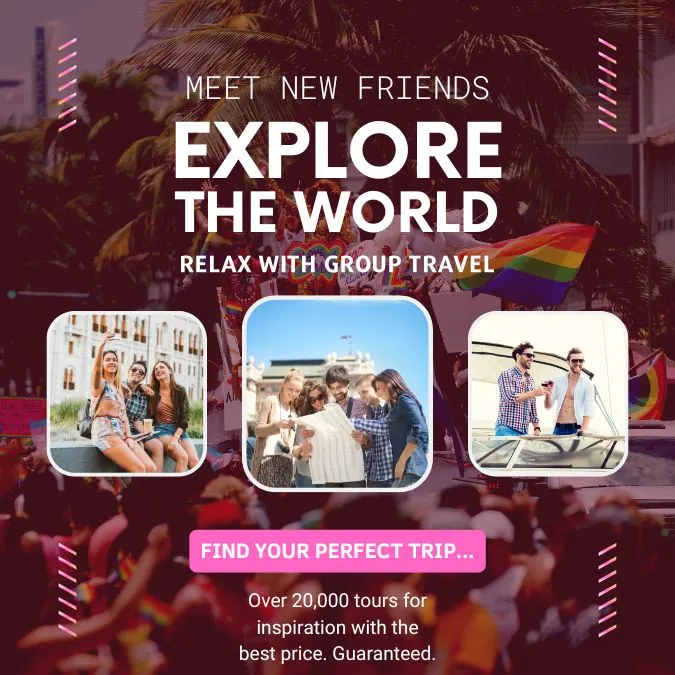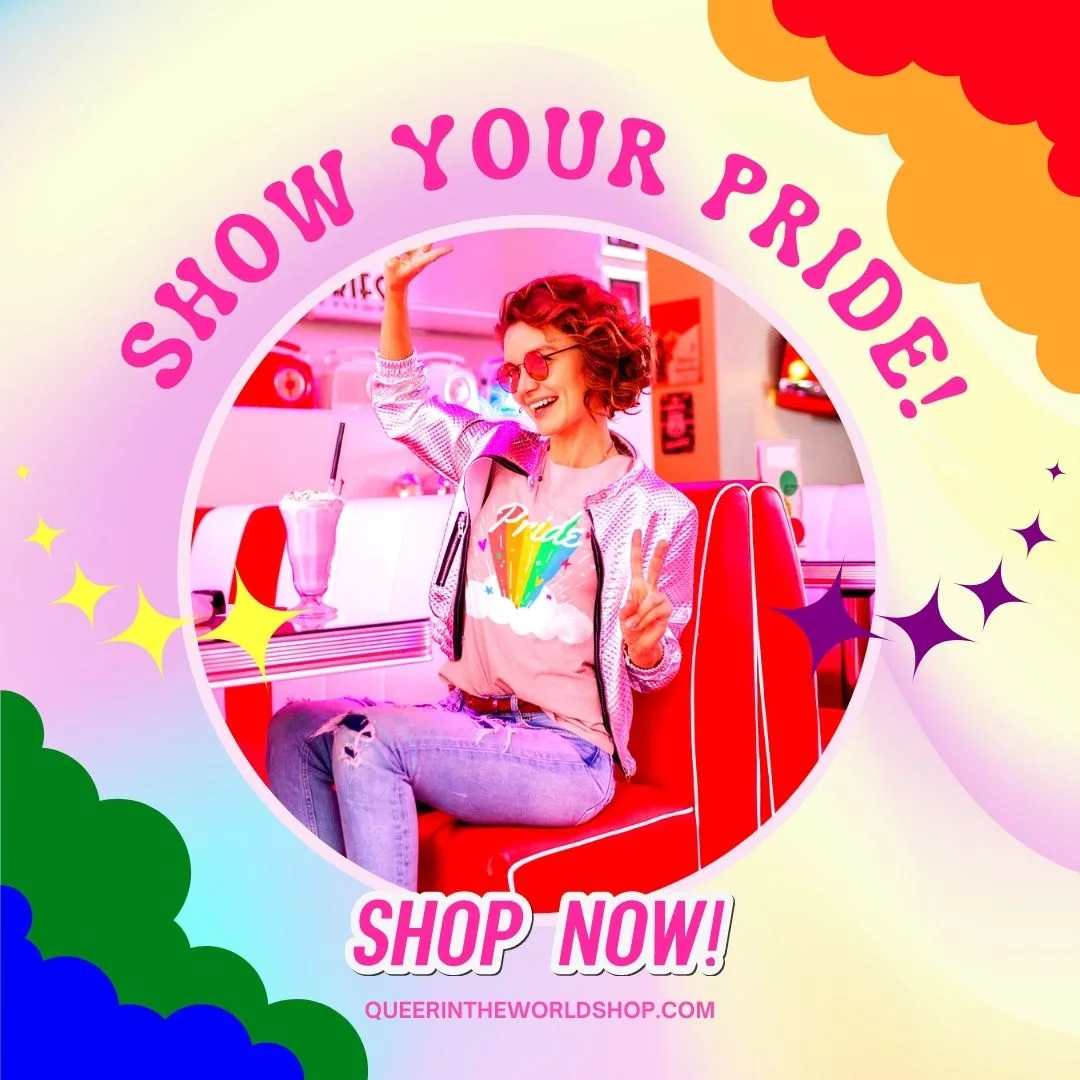 Gay-Friendly & Gay Hotels in Bordeaux, France
Bordeaux offers great gay-friendly accommodation options, whether in the city's heart or on the outskirts of the rich French countryside. This city is super gay-friendly and welcomes all types of people, going out of their way to ensure you will have an enjoyable, safe, and cozy time in the number of different hotels on offer. So you can rest easy knowing you'll have no issues finding a warm bed in Bordeaux.
Needless to say, there are also hundreds more hotel and hostel options in Bordeaux if none of these suit your desired budget, facilities or area – but these are the best hotels according to other gay travelers and us. Whatever your needs are, Bordeaux has you covered.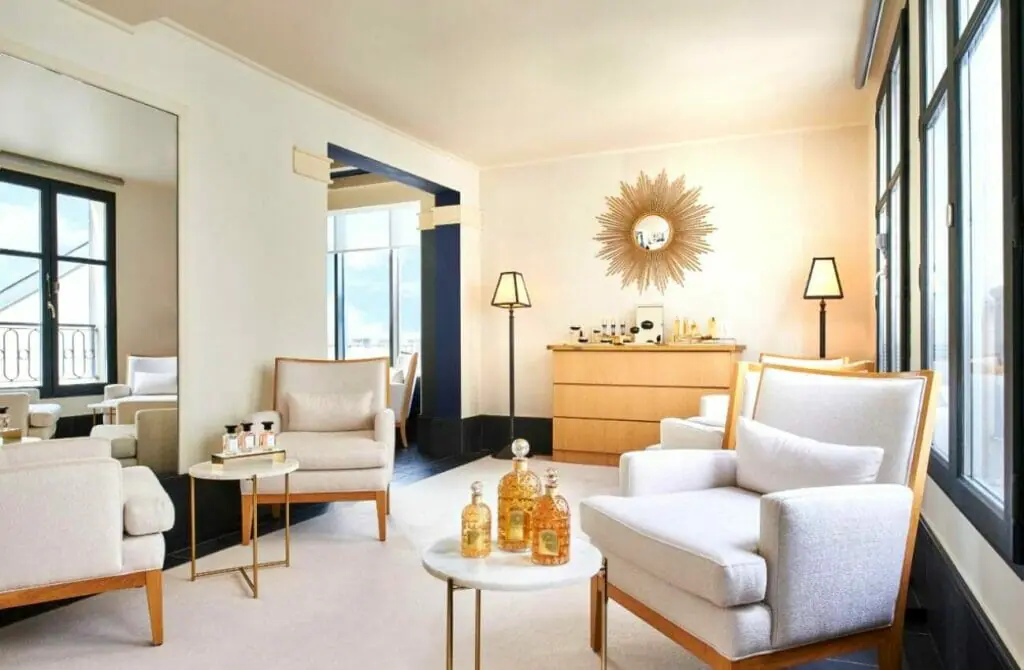 Intercontinental Bordeaux Le Grand Hotel, an IHG Hotel ☆☆☆☆☆
The height of five-star extravagance can not be found any greater in the heart of Bordeaux than the Intercontinental Bordeaux Le Grand Hotel. Whatever brings you to this fantastic city, this hotel is sure not to disappoint with a classy victorian building in the heart of the city's center.
Not only that, you can live like you're staying in a high-class apartment, complete with all the basics you could ever need. From the softest bed, you could ever get your hands on to a completely decked kitchenette and ensuite.
And if the benefits of the rooms don't sell you, the premises come with an indoor pool complete with a full-service spa and fitness center. These extras are just the start of what services the IHG provides, with 24-hour room services and expert advice on the local area with the ability to book all guests in for a helicopter tour of the city.
One highlight of the main reception area is that they offer complimentary newspapers and even have a little gift shop.
If you don't want to leave your hotel but are sick of your room, they have a ballroom, banquet hall, and even an outdoor terrace to make the most of the fine days. With these fantastic places to relax, you'll also be pleased to learn that the hotel has two restaurants and a bar on site, which offer a range of delicates to keep you well-fed.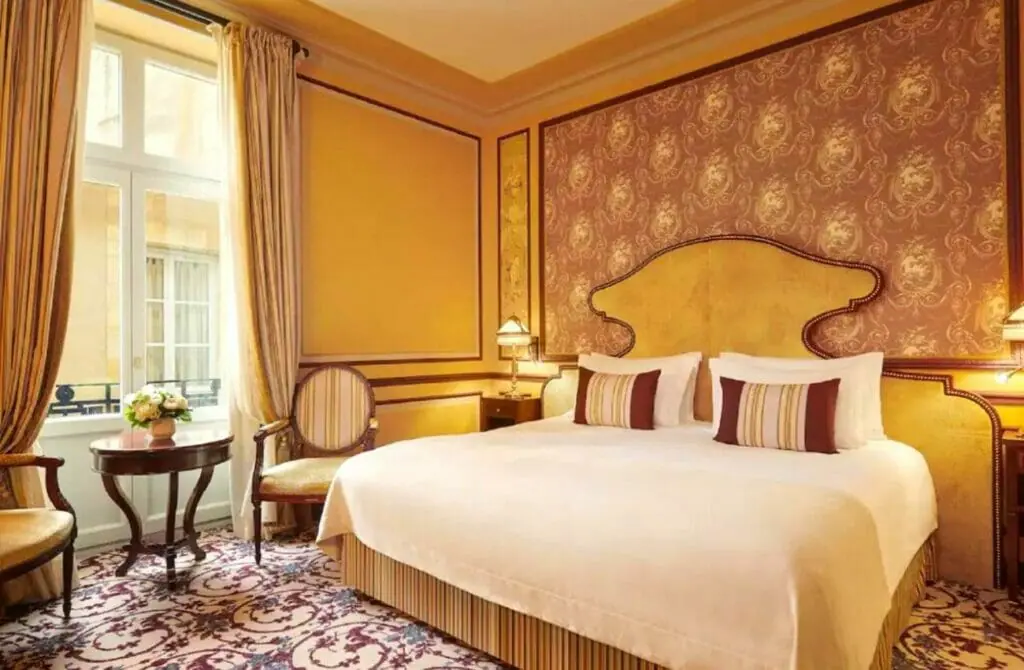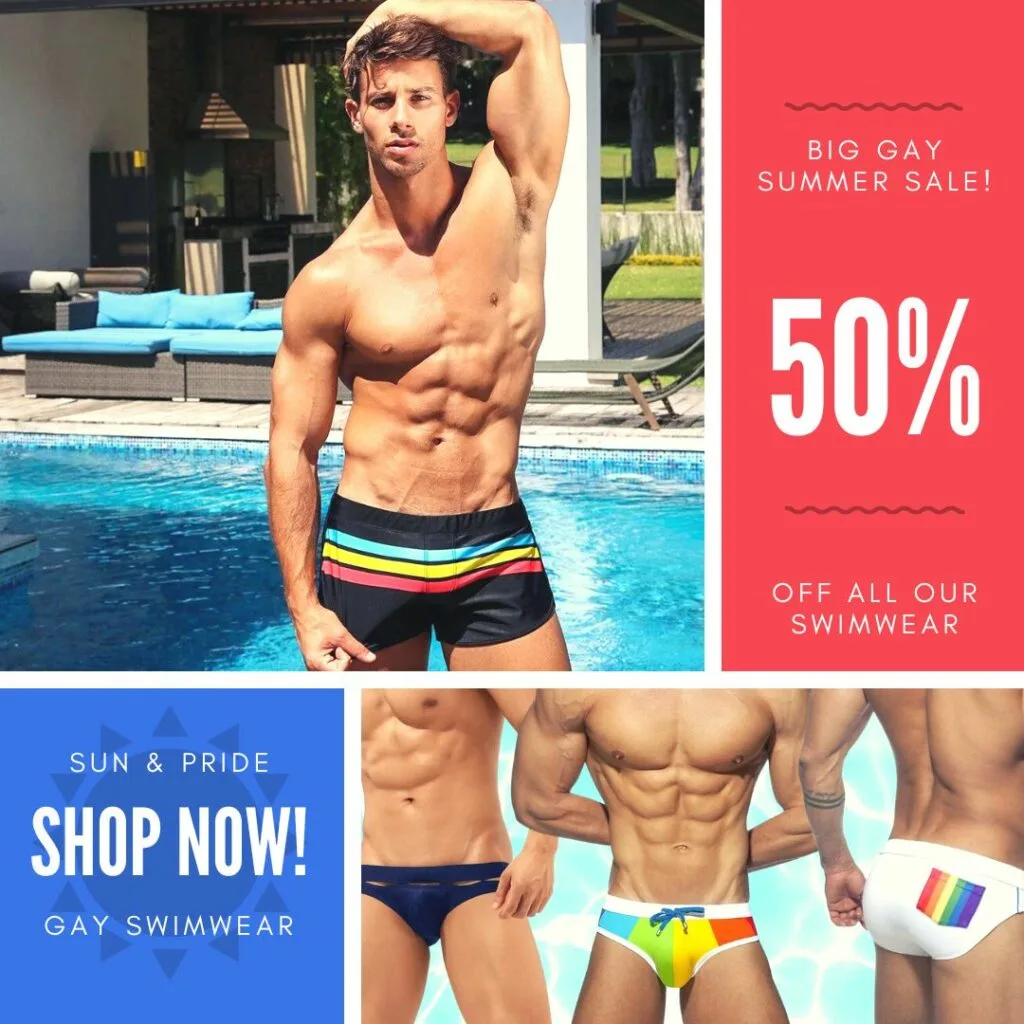 Novotel Bordeaux Mérignac ☆☆☆☆
Novotel is a hotel chain found worldwide and is famous for the high degree of quality and service they provide for its customers. Located on the lush green outskirts of Bordeaux, Novotel Bordeaux promises to be a place you'll not regret staying at as it offers many benefits over other four-star hotels in the area.
Firstly, they take full advantage of the outdoors by adding a seasonal pool and all-year-round playground. So this is not only a fun getaway but great for families and big children as well. Another service they provide is a fitness center, a terrace, a large garden, business spaces, and even a library. Then there is a bar and restaurant on site that provides lunch and dinner options for the hungry.
But what about the rooms? You'll be happy to know that each room is specially designed for all needs depending on which one you book. However, all have a cozy bed, ensuite, wifi, Tv with satellite, a small kitchen, and plentiful storage and lounging area.
Hilton Garden Inn Bordeaux Centre ☆☆☆☆
When looking for a classy place to stay in Bordeaux, you can't go wrong with the Hilton Garden Inn in the city's cultural center alongside the main river. This four-star experience offers various services, from a high-class 24-hour gym to a banquet and dining hall. These are even matched by two on-site restaurants that provide guests with breakfast and lunch and meals and drinks on demand.
Then regarding your private rooms, you can't ask for much more than soft queen-sized beds, a mini fridge with essential extras in a kitchen, an ensuite, a TV with satellite, and many optional extras on request.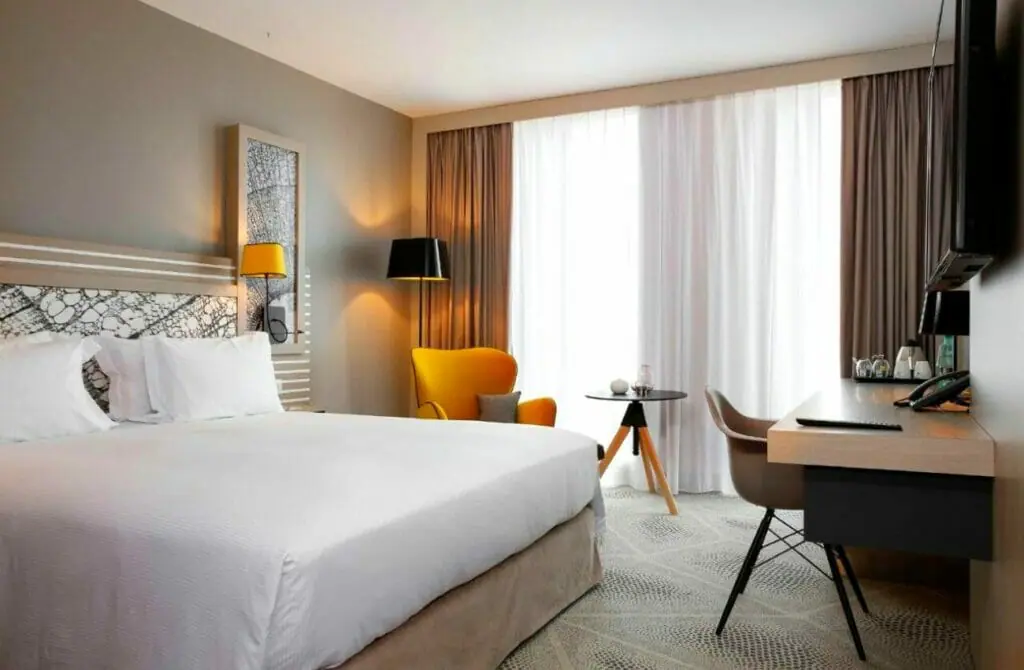 Quality Hotel Bordeaux Centre ☆☆☆
This charming three-star hotel in Bordeaux's heart goes right by its name: quality. Not only is each room perfect for tourists of all types offering the basics from a comfortable bed, desk and chair, ensuite and space to prepare basic food with a minibar, but it has many other services that make it stand out from a basic hotel, with a library, restaurant and bar.
BDX Hôtel – Les Collectionneurs ☆☆☆
If you are looking for an exceptional French experience, look no further than the BDX Hotel. This three-star hotel is built in a beautiful central city building with apartments that look out on their metal railing balconies.
Each room is unique but holds high standards with the comfiest beds around, ensuites and areas for dining and lounging. But this is just the tip of the iceberg of all these extras you'll find in your private lodgings.
In the public spaces are significant outdoor areas to enjoy the location, looking out on Bordeaux's Victorian and modern streets. Inside, you can also find an onsite restaurant and bar where you can enjoy a wine of feed, taking in the beauty of this place.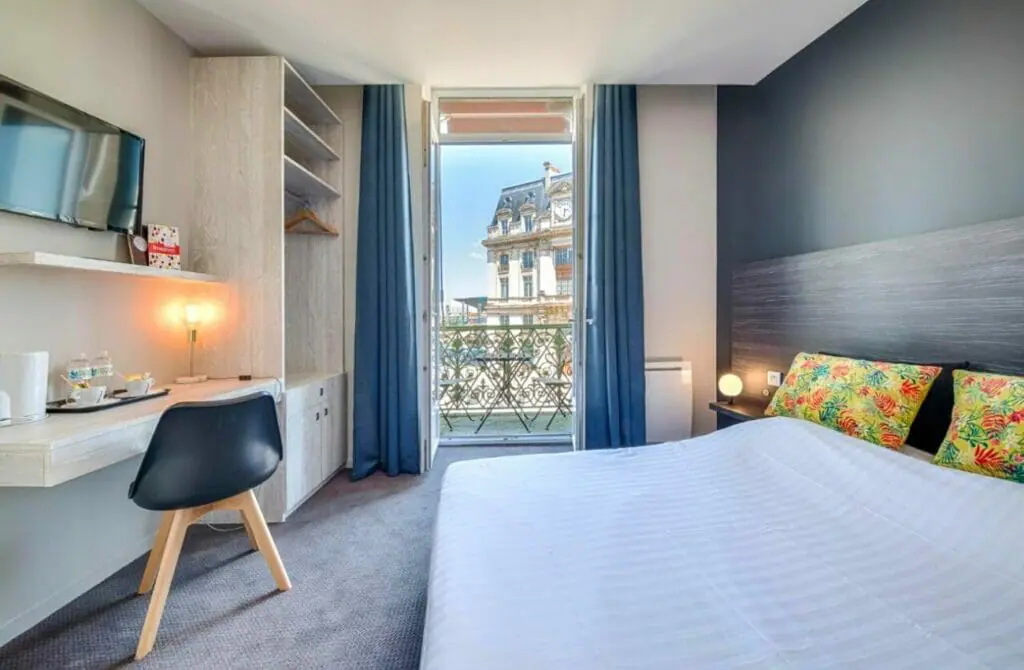 Gay Nightlife In Bordeaux, France
Starting your gay nightlife experience in Bordeaux can begin anywhere as there is no gay district in the city; however, to get you started finding a quiet restaurant to begin the night is a great way to throw yourself into the night.
Once you have a feel for the scene as iconic gay bars like the Trou Duck, you can head out into the center of Bordeaux, and with not much time, you can hit several gay bars in a bar crawl or as warm-ups to the more extensive party zones or cruising zones.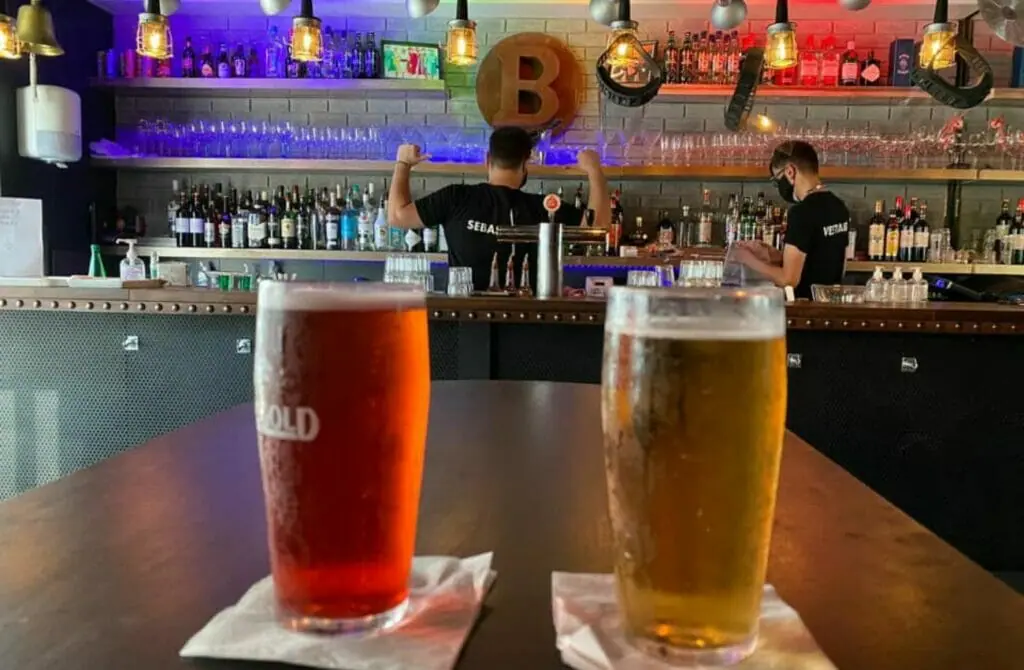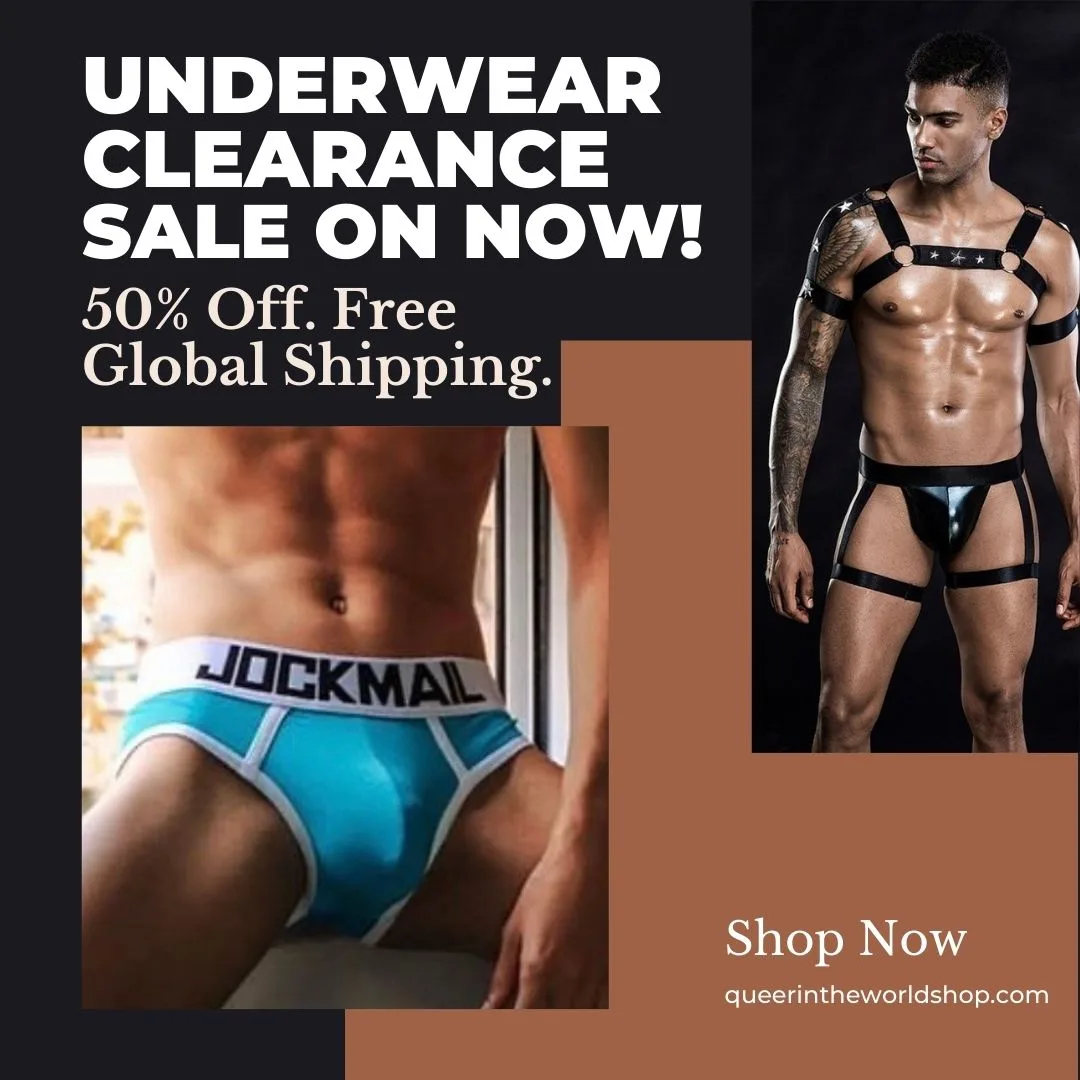 Gay Bars In Bordeaux
In the heart of Bordeaux is the exceptionally gay Buster Bar which is open to all people but is most popular amongst gay men. So you can enjoy a glass and meet fellow gays, or have some fun and get wild with regular dance parties.
One of the top gay bars in Bordeaux is Coko Loko, known for its fun-filled nights of games and themed parties. This bar is located in the center of Bordeaux and is open every night from 6 pm to 2 am. So you can rest assured with their big open spaces, dance your socks off and rest sitting by the bar with a cold drink or two.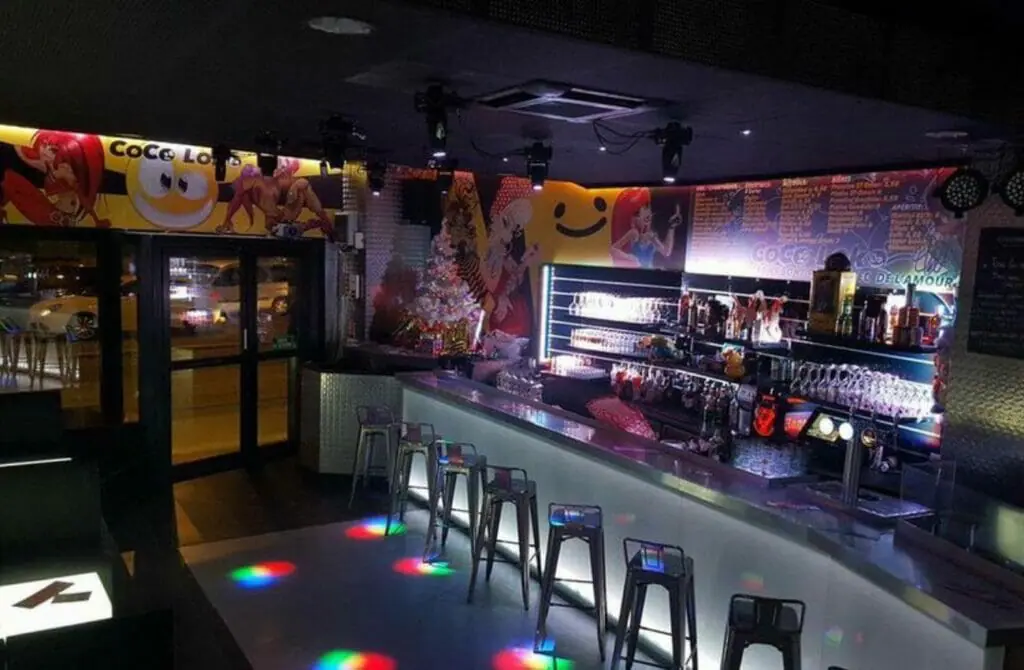 Le Trou Duck is a quaint corner gay bar in the heart of Bordeaux city, where you can experience a soft drink as you sit at their outside street tables or head into the depths of the venue to experience the complete Duck's package.
With a bar that offers all the drinks and food you could ever need, you could come here at the first stop of your evening or plan to come here with the sun well down for the vibrant nightlife. Don't expect loud music or a massive dance hall, but the calm atmosphere is excellent for a quiet stop-by.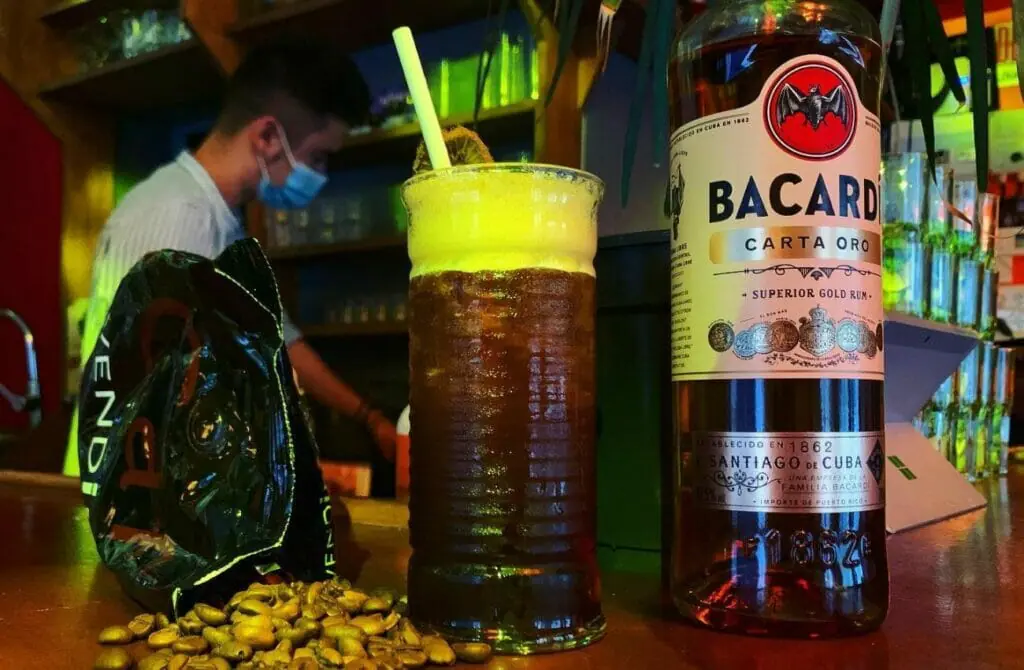 Gay Parties & Gay Clubs In Bordeaux
One of the only gay dance clubs in town, Ultra Klubs dominates the dancing gay scene for those not seeking exclusive men's or women's venues. Apart from having a massive dance hall with pumping music and a bar with enough drinks to last you all night, the bar regularly hosts entertainment nights.
So you can expect a fun-filled night with every visit if you want to try your hand at a bingo night, the occasional dance party, or a pub quiz.
Other Gay-Popular Nightlife Spots In Bordeaux
A gay-friendly music bar is open from Thursday through Saturday from 7 pm to 2 am. You can expect a quaint bar area with soft lighting and some seating to enjoy a quiet drink or a cheeky top-up, and then you can head into the main event, where the music and dining are at the venue's heart.
You will spend most of your time here in an extended tall ceilinged area with seating and walls designed like a French Renaissance villa.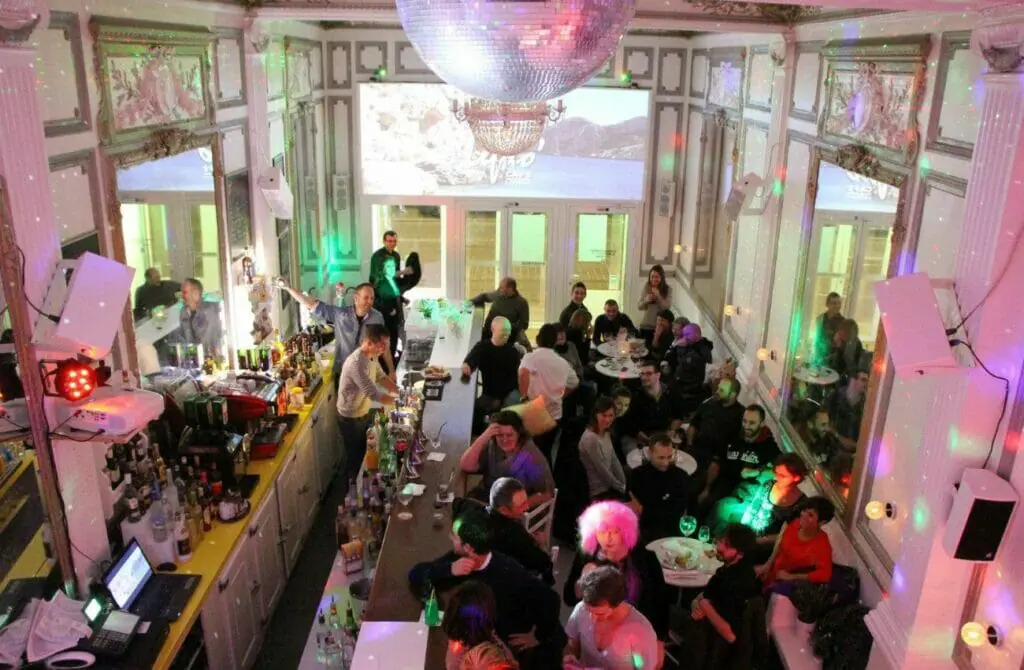 Located along the banks of the Garonne River are a gay-friendly cocktail bar and restaurant popular amongst gay tourists who frequent Bordeaux. You can expect a fantastic spot, great cocktails, and drinks at a neon-themed venue that brings people back, not just for a good feed.
But if you want to fill your belly, so you are ready to take on the town, choose from sitting under umbrellas on the terrace or inside under strobe lights and well-leveled music.
A popular gay-friendly cocktail bar and cafe pride itself on celebrating culture and festival. You can expect a relaxed environment with music-themed evenings to break up the regular broadcasting or modern music. Not only do they specialize in drinks, but also blues and often host DJs.
They have an outside seating area if you wish, or you can head indoors to where you can get the most out of the sound and bustling atmosphere of others enjoying their night.
Le Girofard is the local queer alliance in Bordeaux that offers valuable advice and guides on gay life and visits to the city. Whether you are visiting for a holiday or work business, they will be happy to help you with any questions. In addition, they have regular events which you could use as a great way to connect with other queer people.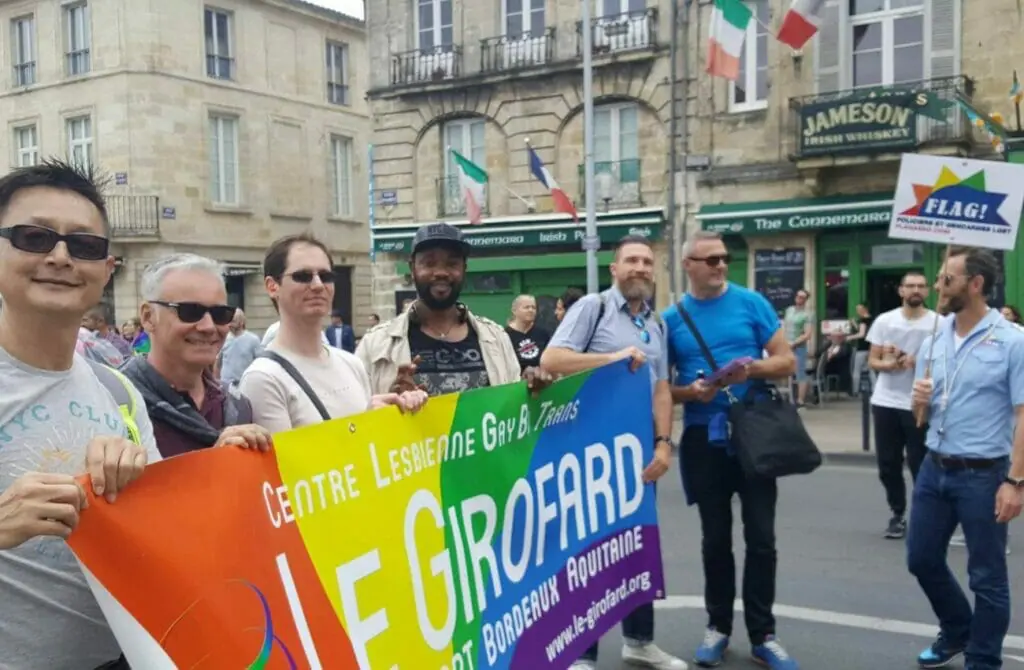 Perhaps one of the most family-friendly night venues around, Le BB25 is well known for its relaxing atmosphere and acceptance of all types of people. So would it also make sense that this is a non-profit, community-built bar? They offer incredible music and regularly decorate their walls with artwork from local artists.
It is favored amongst those that enjoy a glass while relaxing on truly cozy chairs with music at a level that allows you to talk without shouting. They are regularly the host of ballroom dancing nights, themed music, and much more.
Their soft sound is even popular with the deaf or hard of hearing. So if you are looking for a place to connect with others, this is the perfect place. This gay-friendly hang-out zone is a must-stop in Bordeaux.
A massive tapas bar and restaurant, this huge gay-friendly live music venue isn't far from the town's waterfront. You can explore this magnum opus for yourself at one of the few places that regularly host sizeable live music events, provide a taste of incredible french night food and drinks, as well as hosting Drag King events by the Cave à Kings.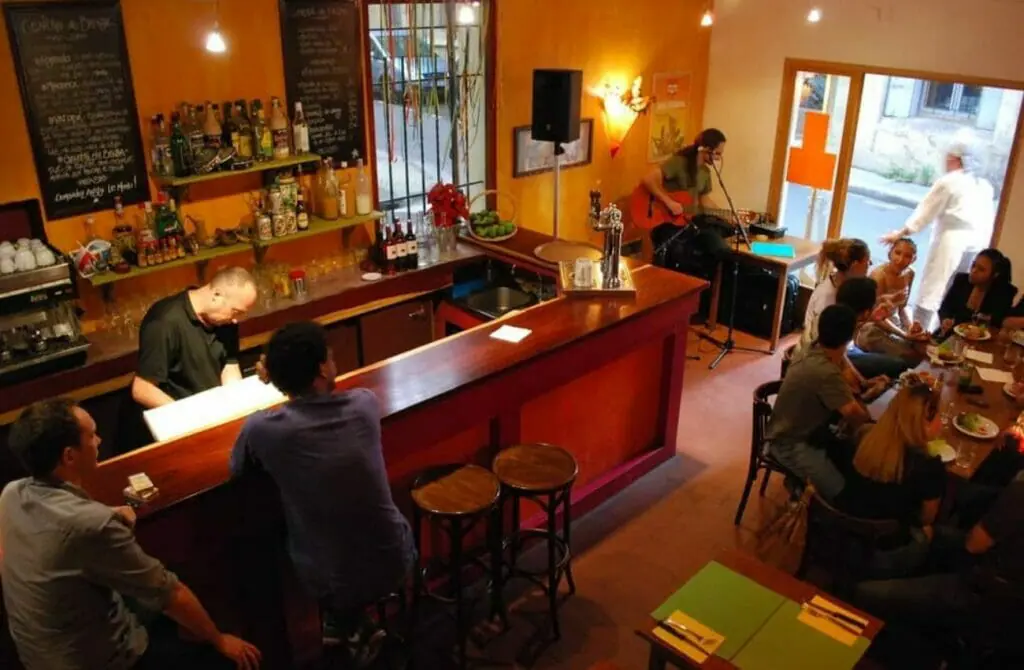 You should check out a show by the premium drag king show of Bordeaux, and although they don't have a venue, if you see where they are next playing, you can attend where ever that may be. You will be treated to a night of hilarity and glamour as these sexy drag kings take you on a tour of French drag.
Expect a show that is naughty, regal, artsy and most certainly not one for children, even if it is refined with suits and curled mustaches.
Cruising & Gay Saunas In Bordeaux, France
Surprisingly there are only a few gay cruising bars in Bordeaux in the main drags of town, but still, with plenty of options for all, that shows that this city is exceptionally gay and open to all types of people. It's also great news for those looking for a great night on the town and finding sexy men or women for a fun naughty time.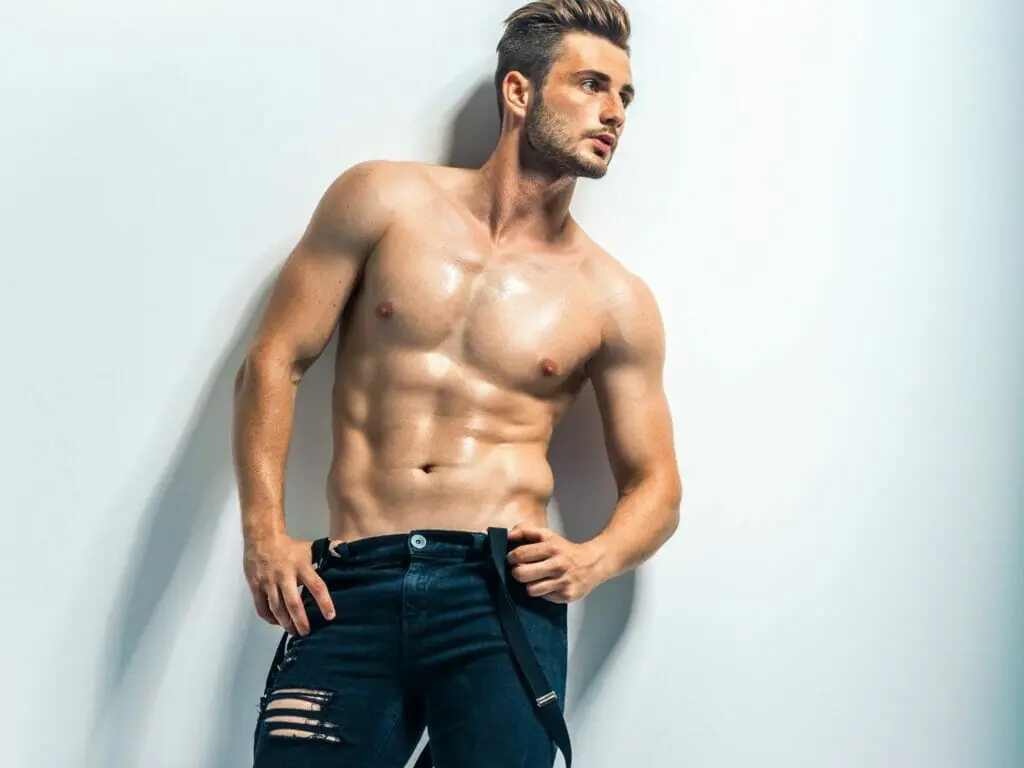 Lesbian and Women Exclusive Gay Bars in Bordeaux
This is the only women-exclusive bar found in the whole of Bordeaux opened about a decade ago as it seemed most gay-only venues catered to men. The cafe is open 8:30 pm to 2 am, Thursday to Saturday, whilst being open until 4 am once a month, it is a must-visit to experience a rare woman-only gay space.
They boast a quiet space with soft lighting, cozy decor, and a small dance floor, all great for meeting other women.
Gay Cruising Bars In Bordeaux
The Ambience Masculin bar is a gay bar and sauna open to all men regardless of sexual orientation. It has safe spaces for men who are questioning or wanting to explore their sexual identity, as well as those that are fully confident in their status and are seeking like-minded men to have a good time. Not only do they offer drinks, but they also have a large sauna and jacuzzi.
Traxx is a gay adult club in the center of Bordeaux with a wide range of services for those seeking an exciting evening. It is exclusively for gay men, offering a dark room, a video room, and much more. Their sauna 'Le Crunch' is discussed below.
Gay Saunas In Bordeaux, France
Le Crunch Sauna is a must-visit gay men's sauna for those seeking an evening of cruising in a relaxed environment. There is a bar, sitting area, sauna, and steam room. With their fun-themed nights, this can take the typical sauna experience to the next level of entertainment. This is one of the few men-only saunas, so even if it isn't as grand as other options, it has this as a point of difference.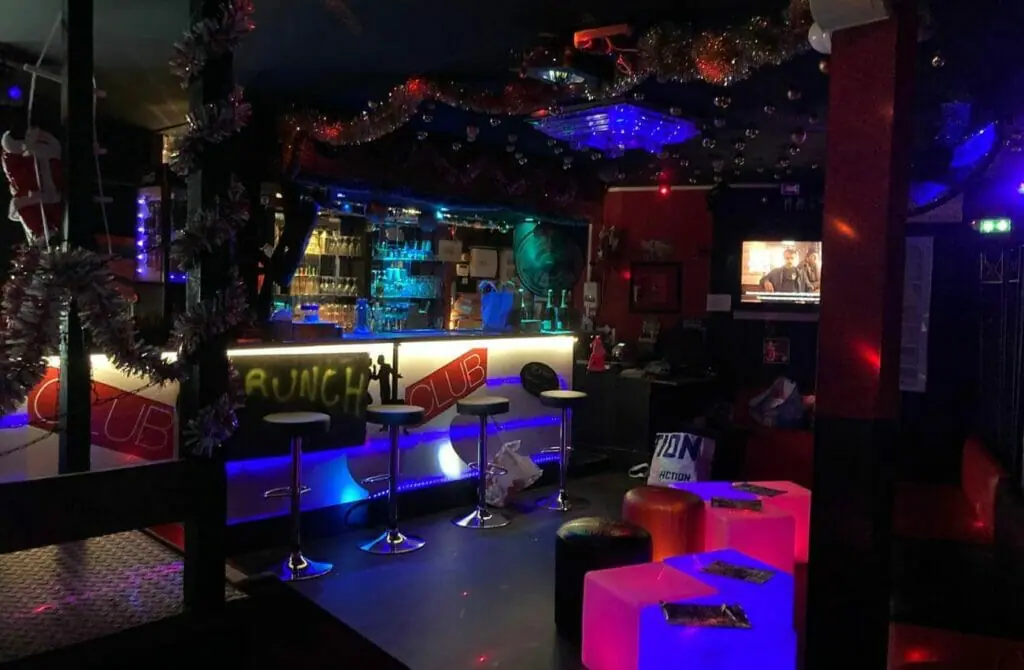 Perhaps the biggest sauna in town, Le Container, is open for all people regardless of gender or sexuality but is popular amongst gay people. The venue covers two floors with a range of services, from two jacuzzis, a steam room, a smoking area, and a bar, with complimentary coffee, tea and towels.
Gay Sex Shops In Bordeaux
Passage du Désir Bordeaux, l'anti sex shop
There are many sex shops in Bordeaux, but one worth highlighting is that its unique name makes you want to visit it alone, even if you don't want to buy a sex toy! L'anti Sex Shop has a wide range of toys and fund accessories to make your sex adventures in Bordeaux just that little bit exciting, and they even have some gay toys to ensure that everyone has a chance to have as much fun as the straights.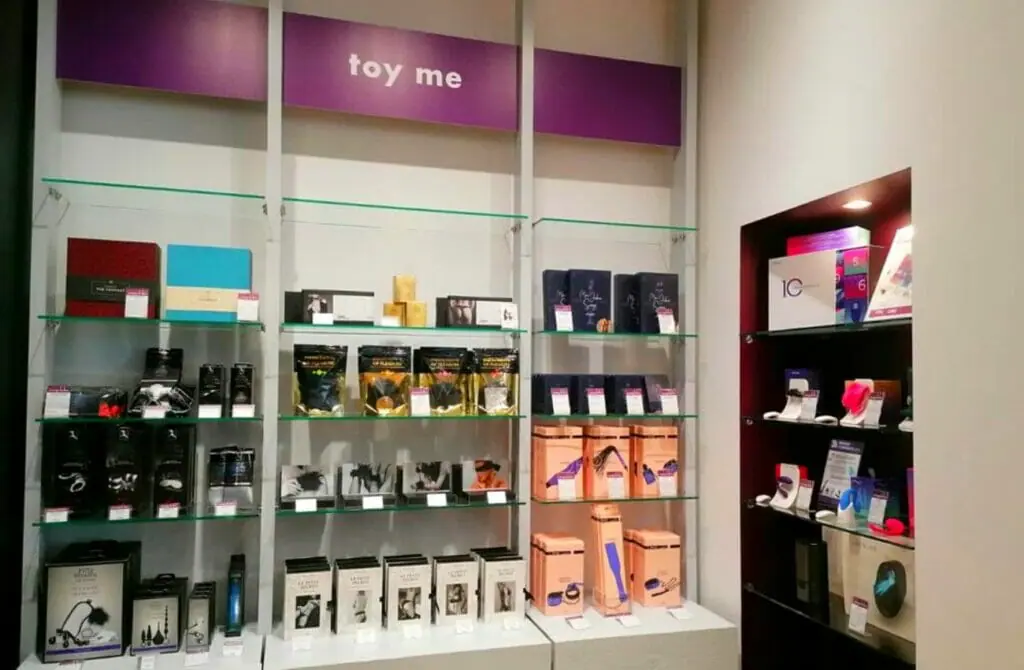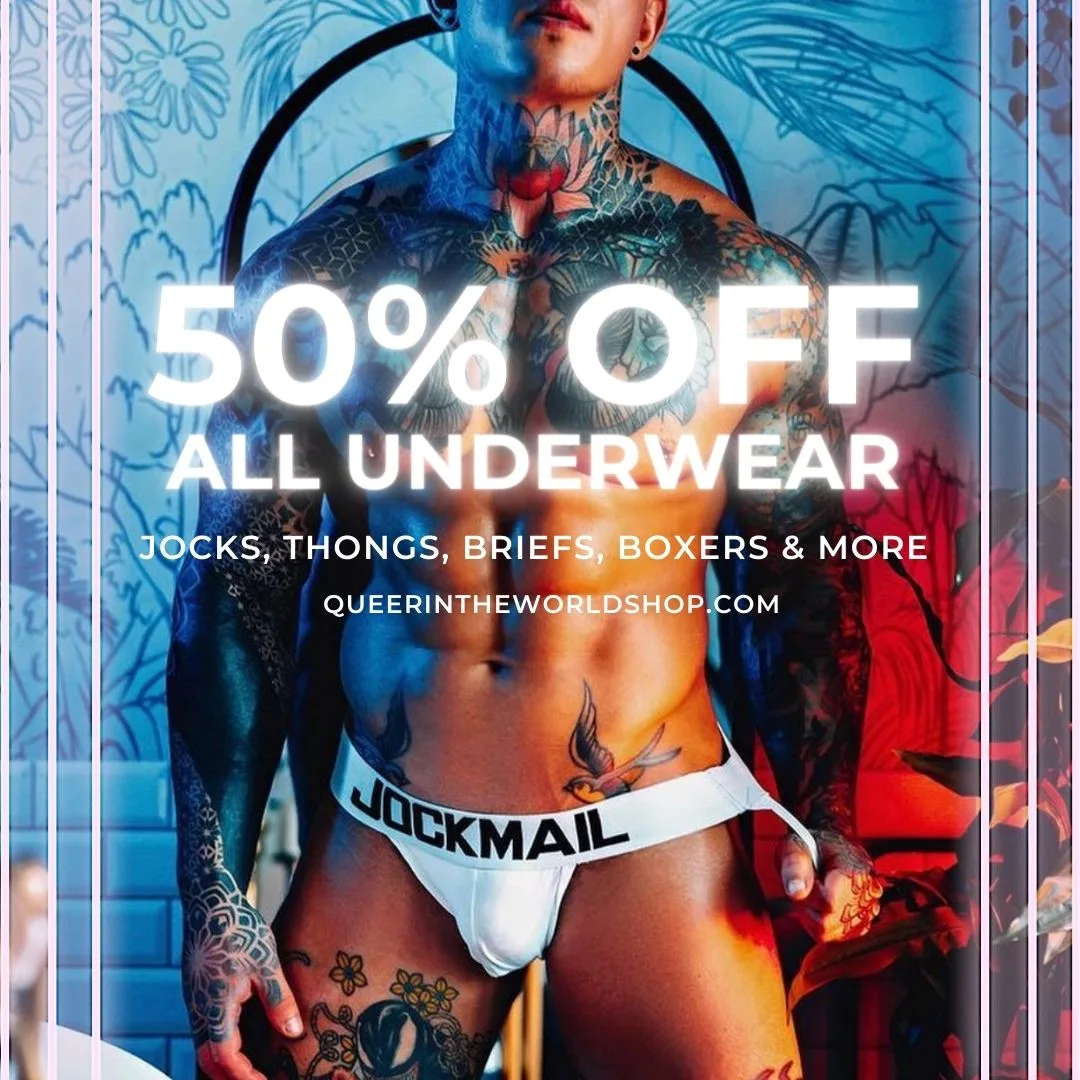 Gay Map Of Bordeaux
Finding it hard to envisage where everything is in Bordeaux? Hopefully, this queer-centric map helps where we have marked all the bars, clubs, parties, hotels, saunas, massages and more will help you stay in the spot best suited to you!