Amman, Jordan's gorgeous capital city, is home to a vibrant and welcoming LGBT community comprised of Jordanians, Palestinians, and other foreigners working in various political positions at organizations ranging from the United Nations to the American University of Jordan.
As a result, the city has developed a cosmopolitan culture, which has resulted in more high-end restaurants, a vibrant nightlife, and a fantastic shopping experience.
Amman is one of the most accessible places to have a true Middle Eastern experience. Although homosexuality is not a crime in Jordan, there isn't much of a gay scene in Amman or the rest of the nation.
On the other hand, it is not unusual to see men holding hands in public locations. This is a sign of male friendliness. Many Jordanian men, even if they are not gay, greatly appreciate male attractiveness, which may interfere with your gaydar.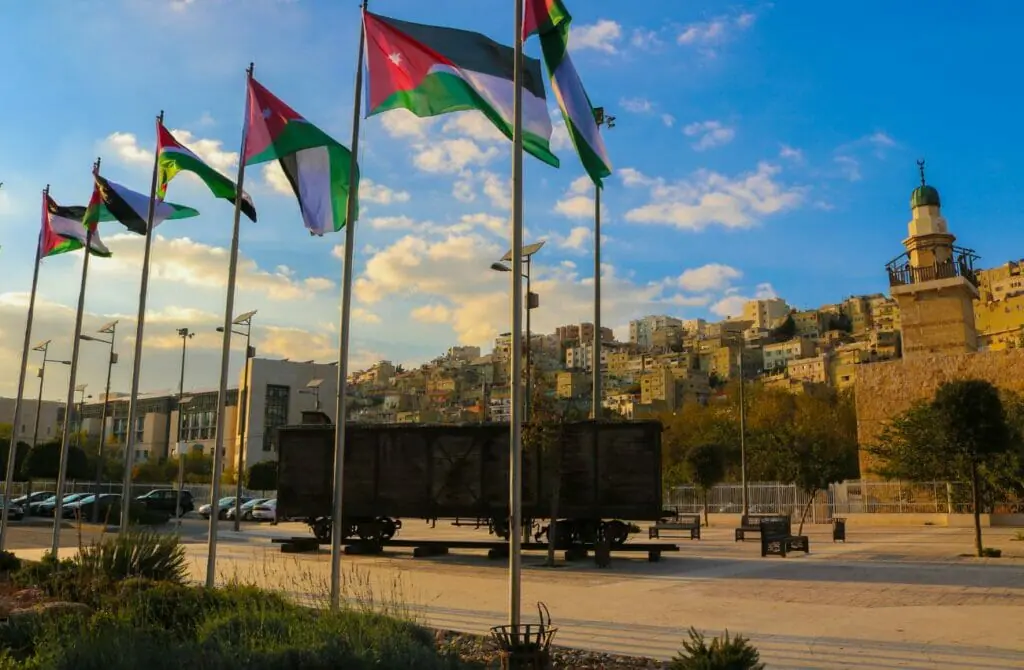 Although there are no LGBTQ-specific venues in Amman, many of the city's bars and restaurants, popular with the city's large international population of ex-pats, are also popular hangouts for homosexual Amman residents and gay tourists visiting the city.
It is probable that Amman, situated a few hours to the north, may get rather cold. Amman may potentially have snowfall during the winter months. Because of the very high temperatures that may reach over 100 degrees Fahrenheit during the summer months, the shoulder seasons of spring and autumn are frequently regarded as the best times to visit.
When planning a trip to Jordan, it is essential to remember the holy month of Ramadan. During the ninth month of the Islamic calendar, Ramadan is observed in all Muslim-majority countries (usually between April and June).
This necessitates refraining from eating and drinking during daylight hours, which may make it difficult to locate places operating during those hours. Apart from that, Amman is brimming with fascinating chances for the city's gay tourists.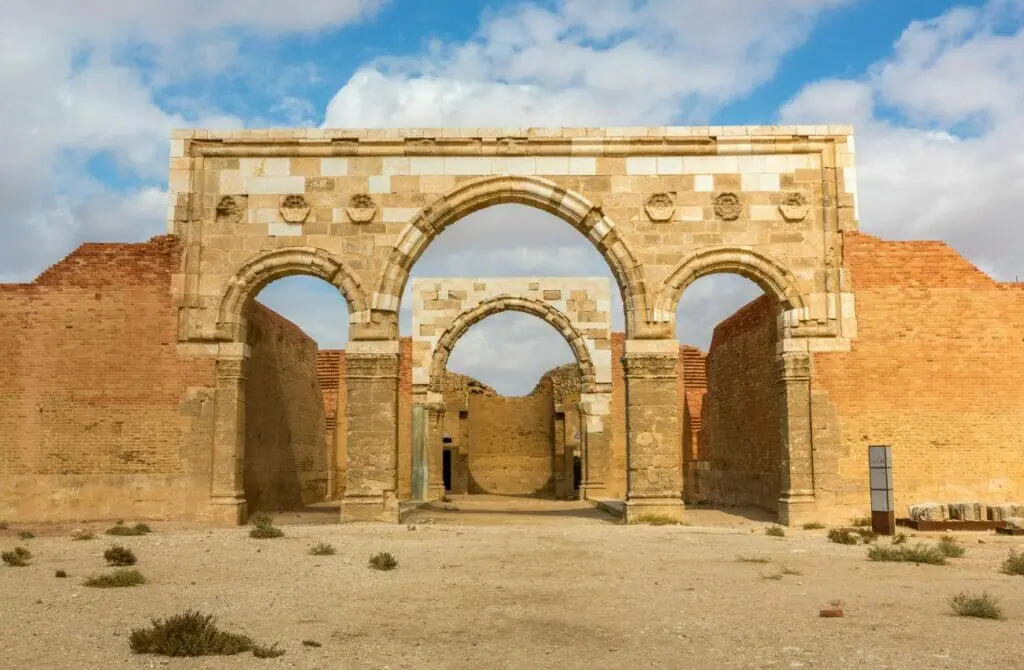 Attractions In Gay Amman, Jordan
As a new visitor to Gay Amman, it's important to be aware that being queer is illegal in this city and country, and any same-sex activity should be absolutely avoided to ensure your safety. However, there are still plenty of things to see and do that do not involve expressing your sexual orientation.
One of the best ways to experience the city is to visit its most iconic landmarks and attractions, including historical monuments, museums, and art galleries. You can also admire the city's architecture, explore its parks and gardens, sample local cuisine, and visit local markets. Additionally, cultural events such as festivals, concerts, and shows can provide a glimpse into the local culture.
We feel it's important to acknowledge the challenges and risks associated with visiting destinations where same-sex activity is illegal. However, we still believe in the power of cultural exchange and the value of experiencing diverse cultures, even if we may not agree with their laws and customs.
Visiting queerphobic destinations allows us to learn about the local culture, history, and traditions and to gain a deeper understanding of the challenges faced by LGBTQ+ communities in those places. It also provides an opportunity to connect with local people, hear their stories, and show solidarity with the queer community.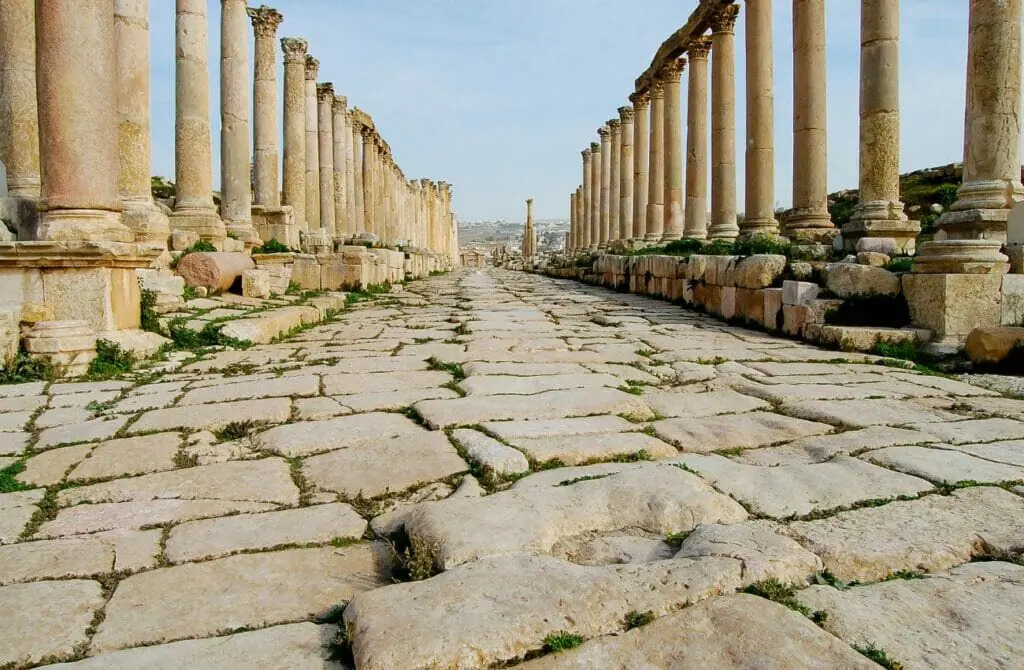 It's important, however, to be mindful of the risks and to take steps to ensure our safety and the safety of local queer people. This may include avoiding public displays of affection, not discussing our sexual orientation with strangers, and being aware of local laws and customs.
As we explore these destinations, it's crucial to spare a thought for local queer people who may face discrimination, persecution, and even violence due to their sexual orientation.
We might also have the opportunity to use our platform to amplify their voices and to support local organizations working to protect and advocate for LGBTQ+ rights – however, this is best done once you have left (and if you reside in a gay-friendly country!).
While it may not always be easy or safe to visit queer-illegal destinations, we believe that cultural exchange and understanding can help bridge divides and promote acceptance and tolerance. Let's continue to explore the world while keeping in mind the experiences, struggles, and restrictions on LGBTQ+ expression in this city and country.
Thankfully, it's still possible to enjoy the city's attractions and learn about its culture while being mindful of local laws and customs.
These are our recommended must-see attractions in Amman.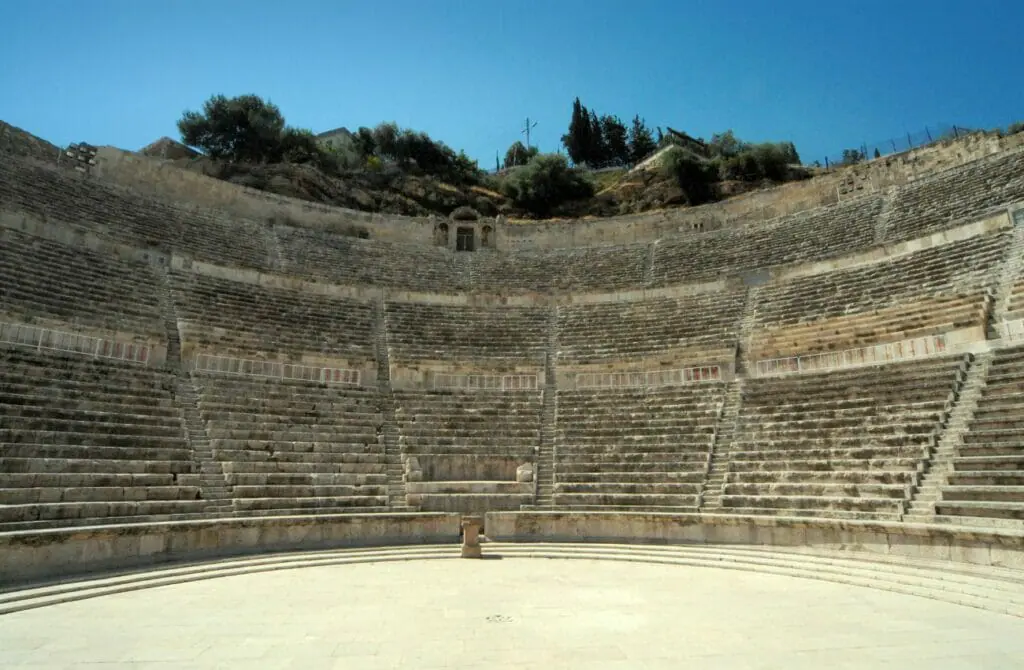 The Royal Automobile Museum
The Royal Automobile Museum is situated in Amman's northern suburbs, and it is easy to appreciate no matter how big of a car lover you are or how much you like lengthy trips. The museum, which opened in 2003, has a collection of exotic cars and other vehicles from worldwide that belonged to Jordan's late King Hussein bin Talal.
Among the collection's highlights is an armored Rolls Royce from World War I, a Porsche Carrera GT, a Bugatti Veyron, an experimental motorbike from 1885, and an Aston Martin in great shape from 1952. The Mars rover used in filming the 2015 film The Martian, which was filmed in Wadi Rum, is on display outside the museum.
You won't have to go far in Amman, Jordan's capital city, to view some spectacular ancient sites. The Amman Citadel is in the middle of the city and has great views of the area around it because it is high up on the city's highest point.
On the other hand, the Citadel is more than just a viewpoint; it also houses historical sites dating back to the Bronze Age. Examine the two massive pillars on the platform; these are the last remnants of the Temple of Hercules, a prominent Roman structure that formerly functioned as a link between this place and the Forum.
A large sculpture of smooth stone resembling three bent fingers may be nearby. The anthropomorphic piece was previously part of a massive Hercules statue, whose height is considered by experts to have been more than 12 meters. It gives tourists a sense of how spectacular the Citadel must have been at its peak.
In addition to the Temple of Hercules, the Citadel is home to the Umayyad Palace, an equally impressive assemblage of architecture. These structures are located right on top of the Temple of Hercules. Although an earthquake in the middle of the eighth century destroyed most of the complex, a few areas have been reconstructed so that tourists may view them.
In addition to the previous governor's residence, the Umayyad Cistern, and the Byzantine Basilica, there is a domed audience hall whose shape is a tribute to the Byzantine church that formerly stood there and the Byzantine Basilica.
Visit the Jordan Archaeological Museum to learn more about these fascinating locations and get up close and personal with antiquities discovered in the region around the Citadel. Some of the earliest large-scale human forms unearthed are among these objects.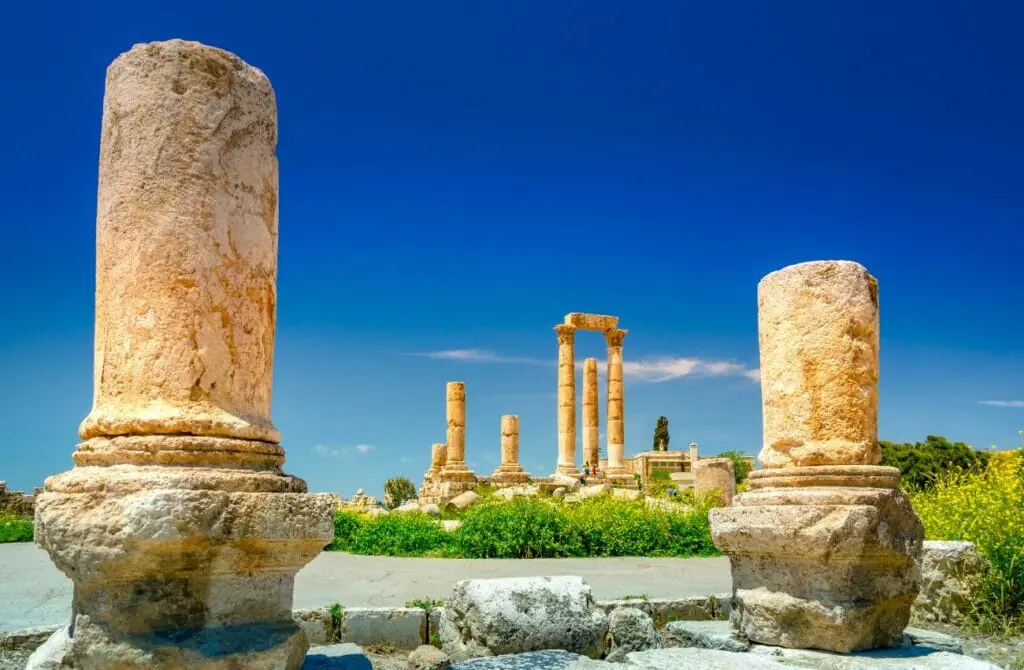 The Jordan Museum
The Jordan Museum's instructive exhibitions should not be missed on any visit to Amman and should be extensively studied. This prestigious institution is in a modern tower right next to City Hall. Its collection brings Jordanian history and culture to life, starting with the first people who lived there.
This museum presents Jordan's history through the prism of three permanent displays. The Traditional Life Gallery investigates the urban, rural, and Bedouin ways of life via traditional residences and clothing displays.
Jordan's history is described in the Contemporary Jordan Wing of the Jordan National Museum, beginning with the Great Arab Renaissance and continuing through the formation of the monarchy and into the modern day.
The Jordan Museum's largest exhibit is the Archaeological and Historical Gallery, which has a remarkable collection of significant artifacts and scale reproductions of ancient sites like the Ayla Gate.
Two more remarkable relics now on display are a 1.5 million-year-old collection of animal bones and the Copper Scroll from the Dead Sea Scrolls. No other place in Amman gives visitors an easy-to-understand and in-depth look at Jordan's history.
Your visit to Amman would be incomplete without spending some time at the Roman Theater in the city center. The instant you step through the front door, you will realize why it is the best thing to do in Amman. This well-known monument was most likely built in the second century after Christ.
It has been beautifully restored, taking visitors back to the golden days of the Roman Empire. The views from the top of Amman's Roman Theater are spectacular, and the building illustrates how Jordan's rich past can coexist seamlessly with the city's bustling current life.
The Roman Theater is Jordan's biggest theater, dating back to the Roman Philadelphia period. It has a seating capacity of 6,000 people, making it Jordan's biggest theater. The site is still used for several reasons, including the occasional holding of concerts and other events.
Are you looking for free stuff to do in Amman? If you can believe it, there is no fee to enter the Roman Theater in Amman; entrance is free. Climb the stairs to the top of the skyscraper for the city's best view. There are two museums on each side of the theater: the Jordan Museum of Popular Traditions and the Jordan Folklore Museum. These museums are both free to enter.
Go to the Roman theater early in the morning to have the whole site to yourself or shortly before sunset to make your experience even more magical. The Amman Roman Theater is open daily from 8:00 a.m. to 8:00 p.m.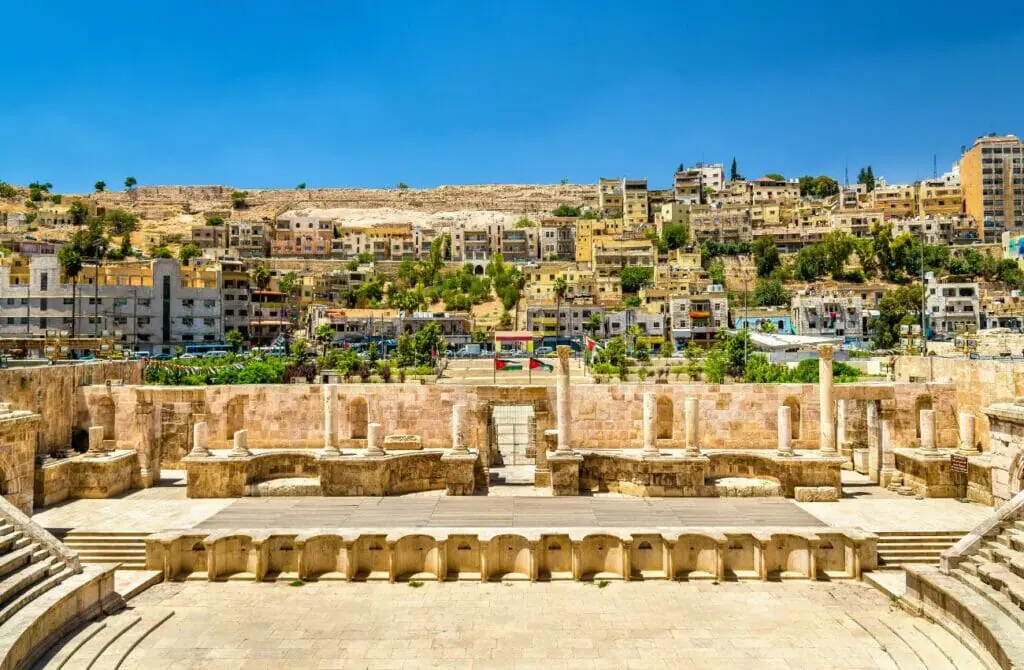 Rainbow Street, Amman's most elegant sector, is the city's social hub. The well-known street, which can be found in the old region of Jabal Amman, offers a tranquil space for pedestrians who wish to escape the turmoil of Amman traffic and explore the city on foot.
Rainbow Street is a much more serene place for tourists who wish to escape the turmoil of Amman's traffic. The venue welcomes both locals and tourists looking for an interesting evening out. It is the finest area to go in Amman if you want to enjoy the nightlife and entertainment alternatives since it is a well-known hotspot in the city and contains many bars, cafés, and restaurants.
Jordanians begin their weekend on Thursday night, so you'll see most people out and about having fun.
The rooftop bar, situated immediately across from the romantic restaurant Mijana on Rainbow Street, is widely regarded as one of Amman's best places to spend a night. Sufra, another all-time favorite, is noted for its enhanced complexity. When in Amman, it is a great venue for couples and a great place to impress a date.
The Wild Jordan Center is just a few blocks from this tourist-oriented pedestrian promenade. They provide a wide range of locally made things, such as jewelry, trinkets, soaps, mugs, delicious organic food, and other memories.
The facility is part of the Wild Jordan initiative, which is spread throughout Jordan's national parks and is maintained by the Royal Society for Nature Conservation; it is part of the wider Wild Jordan endeavor.
The next step is shopping on Rainbow Street for souvenirs to bring back. You may observe and buy the work of local artisans at the Souk Jara flea market, which takes place on select Friday afternoons on one of Rainbow's side streets.
The Wild Jordan Center, only a few blocks down from Rainbow Street, sells a range of locally made things such as jewelry, souvenirs, soaps, mugs, and more. The business, dedicated to preserving ethical standards, spends its profits on Jordanian artisans and environmental preservation projects.
Visit one of the local art galleries around Rainbow Street, such as the Nabad Art Gallery or Jacaranda, to pick out some souvenirs to take home after sightseeing.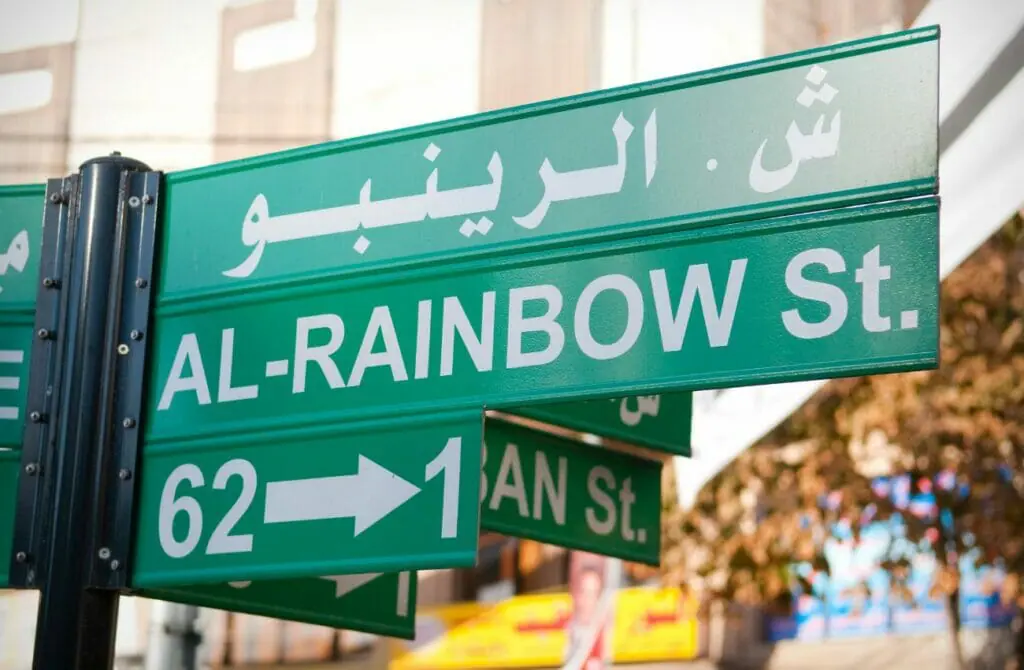 Duke's Diwan Historic Townhouse
This is an excellent Amman vacation destination. This historic townhouse, built in 1924, is considered one of the oldest residences in the Amman area. The building's first use was as a post office.
Later, it served as the Ministry of Finance's headquarters before being converted into a hotel. This mansion was recently purchased by a local businessman who also happens to be the Duke of Mukhayybeh.
The Duke restored it to its former glory and outfitted it with period pieces before making it available to the general public to admire. Visitors enjoy its unique, vintage vibe. You could even meet the Duke in person if you're very lucky. He spends most of his time mingling with other guests in one of his rooms, happily snapping selfies with them.
A trip to the Duke's Diwan townhouse takes about ten minutes and is free of charge. It is impossible to overlook the home because it is located in the heart of Downtown. Put this on your list of things to do in Amman because it is one of the city's top attractions.
The Blue-Domed King Abdullah Mosque
When visiting Amman, you should not miss witnessing the easily recognizable King Abdullah Mosque, which is noted for its massive blue dome, which is 35 meters in diameter and soars above the city's low-rise rooftops.
The mosque is in the city's newest and most modern commercial zone, not far from downtown Amman. The most beautiful mosque in Amman is about a twenty-minute walk from the Lweibdeh district. It is best for you to have lunch at Lweibdeh and then take a walk toward the King Abdullah Mosque.
King Hussein ruled from 1952 until he died in 1999 and was responsible for the King Abdullah Mosque's completion in 1989. It is Amman's most well-known and largest mosque, with a total capacity of up to 10,000 people, 7,000 of whom may worship inside and 3,000 more in the courtyard. A small space can accommodate up to 500 female customers at once.
Non-Muslim visitors to the King Abdullah Mosque must pay a 2 JD entry fee. For a mosque, this is an uncommon practice. When you visit, please dress appropriately; men should wear long trousers that cover their knees, and women should cover their heads.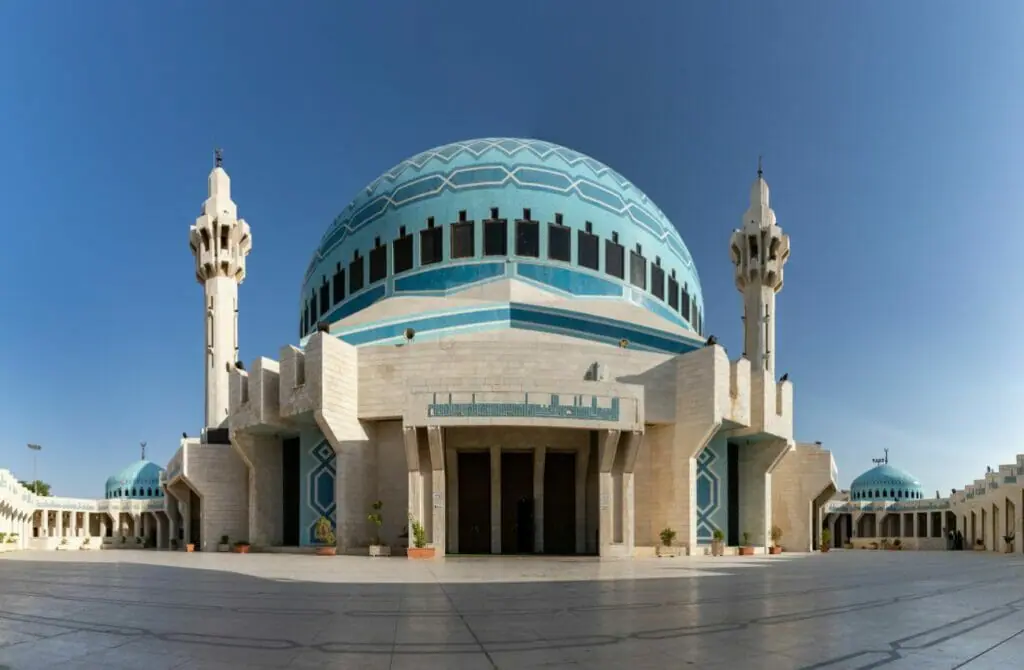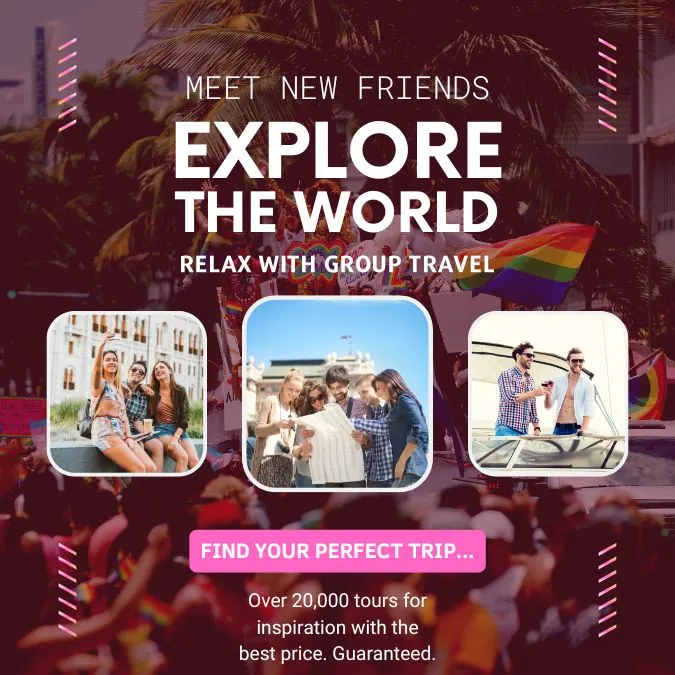 Gay-Friendly And Gay Hotels In Amman, Jordan
As a traveler in a homophobic country where being gay is illegal, it's important to be aware of the risks and take necessary precautions to ensure your safety. This includes choosing accommodations that are less likely to have issues with same-sex travelers.
We recommend booking two twin beds and traveling as friends only, avoiding any same-sex activities that could attract unwanted attention. While it's unfortunate that there are no gay-friendly accommodations in Amman, we suggest staying at international or high-end properties that are less likely to have issues with LGBTQ+ guests.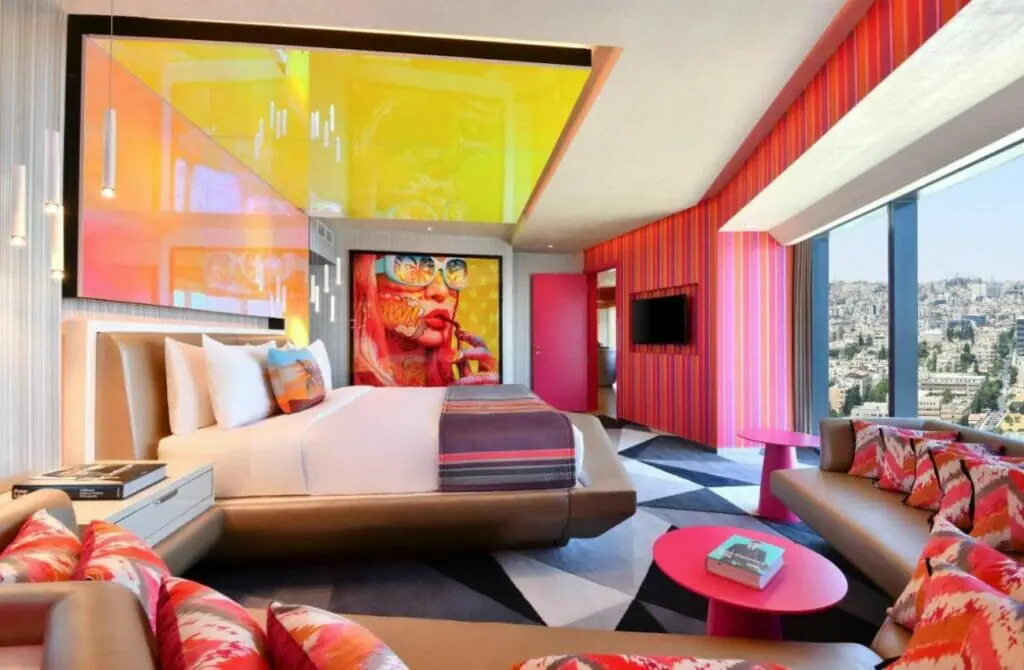 It's important to note that these accommodations are not gay-friendly at all and may not have policies or practices in place to create a safe and inclusive environment for LGBTQ+ guests. However, they are the most fabulous hotels in Amman, according to other gay travelers and us, and where we recommend staying.
Whatever your needs are, Amman has a wide range of accommodations to choose from. While it may be challenging to find gay-friendly options, taking these precautions can help ensure a safe and enjoyable stay in the city.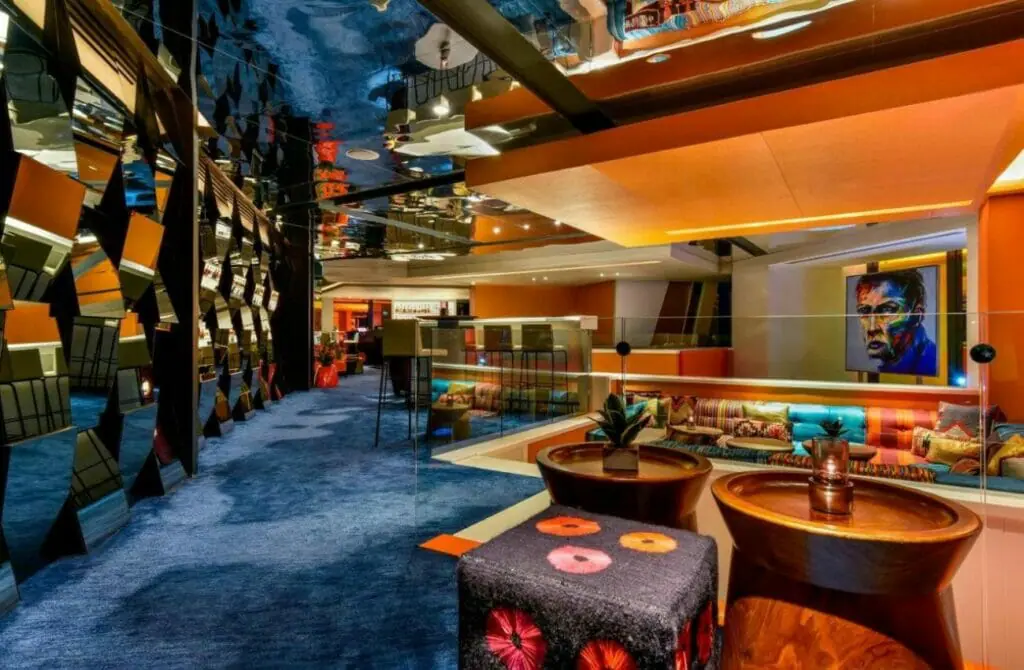 The W Amman Hotel is a spectacular example of contemporary architecture in the heart of Abdali, Amman's vibrant new downtown, with magnificent views of the city's seven hills. It has free, fast WiFi available.
There are 280 contemporary bedrooms and 44 magnificent suites to choose from. Visitors visiting Amman may enjoy a panoramic view of the city via the floor-to-ceiling windows while also using the hotel's vivid décor, cutting-edge services, and innovative technology.
Have coffee or tea delivered to your room, then relax with a drink from the W Mix Bar while watching cable on the flat-screen TV. Relax on a W signature bed before rejuvenating in a rain shower or soaking tub.
At the all-day restaurant, indulge in some surprisingly authentic meals, and at the specialty restaurant, taste some dishes with an Asian twist. Relax in the Living Room or get in on the excitement at AURA, a three-story bar with a buzzing crowd.
Visit Aura for a night out with friends and one of their signature cocktails. Relax to the rhythm of the music while taking in the landscape. You can visit the gym, where you can also do yoga on the rooftop terrace or spend some time in the spa getting pampered.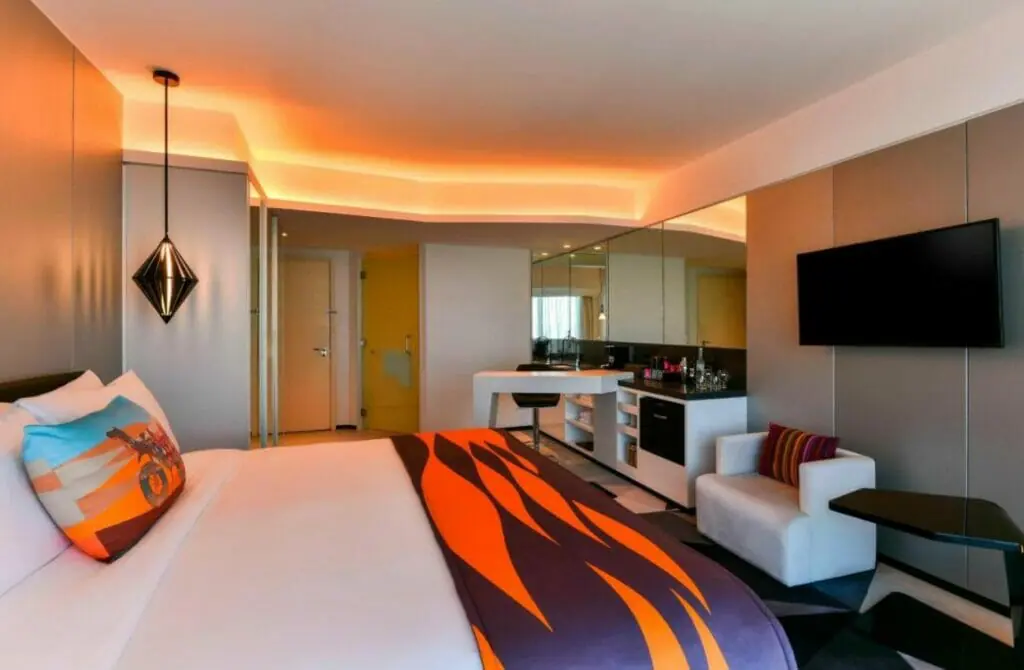 Intercontinental Jordan Hotel ☆☆☆☆☆
The InterContinental Jordan hotel is everything one imagines about the Middle East: pastoral, spectacular, and wonderful. It is located above Amman's hills and accepts visitors who identify as LGBT. Over the years, it has also turned into a hidden haven for LGBTQ visitors.
The rooms, whether standard, executive, or suite, all have a regal and luxurious feel. They bring in a lot of natural light and provide views of the bustling city and the hills surrounding it.
The "Soba Sushi Bar" is one of the best venues in town to obtain authentic Japanese cuisine, and it's where you can dine at the hotel. Or are you in the mood for spicy Indian food at "Indu"? However, not everyone can handle the heat, so if you want something a little less hot, the Lebanese restaurant "Bourj Al Hamam" provides a broad choice of wonderful fish meals.
The spa treatments they offer, like massages and trips to the sauna and steam room, are great for relaxing and will be very appealing to you.
The gay-friendly Fairmont Amman hotel will make your stay in Jordan's capital city memorable, regardless of how you plan to spend your time there: lazing around in a king-sized bed, taking in the breathtaking scenery of the Amman hills, as Seby does, or using your room as a base to explore as you spend most of your days wandering around the city.
Your stay at this hotel, situated in the center of the city and welcoming visitors of all nationalities, will be memorable.
The Fairmont is the epitome of luxury. Every detail of your stay will be taken care of from the moment you step into the lobby until you leave. On-site, the hotel features a variety of restaurants and entertainment venues, including "Nur," which is noted for its delectable assortment of Levantine cuisine.
Another wonderful spot for a drink is "Caprice," which has an unrivaled assortment. There is also a well-known Japanese restaurant called "Tsuki." If you're searching for something more traditional and local, you'll fall in love with the "Nasim" restaurant. The talented chefs here provide a delectable blend of warm and cold mezze.
The Willow Stream Spa at the Fairmont is another enticing hotel element. You may enjoy a quiet walk between the vitality pools, the Hammam scrub room, and the Dead Sea pool while you're there.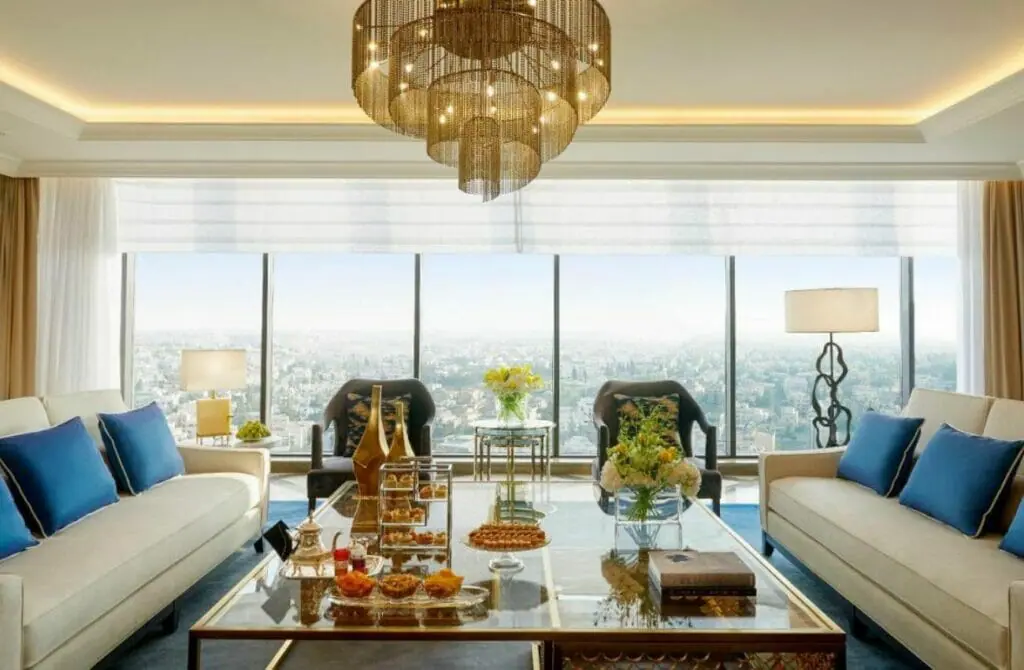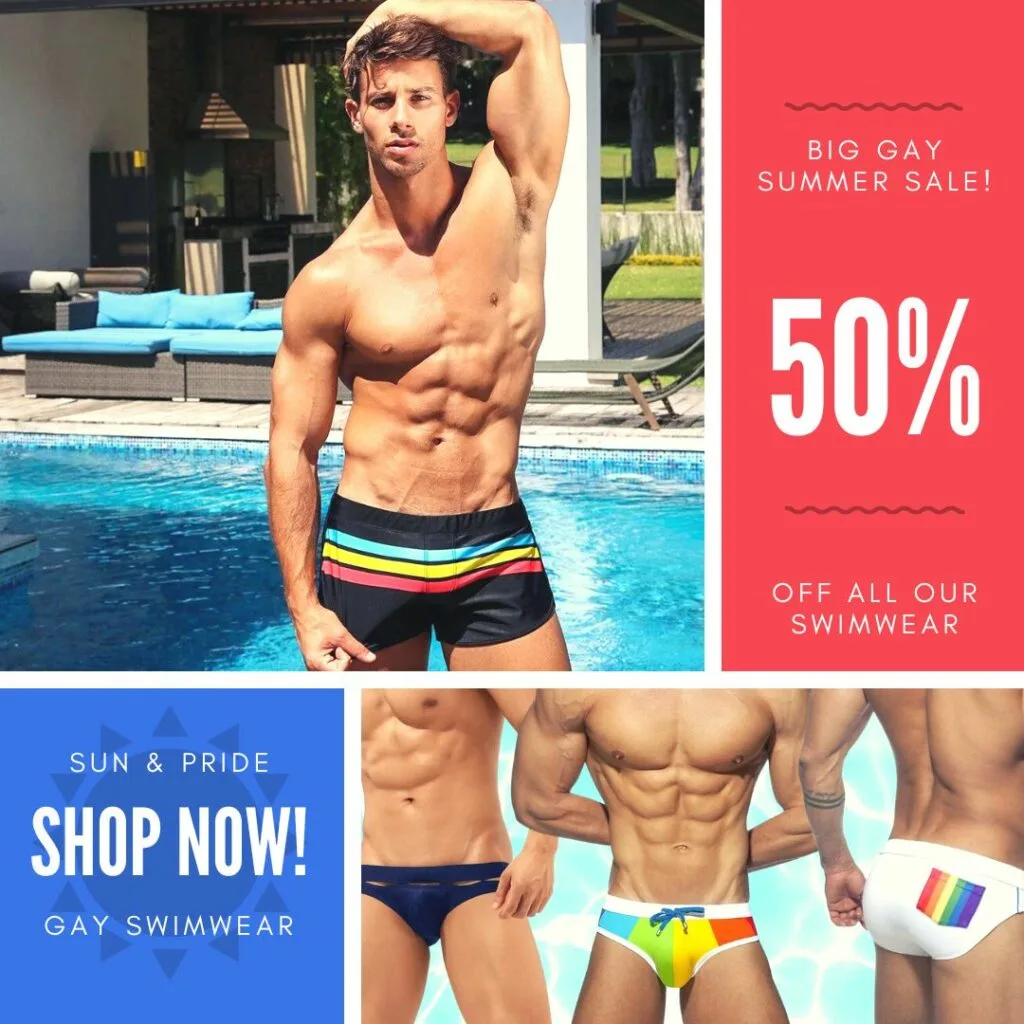 We can't rave enough about this hidden gem, particularly if you prefer not to stay in a hotel. The apartments in Nu Fifty Two are friendly to members of the gay community and have received a lot of favorable comments due to their accessible location and great quality. It is within a few minutes walk of Rainbow Street's major retail section.
The charming building that housed Nu Fifty-Two dated from the 1950s and was transformed into apartments that the owners rent out to visitors. This is the location to stay if you don't want anybody to know about your visit; the check-in procedure is perfectly smooth since everything is done online.
Inside the Nu Fifty Two apartment, you'll find everything you need to feel at home, including a fully equipped and efficient kitchen, plenty of space, a large living room area, two balconies, and a huge, luxurious King-sized bed!
Even though the guests' privacy is respected, the staff is not completely uninvolved. For example, if you have any questions or worries, you may call them or send them a message over Whatsapp, and they would be pleased to provide any travel advice or help you arrange a taxi reservation.
The Cabin Hostel is located in the heart of Amman's city center, making it a facility that is just a short walk away from all of the city's main areas of interest (the Citadel, the Roman Theater, and the Bazaar).
The staff at the hotel has undergone considerable training and is well-known for their kind and inviting manner toward tourists. Furthermore, the cabin provides free water and tea around the clock and free amenities during check-in.
Many services surround the Cabin Hostel, including restaurants, cafés, and other enterprises. Bus stops and railway stations are conveniently positioned close and easy to reach. The Cabin Hostel offers free wireless internet access, a 24-hour front desk, air-conditioned rooms, and a coffee station.
They also provide free image copying and paper printing, a lovely ambiance, a communal area, and a small and adorable patio connected to the property. On request, a traditional breakfast is served.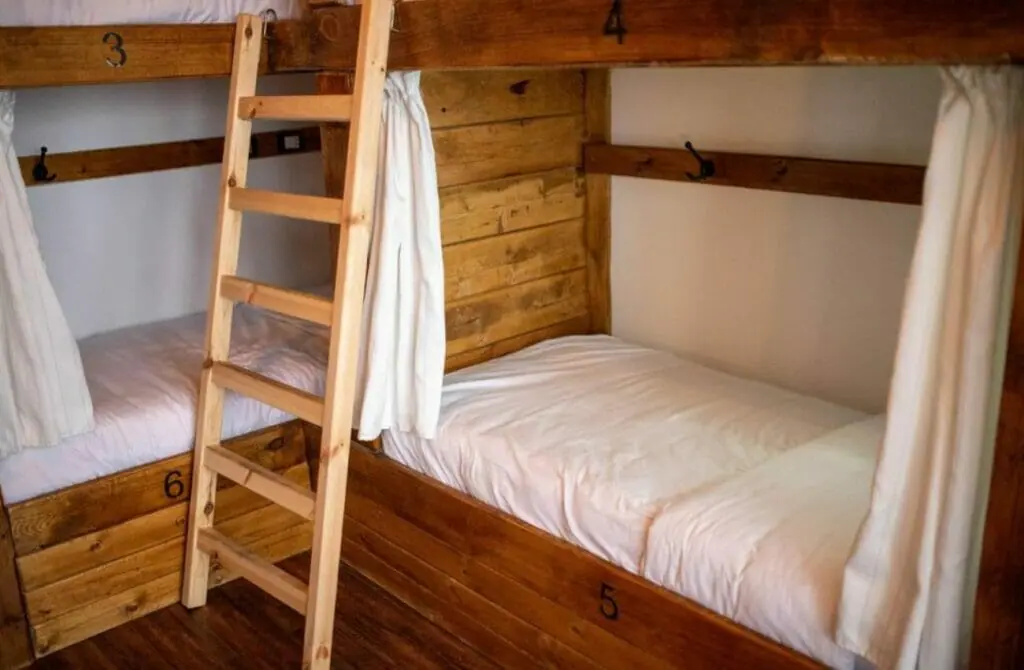 Gay Nightlife in Amman, Jordan
While exploring the nightlife of a new city can be exciting, it's important to remember that Gay Amman is a city in a country where same-sex activity is illegal, and being queer is not accepted in public. As such, it's crucial to avoid any displays of queerness or same-sex activity in public.
However, you can still enjoy the 'straight' nightlife in Gay Amman as you would in any other city. You can meet new people, try new things, and get a taste of the local culture without attracting unwanted attention.
Whether you're dancing at a club or mingling at a bar, remember to be respectful of the local culture and avoid any behavior that may be seen as queer or same-sex activity. By doing so, you can have a fun and memorable experience while still being mindful of the local laws and customs.
So, step out of your comfort zone and explore the nightlife in Gay Amman, but remember to do so as a non-queer traveler. Enjoy the city's nightlife while being respectful of the local culture and avoiding any displays of queerness or same-sex activity in public.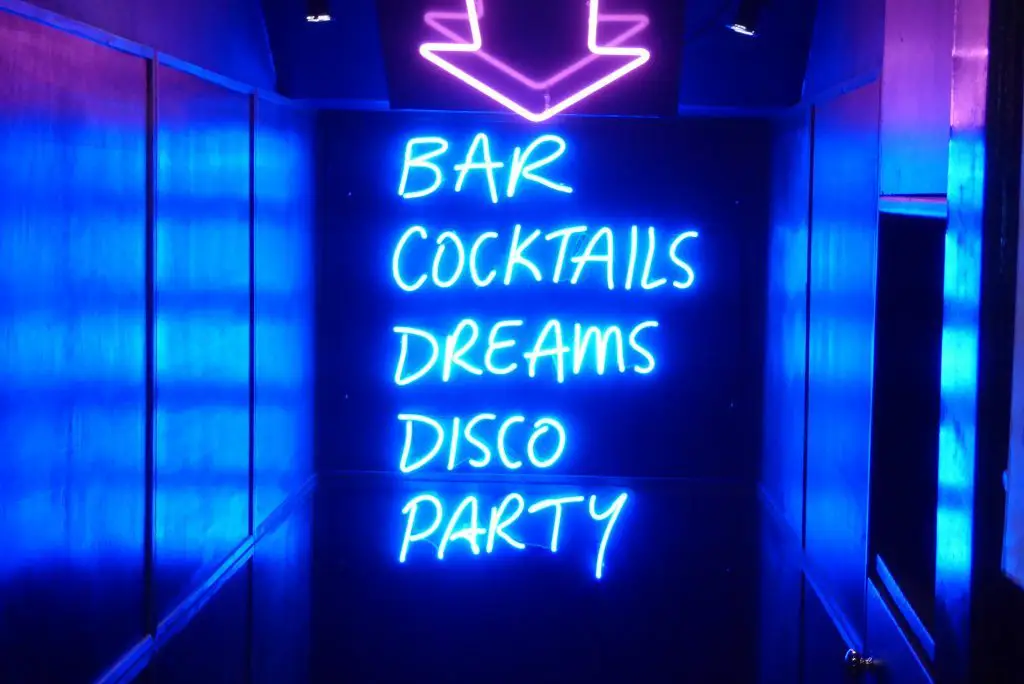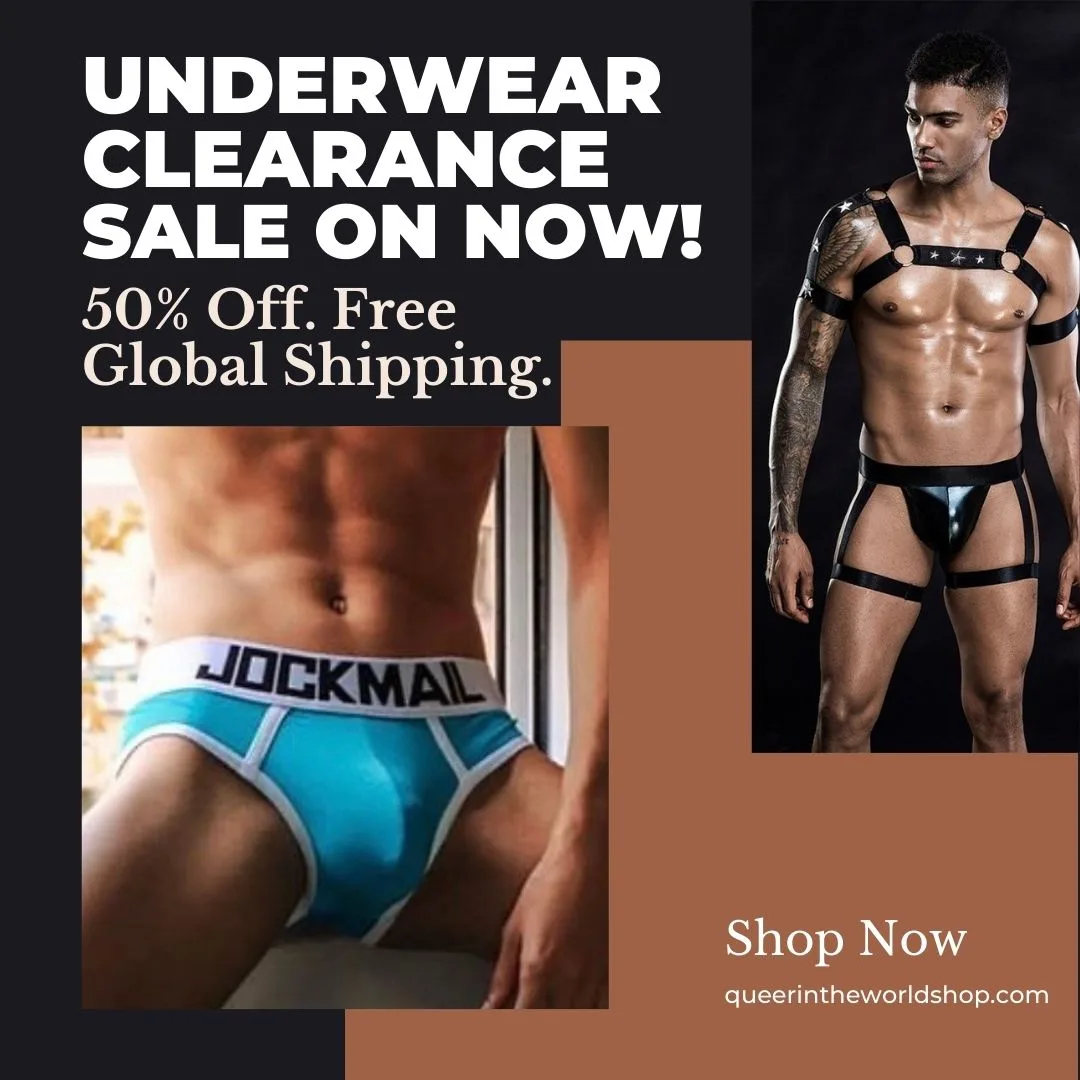 Books@Café is the favorite place in Amman for gay locals, visitors, and ex-pats to hang out since it serves as a restaurant, café, bar, and lounge. The atmosphere is cozy and comfortable, and the place is buzzing with electric energy.
The high number of residents that frequent the venue daily keeps the place vibrant by consistently bringing in a big audience. The restaurant serves wonderful meals and provides a relaxing ambiance due to the surrounding nature. Come for breakfast, lunch, dinner, or just a drink!
The District Bar is situated on the top floor of the Shepherd Hotel and is ever-so-chic, ever-so-sleek, and ever-so-glam. Its outside terrace is often full of people talking, drinking, and dancing while watching the ancient Old Town of Amman.
The restaurant and bar District serves a wide range of food, drinks, and, most notably, cocktails. Also, the staff was friendly and helpful and took the time to walk us through their suggestions. This made our stay an unforgettable one.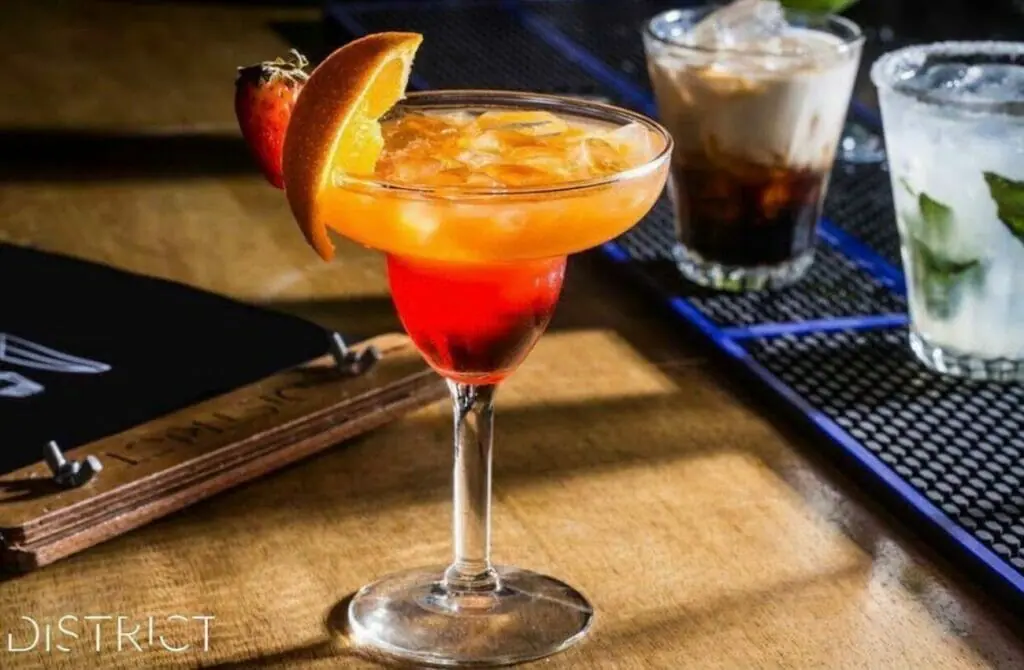 Vic "The Trader" Bergeron, an ardent traveler who was inspired by the cuisine he encountered while traveling, was the one who initially established the bar, which was then situated in California. After some time, Trader Vic's has become renowned all around the world, including in Amman!
Furthermore, they organize themed parties and live musical performances. "Latin Night" is Trader Vic's most popular and highly recommended party for attendees. Trader Vic's is open every day from six o'clock in the evening until one o'clock in the morning.
This is another well-known rooftop bar in Amman, located on the roof of the Sheraton Amman Al Nabil Hotel. When you go through Club on Five, you've discovered a spot where the ancient and new worlds cohabit. Although everything appeared sophisticated and contemporary, the quality of service and charm of the staff will make you feel as if you are in a 1950s lounge bar.
Patrons can enjoy their drinks while taking in the spectacular view of Amman's skyline since it is positioned on a rooftop. The Azan call to evening prayers, which creates an almost ethereal air, is an especially good moment to soak in the scenery. Margaritas, Old-Fashioneds, and Sour Mojitos are among the alcoholic drinks offered. In terms of food, they served salads, tacos, falafel, and truffle fries.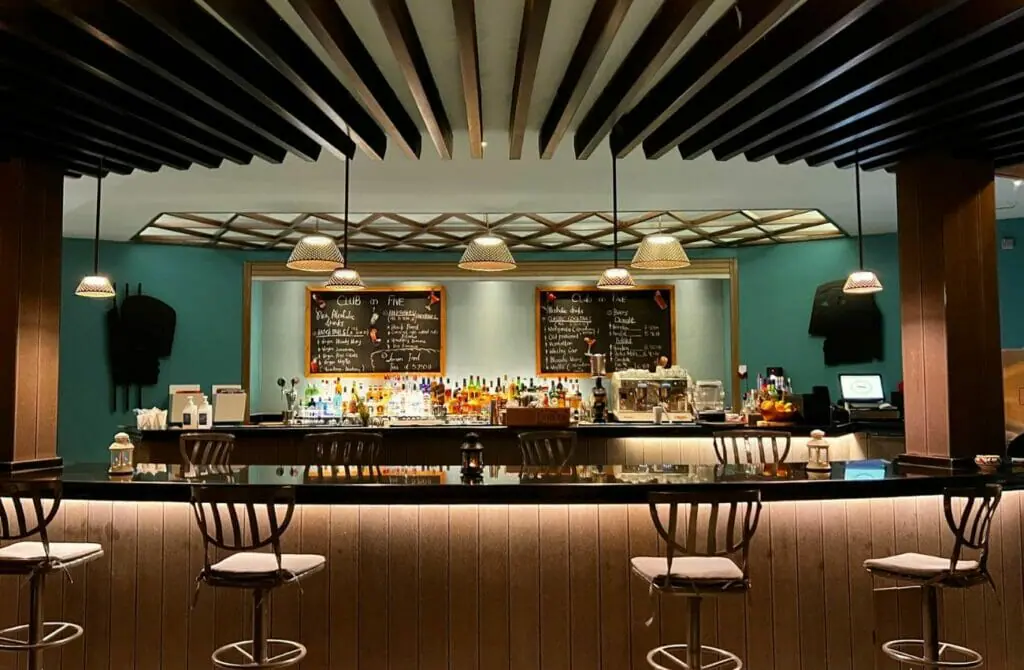 Nü House Of Music (Formerly The Cube Lounge)
There is no suitable way to express what it feels like to be a visitor at Nü House of Music. The experience may be summed up in a single word, "nü," which might signify "now" or "the current moment." It's not about focusing on the past or worrying about the future; it's about enjoying the present moment and letting go of all your regrets and concerns.
If you consider yourself a genuine raver, you will not want to miss out on this chance. On a whole other level, the professional sound system and lighting design allow you to feel the vibrations of the song on your skin virtually. Nü House of Music is open to the public on Thursday and Friday nights from 8 p.m. until 3 a.m.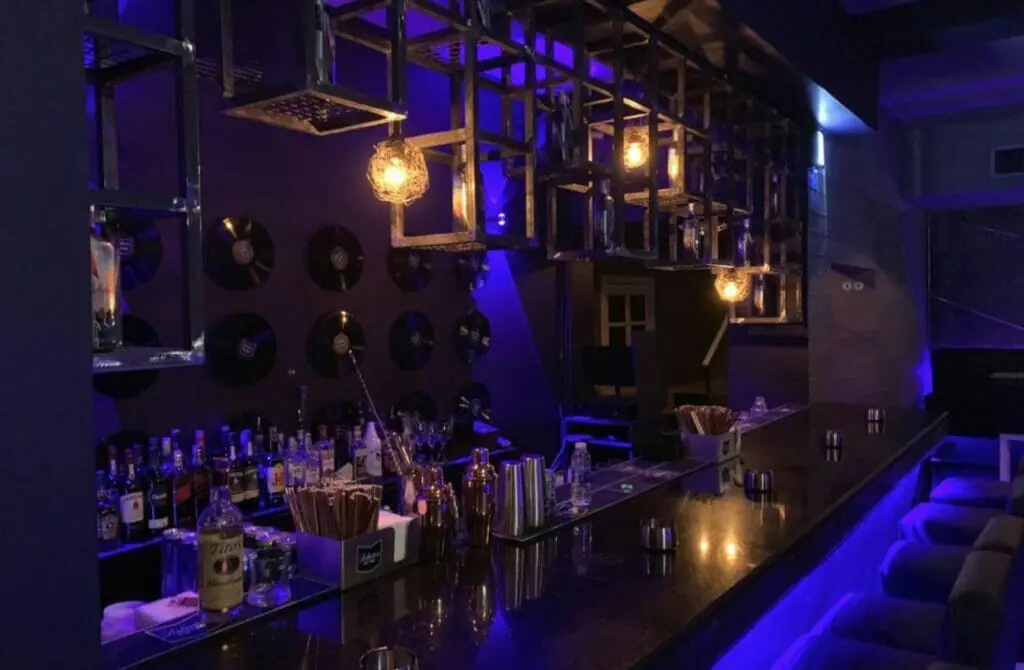 Cool Coffee Spots In Amman
Because of its wealth of contemporary attractions, ancient structures, and one-of-a-kind activities, Amman is a city that can be so immersive. While visiting the old city, you may want to take a break at one of the following coffee shops to enjoy a cup of joe and replenish your batteries.
You may luxuriate in the ideal cup of java at The Coffee Bean & Tea Leaf by choosing from over 22 different types of coffee. Their fresh beans are roasted in the traditional "manual European roast style," for which they are well-known.
You can always take your coffee with you in a lovely cup with an intriguing design, but you may as well pair it with anything from their menu and take a seat in their smoking-free eating area.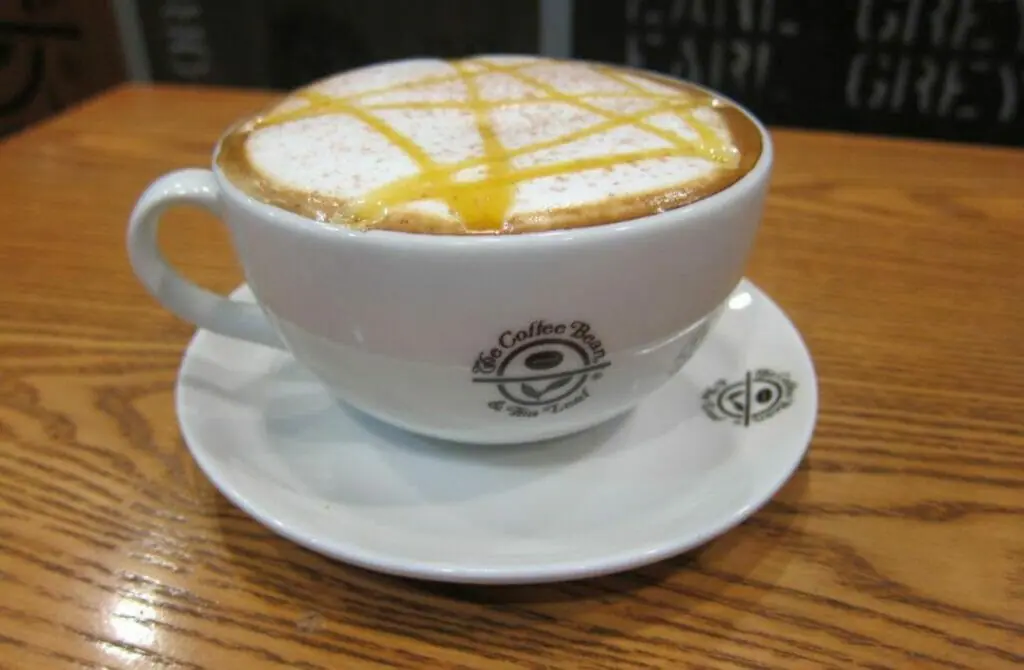 Gloria Jean's Coffee is a handy venue that is easy to reach at any time of day since it has five locations across Amman. You may select from a broad range of tasty hot and cold coffee drinks that will rapidly wake you up and put a grin on your face.
When you visit Amman, you should make it a point to explore the historic passageways buried inside the recently paved Rainbow Street. Strada is a charming and quiet coffee shop on one of these ancient roads. In addition to its delectable side dishes, Caffè Strada's Italian coffees are of the highest quality.
This setting brings us images of comfort throughout the winter months. While the rain pours outside the floor-to-ceiling windows, you will be securely and comfortably sheltered inside the building, sipping a cup of warm coffee.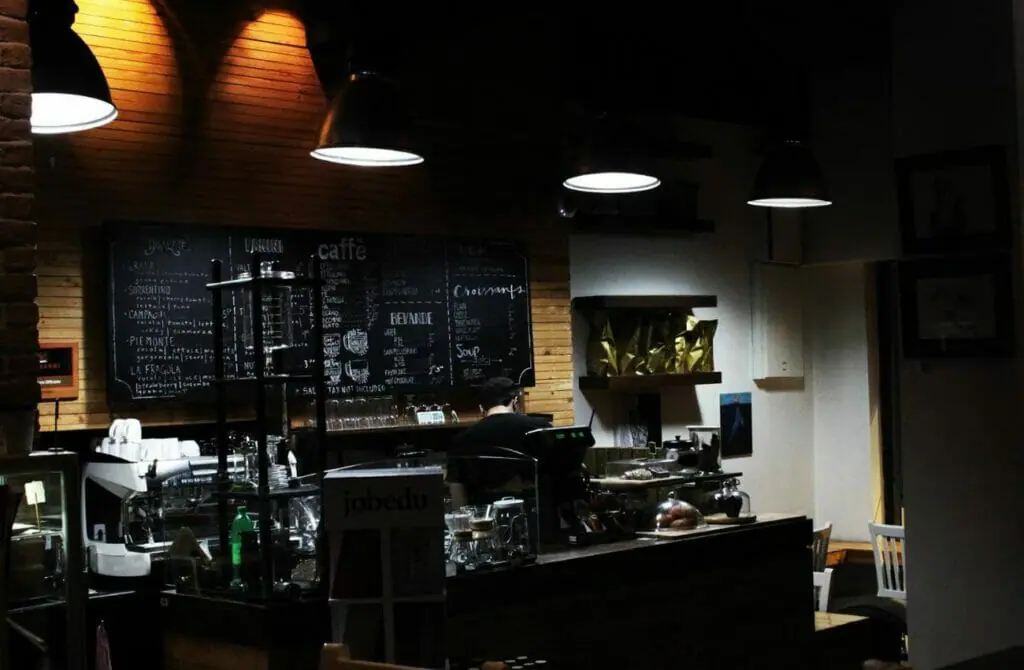 LGBT Rights In Amman, Jordan
In Jordan, persons who identify as lesbian, gay, bisexual, or transgender (LGBT) face legal difficulties and discrimination that non-LGBT people do not face. Even though this is the case, Jordan is one of the few Arab countries where being gay is not illegal.
In Jordan, it was prohibited to engage in sexual behavior with someone of the same gender under the British Mandate Criminal Code Ordinance (No. 74 of 1936). This legislation was in place until 1951, when Jordan enacted its penal code, which did not punish homosexuality.
Jordan achieved its independence in 1946. Engaging in gay activity is not a crime in Jordan. However, LGBT individuals who express public affection may be prosecuted for "disrupting public morality," Most LGBT people face social discrimination that non-LGBT people do not.
According to recent reports, while many LGBT citizens remain in the closet and often live double lives, a new wave of younger LGBT people is beginning to come out of the closet and become more visible in the country, working to establish a vibrant LGBT community of filmmakers, journalists, writers, artists, and other young professionals. This new generation of LGBT people aspires to create a thriving LGBT community in the country.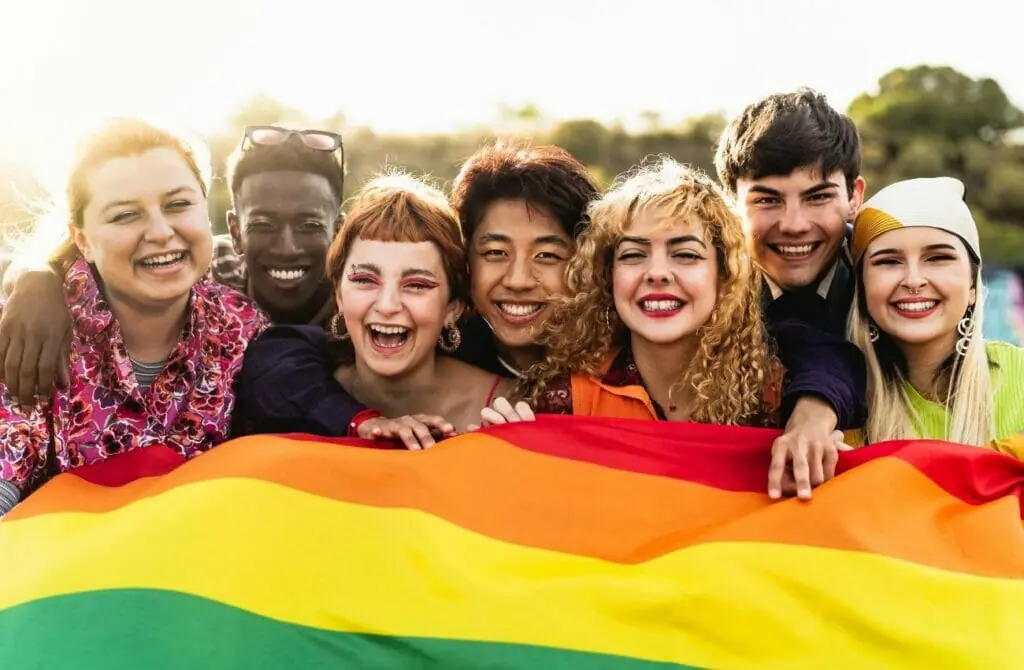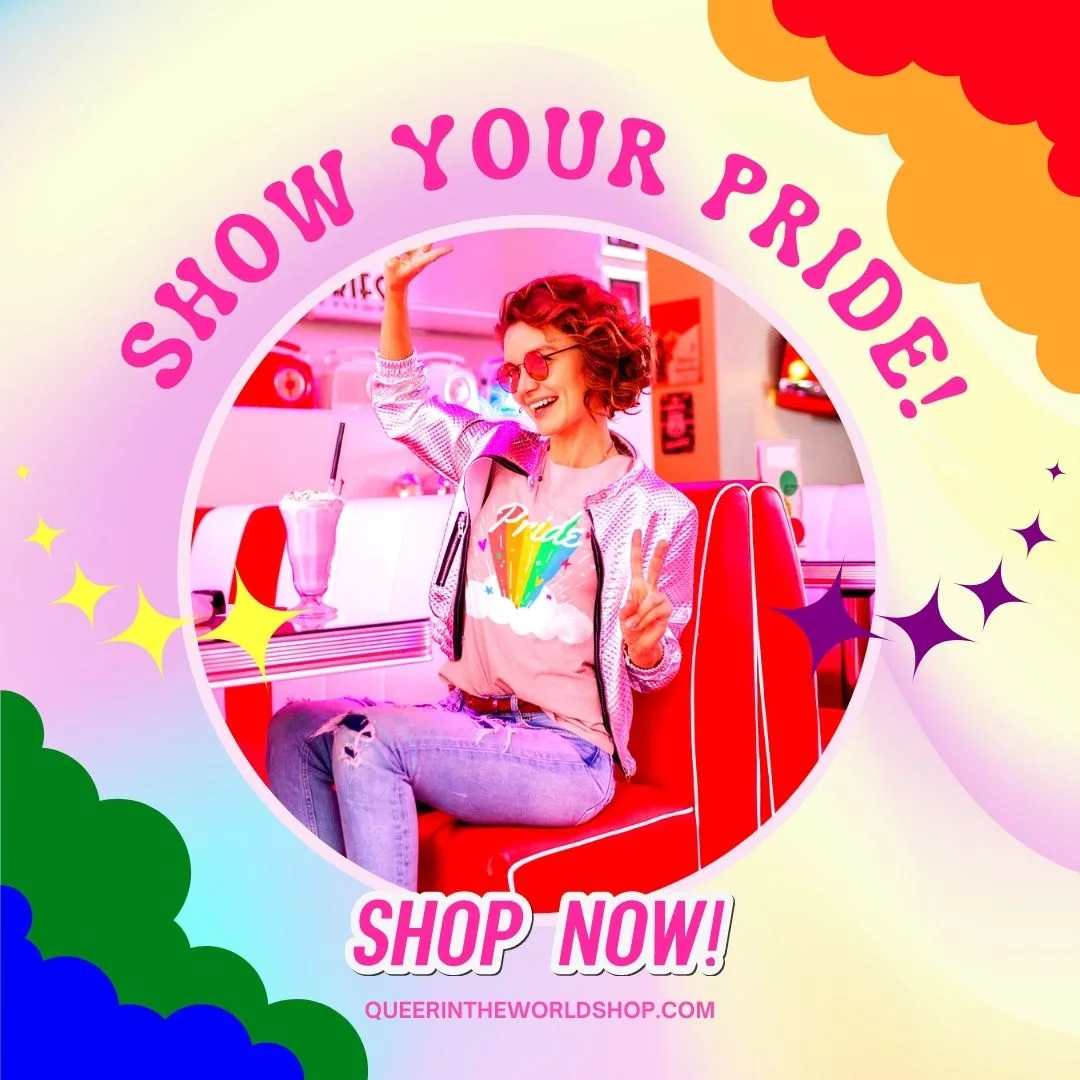 Cruising & Gay Saunas In Amman, Jordan
There are no gay-friendly saunas or bathhouses for males in Amman. There are a few sites that other gay visitors have visited and have described online, such as the AlPasha Turkish Bath and the Meridien Hotel Sauna, where they met other gay guys.
In terms of LGBT cruising in Amman, there are claims that homosexual males visit the historic Roman Amphitheater in Hashemiya Square at night. If you intend to cruise outdoors, you should act cautiously since this information has not been independently validated. You should keep your stuff secured in your hotel's safe and be watchful.
As a queer traveler visiting Gay Amman, it's important to keep in mind that being gay is illegal in this country. While visiting some of the known gay cruise spots may be an exciting prospect, it's important to remember that any same-sex activity is strictly prohibited. As such, we are choosing not to mention any here and do not recommend you try them unless you are with a trusted local (and even then, it isn't our recommendation).
We do not advise engaging in any illegal activity, including hooking up with locals or engaging in public cruising. If you do choose to use hook-up apps, it's important to use a VPN and avoid giving away any identifiable information until you're certain it's safe. We also advise against visiting bathhouses or engaging in any sexual activity in public places.
It goes without saying, though, that if you are out for fun, always practice safe sex and use protection to reduce the risk of contracting sexually transmitted infections. Queer public health campaigns are not a thing here – as you might imagine. It's crucial to respect local laws and customs regarding LGBTQ+ activities and to keep a low profile when it comes to queer activities.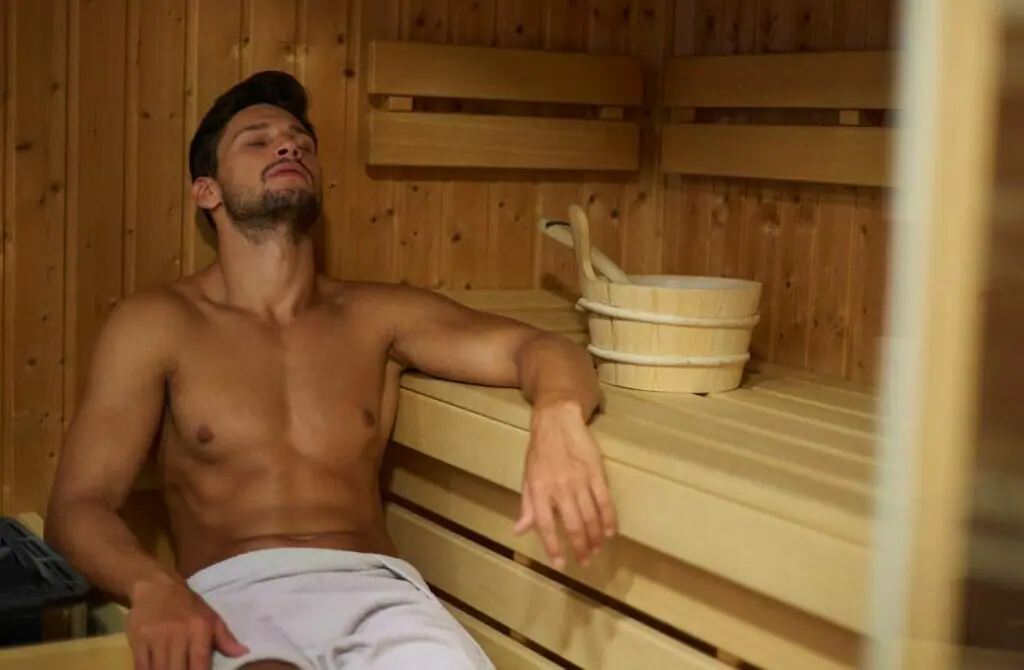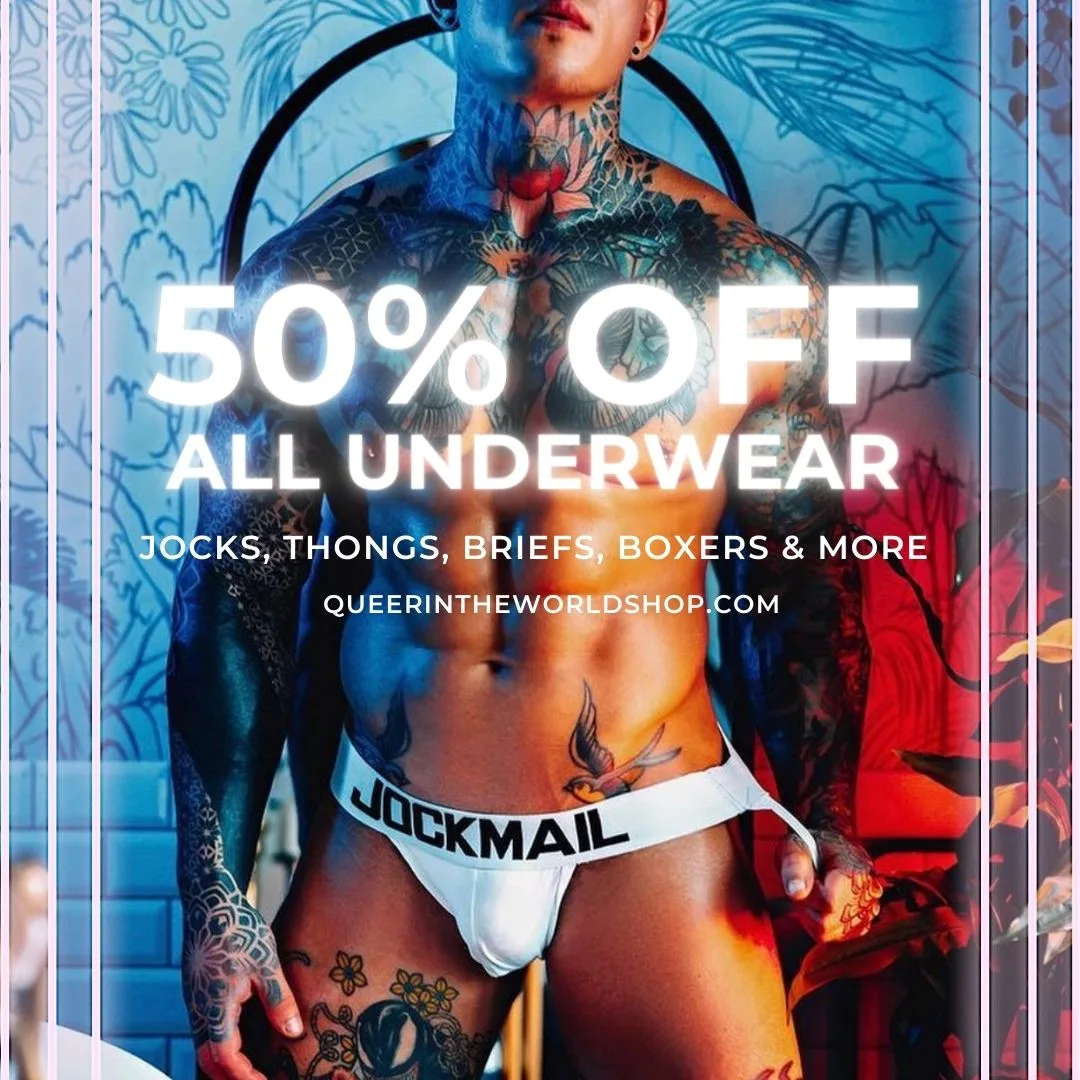 Gay Map Of Amman
Finding it hard to envisage where everything is in Amman? Hopefully, this queer-centric map helps where we have marked all the bars, clubs, parties, hotels, saunas, massages, and more will help you stay in the spot best suited to you!