The Biggest Little City in the Word, Reno, may have a hidden gay community, but that does not matter because if you know where to look, you will find your people. You can connect with the local gay clubs or hit famous gay-friendly nightlife attractions, knowing that if all else fails, a plethora of the queer community is ready to make your acquaintance online.
However, Reno is generally super friendly and welcoming to visitors as they love to show off their little desert town boarded by mountains to the rest of the world.
Regardless of who you are, Reno is a northwest city in Nevada, US, offering a range of tourist activities, from bustling nightlife and vibrant city attractions to outdoor activities at the beautiful Lake Tahoe with a majestic background of the desert.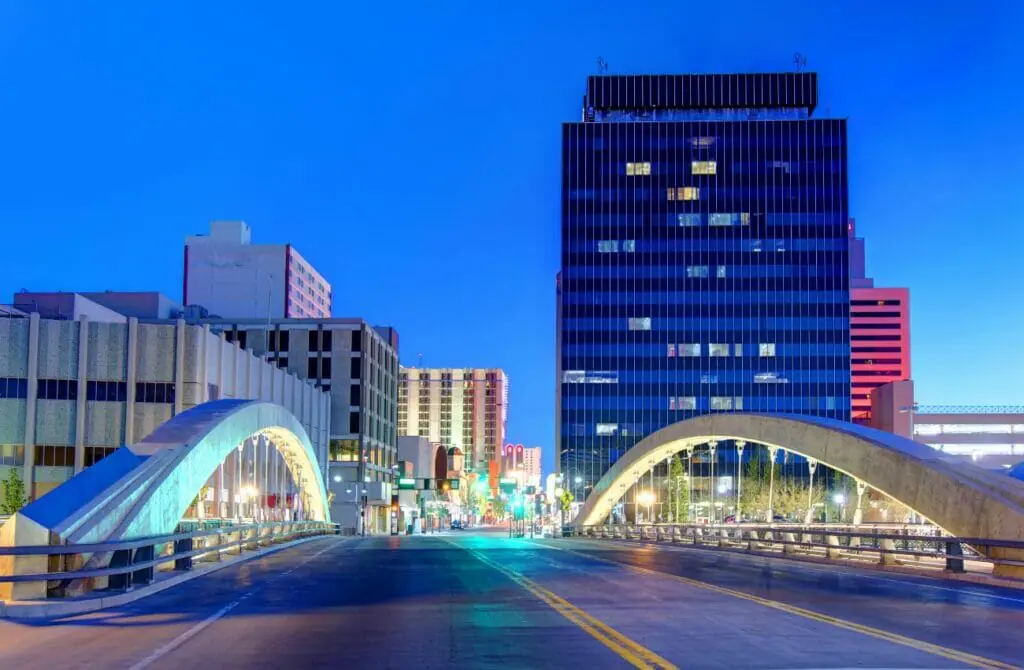 The Native Americans that resided in this area before the city was founded in 1850 were the Martis people, and when pioneers came here in search of gold and silver, the population boomed.
Being an integral part of the local gold rush, you can still find much of that history's mark on today's landscape, including the railroad station. However, as the decades passed, the city became known more for its tourists and casino history–hence the big little city name.
Today you can enjoy the rich history of gold mining in Nevada, travel through lively streets primed specifically for visitors like you and even try your luck at the casino, but always be careful not to spend all your money all at once!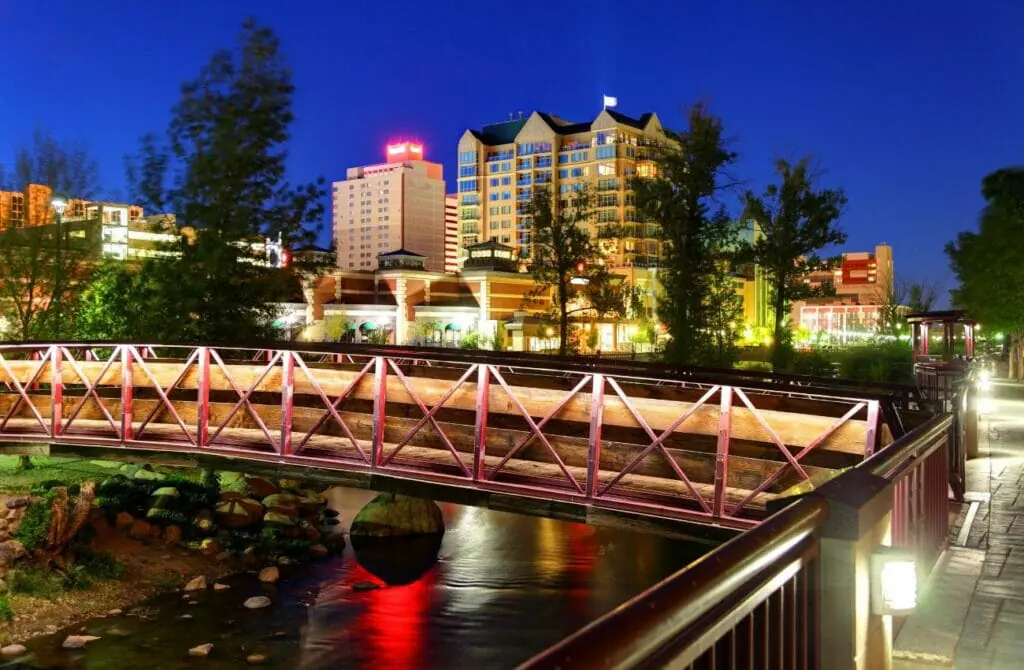 Attractions in Gay Reno, USA
As a new visitor to Gay Reno, there are plenty of things to see and do, regardless of your sexual orientation. One of the best ways to experience any new city is to visit some of its most iconic landmarks and attractions, including historical monuments, museums, and art galleries.
We also love gazing at architecture up close, exploring parks and gardens, sampling the local cuisine, visiting local markets, and attending cultural events such as festivals, concerts and shows.
Even as the out-and-proud queer we are, we still love to explore the city and its culture in the same way as everyone else. Doing so allows us to learn more about the city and its people and gain a deeper understanding of the local culture. As such, these are our favorite must-see attractions in Reno.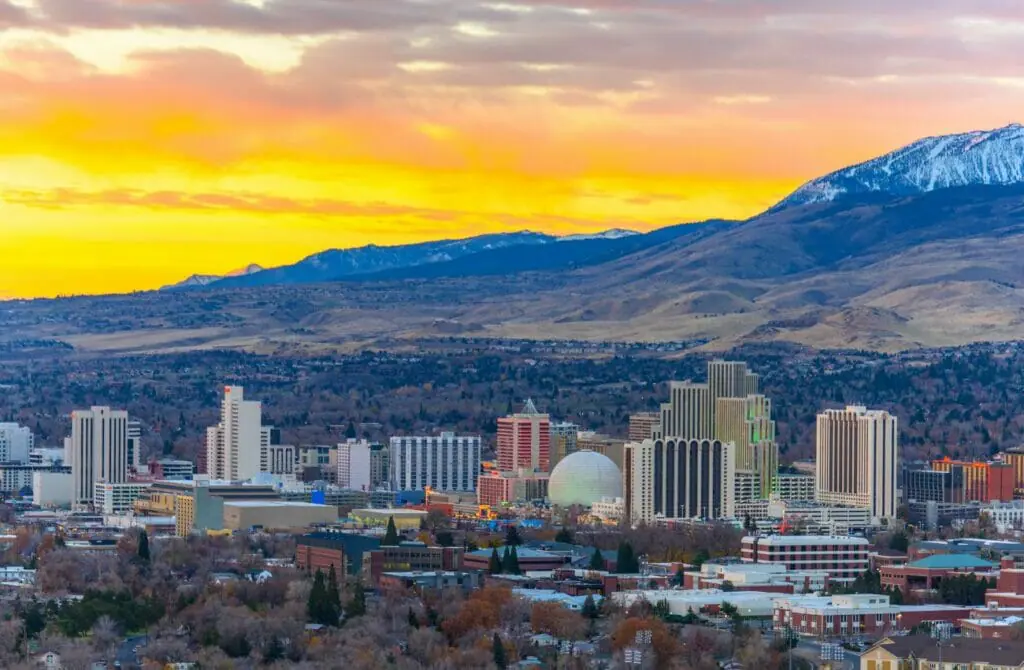 National Automobile Museum
The National Automobile Museum, founded in 1989, is recognized as one of America's Top Ten Automobile Museums. This is because it houses a sizeable historic car collection that was once the pride and joy of gaming pioneer and Harrah's Hotels and Casinos founder William Frisk Harrah.
With his passing, it was sold, but due to the local community's passion, it was donated by the purchaser to the community and is now a museum with over 175 cars. So today, anyone can enjoy a rich collection of classic cars and pay tribute to the memory of Bill.
Experience Raptors and Falconry in Reno
Suppose you want to try something new on holiday; look no further than Raptor Adventures as they take you on a close encounter with hawks, falcons, and owls.
First, you will learn about the biology, behavior and conversation of these birds of prey, and after a brief lecture, you will be helped by a licensed falconer to get up close and personal. Next, you will be fitted with a gauntlet and trained hawk on a short guided walk, bearing witness to the skill and abilities of these brilliant birds as they fly from perch to perch at the tour guide's command.
Mt. Rose – Ski Tahoe
During a Winter stay at Reno, many take to the nearby slopes at Mt. Rose and head to the famous ski resort. Here you can stay at the lodge and spend several days learning to ski or polish up old skills, with a range of slopes and lessons for all ages. If you don't have the time, you could stop by for an afternoon, have a late lunch at their various restaurants and then return to Reno as the sun goes down.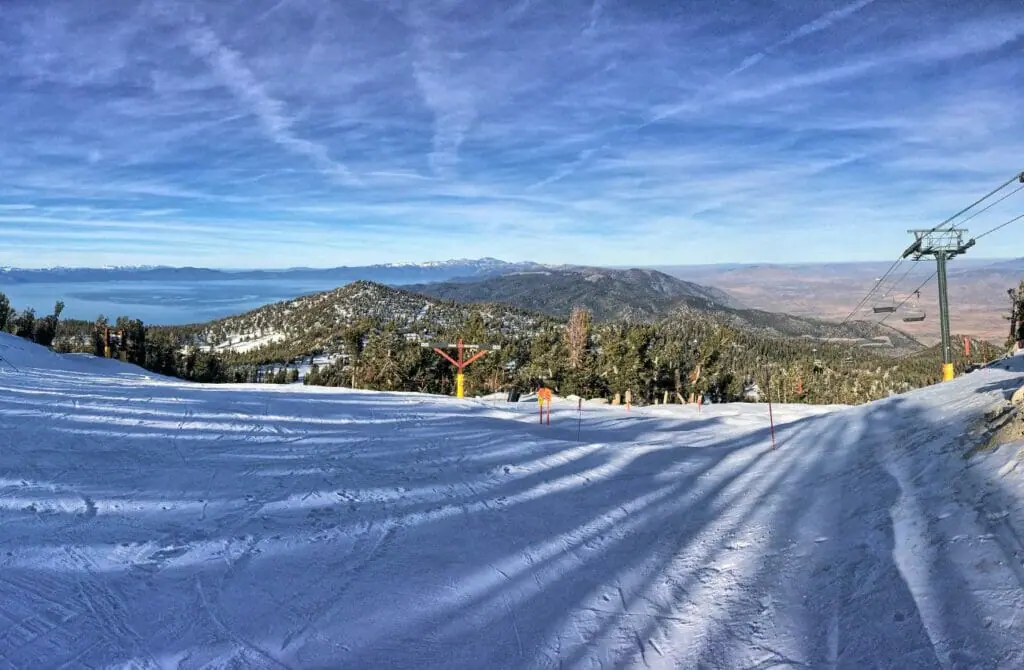 One of many casinos in Reno we highly recommend is the Peppermill Reno Resort, as it doesn't just provide an incredible accommodation experience but an expansive spa and salon and indoor pool with sundeck. However, what makes this truly a Reno experience is the massive casino that will take your gaming experience to the next level.
Imagine going for a pamper at the spa, crossing a short distance, and trying your luck at the games. No wonder many might come to Reno over Las Vegas; you get a little slice of the addictive thrill without the loud big city.
Nevada Museum of Art
The Nevada Museum of Art offers a slice of art history in Reno by playing host to a diverse range of exhibits, collections, and classes. It is particularly famous for its Center for Art + Environment program exploring the interaction between people and their surroundings.
In addition, they are always looking to connect visitors to their art collection and provide rotating exhibits and private tours for those who want to learn more about the mystique of their group. You may even be in town when they have a class or an artist's public talk, so a visit should be on the table.
A great way to become acquainted with a place is to take a tour with a local expert giving you an overview of what makes this city tick. This is very much the case with the Downtown Reno Tour, which will take you on a 30 – 45 minute ride through the best attractions in Downtown Reno.
You will see famous sights like the Reno Strip, iconic murals, Truckee River and Riverwalk, Wingfield Park, and the Reno Arches. The tour is packed with fun information about the history of Reno and the Truckee River with a small group, so you can ask what you need and ask to make stops along the way.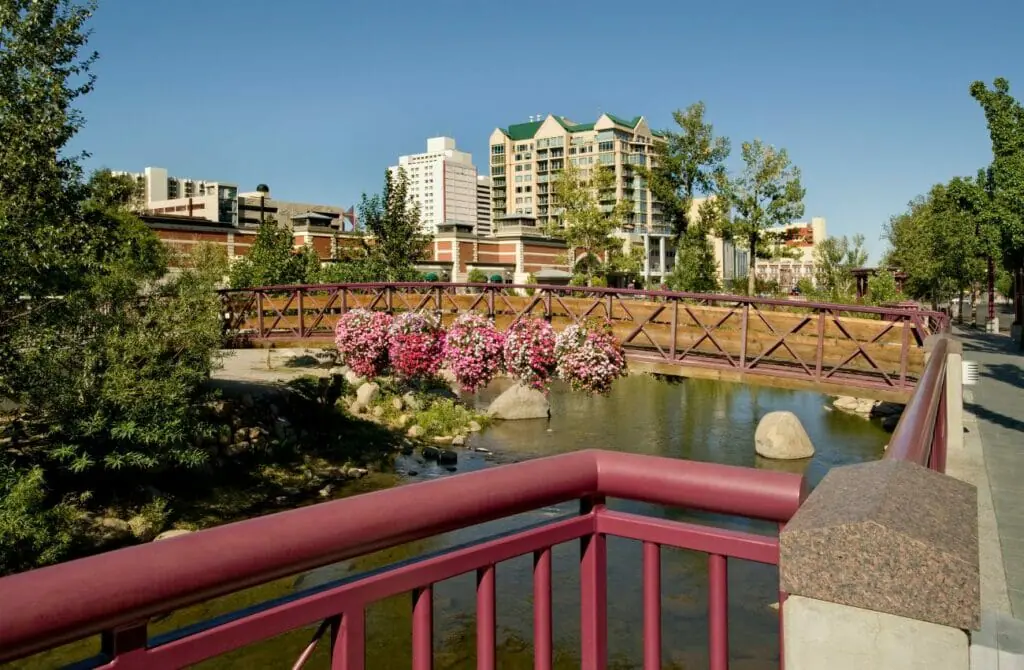 The Discovery – Terry Lee Wells Nevada Discovery
The Discovery Museum is an excellent place for those curious who want to connect with scientific inquiry and innovation. You will get your hands dirty as you explore hands-on galleries, exhibitions and educational programs, with further opportunities to communicate with Reno's scientific community through public talks and night classes. Although this might seem like a children's museum, it has become a hub for fun and science for all ages.
Rancho San Rafael Regional Park
Rancho San Rafael Regional Park offers an endless array of activities for visitors to keep active and smell the sweet smell of nature outside of Reno. You can go hiking or stroll through the landscape of forests, short desert tundra, easy hills and lakeside walks.
Take a picnic and lounge in the shade as you get great views of wildlife or hot air balloons rising on a fine day –maybe you could also give that ago after your feast? But it isn't just nature that is here to behold, as the park holds historical ties to the early days of Chinese railroad workers and the gold rush in the 19th century.
Greater Nevada Field
If you are visiting Reno from outside America, you must catch a baseball game. Reno is home to the Greater Nevada Field Stadium playing hosts many sports events, including baseball, with a capacity of 10,000 spectators. If you visit during an off-season, you can contact the local Bugsy's Club to get exclusive views of the stadium and even an excellent feed to make this more than just a little pop-in, pop-out tour.
The Reno Arch is an iconic nonlight sign welcoming visitors into her commercial area, reflecting the bright lights and flair of similar signs in Las Vegas. The first arch was erected in 1926, and this current one replaced the former in 1987 with the city's motto, The Biggest Little City in the World, proudly displayed under their city name. Here you can get some great photos day and night, but when the lights turn on, and the nightlife comes alive, it stands out at its best.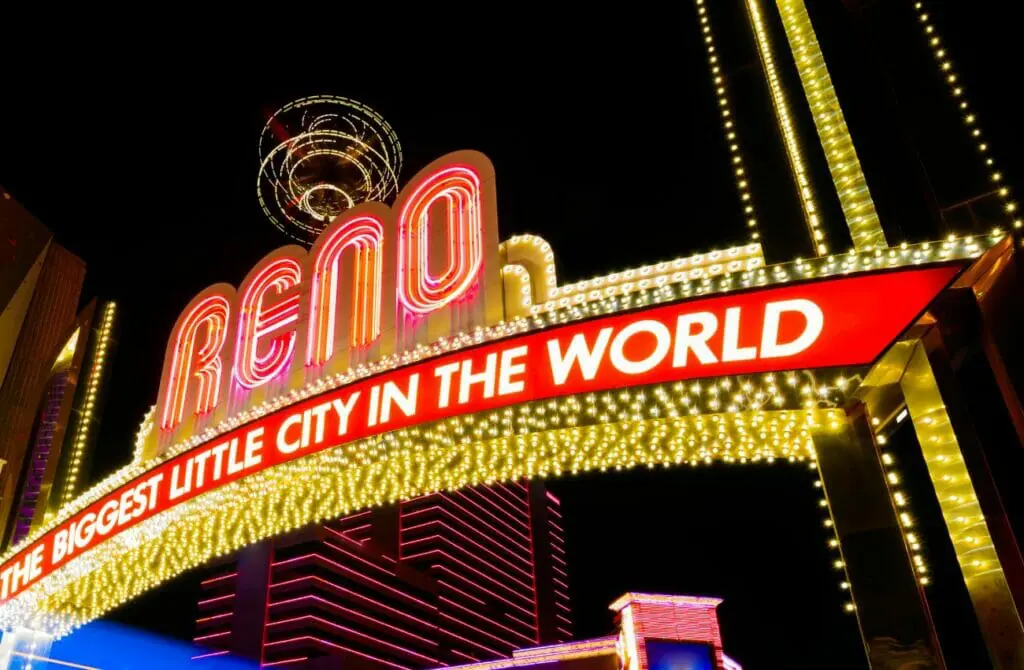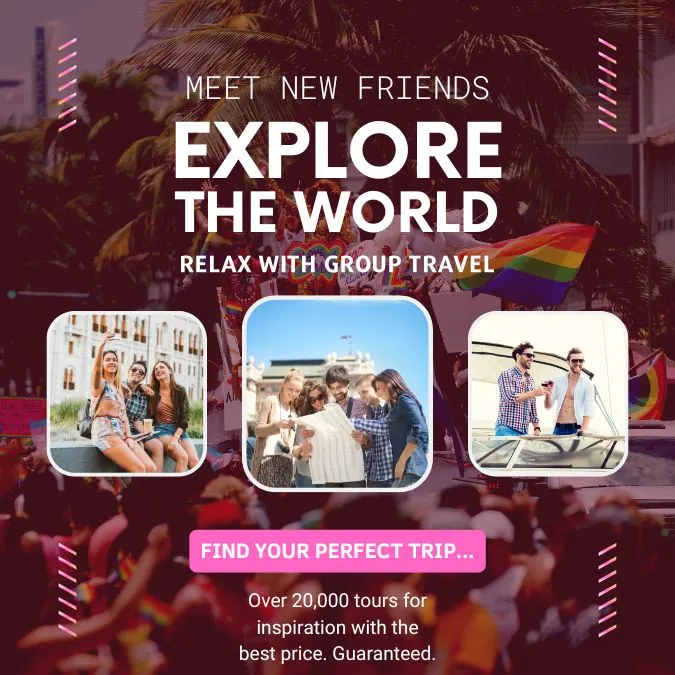 Gay-Friendly & Gay Hotels in Reno, USA
Being gay-friendly accommodation means that the establishment is welcoming and inclusive to guests who identify as LGBTQ+. This can include, but is not limited to, having policies and practices that demonstrate a commitment to creating a safe and inclusive environment for LGBTQ+ guests, such as non-discrimination policies and providing support and resources for LGBTQ+ travelers.
Some gay-friendly accommodations may also provide amenities specifically catering to the LGBTQ+ community, such as rainbow flags or literature about local LGBTQ+ events or resources. Furthermore, gay-friendly accommodations may be located in an area known for being LGBTQ+ friendly.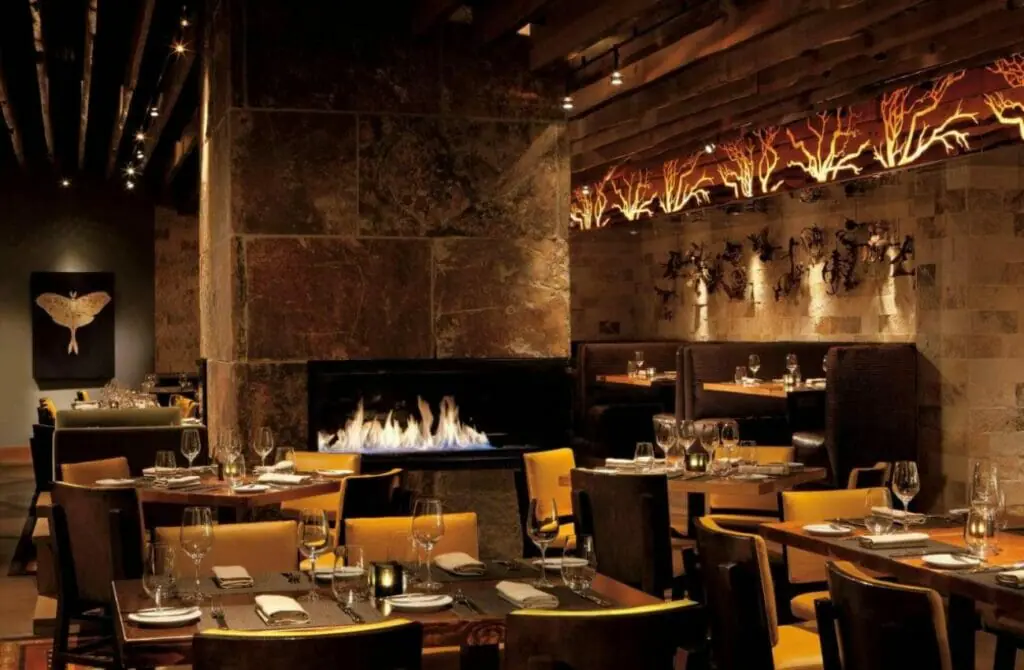 While Reno does not have any specifically gay hotels or resorts, these are the most fabulous and pro-actively gay-friendly hotels in Reno. There are also hundreds more hotel and hostel options in Reno if none suit your desired budget, facilities or area – but these are the best hotels according to other gay travelers and us.
Whatever your needs are, Reno has you covered.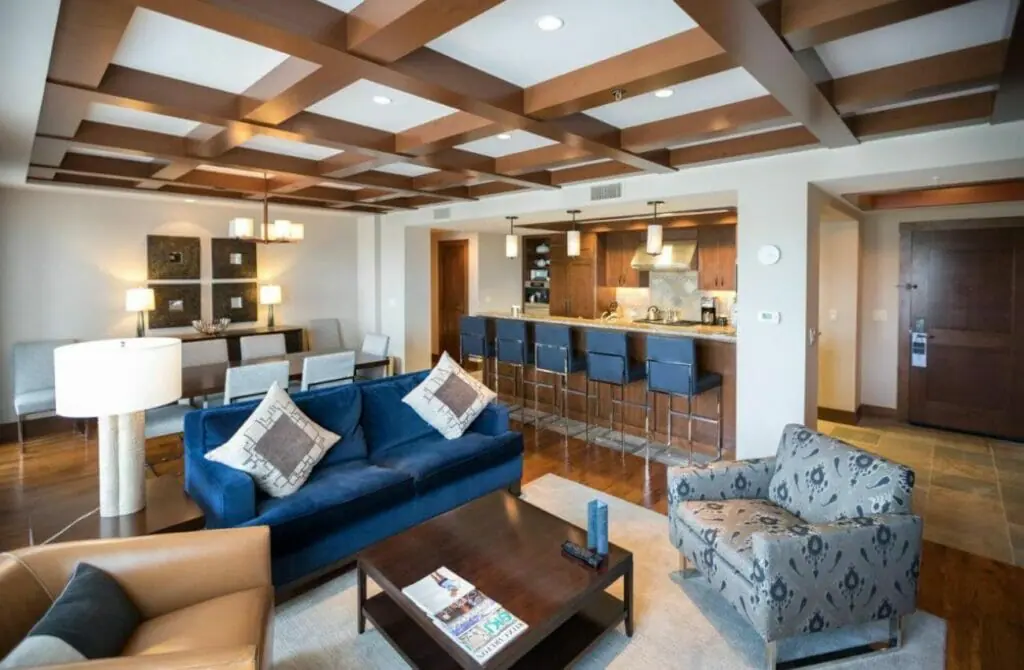 The Ritz-Carlton, Lake Tahoe ☆☆☆☆☆
The Ritz-Carlton is a five-star oasis located along the coast of Lake Tahoe, making it a perfect place for those drawn to Reno and this wild part of Nevada to try out sports and other activities.
For one, during Winter, the Big Spring Express Gondola is only a seven-minute drive away, and then a golf course is just a nine-minute drive. But even if she is a little away outside of Reno city, a forty-five-minute drive will be worth it for those who want to experience the height of luxury with proximity to the focal point of outdoor adventure outside her city walls.
Now let's talk about the hotel itself; the Ritz-Carlton provides a cozy getaway during the colder months with hot services for their guests, including a full-service spa, hot tub, and a gym. Not only that, by contrast, they have facilities for those warmer months, including a pool and access to a variety of outdoor activities to allow you to make the most of the sun.
But if these don't tell it, you can dine in luxury at their three on-site restaurants, one coffee shop and a bar to keep your bellies full for your stay. Plus, if you don't want to dine in the endless options of dining halls or outdoor spaces, you can order a meal for your room.
Here you can longe into your dressing gown and have the excellent hotel staff serve you at leisure. We are just scratching the surface of what makes The Ritz-Carlton so great, and you should check it out for yourself.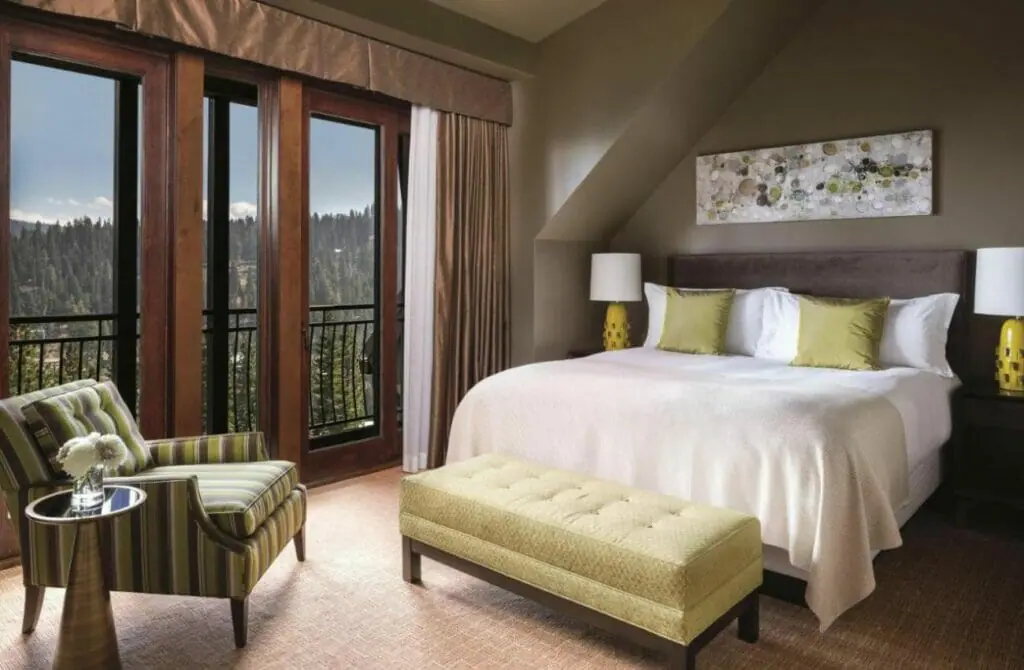 Renaissance Reno Downtown Hotel & Spa ☆☆☆☆
A top four-star hotel experience in the heart of Downtown Reno can be found at the Renaissance Reno, located in a lively neighborhood with easy access to the major attractions.
They are at your fingertips if you want to visit the National Automobile Museum or the Reno City Hall! However, heading inside, you will be glad that the hotel offers 186 comfortable rooms with excellent amenities to make your stay in Reno easy and convenient.
However, what makes this hotel shine the most is the share facilities, including the on-site restaurant servings delicious Mediterranean cuisine and even having a happy hour, so you don't have to ever be without food or drinks.
Guests can also enjoy a massage at their on-site spa, keep fit at their gym, or take a dip in the weather right in their outdoor pool. So with all these excellent services and a convenient location, you can't get better.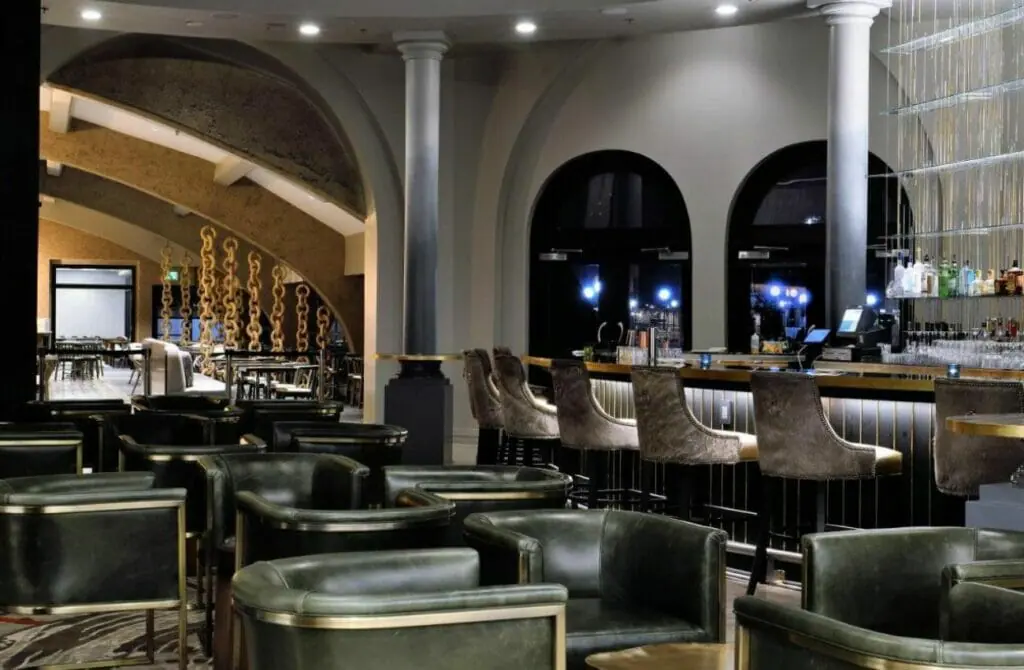 Silver Legacy Resort Casino at THE ROW ☆☆☆☆
The Silver Legacy, in its name and style, reflects Reno's culture and history of Reno, and thus, this four-star hotel in Downtown Reno is the option you need to find a perfect place to stay in the city. Not only do you have access to wondrous attractions like the Nevada Museum of Art and the Science Centre, but guests can also enjoy kayaking and rafting on the nearby waterways.
Heading inside, you will find the hotel boasts over fifty-five casino gaming tables, 1,000 slot machines, and a casino VIP room. However, if gambling isn't for you, they have a full-service spa and an incredible selection of five on-site restaurants, so you are never left with a dull time.
However, even with all of this and the indoor and outdoor pools, they don't fail to impress, with the private quarters holding to the same standard as the rest of the hotel.
So if you're in Reno for a chance to strike it big, the Silver Legacy could be the perfect choice.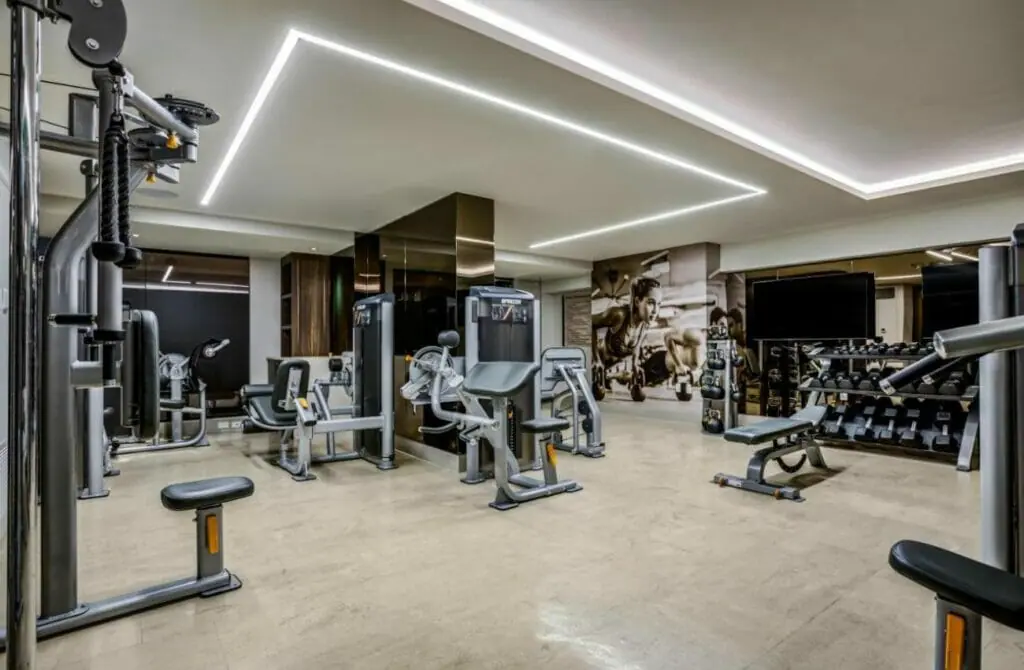 Aloft Reno-Tahoe International Airport ☆☆☆
Aloft Reno-Tahoe International Airport is a three-star hotel that is a perfect choice for accommodation if you don't want crazy extras like others on this list. Of course, you can still enjoy a splendid city location with short drives to significant landmarks like the stadium and various casinos. However, what makes this place unique is the modern, spacious and bright rooms with exceptional service.
You may have access to a gym and seasonal pool, but you can stay here knowing your room will have what you need for your holiday.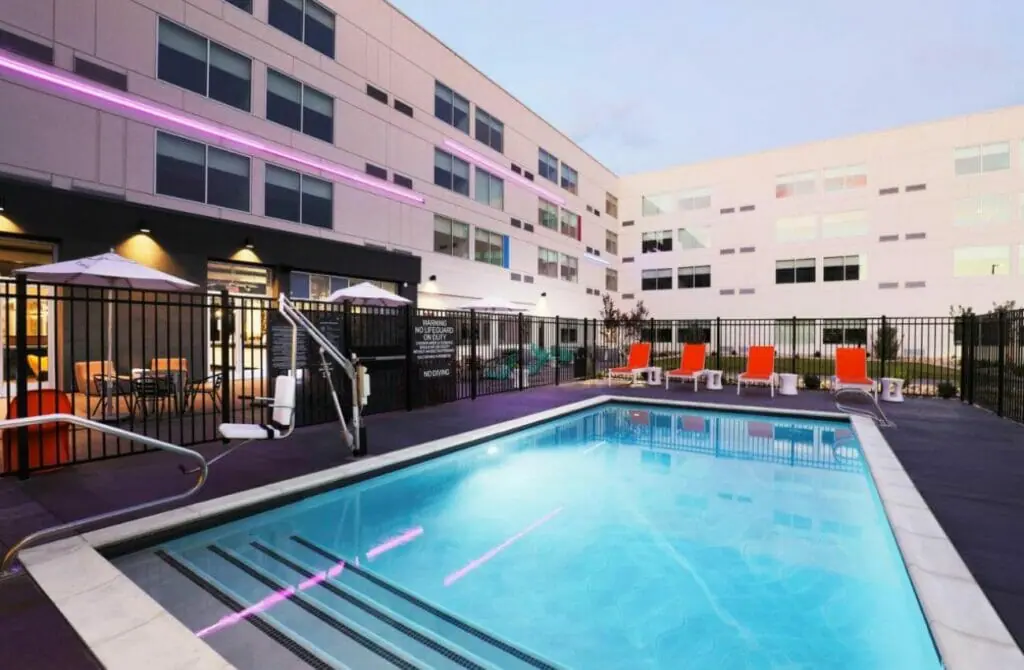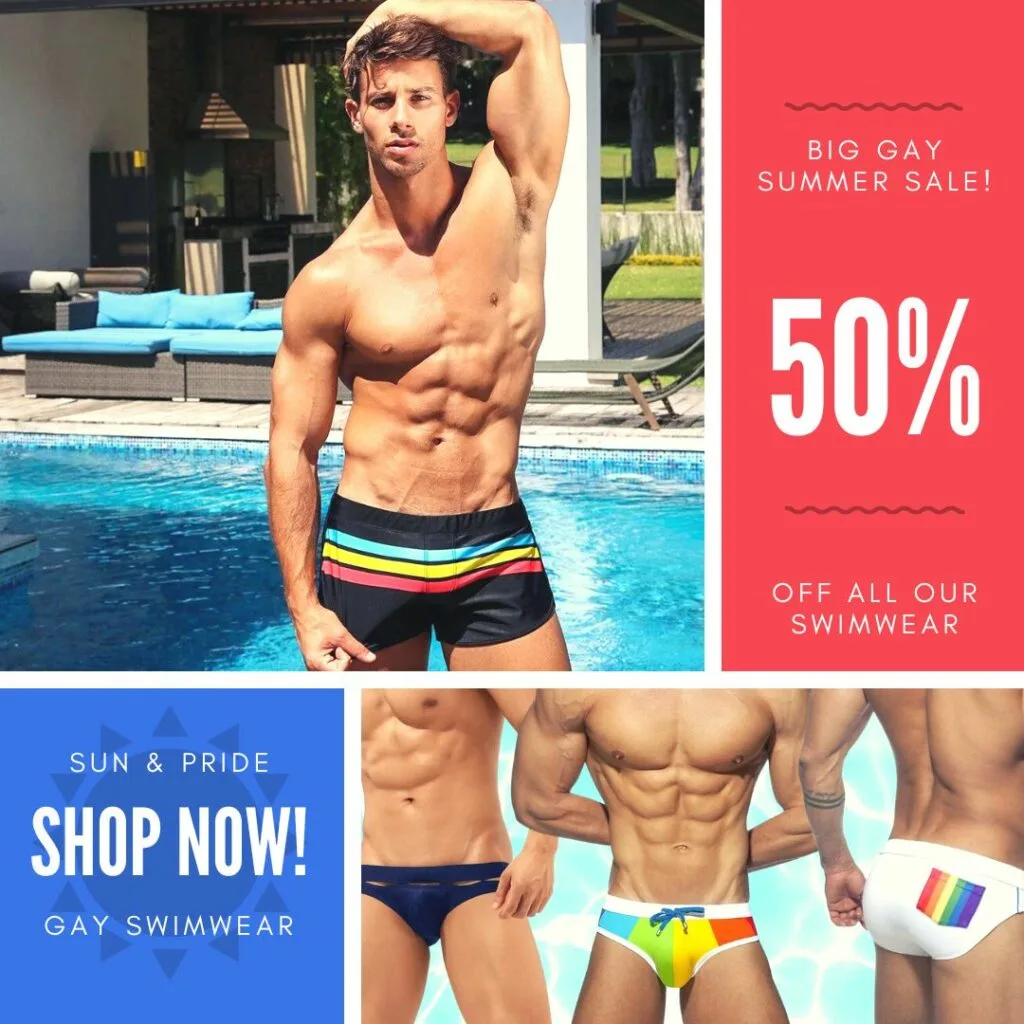 Gay Nightlife In Reno, USA
The nightlife in Reno is pumping with so many nightclubs, casinos and great bars to keep you entertained all night. You can find most of this activity downtown, where you'll find old favorites and modern marvels. So you cannot miss experiencing a slice of this when you make your gay visit to Reno.
Exploring the gay and gay-friendly nightlife in a new city can be one of the most exciting and rewarding experiences while traveling – and Gay Reno is no exception. Not only will you have the opportunity to meet new people and make friends, but you'll also get a taste of the local culture and learn more about the city's LGBTQ+ community.
Going out and experiencing the queer and queer-friendly nightlife in a new city can also be a great way to break out of your comfort zone and try new things. Whether dancing the night away at a gay club or mingling with locals at a gay-friendly bar, you'll have the chance to make memories and create lasting connections.
So, don't be afraid to leave your comfort zone and explore the gay and gay-friendly nightlife in Reno. You'll be glad you did!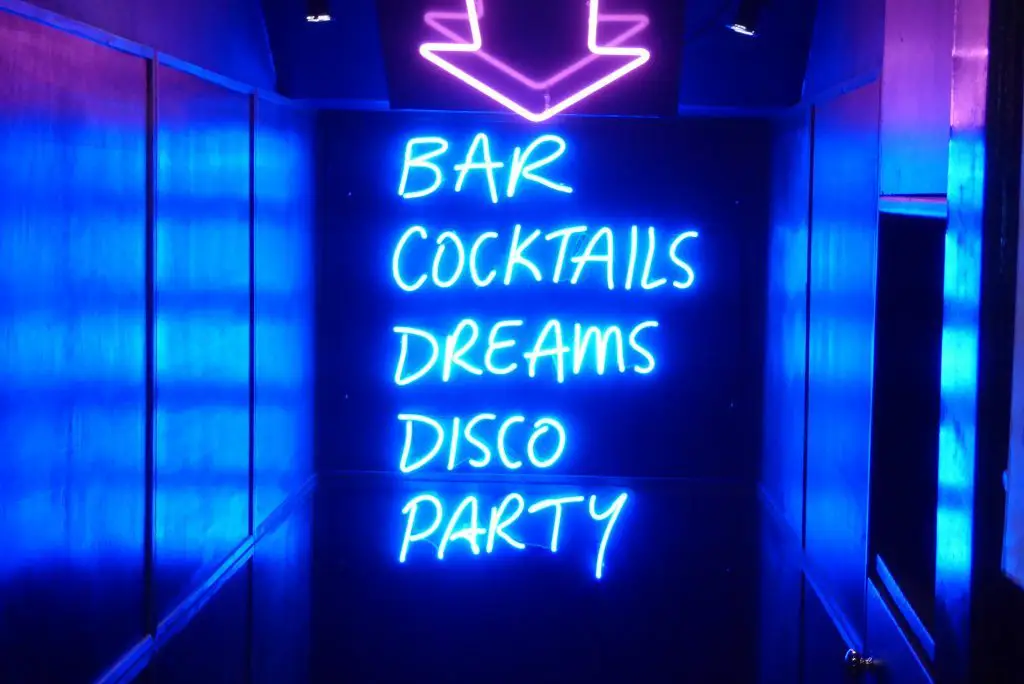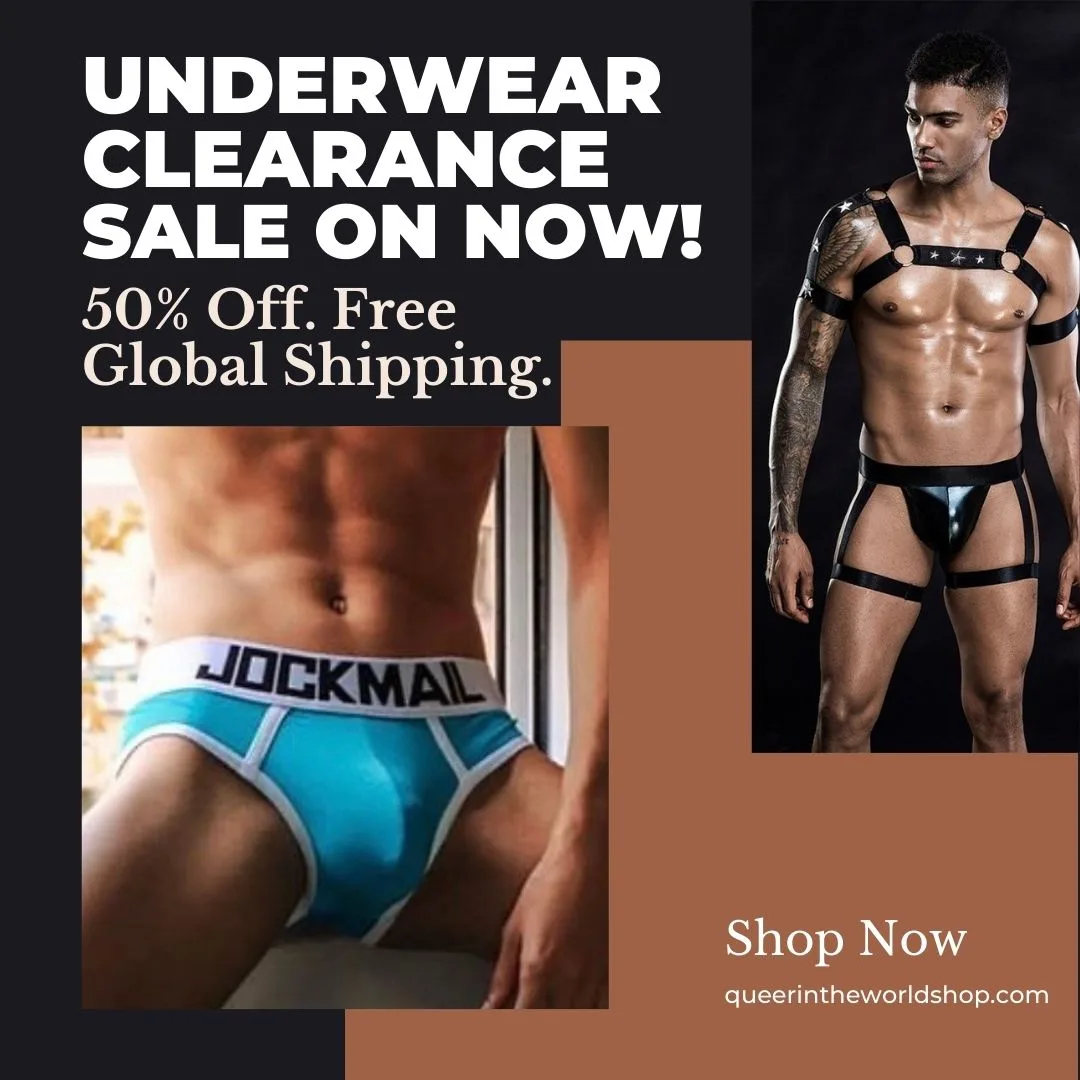 Gay Bars In Reno, USA
For another hearty gay pub experience, the local gay community adores their oldest queer establishment in town, Carl's – The Saloon'. We see a theme here that pub owners in Reno are huge Western fans, and why to blame them when the history of Nevada still plays a massive impact on the culture of this town today?
Carl's is a notable gay hangout spot because they have a great drink and plenty of space to get to grips with the gay community if you are not a local. You can lounge inside and out, making it a perfect dining choice come early evening when you can appreciate a clear day.
The Five Star Saloon is one of several gay bars in Reno that is one of the old boys in operation since 1971. It has earnt many awards over the years, including being voted the Best Gay Hangout in Northern Nevada by the Reno News & Review for nine years running. But this isn't any surprise for the locals as the bar provides a safe space for people to meet fellow queer people while also enjoying a drink.
Also, in true Nevadan fashion, it will feel like you've stepped into a modern western saloon with modern clubbing equipment, karaoke, and DJs in their packed dancehall on the weekends. So you can have the best of both worlds with a traditional pub setting to drink and dine and then hit the dancefloor when you feel loose enough to give the cage a spin.
You will have a brilliant time even if you just come for the rainbow flag hanging above the bar.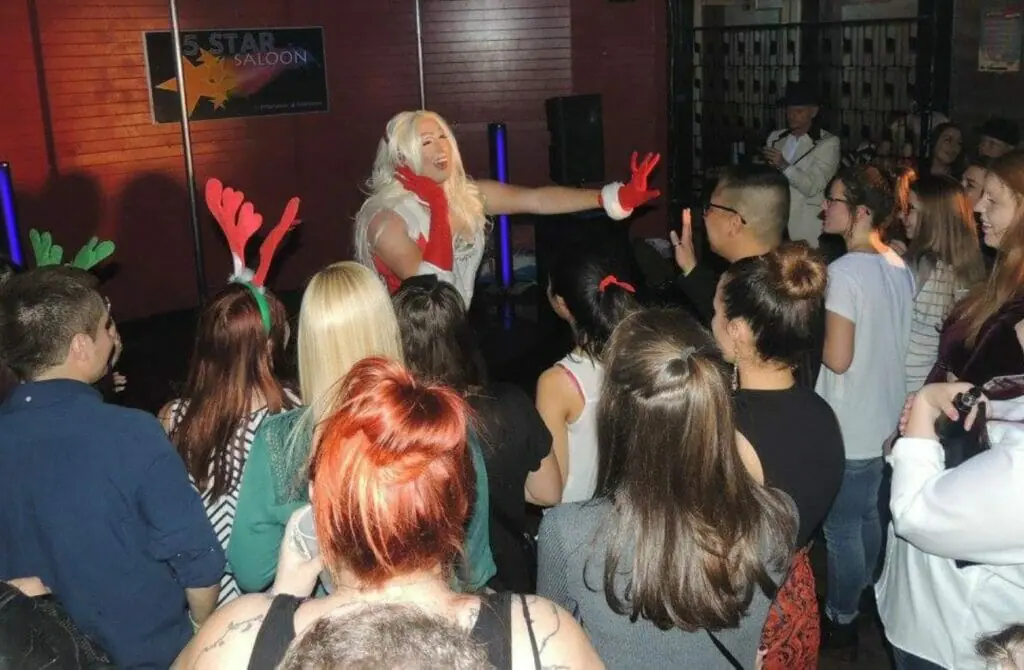 Gay Parties & Gay Clubs In Reno, USA
Reno is home to their local pride club 'Our Center', which has a great website with rich resources to connect well with the gay community. You can find out what events are happening during your visit to Reno, and this could be your starting point in getting to know the best places to make the most of your queer holiday.
Reno is home to the annual Northern Nevada Pride. It has had a few difficult years with funding but is now back (as of 2023). This is the best time to visit Reno when the voice of the gay community is at its loudest. Each day and night will be filled with fun rainbow-filled activities and events, with something for everybody. Whether you want to join a parade down the main street or watch a drag show, they will have these and more.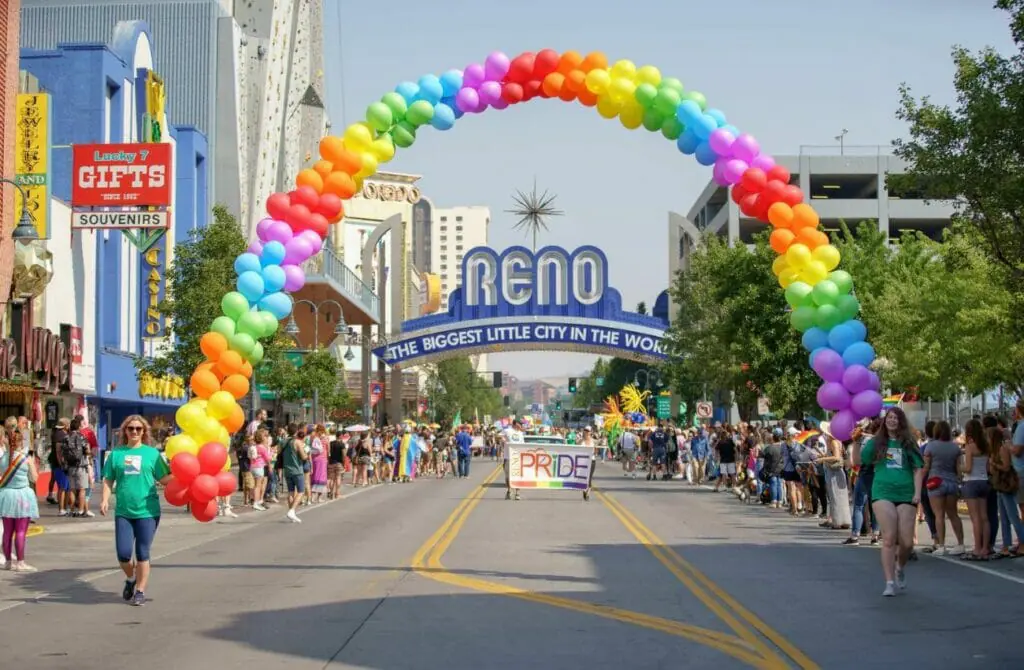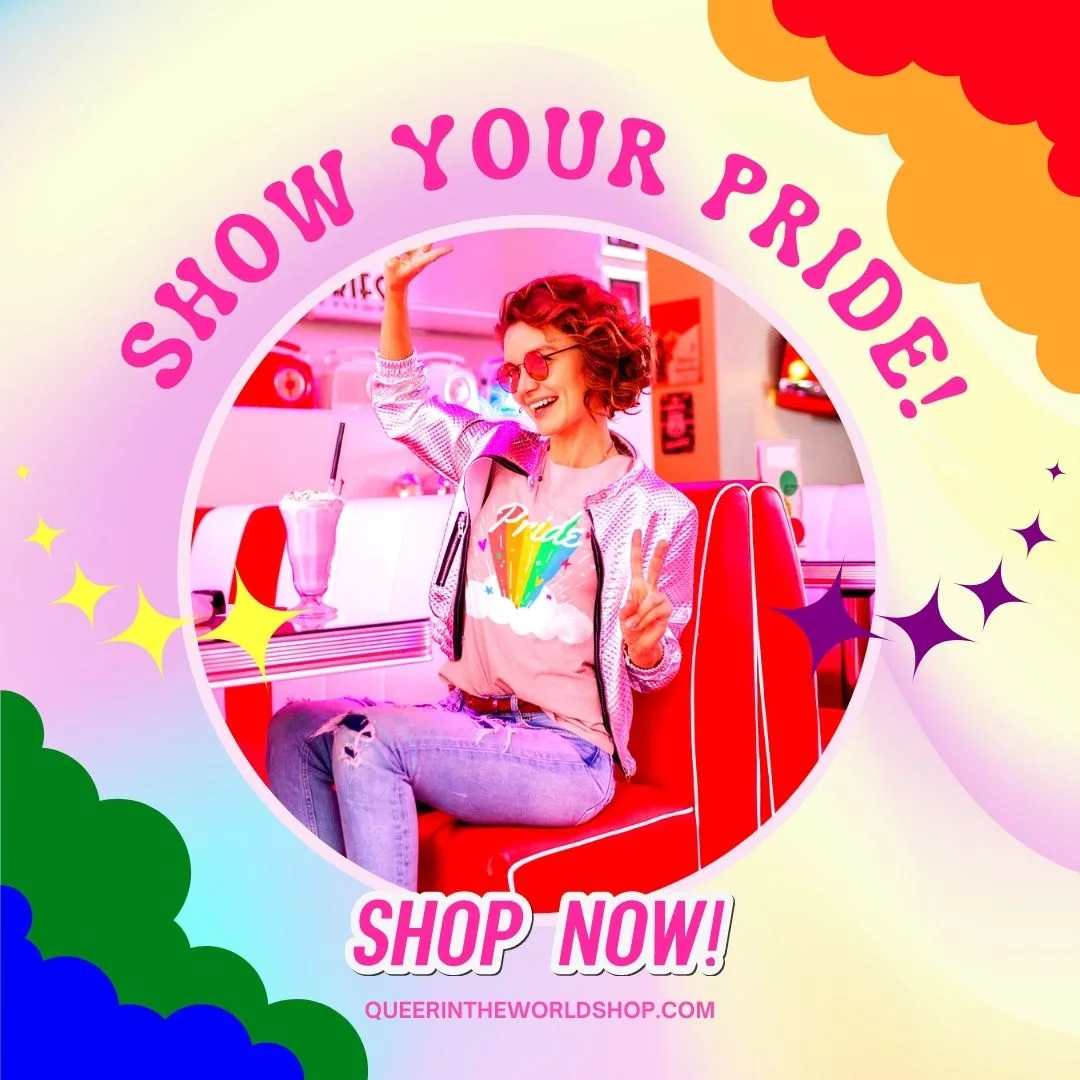 Gay-Friendly Nightlife In Reno, USA
Another top gay-friendly venue is the nightclub Tonic Lounge which has a lively and energetic vibe with a high-quality sound system and great entertainment. The highlight of this place is the staff and the drinks, as they make you feel well tended to and complete a brilliant night on the town.
Moreover, the space has been cleverly designed with screens running along the roof above the bar, allowing unique effects and animations to play with the strobe lights adding to different experiences on any one night. Plus, they have a TV that may be playing a classic horror if you are there during the spooky season, so watch out for that!
Shooters Saloon is a popular dive bar known for being the perfect hang-out spot with friends while listening to music and enjoying a cold beer and other delicious drinks. You can feel like a real cowboy just coming out of the desert looking for a place to refresh before you wrangle up some criminals.
What makes this a real character in Reno is the quirky humor of this place you will meet when you walk through their doors; whether that be the sign jokes or the wild shooter's logo, it promises you will be in for a good time. Inside is a standard bar experience with rustic decor and decor or cowboy memorabilia; however, they also have photos of patrons having incredible moments at the saloon over the years.
One thing is for sure: the staff and owners are passionate about this place and love sharing their experiences with past clients with the rest of the world. So for a great time in the heart of Reno, you can't go wrong with shooters!
One of Midtown Reno's favorite gay-friendly cocktail lounges is The Merson, a venue with deliciously crafted cocktails in a mid-century style setting with even an outdoor patio. The lounging experience is cozy regardless of the time of year, with their firepit and plenty of heaters around the venue. What makes this better is they aren't just open early evenings on the weekends, allowing you to have a winddown drink in a quiet space after a rowdy night.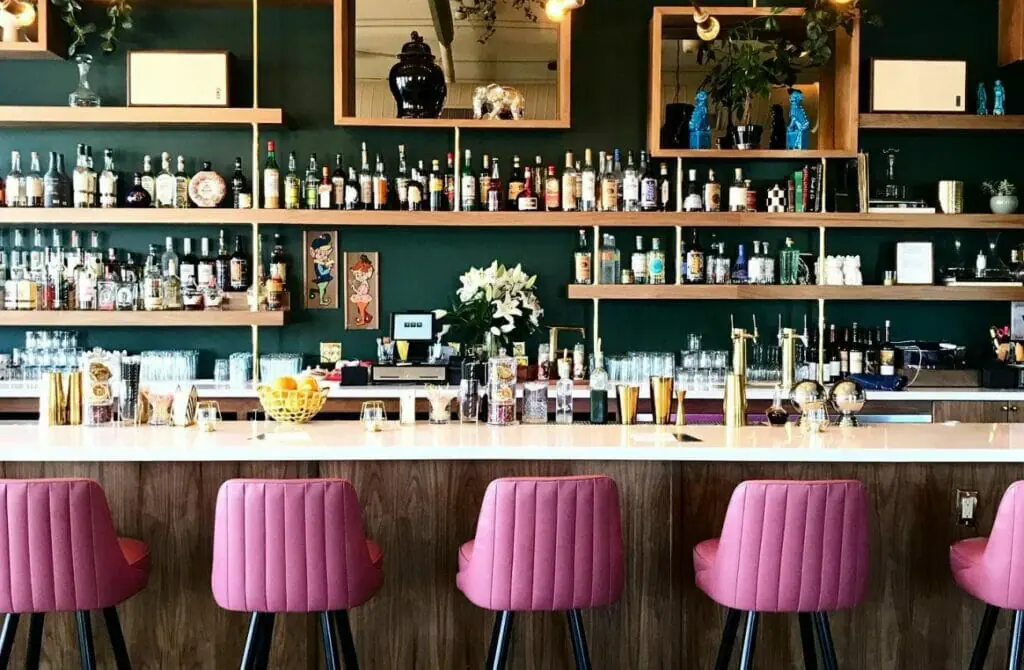 Cruising & Gay Saunas In Reno, USA
The cruising scene isn't massive compared to other cities. However, gay cruisers will be glad to know that Reno has Steves's Bathhouse, which provides such solace to meet fellow gay men and gay women for some fun. However, for something more traditional, you may have to try out the gay bars in town to find a partner or a dating app and agree to meet at a safe location from there.
When traveling to a new city, it can be exciting to head out for more than just a stiff drink. One aspect of the Gay Reno scene that many queer men enjoy is visiting gay saunas and cruising clubs.
Sure, the sauna culture in Reno is not as hedonistic as in Amsterdam, Barcelona or Berlin, but these venues still offer a chance to meet new people, socialize, and engage in sexual activity – without resorting to gay hookup apps. However, it's important to remember that these venues can vary greatly in terms of atmosphere, clientele, and rules, so preparing yourself before visiting is a good idea.
If you are apprehensive, we advise studying our guide to visiting a gay bathhouse for the first time, which should help set your mind at ease and always practice safe sex.
Additionally, it's important to be aware of and respect local laws and customs regarding gay venues and sexual activity. With a little planning and an open mind, visiting gay saunas and cruising clubs can be a fun and exciting part of your gay Reno travel itinerary.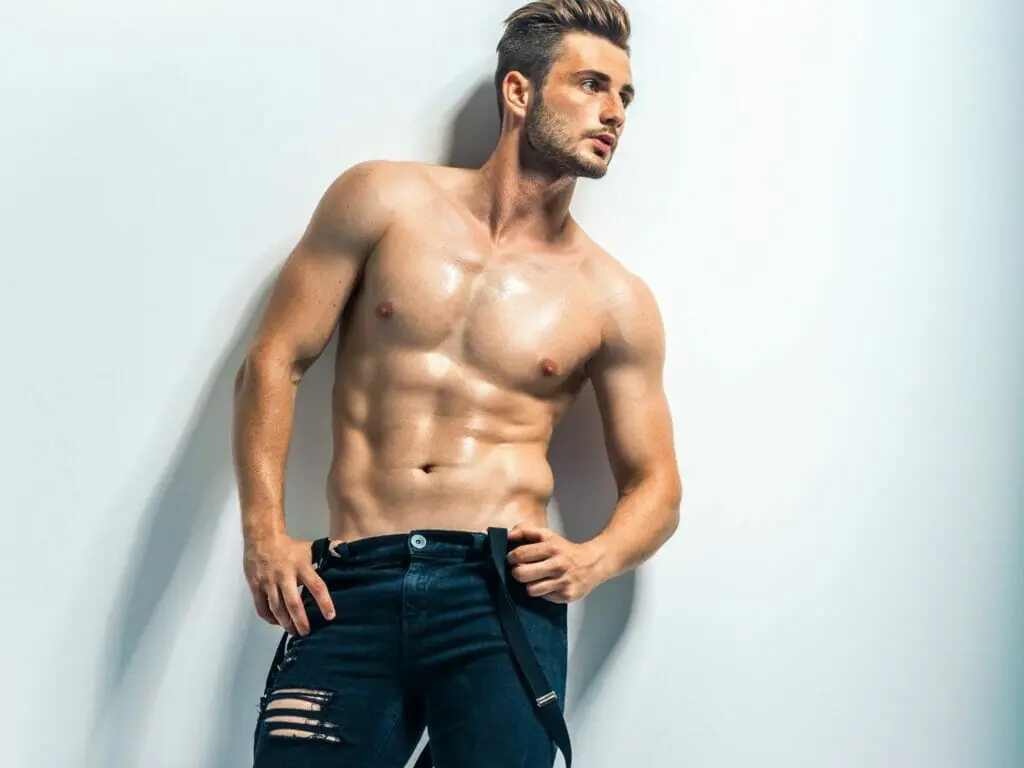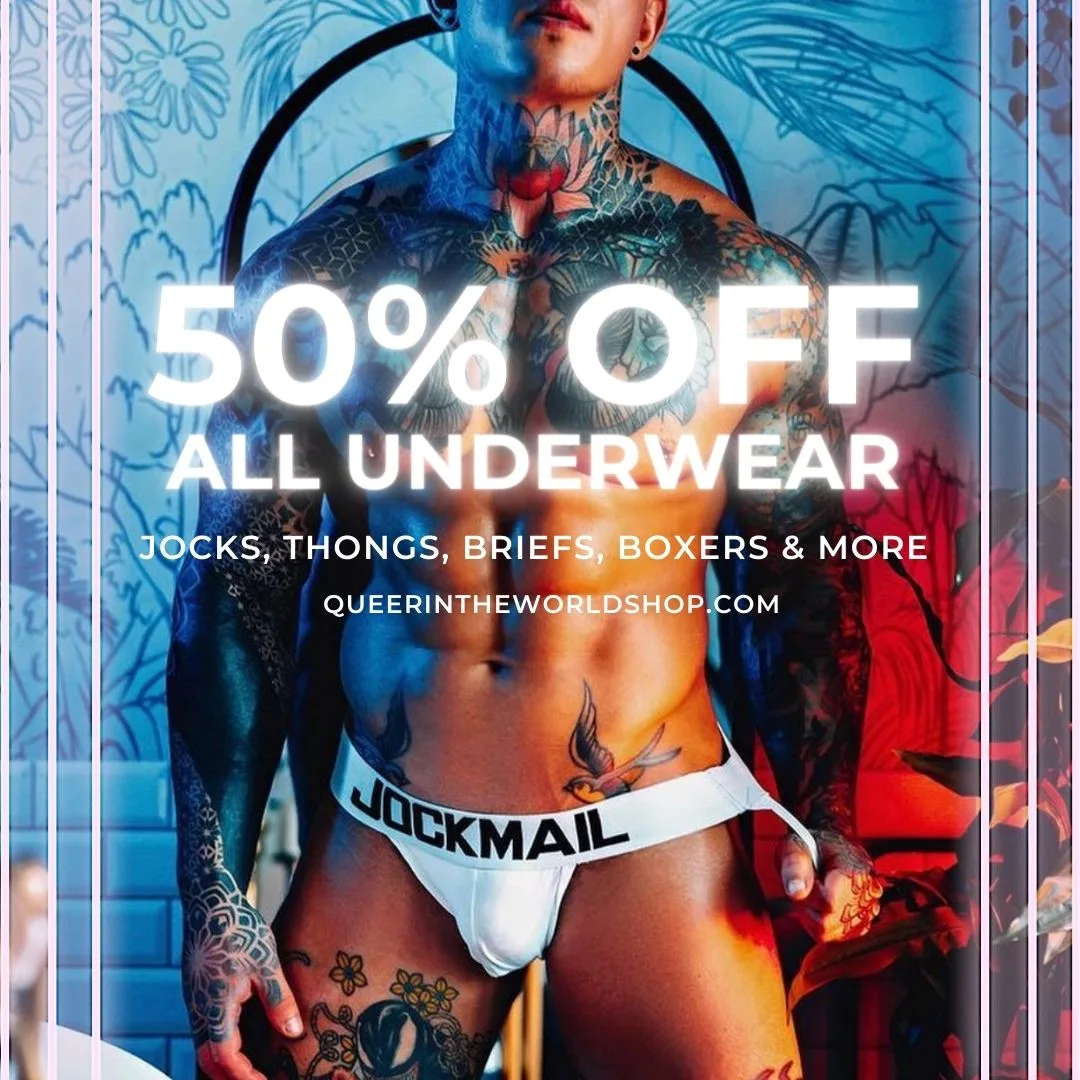 Gay Saunas In Reno, USA
Steve's Bathhouse has been a safe place for gay men and women to meet since 1962. They are the oldest bathhouse in the country and ensure their services are up to standard and everyone has a safe place to be who they are. This bathhouse, in particular, promotes safe sex, so if you do the deed, you might as well do it somewhere with the proper facilities.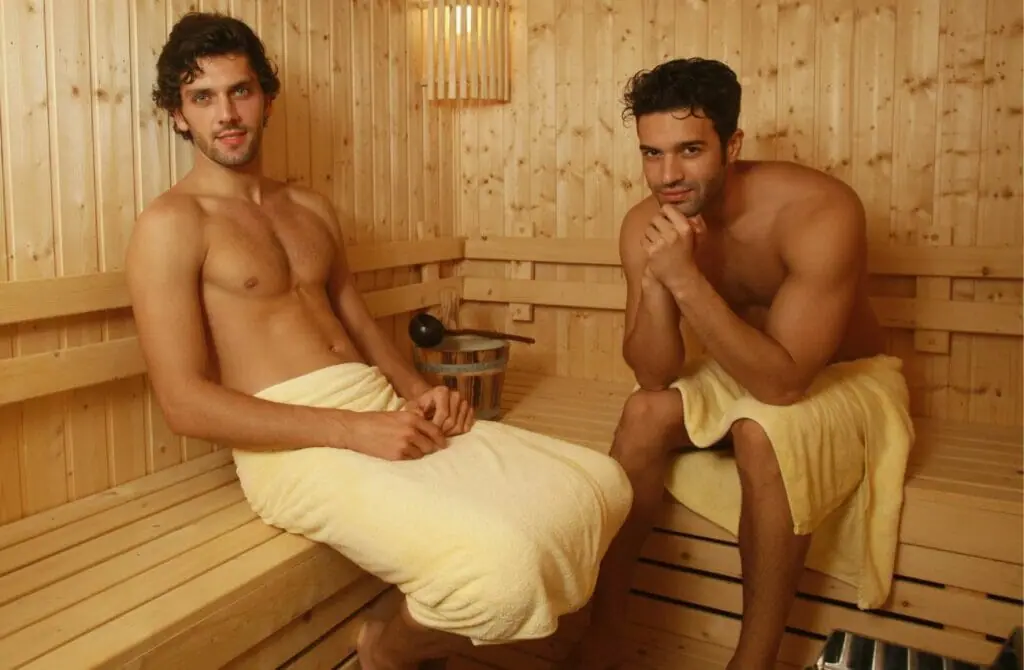 Gay Map Of Reno
Finding it hard to envisage where everything is in Reno? Hopefully, this queer-centric map helps where we have marked all the bars, clubs, parties, hotels, saunas, massages, and more will help you stay in the spot best suited to you!