Gay Faro, the capital of the Algarve region in Portugal, is a charming coastal city with a rich cultural heritage. This quiet gay gem has been discrete for far too long. Portugal has a progressive climb in relation to LGBT rights – regardless of the reputation of western Europe, – and so gay travelers can be at ease when visiting.
The gay scene in the Algarve region may be small, but to underestimate is a mistake. The gay clubs are super friendly, which gives you an amazing time.
To add to the mix, Faro has a historic charm and a well-conserved natural ambiance that will take your stressors off of you. There are various day trips to these sights and its proximity to the coasts means you get to explore the beautiful beach.
You are unlikely to have a terrible experience here whether you spend a day or 14, gay Faro will leave you wanting more and it will not stop giving!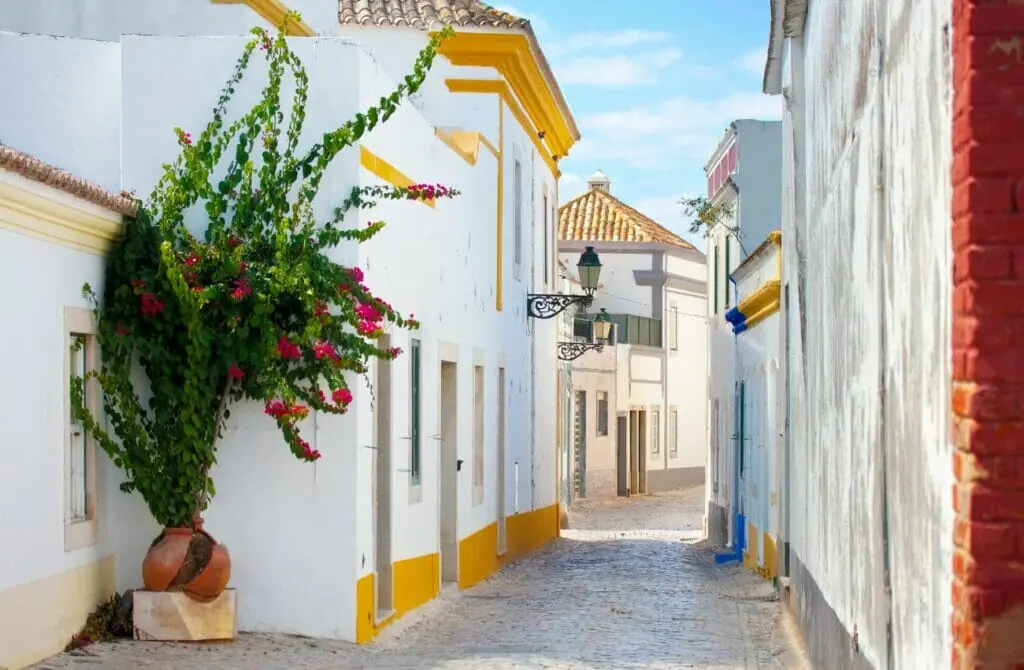 In this article we will cover...
Top Attractions in Faro, Portugal
This municipal city has attractions that highlight the beauty and awe of the Algarve region of Portugal. Here are the top picks.
Cidade Velha
Cidade Velha, also known as Santa Maria, is a small town located in the municipality of Faro in the Algarve region of Portugal. Despite its small size, Cidade Velha is a hidden gem that offers a unique blend of history, culture, and natural beauty.
Cidade Velha has its historical center, which has been designated as a national monument. The town is home to several well-preserved buildings, including the church of Nossa Senhora da Conceição and the castle of Santa Maria, both of which date back to the 16th century.
These structures, along with the narrow, winding streets and charming squares, create a charming and authentic atmosphere that is hard to find in other parts of Portugal.
Cidade Velha is also known for its natural beauty. The town is surrounded by pristine beaches and crystal-clear waters, making it a popular destination for beachgoers and water sports enthusiasts. You can enjoy activities such as swimming, sunbathing, and fishing, or simply relax and soak up the sun.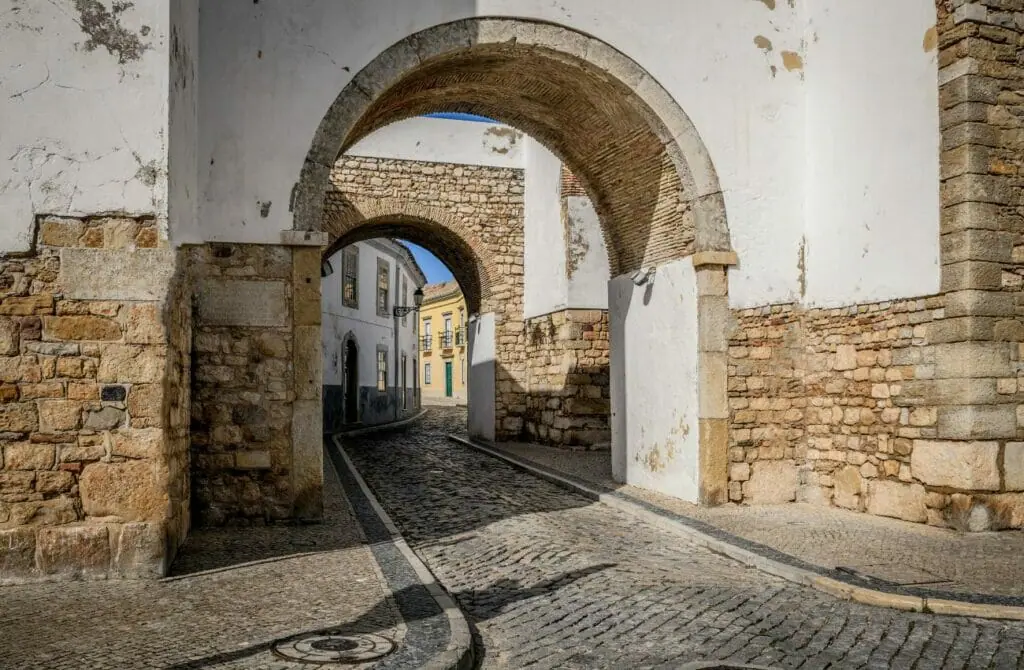 The Faro Jewish Heritage Centre
The Faro Jewish Heritage Centre is a unique tourist attraction that showcases the rich history and cultural heritage of the Jewish community in Faro, Portugal. The center is in the historic old town of Faro and is housed in a beautifully restored 17th-century synagogue. Visitors to the center can learn about the history of the Jewish community in Faro, from its origins in the 15th century to the present day.
The Faro Jewish Heritage Centre has exhibitions, which showcase the cultural and religious heritage of the Jewish community in Faro. You can see a variety of artifacts, including historic Torah scrolls, manuscripts, and other religious objects.
There are also interactive exhibits that allow visitors to learn more about Jewish life and customs, such as the traditional Jewish wedding ceremony, the Jewish dietary laws, and the importance of the Hebrew language.
The Faro Jewish Heritage Centre also hosts a variety of cultural events and activities, such as music concerts, film screenings, and lectures. These events provide an opportunity for you to experience the vibrant cultural heritage of the Jewish community in Faro.
The Cathedral of Faro, also known as the Sé de Faro was originally built in the 12th century and has undergone various renovations and restorations over the centuries.
One of the most striking features of the Cathedral of Faro is its beautiful Gothic architecture. The cathedral's tall spires and intricate stained glass windows make it a truly breathtaking sight. You can also explore the cathedral's extensive history by visiting its small museum, which houses various artifacts from the cathedral's long history.
The cathedral is in the heart of Faro's historic center, surrounded by other popular attractions such as the Faro Marina, the Rua de Santo Antônio, and the Church of Nossa Senhora do Carmo. This means that you can easily visit the cathedral as part of a larger tour of Faro's many other attractions.
Besides its stunning architecture and rich history, the Cathedral of Faro is also known for its stunning views of the city and surrounding countryside. You can climb to the top of the cathedral's tower for panoramic views of Faro and its surrounding area. This is a must-do activity for anyone visiting the cathedral, as the views from the top are truly breathtaking.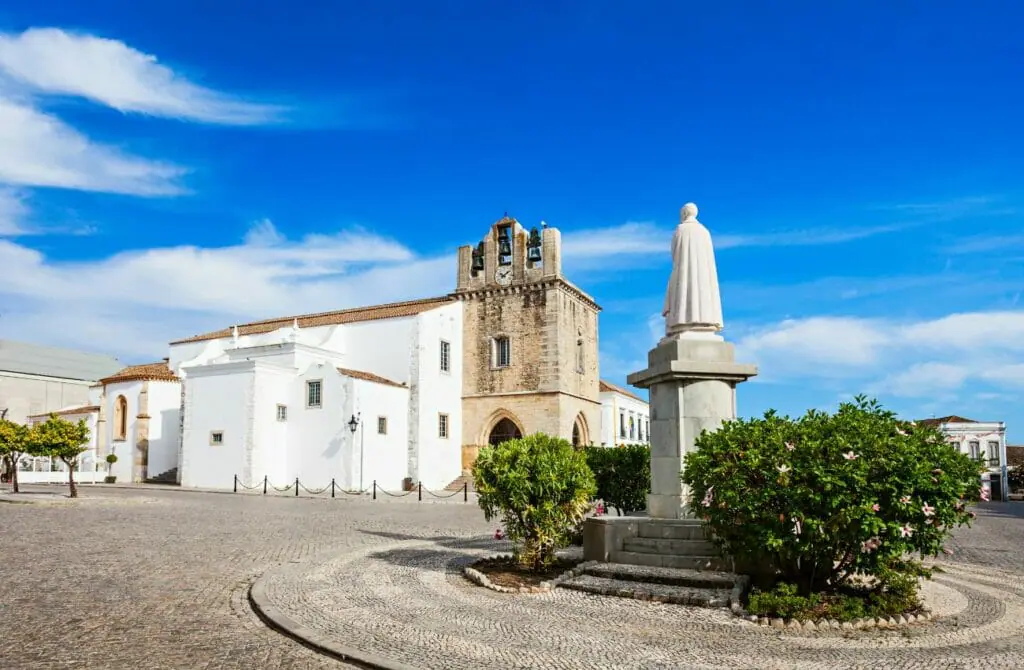 The Parque Natural da Ria Formosa
The Parque Natural da Ria Formosa is a protected natural park located in the Algarve region of Portugal. Parque Natural da Ria Formosa is known for its diverse range of habitats, including salt marshes, sand dunes, and lagoons.
These habitats provide a home for a wide range of species, including over 250 species of birds, as well as numerous mammals, reptiles, and amphibians. You can enjoy birdwatching, nature walks, and boat trips to see the park's wildlife up close.
The Parque Natural da Ria Formosa has beautiful beaches and stunning landscapes. The park's beaches are some of the most unspoiled in Portugal and are a popular destination for sunbathing, swimming, and water sports. You can also explore the park's dunes and lagoons, which offer unique and beautiful landscapes that are truly unique to the region.
The Parque Natural da Ria Formosa is also known for its cultural heritage. The park is home to several traditional fishing villages, and you can learn about the region's rich history by visiting the local museums, art galleries, and cultural centers. There are also several historic forts in the park, which provide a glimpse into the region's military history.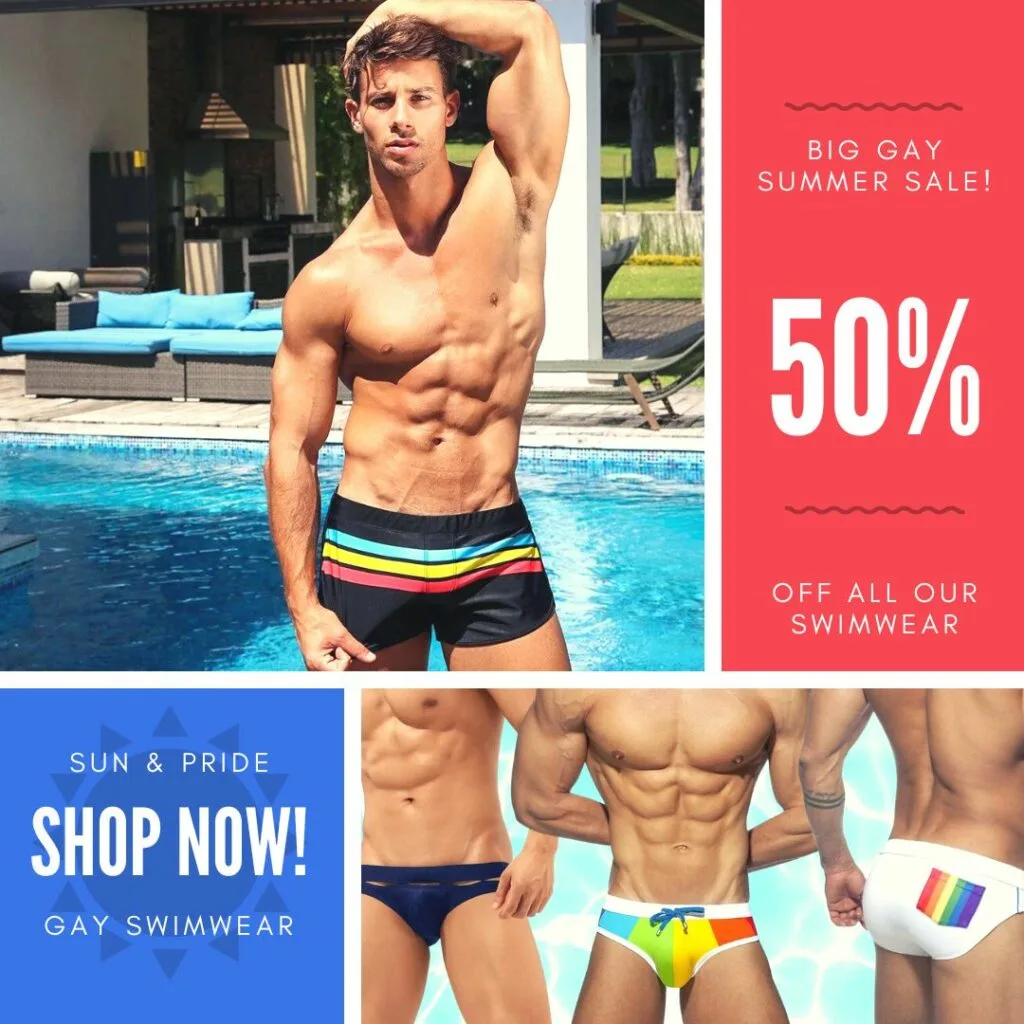 The Forum Algarve shopping center is one of the largest in the Algarve region and offers visitors a wide variety of stores, including high-end fashion boutiques, sporting goods stores, electronics retailers, and much more. There is something for everyone at Forum Algarve, whether you are looking for the latest fashion trends, souvenirs to take back home, or simply a place to relax and unwind.
Besides shopping, Forum Algarve also offers a range of dining options, including fast-food restaurants, cafes, and fine dining establishments. You can enjoy a meal or a drink while taking in the sights and sounds of the shopping center. There is also a large food court that offers a variety of local and international cuisines to choose from.
If you're looking for entertainment, Forum Algarve offers a range of activities, including a multiplex cinema, a bowling alley, and an arcade. The shopping center is also home to several events and promotions throughout the year, such as fashion shows, live music performances, and holiday events, making it a hub of activity and excitement.
Milreu and Estoi
Milreu and Estoi are two small towns near Faro, Portugal, that offer a unique and rich cultural experience for visitors. Milreu is a well-preserved Roman settlement that dates back to the 1st century AD, with many ruins still standing, including a Roman bathhouse, temple, and villa.
You can learn about the Roman way of life by exploring the site and its many artifacts. In addition, Milreu is surrounded by stunning natural landscapes, with rolling hills and scenic views.
Estoi is also a historical town, with a rich cultural heritage. It is known for its grand palaces, including the Palace of Estoi, which was built in the 19th century and is now a luxury hotel.
Visitors can also explore the town's well-preserved Roman ruins, including a theater, market, and thermal bath complex. Estoi is also a hub for the arts, with several galleries, cultural centers, and museums showcasing the best of local and international artists.
These towns are well-located, being just a short drive from Faro, the capital of the Algarve, and accessible from other major cities in Portugal. This makes it easy for visitors to combine a visit to Milreu and Estoi with a trip to other nearby attractions, such as the Parque Natural da Ria Formosa, the Cathedral of Faro, and the beautiful beaches of the Algarve.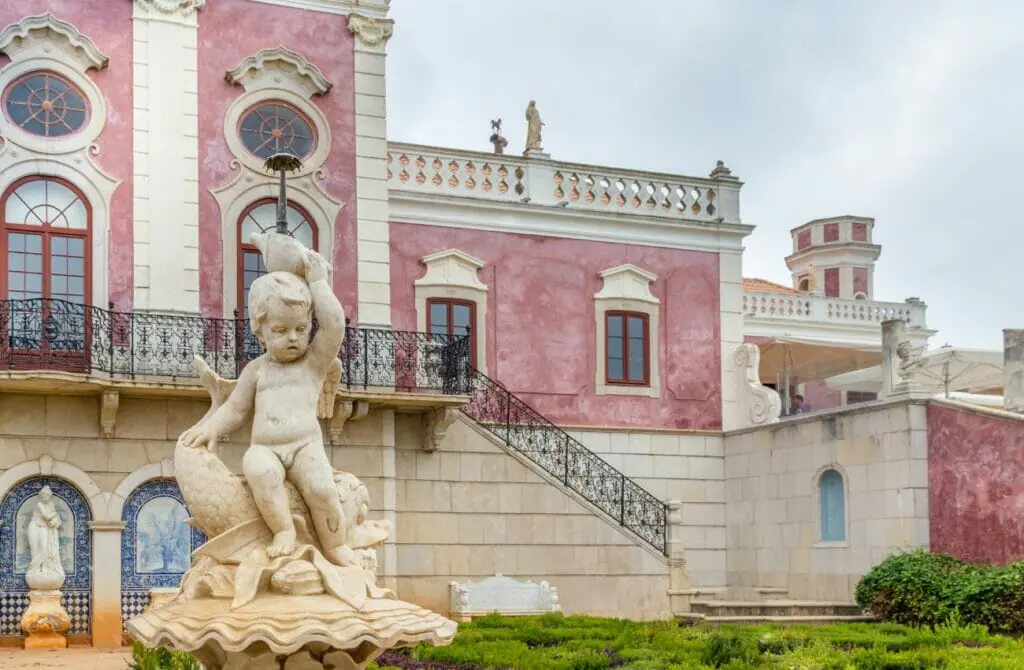 Alameda João de Deus Garden
Alameda João de Deus Garden in Faro, Portugal is a charming and picturesque park that offers a peaceful escape from the busy city. The garden is in the heart of Faro and is surrounded by lush greenery and a variety of exotic plants and trees.
Alameda João de Deus Garden has a stunning botanical collection, which features a wide variety of plants and flowers from different parts of the world. The garden is also home to several stunning water features, including a beautiful pond filled with colorful fish and water plants.
Alameda João de Deus Garden also offers a rich cultural experience. There are several monuments and sculptures scattered throughout the park, including a statue of João de Deus, a famous Portuguese poet and writer.
Parque Ribeirinho de Faro
The park is along the banks of the Ria Formosa estuary and offers a unique blend of natural beauty and recreational opportunities. Visitors to the park can enjoy a wide range of activities, from bird watching and nature, walks to boating and fishing.
The park is home to a diverse range of wildlife, including over 200 species of birds. You can take a leisurely stroll along the park's scenic paths and observe the local flora and fauna, or join a guided birdwatching tour to learn more about the park's avian residents.
Besides its natural beauty, Parque Ribeirinho de Faro also offers a variety of recreational opportunities. The park has several picnic areas and a playground for children, as well as a network of trails that are perfect for hiking, biking, and jogging. You can also rent kayaks and paddleboats to explore the estuary and enjoy the park's scenic waterways.
For those interested in the history of Faro and the surrounding region, the park is also home to several historic sites and monuments. You can explore the ruins of a 17th-century fort, visit the remains of a Roman salt production facility, or view the monuments and sculptures that commemorate the area's cultural and maritime heritage.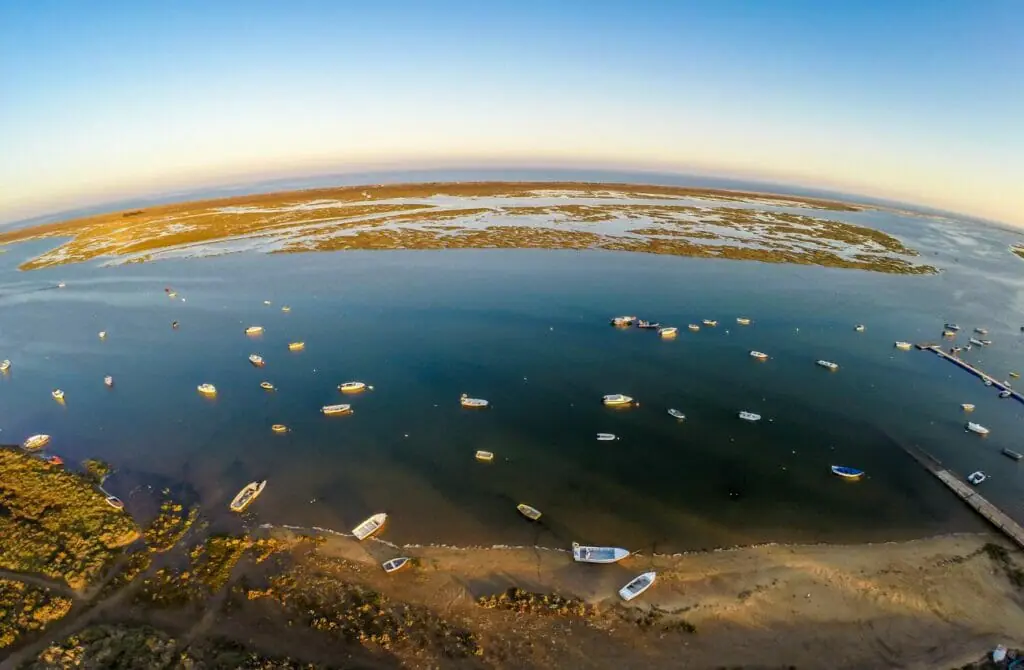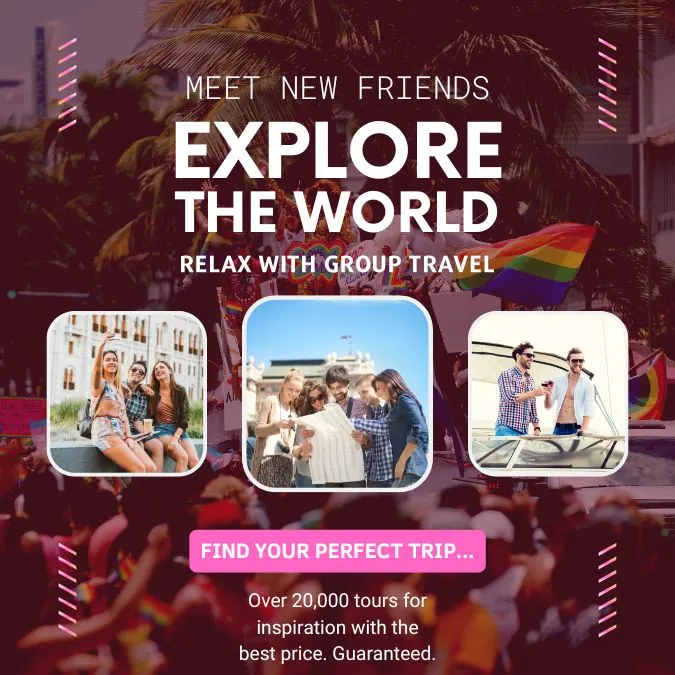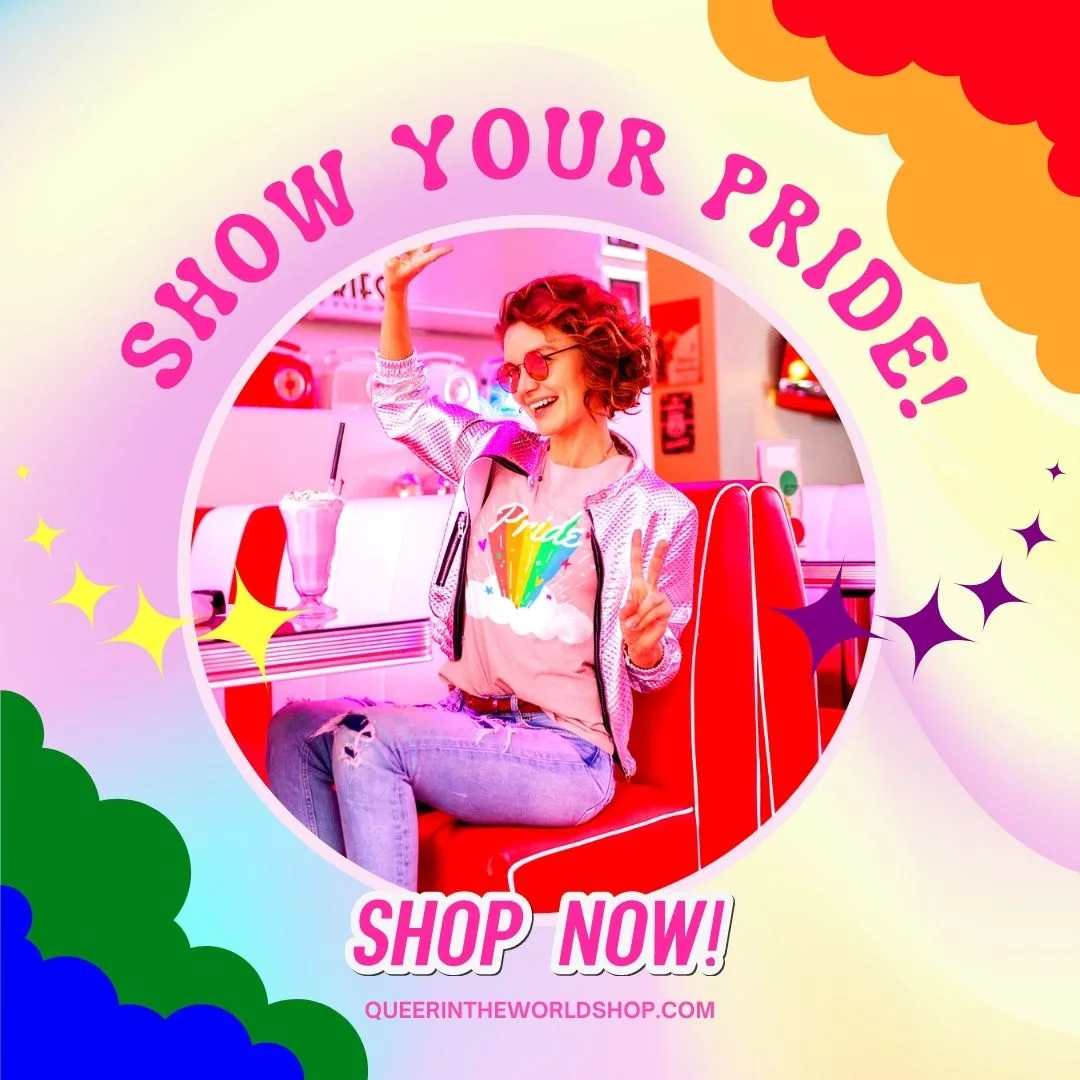 Gay-Friendly Hotels in Faro, Portugal
The hotels and hostels in Faro are known for their friendliness and respectful demeanor towards queer travelers and locals, so you needn't worry about prejudice or any issues that threaten to ruin your visit to this city.
Needless to say, there are also hundreds more hotel and hostel options in Faro if none of these suit your desired budget, facilities or area – but these are the best hotels according to other gay travelers and us. Whatever your needs are, Faro has you covered.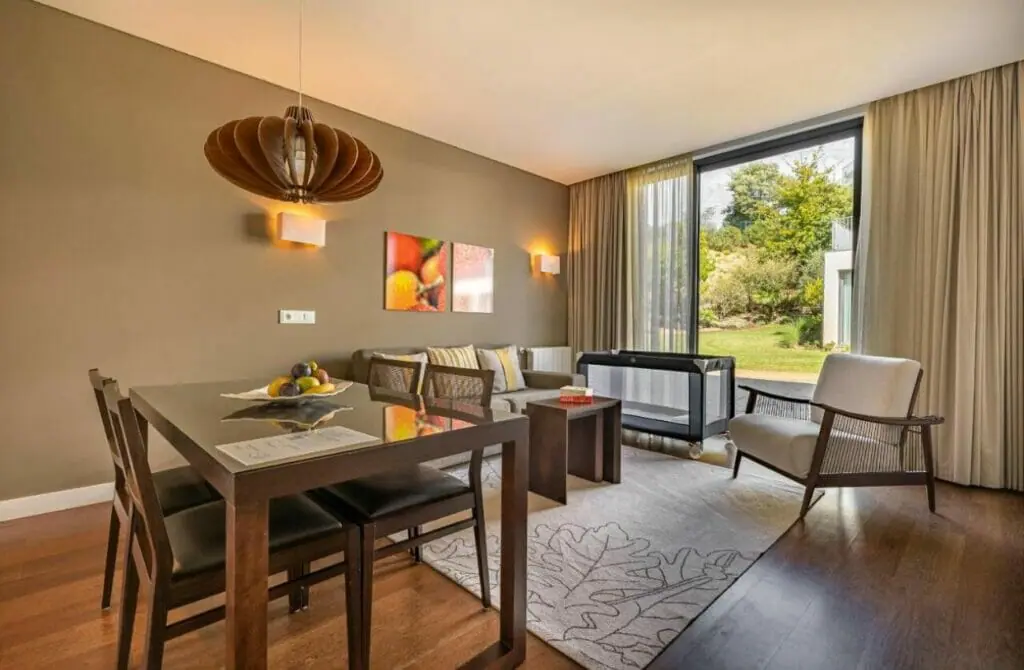 Macdonald Monchique Resort & Spa ☆☆☆☆☆
The new five-star Macdonald Monchique Resort & Spa offers pure luxury in an unknown but beautiful portion of Portugal's Algarve region.
The hotel's 190 suites provide everything from relaxation to active vacations, as well as gastronomic lusciousness and superb regional cuisine, wellness in a calm oasis, beauty treatments with in-house natural cosmetics, and various types of massages that are professionally performed.
The hotel, in the highlands of the Serra de Monchique, is a perfect starting place for wanderings or bicycle rides in the Algarve's so-called garden, with its cork oaks and Eucalyptus trees.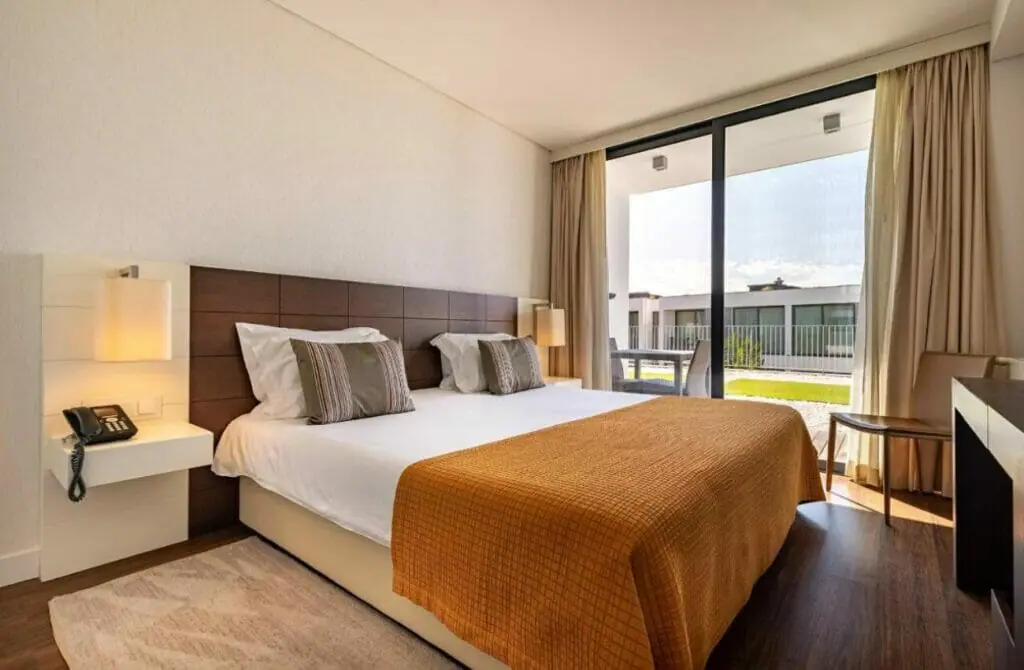 This 4-star hotel in Algarve, with its fortunate location, is a real expression of local culture, from the decoration by Maria José Salavisa to the white and blue walkways that connect the rooms, patios, restaurants, and bar.
The remodeled rooms at Tivoli Lagos are elegantly and contemporary adorned with gentle colors and patterns inspired by the ocean and nature, and they feature natural light and exclusive comfort. Our 296 rooms, which range from suites with private balconies to big family rooms, are spread over nine buildings in the guise of a tiny hamlet.
You can enjoy spectacular views of the city, the Atlantic, or our Mediterranean gardens. For guests with limited mobility, the hotel additionally has two specially adapted twin rooms.
This brand-new hotel is conveniently in the heart of Faro, next to the train station and bus terminal. It has views of the old town, the harbor, and the Ria Formosa Natural Park. Large, naturally lit rooms with some balcony access are available at the Hotel Faro & Beach Club. A hot breakfast buffet is offered every day.
You can also take in the view from the Portuguese cuisine-serving restaurant Ria Formosa, which has a rooftop patio. The Old Town of Faro is just a 3-minute stroll away. The Sé Cathedral and the Archaeological Museum are both nearby. The pedestrian commercial sections of Faro are only a short distance away, and the Faro International Airport is 7 kilometers away.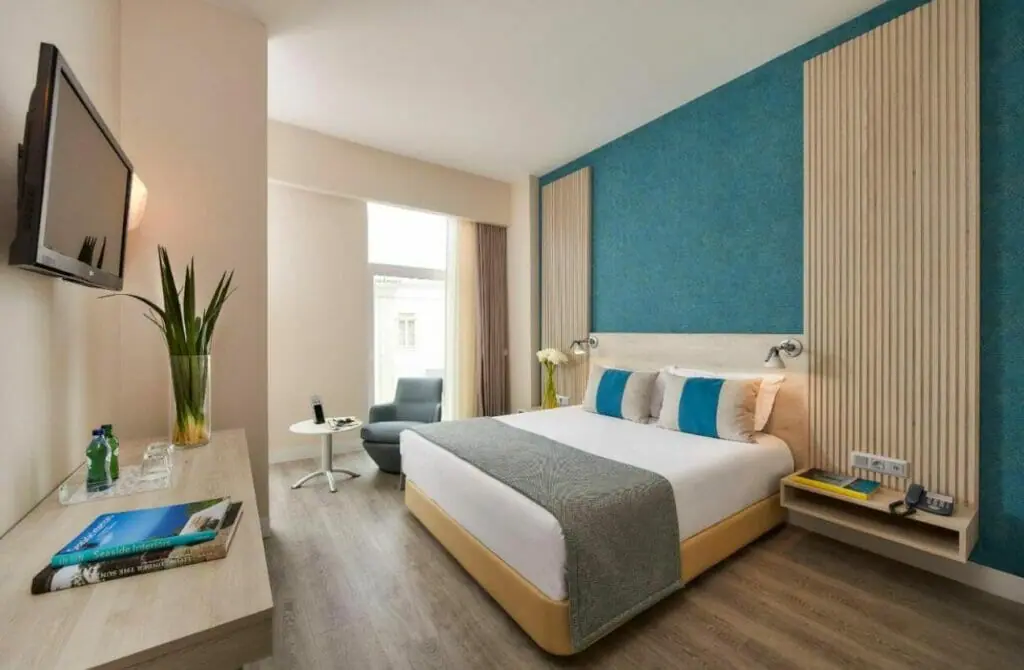 Hotel Faro ☆☆☆☆
The storied Hotel Faro has been one of the city's top landmarks for decades and a consistent source of enjoyable and unforgettable experiences.
The Faro International Airport and all other transportation hubs are both centrally located and next to it. For the convenience of its guests, the hotel also offers a shuttle service.
The young, committed, professional team's efforts enable us to keep up with trends and surprise our hotel guests, customers of the Ria Formosa Restaurant, Cosmopolitan Rooftop Bar, and Beach Club, as well as the attendees/participants at your or your company's personal event. Quality and innovation are the two pillars of their full service.
Faro Sun Life Hostel is 2.8 miles from Faro Beach and offers a common lounge, a garden, and garden views. This hotel has family rooms and grilling facilities. It has a common kitchen and free WiFi. The hostel offers some accommodations with balconies and city views, and all of the rooms come with a closet and a communal bathroom.
There is linen in the rooms. There is a sun deck at Faro Sun Life Hostel. The hotel has a dartboard, and hiking is a popular activity nearby. The distance between Carmo Church and Bones Chapel and Faro Sun Life Hostel is 3.6 kilometers.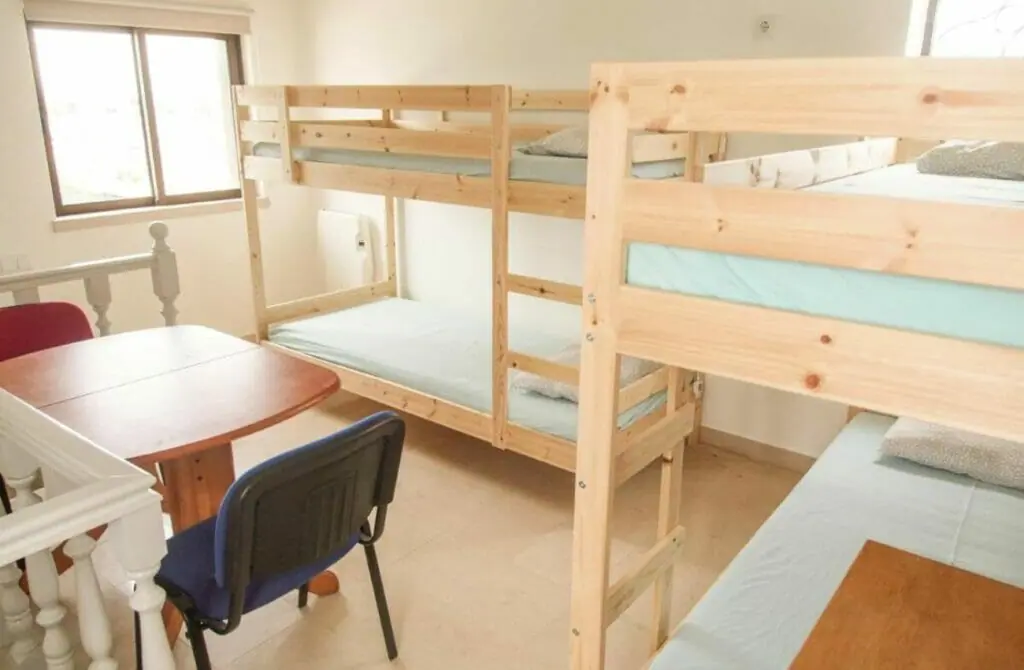 Hospedaria Frangaria, with its oil paintings and tiled floors, provides comfortable lodging. It has a popular street-level restaurant and free parking. Frangaria's light rooms are air-conditioned and equipped with satellite TV and a minibar. Each room has its own bathroom, which features tiled décor, marbled sinks, and a bidet.
Breakfast is offered every day in the quaint breakfast area, which features handcrafted wall decorations. For lunch and dinner, the Frangaria Restaurant serves a range of regional specialties. The Hospedaria Frangaria is ideal for early and late arrivals due to its proximity to the airport and 24-hour reception. Wake-up service is available for your convenience.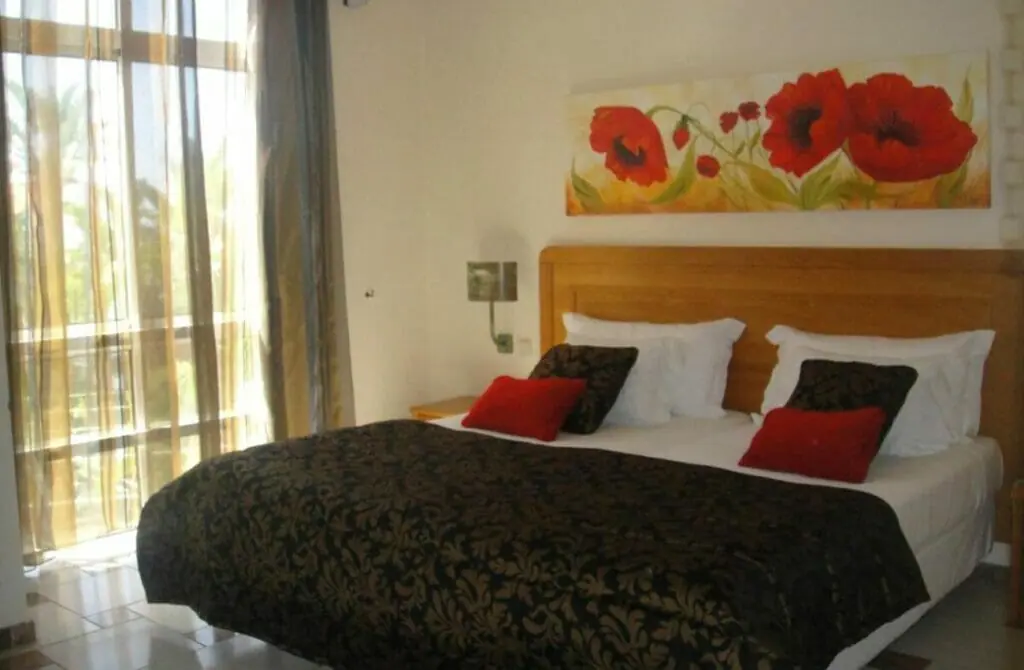 Gay Nightlife in Faro, Portugal
The Algarve region of Portugal has a few gay bars and being in a liberal region, it also means that they have gay-friendly bars in the city too. So whatever you want to do or go, Faro has you covered.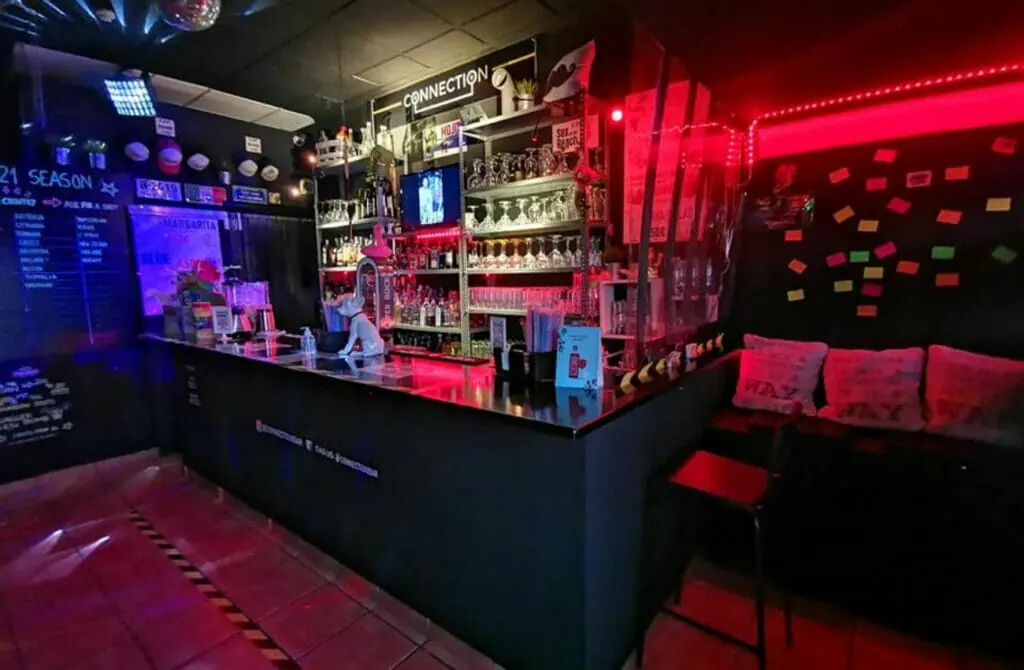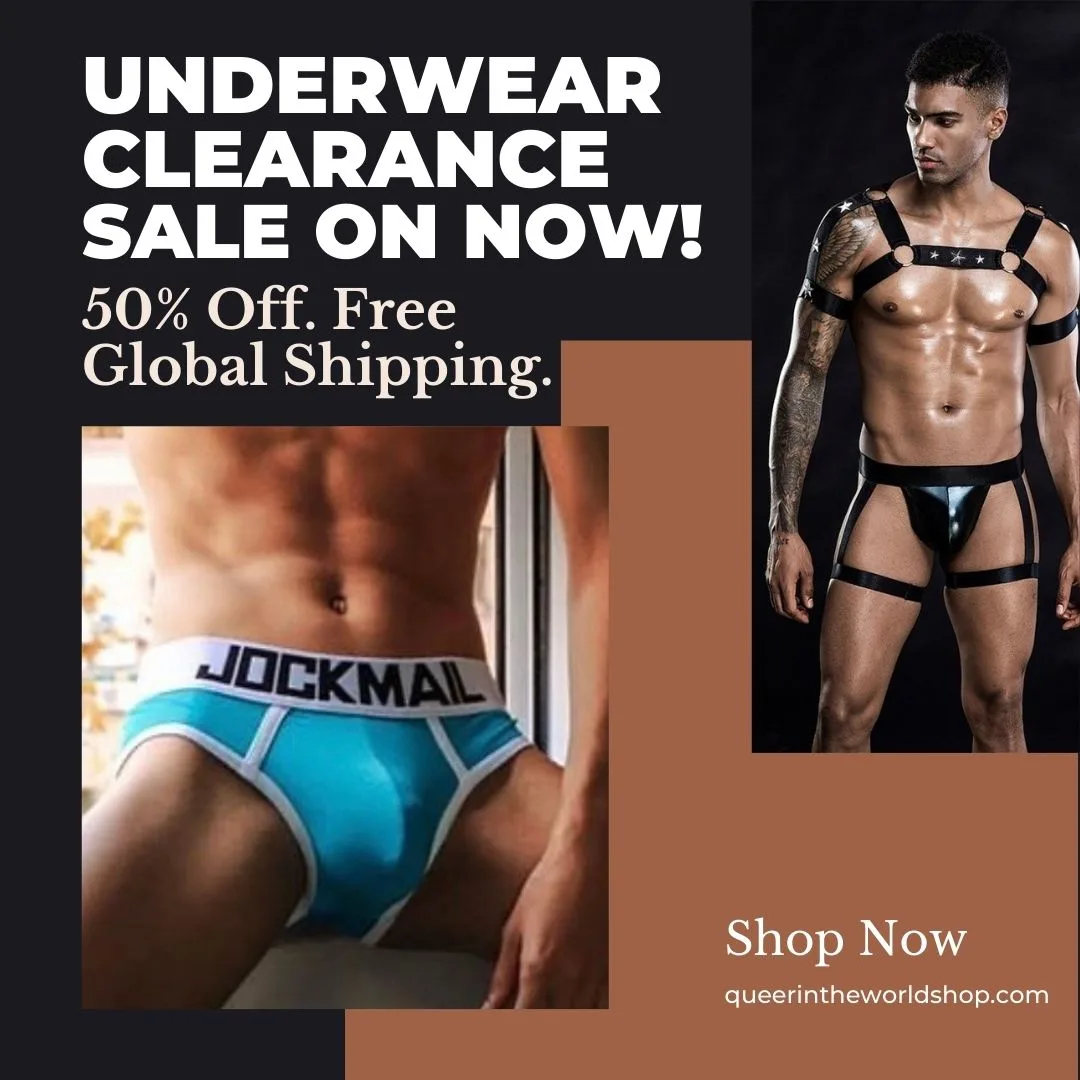 Gay and Gay-Friendly Bars and Clubs in Faro
On the Algarve, this gay bar sits on the second floor of the Vilanova Resort building with a terrace that looks into the main street. Their doors open from 8:30 pm to 2 am every day. They host a lot of events, from live music to parties and games. You definitely need to check this place out.
The Loft Bar is in the heart of Portimo, in the Algarve's Barlavento, away from the city's traditional nightclub circuit, making it even more exclusive. An attractive setting, developed with quality and comfort in mind for the most refined or discreet individuals.
It overlooks the stage and the encore dance floor. The Loft offers a wide variety of entertainment, including live performances by local, national, and worldwide artists, theme parties, karaoke, live music, and dance workshops. Regular hours are 11 p.m. to 4 a.m. on Fridays and Saturdays.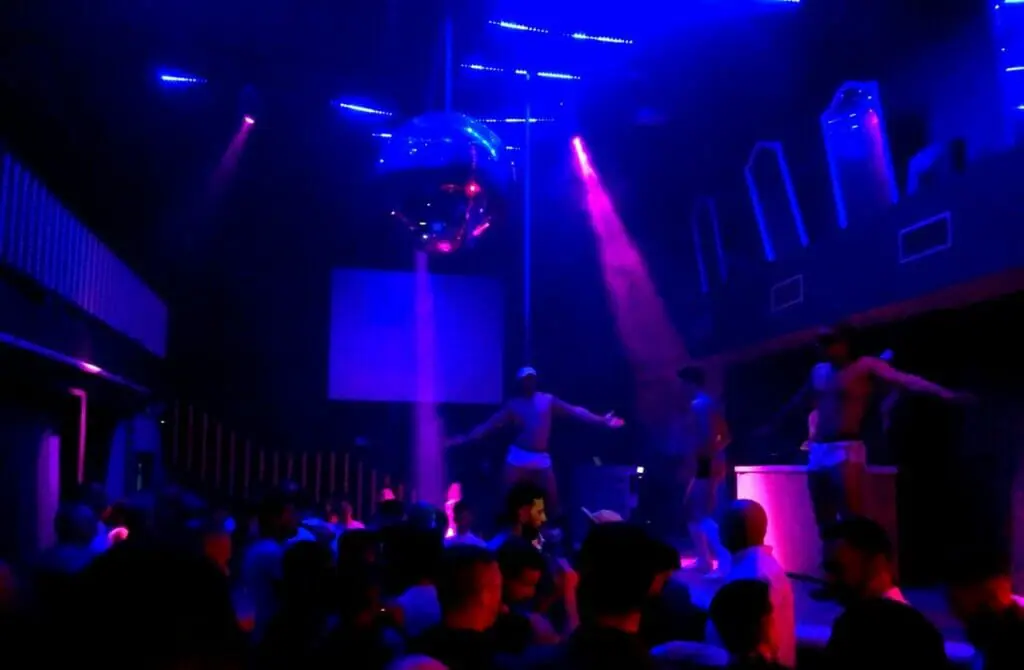 This gay club in the center of Faro is built to keep you here with its vibrant setting and entertainment. A range of music genres are played here and there are also live events like live music shows and drag shows including special events by local artists.
An elite bar in a sophisticated setting with a varied drink menu. The bar is well-known for its kind owners and has an enjoyable atmosphere.
If there is one thing that this gay-friendly bar is known for, it is beers! Bohème combines all connotations: past and present. Tradition and fashion. Bohème brings the best craft beer selection to the Algarve capital! A range of beers from the north to the south of Portugal, as well as many artisan beers!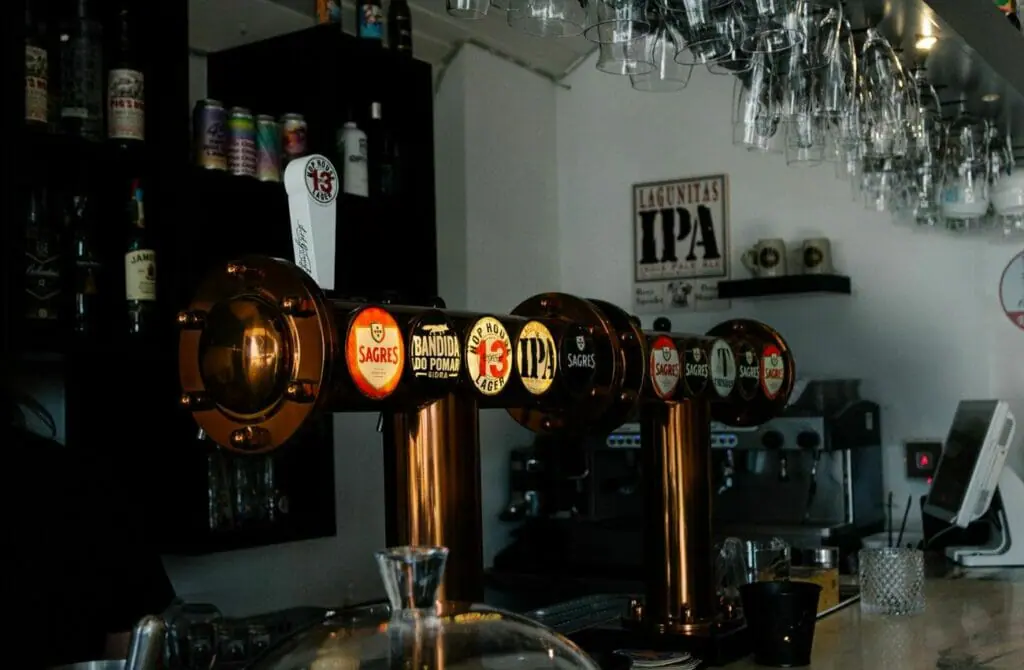 Allow yourself to be engulfed by space in the heart of Faro, and experience this noble edifice that is a part of the city's history. This gay-friendly pub is a great blend of the past and the modern, with architecture intertwined with exquisite decoration and attention to detail. Their drinks are a little pricey but it is worth it.
Another gay-friendly bar that has won the hearts of the local LGBTQ community with its friendly and inviting environment. At Espelho, apart from their outstanding drinks and cool music, they also serve local cuisines, so if you're looking to try out Portugal's dishes, this is where to go.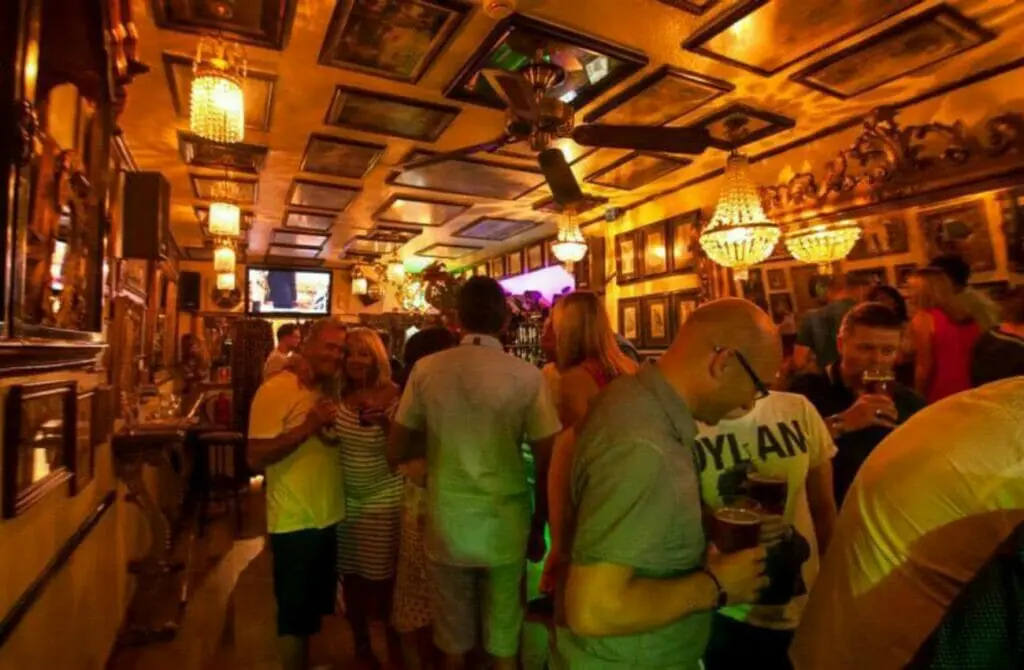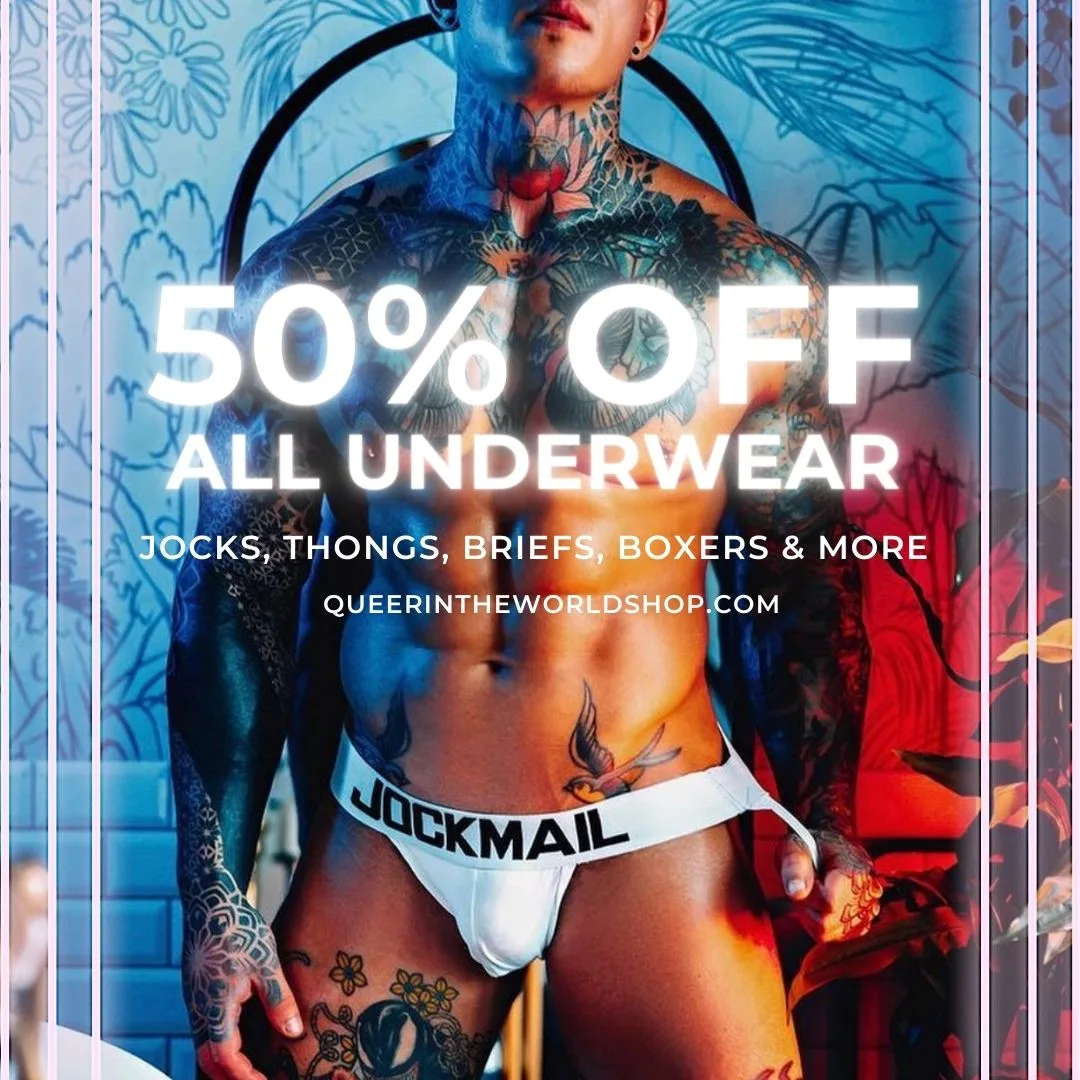 Gay Map Of Faro
Finding it hard to envisage where everything is in Faro? Hopefully, this queer-centric map helps where we have marked all the bars, clubs, parties, hotels, saunas, massages and more will help you stay in the spot best suited to you!