Dortmund's vibrant and culturally rich city can be found in the heart of Germany's Ruhr region. It has become a popular choice for couples seeking a romantic getaway that offers a blend of excitement and relaxation, thanks to its unique mix of historic charm and modern sophistication. What sets Dortmund apart from other destinations, particularly for gay couples, is its open and inclusive atmosphere, providing a haven for all.
The city's architecture is one of its most attractive features, combining old and new elements. Its industrial heritage is evident in towering steel structures, while grand historic buildings reflect its prosperous past. The busy streets of Dortmund are lined with shops, cafes, and restaurants, each with its distinct charm and style.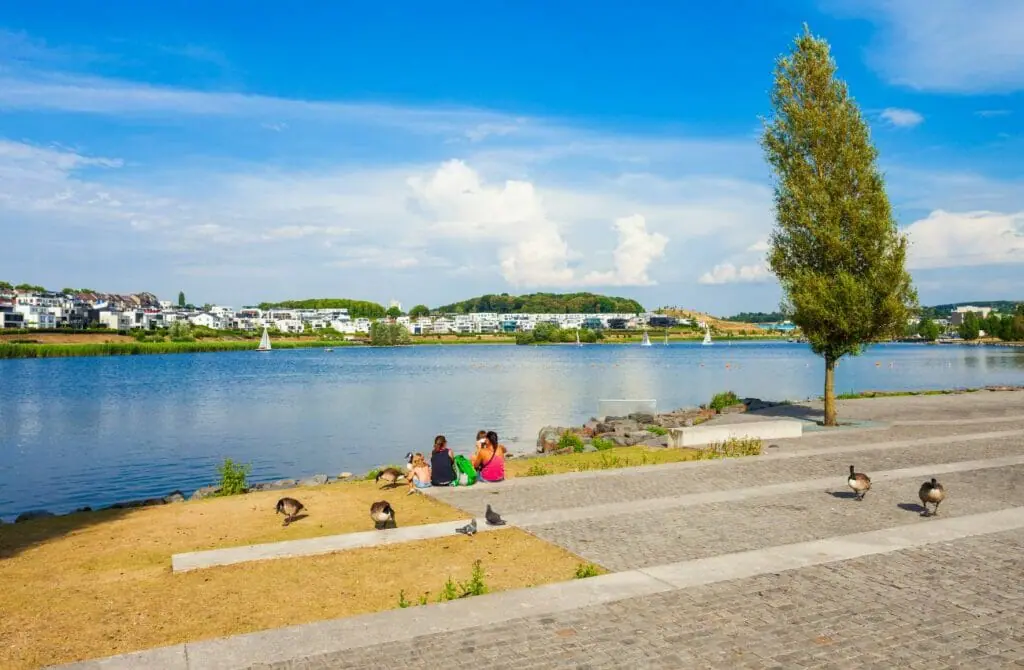 That's not all; the city's most famous football team and many attractions lined up for soccer fans add to the charm. In 1909, Borussia Dortmund was established and has since become a highly successful European club.
They possess the largest stadium on the continent, the Westfalenstadion, and regularly draw the biggest crowds. To commemorate their achievements, a museum named Borusseum has been established.
For gay couples, Dortmund offers a vibrant and welcoming scene, with a range of bars, clubs, and events catering specifically to the LGBTQ+ community. The annual Pride festival highlights a colorful parade and cultural events celebrating diversity and inclusion. Whether you prefer a quiet candlelit dinner or a lively night out, Dortmund has something to suit everyone's tastes and preferences.
Aside from its lively nightlife and stunning architecture, Dortmund's natural beauty is also worth admiring. Its expansive parks and gardens offer a peaceful respite from the hustle and bustle of city life, providing the perfect setting for romantic walks and picnics.
We have combined a list of not-to-miss attractions, comfy and reasonable accommodations, and wild nightlife choices in the city to ensure this trip is the best of your life.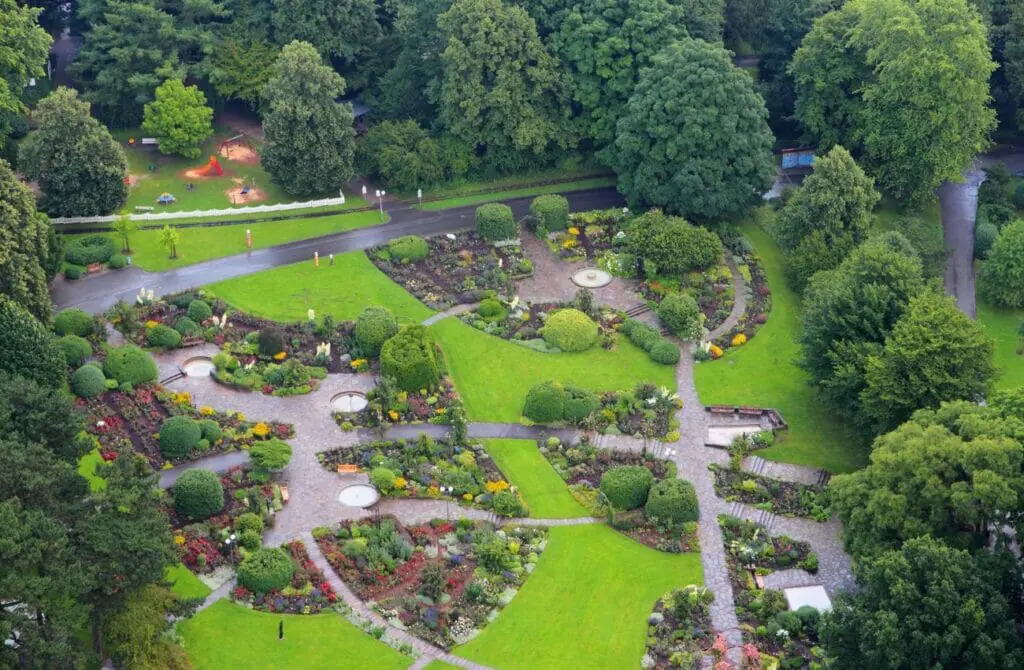 Attractions in Gay Dortmund, Germany
Step into a world of vibrant culture and diversity with the breathtaking city of Dortmund. With its fusion of industrial heritage and modern sophistication, this charming city has become a haven for gay couples seeking adventure, excitement, and romance.
Dortmund's bustling streets are lined with awe-inspiring architecture, towering steel structures reflecting its industrial past, and grand historic buildings evoking its prosperous history. Experience a world of limitless possibilities in Dortmund and create unforgettable memories with your partner at the following not-to-be-missed spots.
Head down for our certified list of must-see destinations in the city.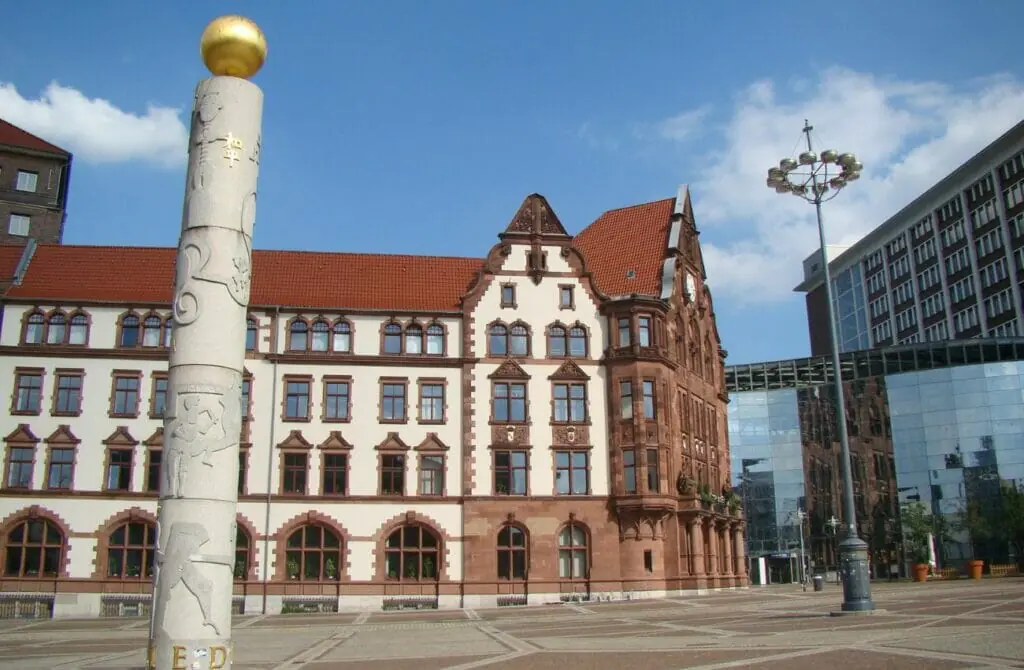 Amidst western Germany's rolling hills and verdant forests stands a sentinel of history, a towering monument to a bygone era – the Hohensyburg. This imposing structure has stood watch over the valley of the Ruhr for centuries, witnessing the rise and fall of empires and bearing witness to the ebb and flow of human history.
Originally built as a Saxon hill fort in the 8th century, Hohensyburg has seen many battles and ownership changes throughout its storied past, including serving as a strategic stronghold during the Middle Ages and a hunting lodge for the nobility in the 18th century.
Visitors here can wander the ramparts, peer across the valley, and imagine themselves transported to a time when knights jousted, and kings ruled with iron fists.
The German Football Museum is more than just a showcase of memorabilia and statistics – it's a cathedral of sport, a grand monument to the thrilling game itself. As you wander through its halls, you'll feel the pulse of history, the thrill of victory and the agony of defeat.
The exhibits are more than just objects – they're living, breathing artifacts that tell the stories of the legends who have graced the pitch over the years.
From the tactical brilliance of Franz Beckenbauer to the lightning-fast footwork of Miroslav Klose, the museum is a tribute to the power of human achievement. So if you're a football fan or a history lover, the German Football Museum is an experience you won't want to miss.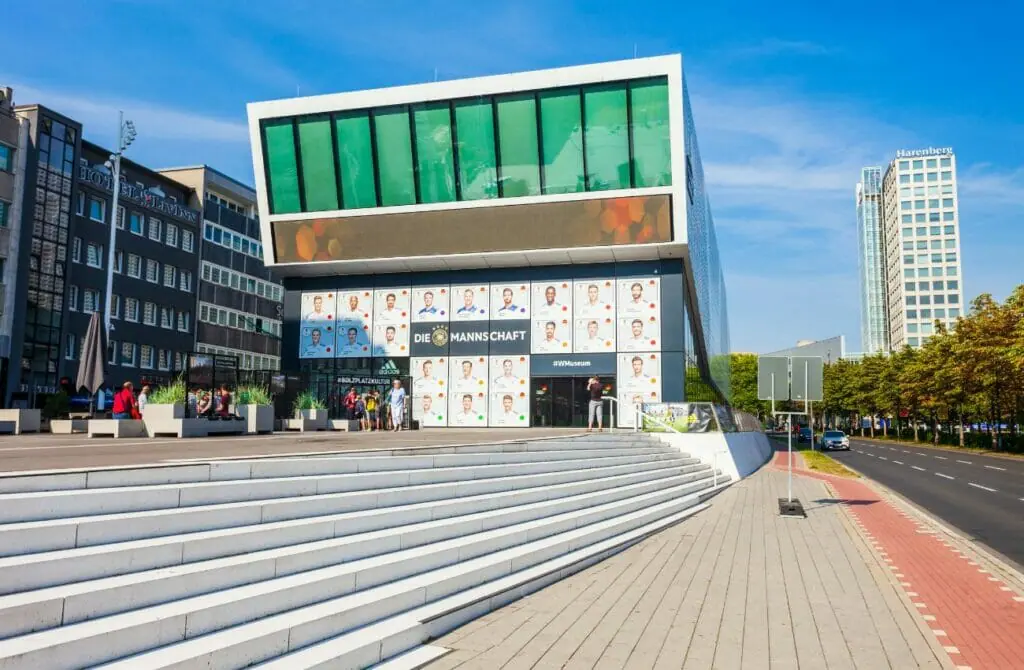 Exotic flowers, stunning vistas, wildflower meadows, and tranquil water features – this botanical garden is a canvas of life, where every stroke of nature's brush creates a masterpiece of unparalleled beauty. Couples seeking a romantic escape need to look no further than this breathtaking sanctuary, where they can lose themselves in the heady fragrance of exotic blooms and the symphony of birdsong.
As they stroll hand-in-hand through the winding pathways, they will be transported to a world of pure imagination and wonder. Rombergpark is a must-see destination for any couple looking to bask in the unparalleled beauty of nature and each other's company.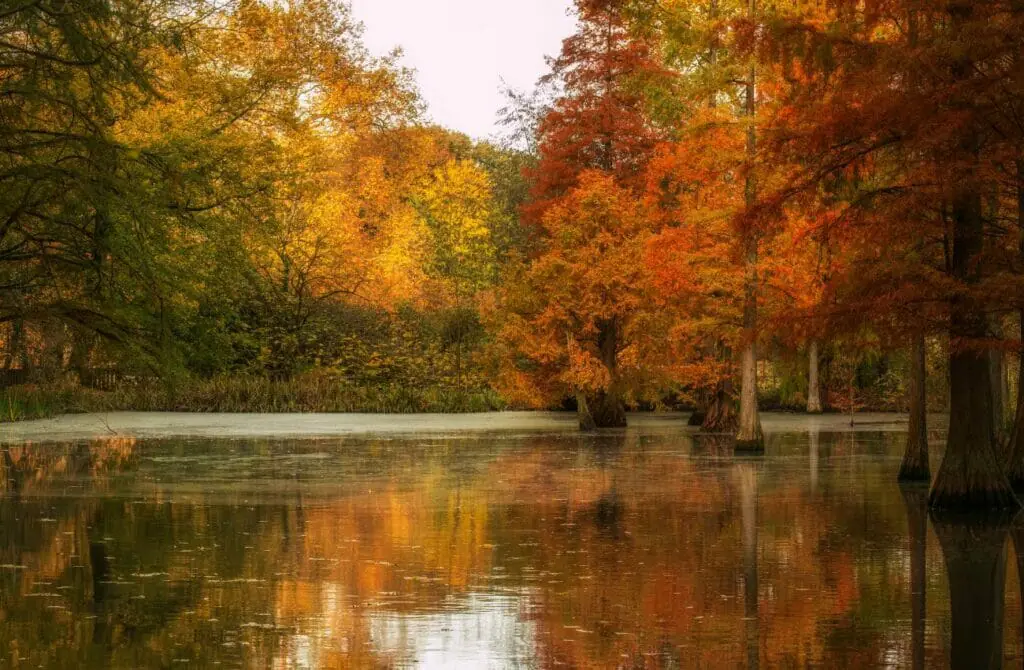 This cultural center was originally a brewery but was converted into a center for art and creativity in 2010. The Dortmunder U features several floors of exhibition space, performance venues, event spaces, and even a rooftop bar with stunning city views. It is dedicated to showcasing contemporary art, music, and culture from local and international artists and is a popular destination for visitors and locals alike.
With its lively atmosphere and diverse programming, the Dortmunder U is the perfect place to get inspired and embrace the wonders of human expression.
The Zum Alten Markt is the beating heart of Dortmund's historic center, a lively and vibrant hub of activity that beckons visitors with its undeniable charm and character. With its colorful facades, bustling street vendors, and lively cafes, the Zum Alten Markt exudes a palpable energy that is infectious.
A visit to this bustling marketplace is an experience that is not to be missed, as it offers a glimpse into the soul of the city and its people. Whether you're looking to sample local delicacies, shop for souvenirs, or soak up the vibrant atmosphere, the Zum Alten Markt is the perfect place to do it all.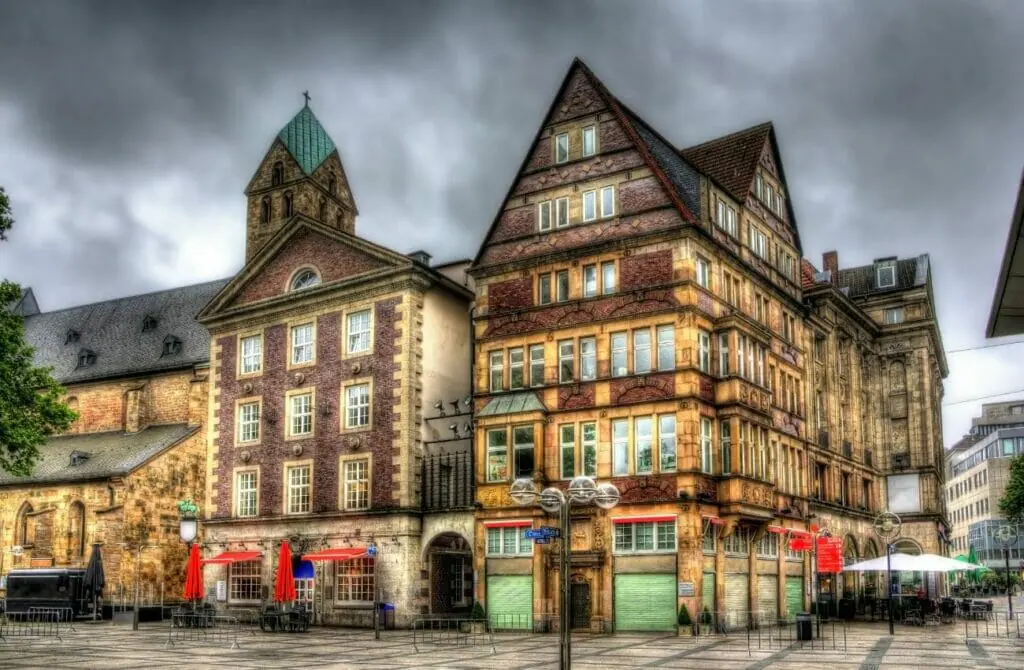 As the sun sets over Dortmund, the city's most iconic landmark rises majestically into the night sky. Signal Iduna Park, with its towering stands and electric atmosphere, is a cathedral of football, a temple of passion, and a shrine to the thrilling game.
With a capacity of over 80,000, it is one of the largest and most impressive stadiums in the world and the home of the city's beloved Borussia Dortmund. A visit to Signal Iduna Park is an experience that transcends sport, immersing visitors in a world of pure emotion and excitement.
Whether you're a lifelong fan or simply looking to soak up the atmosphere, the park is a must-visit destination, offering tours of the stadium, a museum, and a fan shop, where visitors can also buy souvenirs to remember their unforgettable experiences.
Like a beacon of hope rising from the ashes of the past, St. Reinold's Church stands as a majestic monument to history, a towering masterpiece of Gothic architecture that has withstood the test of time. Its towering spires and intricate façade are a testament to the resilience of the human spirit and a reminder of the enduring power of faith.
A visit to the church is a journey back in time, a chance to witness the city's rich history and cultural heritage. Visitors can marvel at the stunning stained-glass windows, soak in the hushed reverence of the interior, and pay their respects at the tombs of the great and the good who rest within its hallowed walls.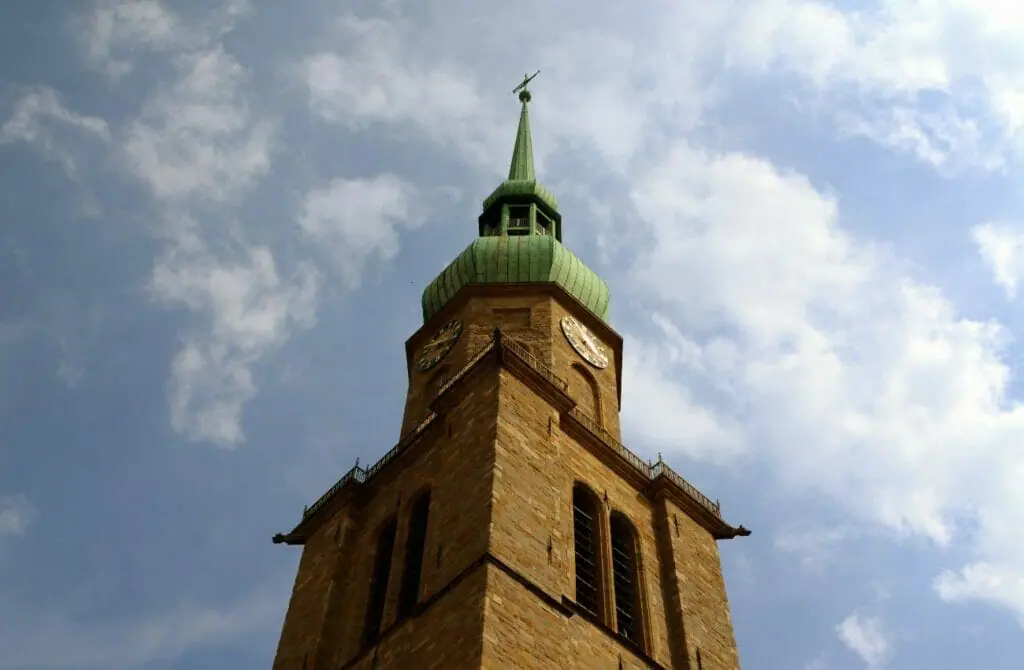 Gay-Friendly and Gay Hotels in Dortmund, Germany
Being gay-friendly accommodation means that the establishment is welcoming and inclusive to guests who identify as LGBTQ+. This can include, but is not limited to, having policies and practices that demonstrate a commitment to creating a safe and inclusive environment for LGBTQ+ guests, such as non-discrimination policies and providing support and resources for LGBTQ+ travelers.
Some gay-friendly accommodations may also provide amenities specifically catering to the LGBTQ+ community, such as rainbow flags or literature about local LGBTQ+ events or resources. Furthermore, gay-friendly accommodations may be located in an area known for being LGBTQ+ friendly.
While Dortmund has no specifically gay hotels or resorts, these are Dortmund's most fabulous and pro-actively gay-friendly hotels. There are also hundreds more hotel and hostel options in Dortmund if none suit your desired budget, facilities or area – but these are the best hotels according to other gay travelers and us.
Whatever your needs are, Dortmund has you covered.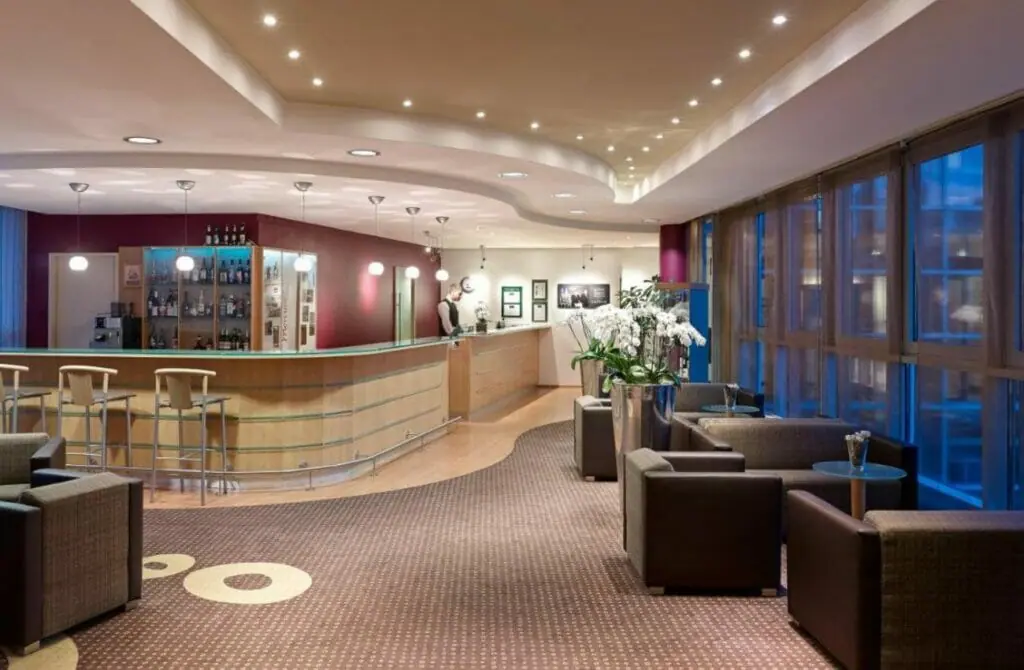 With its prime location and impeccable facilities, this hotel is the perfect base for exploring the city's many attractions, creating memories that will last a lifetime. The gay-friendly Mercure Hotel Dortmund is a modern 4-star hotel in the city's heart.
One thing that sets it apart is its convenient location, just a short walk from the main train station and many of the city's top attractions, including the Westfalenhallen exhibition center, Signal Iduna Park stadium, and the Dortmund Zoo. That's not all; their top-notch service and welcoming staff ensure all your needs are met.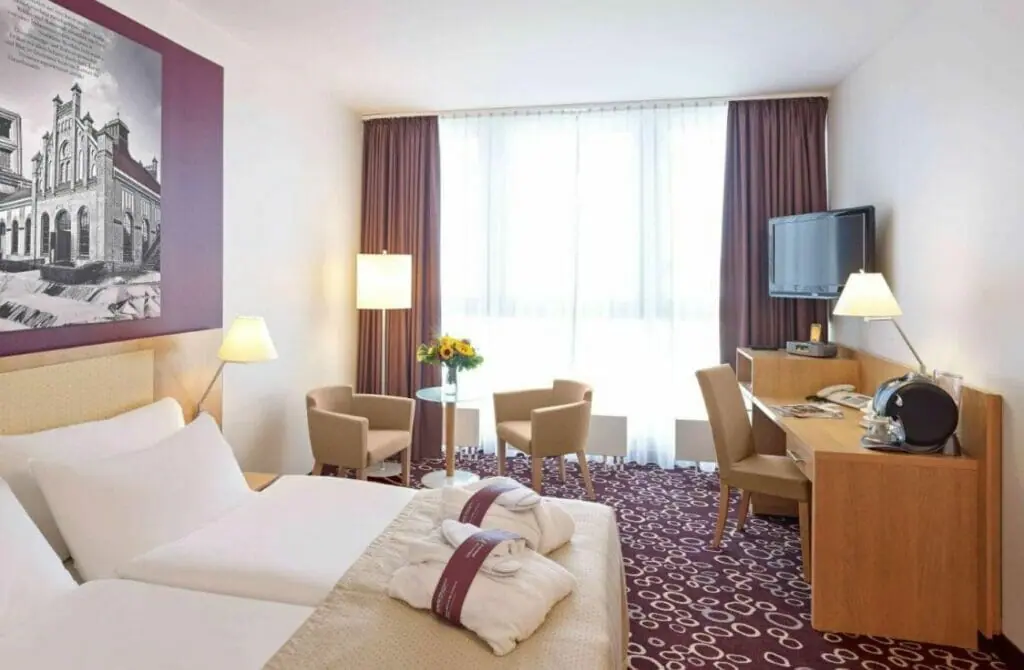 Best Western Hotel Dortmund Airport ☆☆☆☆
Treat yourself to a sumptuous breakfast buffet featuring a wide selection of international and local delicacies to start your day at this hotel. Although the favorite feature of the hotel is its strategic location, tourists who enjoy participating in physical activities can benefit from the sports and leisure center called "Universum Fit-Gym," which is just a short distance from the Best Western Hotel Dortmund Airport.
The center provides a variety of recreational sports facilities, such as badminton, squash, and tennis, in addition to cardio fitness and muscle training equipment.
Mercure Hotel Dortmund Messe & Kongress ☆☆☆☆
The elegant decor and refined atmosphere of this Mercure Hotel are sure to evoke a sense of timeless glamour, transporting you to a bygone era of sophistication and luxury. As you step into the Mercure Hotel Dortmund Messe & Kongress, you'll immediately sense a warm and inviting atmosphere, perfect for couples seeking a romantic escape.
Nestled in the city's heart, the hotel boasts elegantly designed rooms and suites with modern amenities to ensure comfort and relaxation. But what truly sets this hotel apart is its impeccable attention to detail and personalized service, making you feel pampered and cared for.
Whether you're sipping cocktails at the cozy bar, indulging in a delicious meal at the restaurant, or enjoying a relaxing spa treatment together, you'll create unforgettable memories that will last a lifetime. So why settle for anything less when you can experience the ultimate romance and luxury at the Mercure Hotel Dortmund Messe & Kongress?
Hampton by Hilton Dortmund Phoenix See ☆☆☆
From the moment you check in at the Hampton, you're treated like royalty, with personalized attention and amenities that cater to your every need. They offer modern and comfortable accommodations with various amenities to suit all travelers.
The hotel's rooms and suites are well-appointed, with free Wi-Fi, flat-screen TVs, and comfortable beds. Moreover, by staying at the sustainable Hampton Hotel, you're making a conscious decision to reduce your environmental impact without sacrificing comfort and luxury.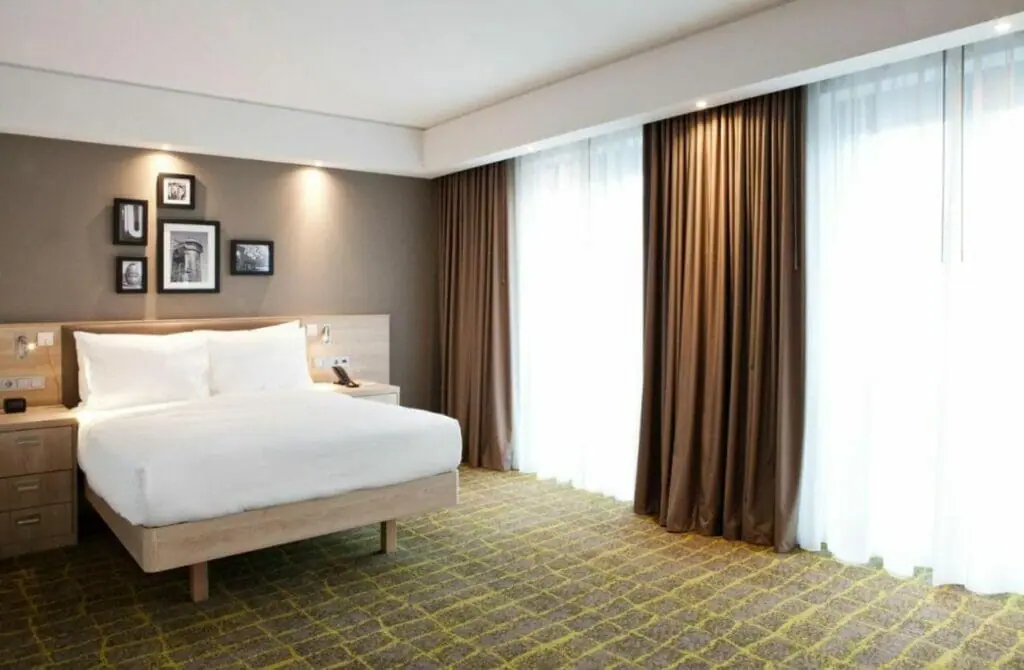 The British Bed & Breakfast Airport ☆☆☆
The distinguishing feature of The British Bed & Breakfast Airport lies in its distinct personality and charisma. Managed by a genial and hospitable British couple, the B&B exudes a comforting ambiance, ideal for those who desire a laid-back and snug sojourn. The rooms are individually adorned with a quintessentially British theme, making for an unparalleled and unforgettable experience.
Furthermore, guests can indulge in a delectable breakfast in a snug dining area, with an assortment of traditional British dishes to relish. The 17th-century wooden-framed structure has been meticulously refurbished, offering contemporary amenities and classic charm for discerning guests.
In the next qualified selection on our list, we have the gay-friendly Ibis. The Ibis is more than just a hotel – it's a home away from home. From the amiable staff to the hospitable and welcoming atmosphere, every detail is designed to make you feel comfy during your stay.
Furthermore, the Ibis chain of hotels has signed the UNESCO Sustainable Travel Pledge and has committed to protecting the environment and culture, making it a guilt-free choice.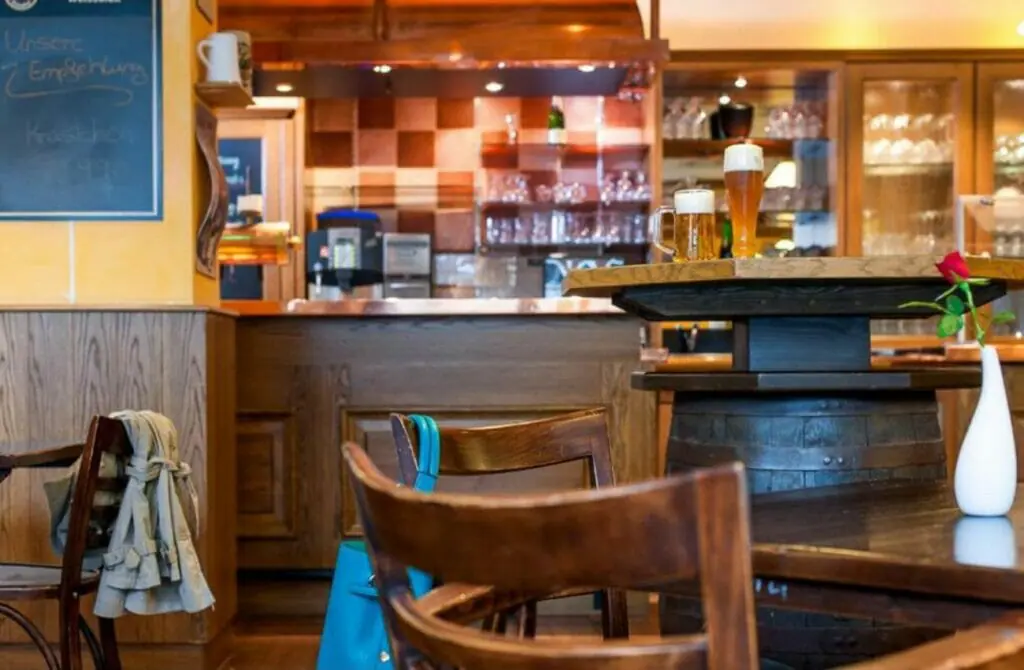 Gay Nightlife in Dortmund, Germany
Dortmund used to produce more beer than almost any other in the world, so there was no chance to leave the city without drinking a few glasses. With so many students in the area, there are pubs to suit every taste. You may find inexpensive and cheery establishments as easily as stylish or cool ones.
Gay night hawkers can engage in a variety of midnight activities when they finish enjoying the sunsets and a delicious dinner. Expect everything from a dynamic crowd of rock and roll smiling faces to dance floors that will move your toes, the greatest music to calm your ears, the freedom to get dark in the bars and clubs, and the best beverages from the best mixologists.
Exploring the gay and gay-friendly nightlife in a new city can be one of the most exciting and rewarding experiences while traveling – and Gay Dortmund is no exception. Not only will you have the opportunity to meet new people and make friends, but you'll also get a taste of the local culture and learn more about the city's LGBTQ+ community.
Going out and experiencing the queer and queer-friendly nightlife in a new city can also be a great way to break out of your comfort zone and try new things. Whether dancing the night away at a gay club or mingling with locals at a gay-friendly bar, you'll have the chance to make memories and create lasting connections.
So, don't be afraid to step out of your comfort zone and explore the gay and gay-friendly nightlife in Dortmund. You'll be glad you did!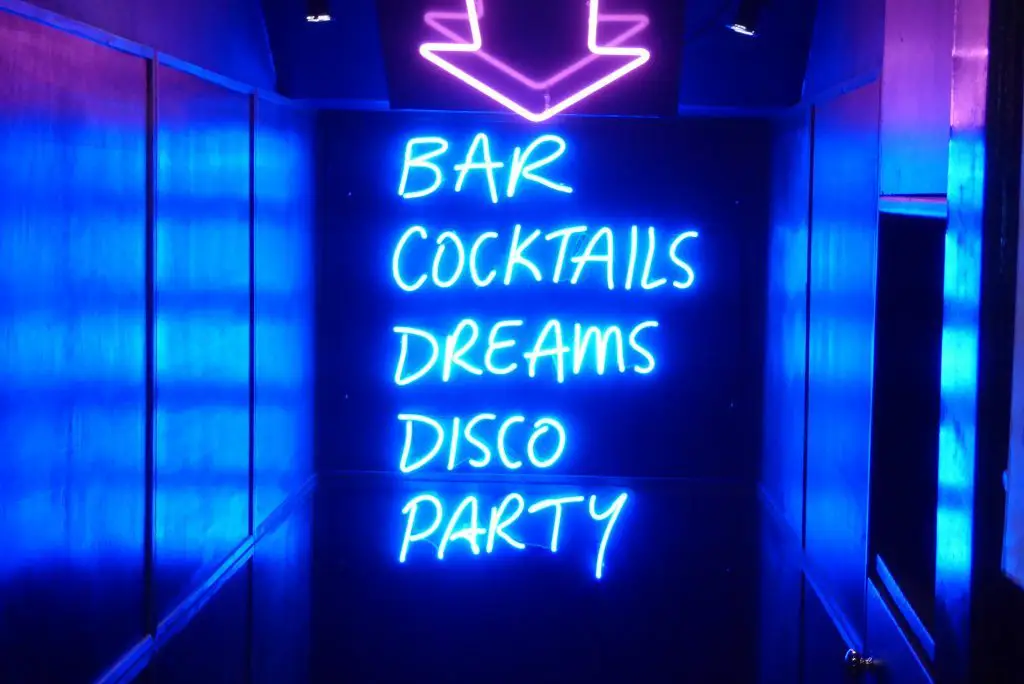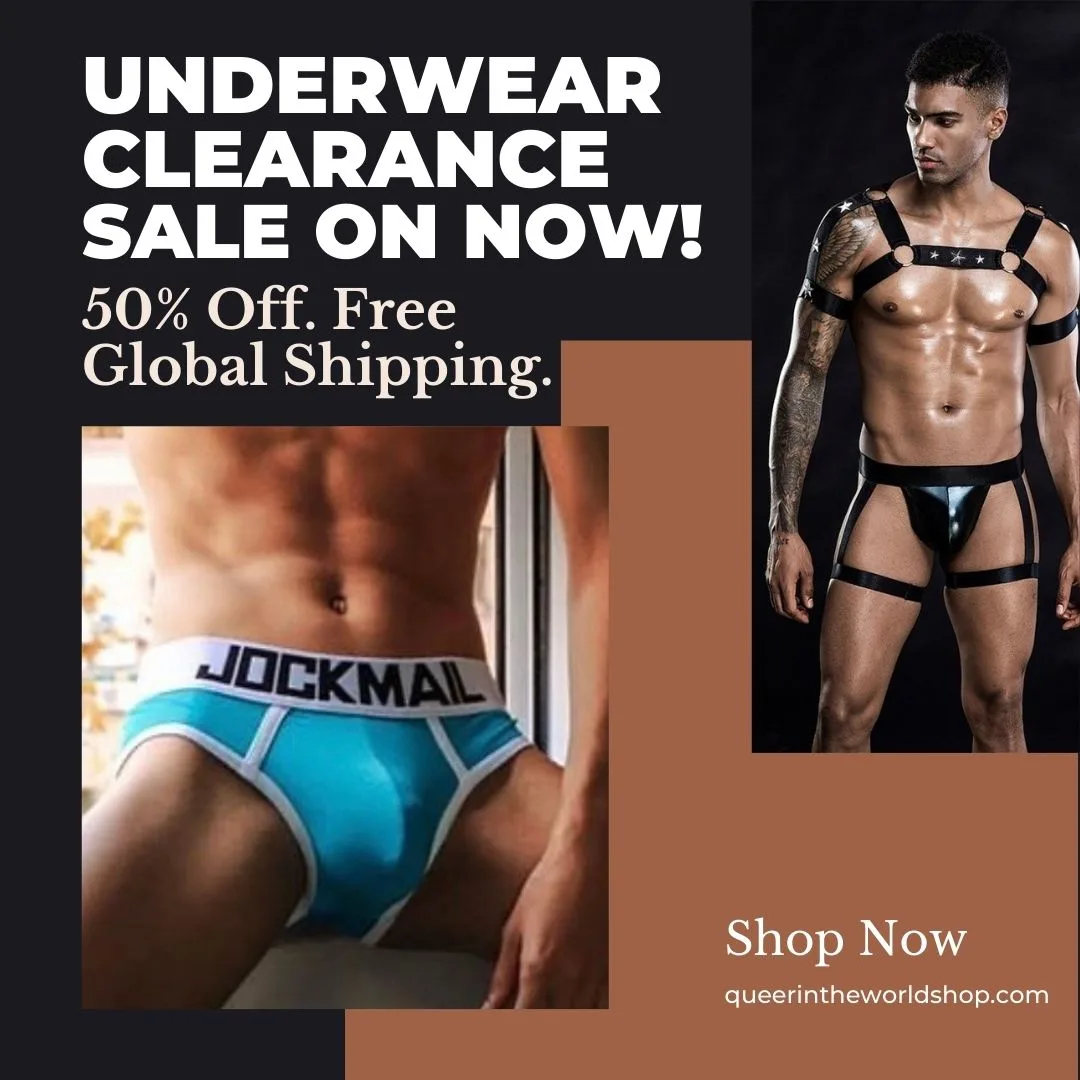 Club Im Burgtor is a vibrant LGBT venue that features transvestite acts for people to feel wonderful and enjoy until morning. With a large crowd, the services deliver with complete passion. You can choose from the cool stage and elegant music to the great bar and stunning lighting. Enjoy its very laid-back and flirty atmosphere here on your every visit.
On Saturdays and the day before holidays, there are travesty shows; on Fridays, there is karaoke; and once a month, there are talent shows.
You're in luck if you enjoy music from the 1990s. This club is renowned for playing classic songs every night of the week. The enormous Night rooms have three dance floors and two lounge areas. Take advantage of the reasonable drink costs, which are lower than those at other clubs.
Rooms have various musical genres; the atmosphere is fantastic. It's a cool location to hang out with friends for a weekend night out. The rooms have various musical genres, and the atmosphere is fantastic.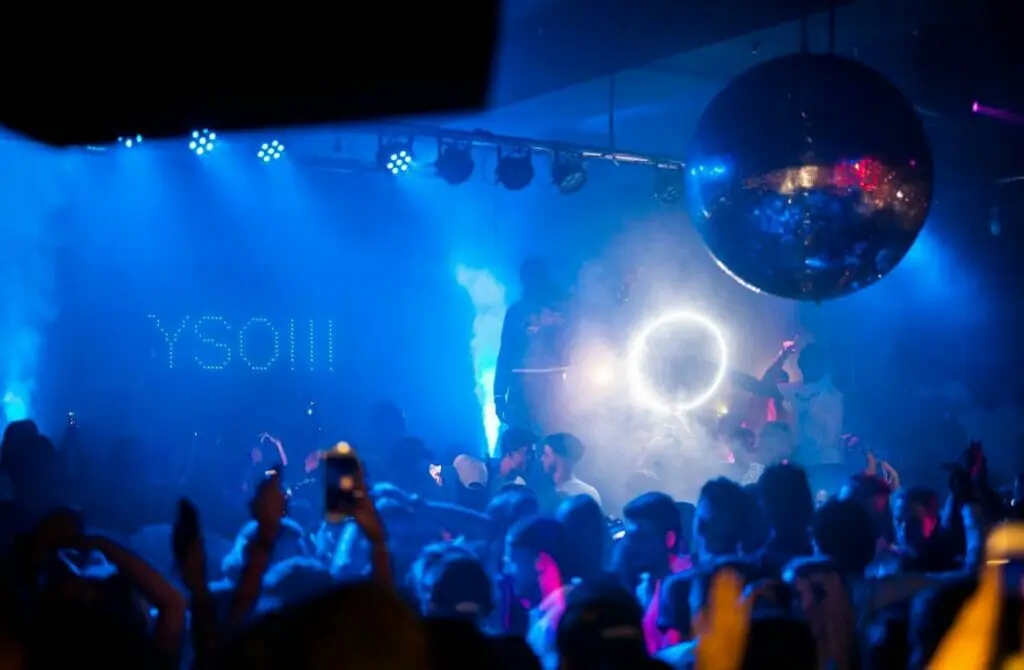 The FZW is well known for being a locals' hangout in Dortmund. This nightclub and performance venue features pop and rock performers and regularly hosts poetry slams. With the newest sound and songs from the 1980s to today's top hits, FZW offers a variety of thrilling live performances.
With a martini in your hand and excellent company, ALEX in Dortmund is a terrific evening spot. As it opens early in the morning, you don't just have to enjoy the bar in the evening; you can also start the day there with breakfast.
If you're not in the mood to sit behind walls, spend a warm afternoon outside this restaurant with a friend and soothe yourself by watching the world go by.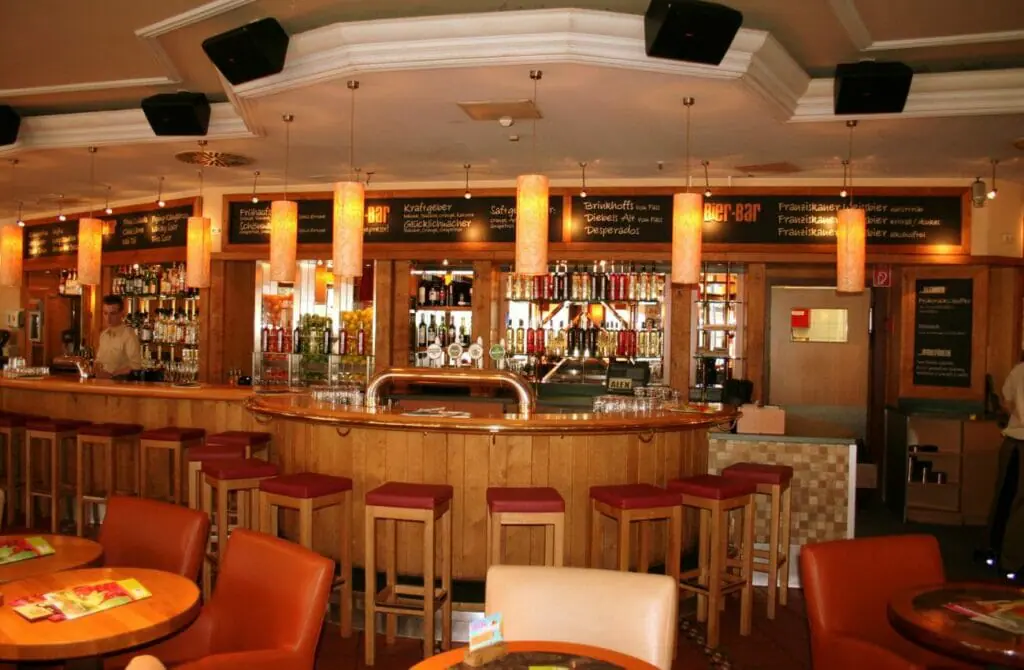 German pub fare is served at more than 160-year-old Hövels Hausbrauerei, a traditional microbrewery. You feel at ease because of the cozy ambiance and open fire. It is a brewpub that serves its beer in addition to a sizable selection of classic foods like schnitzel, pig knuckle, burgers, and vegetarian and vegan options.
If you wanted to have a thorough German experience, a visit would be worthwhile.
The lively bar Subrosa is located in Nordstadt. They characterize their bar as having a chill atmosphere, music, and football. On typical weekdays, there are poetry readings, and on weekends, there are live acoustic performances. Despite its simplicity, the location has a terrific atmosphere.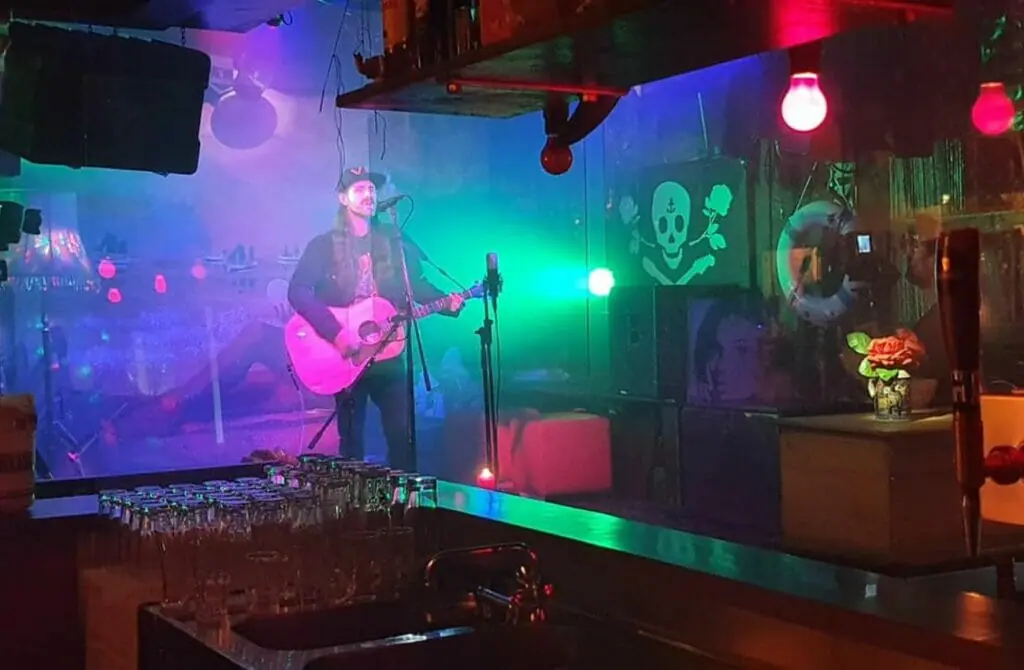 This friendly and straightforward bar will make you feel great. If you don't have plans for the evening, HappyHappyDingDong is an excellent place to start a pub crawl. It's a welcoming bar with a rock 'n' roll attitude, a large beer menu, and well-attended quiz nights. The staff is incredibly kind and easy to work with, and the costs are reasonable. Every month's first Saturday and every Thursday are designated for karaoke.
Done with DJs already? Visit Domicil, a jazz and live music bar and club. Their bar and lounge on the ground floor offer various spritz drinks and classic cocktails. You can order German beer. The club is on the first floor, where you may dance all your concerns away.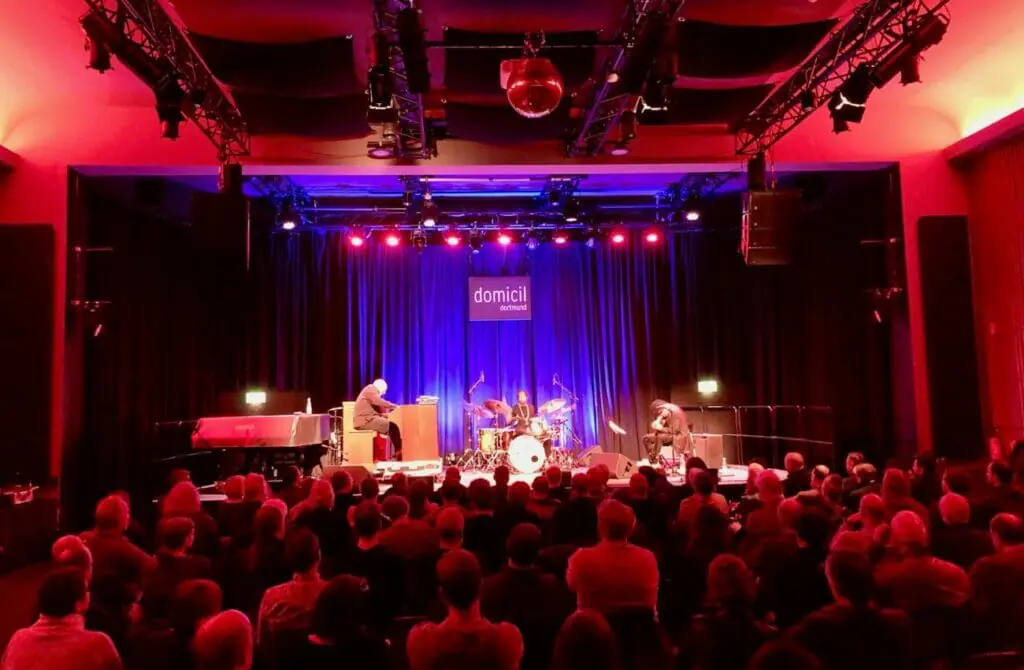 Gay Suana and Gay Cruising in Dortmund, Germany
In Dortmund, gay cruising is a unique and exciting way to meet new men and have a great time in the most unexpected places. You need to keep an eye on Gay Cruising in Dortmund. There are plenty of hot places you may visit while surrounded by men who share your sexual tastes.
When traveling to a new city, heading out for more than just a stiff drink can be exciting. One aspect of the Gay Dortmund scene that many queer men enjoy is visiting gay saunas and cruising clubs.
Sure, the sauna culture in Dortmund is not as hedonistic as in Amsterdam, Barcelona or Berlin, but these venues still offer a chance to meet new people, socialize, and engage in sexual activity – without resorting to gay hookup apps.
However, it's important to remember that these venues can vary greatly in terms of atmosphere, clientele, and rules, so preparing yourself before visiting is a good idea. If you are apprehensive, we advise studying our guide to visiting a gay bathhouse for the first time, which should help set your mind at ease and always practice safe sex.
Additionally, it's important to be aware of and respect local laws and customs regarding gay venues and sexual activity. With a little planning and an open mind, visiting gay saunas and cruising clubs can be a fun and exciting part of your gay Dortmund travel itinerary.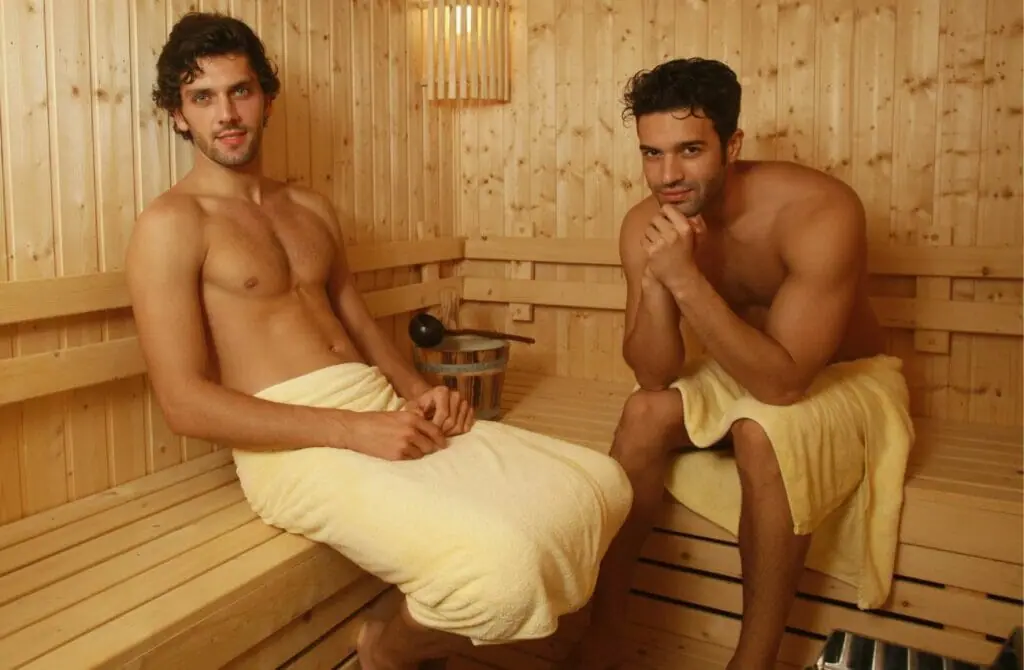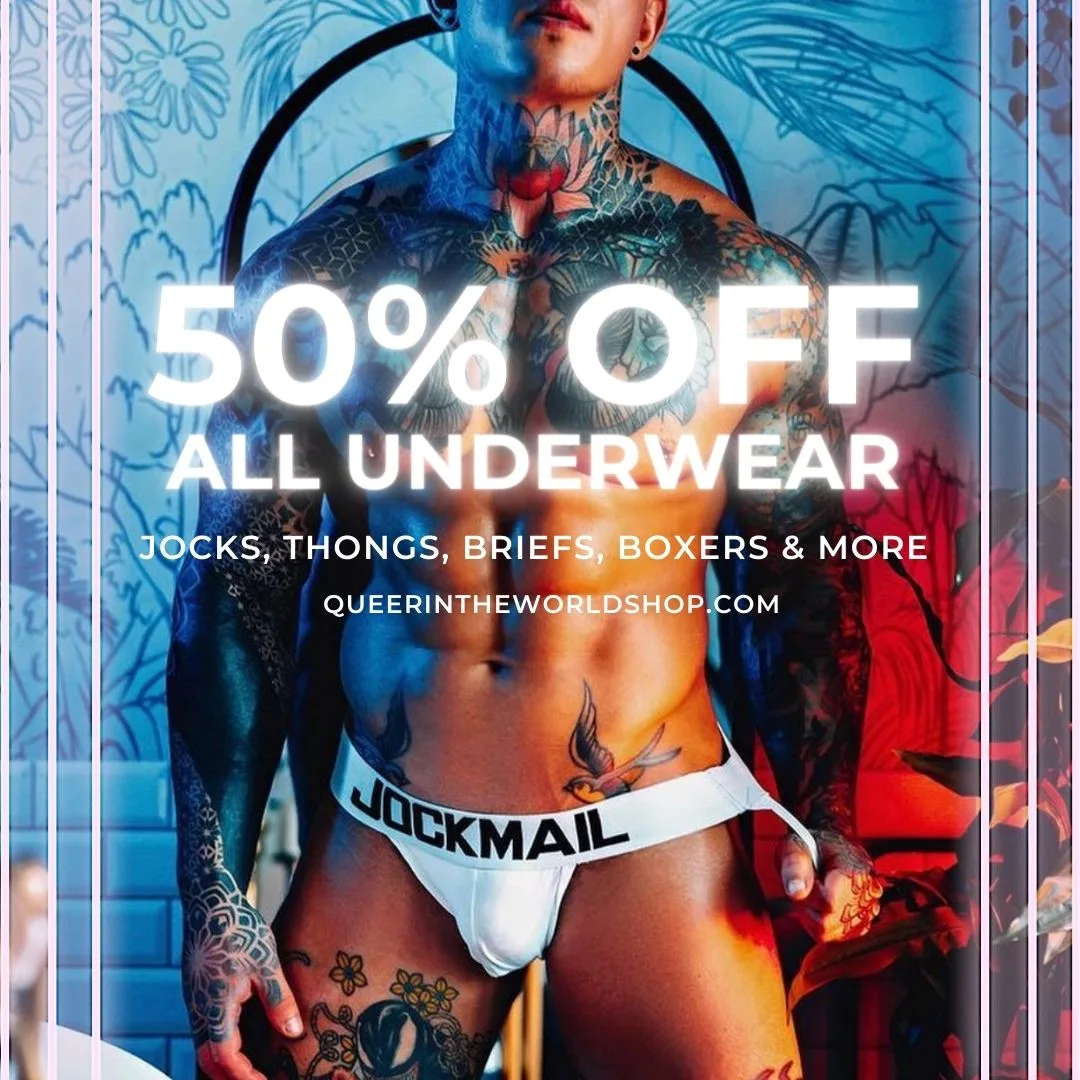 The Jumbo Center in Burgholzstr provides more than 2,000 square meters of a single event for GAYS. Here, you may enjoy various amenities like dry steam and bio, a heated pool and Jacuzzi with a spacious sun deck, a cozy fireplace, dark rooms with diverse scenarios, a playground area, and a toy store. Fantastic fetish nightclub inside and outside, and don't forget to enjoy its Boy's MEN ONLY – CRUISING.
Fontaene
(Temporarily or permanently closed. If you know something, please suggest an edit.)
You can want passionate scenes after a long day when your body is energetic, and your stomach is full. This Sauna is famous among a mixed-age crowd that prefers the leather and jean vibes. Choose to come here when Popular after-work destinations and crowded here in the late afternoons.
Boot Club
(Temporarily or permanently closed. If you know something, please suggest an edit.)
Boot Club is one of the best gay clubs, full of attractive Gay and Bi males. There are two dimly lit rooms and many-equipment cells there so that you can spend time together. It also features TVs with homosexual film programming. It also has a lovely bar area where you can smash your toes until dawn. If you don't have anybody to hook up with, you got to easy a way to get in touch with someone to have. Wink Wink!
Burg Wall Sauna
(Temporarily or permanently closed. If you know something, please suggest an edit.)
Burgwallsauna Dortmund is among the gay hotspots you can see nearby, and you might be curious to hang out there and experience the vibes of that great location. Everything is based on receiving and giving in equal measure, displaying a conversation, exchanging glances, and asking all the necessary questions to boost confidence and make the other person feel at ease.
Gay Map Of Dortmund
Finding it hard to envisage where everything is in Dortmund? Hopefully, this queer-centric map helps where we have marked all the bars, clubs, parties, hotels, saunas, massages, and more will help you stay in the spot best suited to you!